100 Books That Defined the Decade
For good, for bad, for ugly.
My biggest trouble is that people look at me and think that no serious trouble has ever troubled my little head. They seldom realize the chaos that seethes behind my exterior. As for the who Am I, what am I angle…that will preoccupy me till the day I die.
*
Essential stats: This collection of Plath's letters, edited by Peter K. Steinberg and Karen V. Kukil, contained many that had never before been published, including sixteen letters Plath wrote to Ted Hughes while they were apart after their honeymoon. Though the second volume was more revealing about Plath's life and the abuse she suffered from Hughes, this one was much more discussed.
How come? Or what's so defining about the letters of a long-dead poet? Well, it wasn't so much the letters themselves as the cover, you see. The UK version—but not the US version, interestingly—featured a smiling Plath in her bikini (or, as she herself described it, "a neat two-piece white Jantzen bathing suit"). It's a famous picture, but it stirred up quite a controversy. Cathleen Allyn Conway called the photograph "a visual antithesis to the ambitious, intellectual poet," and wrote, "Why is her work, so heavy with symbolism and myth, which documents the frustrating consequences of transgressive womanhood, marketed with so little thought and respect? . . .
Presenting female writers as sexualized and frivolous diminishes their intellectual credentials, tarnishes their work as slight, not to be taken seriously. Plath's poems were visceral and impolite; her novel was about madness. The image that best represents a writer of her range and talent is not, as she wrote about in her poem "The Applicant," the "living doll" on biographies and collections and broadsheets "everywhere you look", forever emblazoned on our consciousness as a 22-year-old bronzed blonde in a bikini.
She pointed out that Plath only kept her blonde hair for three months; she preferred herself as a brunette. Lots of other writers agreed, decrying the cover, but there was also backlash to the backlash (of course)—Emily Van Duyne, who is writing a book about Plath, took issue with the whole thing, and in particular with Conway's hair color argument, writing:
this furthers Hughes' dangerous idea that Plath, or any of us, has a single, definitive "self," an idea we visit almost exclusively upon the heads of women writers. We celebrate Whitman's celebration of himself, with its numinous notion that "I am large, I contain multitudes." We have no problem reconciling the idea that he was both queer and a hetero-braggart who claimed to have fathered six illegitimate children, yet we take to task a photograph of a bikini-clad Plath in her college years — as though she could not possibly be both the genius she was, and a woman who was body confident, sexy, happy to smile for the camera.
In these very (digital) pages, Nichole LeFebvre was torn—and so were some of the writers and thinkers she polled on the subject. I like what Lisa Russ Spaar told her: "how can we guess, in retrospect, how Plath would have wanted to portray herself as we approach the end of the second decade of the twenty-first century? To paraphrase the poet A. R. Ammons, touch the universe anywhere, you touch it everywhere. Our reactions to those images must reveal much about ourselves, which is one of the great gifts of history, of literature, of art."
But still. In a nutshell:
I'm waiting for the day Ted Hughes appears in a bathing suit on the cover of his Selected Letters. https://t.co/ZbO80LsY3M

— Ann Townsend (@anntownsendpoet) July 5, 2017
(Well, someone obliged):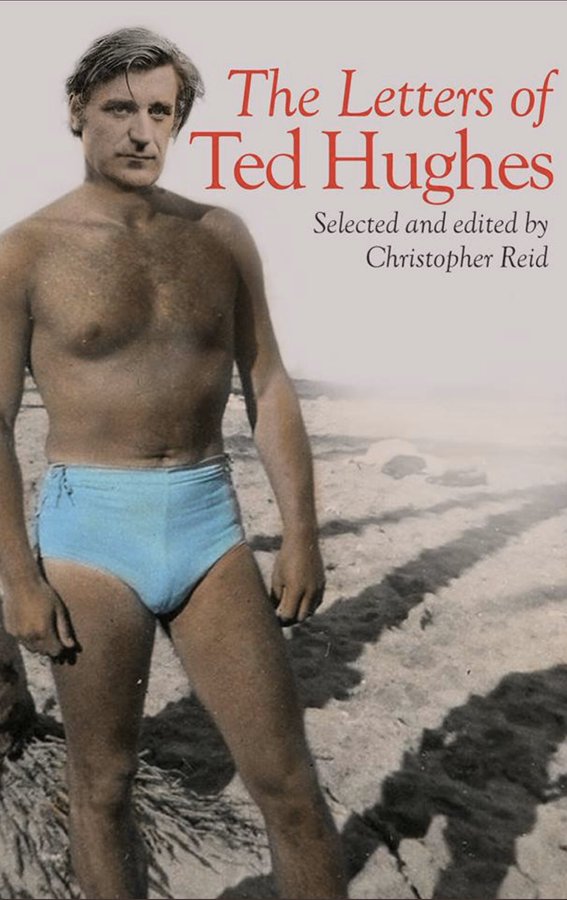 ---