100 Books That Defined the Decade
For good, for bad, for ugly.
Yes, of course duct tape works in a near-vacuum. Duct tape works anywhere. Duct tape is magic and should be worshiped.
*
Essential stats: Weir's self-published "nerd thriller" became a bestseller before it was even a book, and then once it was a book, it became an even bigger bestseller (we're talking #1 New York Times bestseller), and then a huge blockbuster movie. No big deal.
What makes it defining? This was a decade of digital DIY, in which you could build a brand from your living room and get internet famous, which then sometimes translated to actual famous. Not able to get a literary agent, Weir self-published The Martian on his website in serial form in 2011, and eventually, after requests from readers who wanted to download it to their Kindles, put it on Amazon, for 99 cents, the lowest price the site allows. He sold 35,000 copies in three months. He signed with a literary agent, and Crown Publishing purchased the rights to the book for six figures and re-released it in 2014, and then Ridley Scott adapted it into a film starring Matt Damon in 2015.
Speaking of Matt Damon: Someone actually calculated the (fictional) cost of rescuing Matt Damon over the years. It's . . . a lot.
Courage Under Fire (Gulf War 1 helicopter rescue): $300k
Saving Private Ryan (WW2 Europe search party): $100k
Titan A.E. (Earth evacuation spaceship): $200B
Syriana (Middle East private security return flight): $50k
Green Zone (US Army transport from Middle East): $50k
Elysium (Space station security deployment and damages): $100m
Interstellar (Interstellar spaceship): $500B
The Martian (Mars mission): $200B
TOTAL: $900B plus change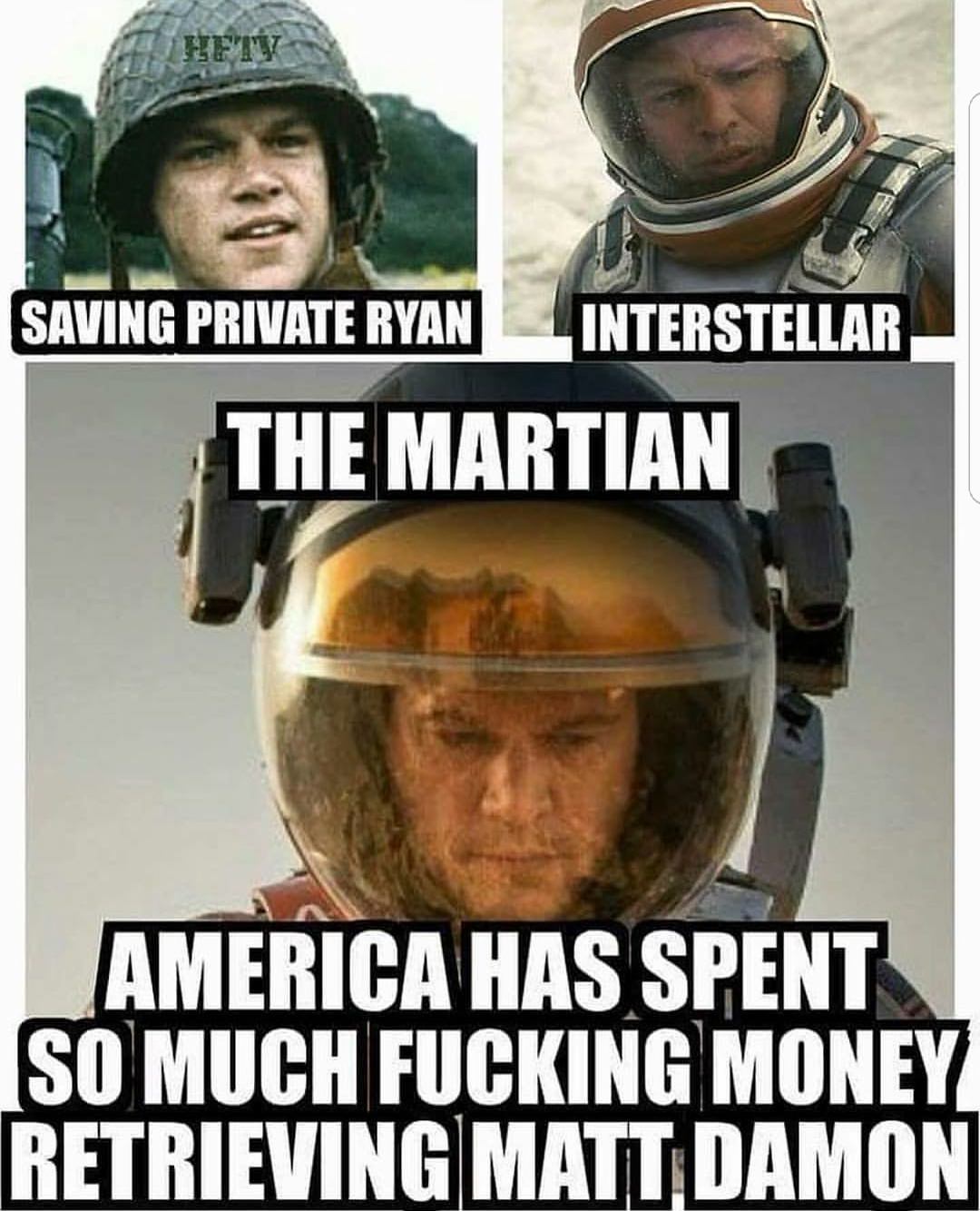 ---