The 10 Best Literary Adaptations of the Year
What Else Do You Have to Do?
Watch any television in 2020? What about movies? Oh you did? Us too. In my opinion, the best screen experiences of the year were obviously Teenage Bounty Hunters, Ted Lasso, What We Do in the Shadows, and The Great (now you know everything about me), but since this is supposedly a literary website, I've polled the Lit Hub staff to settle on the ten best literary adaptations that debuted on small or large (ha ha) screens in this bizarre death spiral we've called 2020. Here they are, for your holiday watching (or online arguing) delight.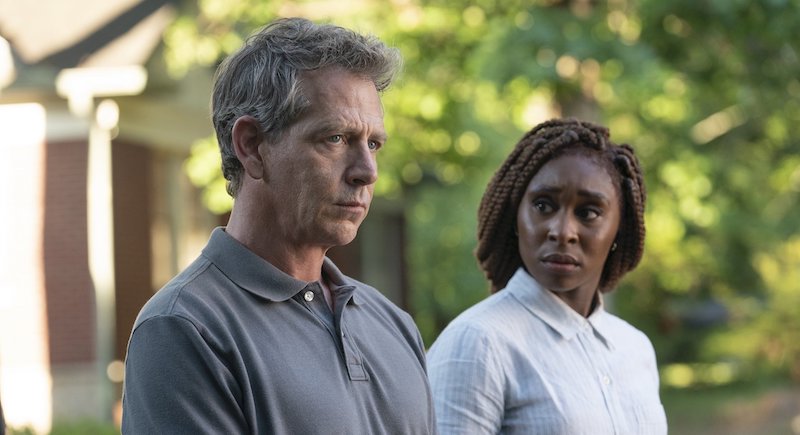 The Outsider (HBO, January 12)
Based on: Stephen King, The Outsider (2018)
Probably the most unrelenting dread-inducing television show I have ever come across, this Richard Price-scripted miniseries adaptation of Stephen King's 2018 novel begins with an investigation into the gruesome murder of a young boy in Cherokee City, Georgia (for which local little league coach Jason Bateman is arrested) and gradually becomes something altogether more disturbing. Opening scene aside, there's very little flash or gore to horror here. What we get instead is the creeping intrusion of an ancient, incomprehensibly malevolent presence into an otherwise wholly quotidian space, and the struggle of damaged regular people to come to terms with, and ultimately team up to fight, that which they can barely comprehend. The performances are quiet and naturalistic and uniformly excellent, but the standout here is Cynthia Erivo, who is utterly captivating as a loner private detective with savant-like observational acumen. –Dan Sheehan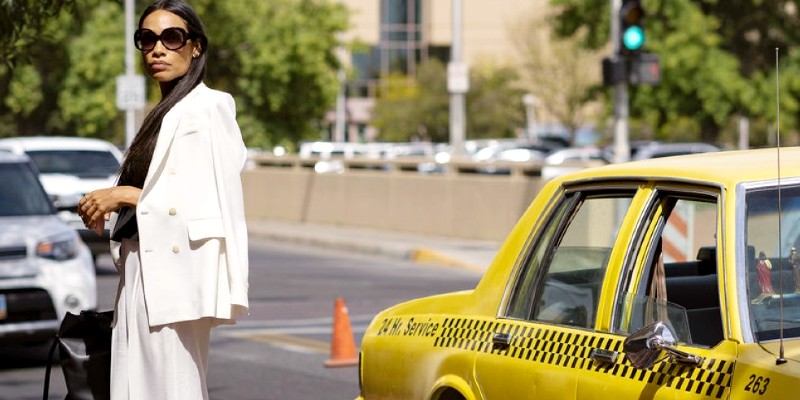 Briarpatch (USA, February 6)
Based on: Ross Thomas, Briarpatch (1984)
There's a moment toward the start of episode 1 of Briarpatch, the new series on the USA network, when Allegra Dill sits down at the booth inside a bar in her hometown of St. Bonifacio, Texas, and orders gin. That might sound like fairly standard fare for a piece of crime fiction, but it's this brief moment, one of many in the pilot episode, evocatively titled "First Time in Saint Disgrace," that gives us viewers an early indication this is a show that will both honor the tropes of its chosen genre and have some fun with them. The waitress asks Dill whether she wants the fruity kind of gin or the dry. Dill, who is played by Rosario Dawson with a chilly charisma and an impressive collection of pantsuits, takes the question in stride. She wants it dry, but she also seems to know quite well that in St. Bonifacio any number of unexpected questions will be asked of her and a steely acceptance of the strange and surreal may benefit her chances at long-term survival. I should mention, also, that Dill is sitting down to drink with the lawyer of her late sister, a police detective who was killed by a car bomb. The bar is decorated somewhere between the fever dreams of David Lynch and Dolly Parton, complete with tinsel, taxidermy, and red pleather. There's a heat wave going. The hotel bellhop called in sick because of Frozen 2. There is, in short, a lot going on in St. Bonifacio, Texas. Like Allegra Dill, we viewers are expected to take a certain dose of the sordid, the unusual, and the downright weird in stride. It's a surprisingly refreshing experience. Briarpatch is a cool customer and it treats its audience much the same. [Read our full review here.] –Dwyer Murphy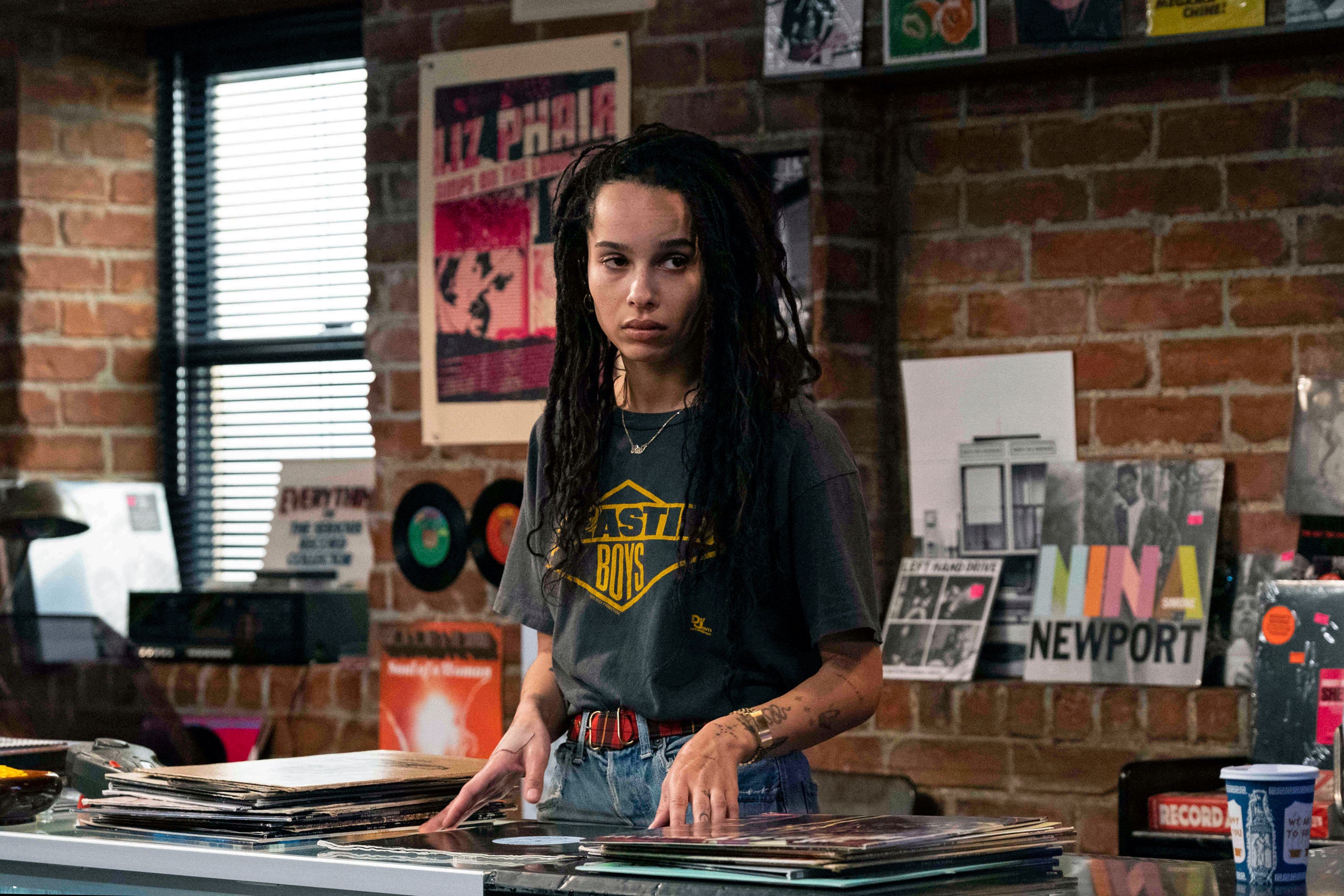 High Fidelity (Hulu, February 14)
Based on: Nick Hornby, High Fidelity (1995)
If we're being totally honest, this show is at least as much an adaptation of the original John Cusack movie as it is of Nick Hornby's original novel. But I don't care: this series is vibrant and pleasurable, filled with good performances, great music, and Zoë Kravitz oh-so-cooly wandering around my own personal neighborhood (Crown Heights; there are scenes on my corner). If it's a love letter to the original film, it's also a love letter to New York, and to music, and to taking your time to figure yourself out, and for that, it more than earns its spot here. –Emily Temple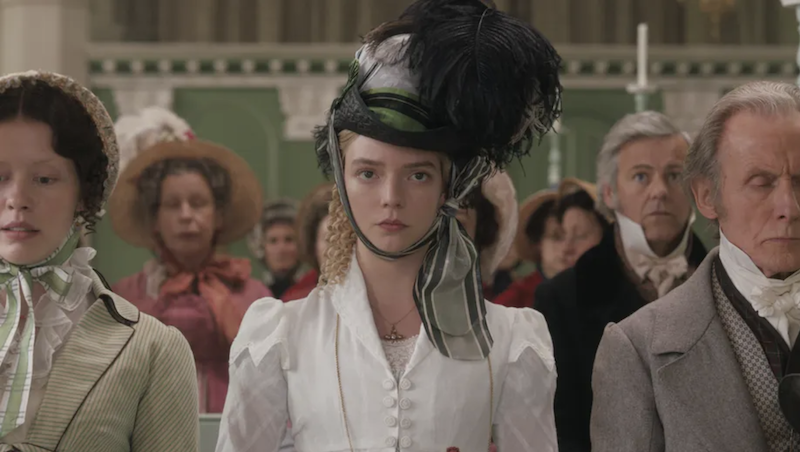 Emma. (Focus Features, February 21)
Based on: Jane Austen, Emma (1815)
Twenty-five years after the mid-90s Emma adaptation heyday, she's back. So how does it stack up? Well, despite the silly superfluous punctuation in its title, Emma. is sumptuous and beautiful, a real pleasure to watch. Both cinematography and color palette are striking and modern, and under the obvious, though not overwhelming, influence of Wes Anderson. (In particular, it makes use of that warm mustardy yellow that has come to be representative of Anderson—though I actually interpret this choice as a reference not to the king of cinematic charm but to Cher Horowitz's memorable yellow ensemble in Clueless.)
Watching 1996's Emma shortly after the newest incarnation, I was amazed at how dark and dreary it looked in comparison—I had remembered it as fresh and bright, but reader, it is not. And then you have, if you'll forgive the bluntness, Anya Taylor-Joy's face, which feels modern all by itself, her beauty offset and enhanced by the oddness of her face; Emma. relies on Taylor-Joy's eyes in the same way that Clueless relies on whatever Alicia Silverstone is doing with her lip all the time.
In the end, Emma. feels almost like a mashup of Paltrow's Emma and Clueless, maintaining many of the pleasures of each, and inventing a few of its own. If I'm honest, the best movie of the three is still Clueless. But Emma. 2020 is handsome, clever, and rich enough to knock its period predecessor off its pedestal and settle in at second place. It's perfect for a new generation of Instagram-savvy Austen fans—and anyone who enjoys a delightful old story in a beautiful new frame. [Read our full review here.] –Emily Temple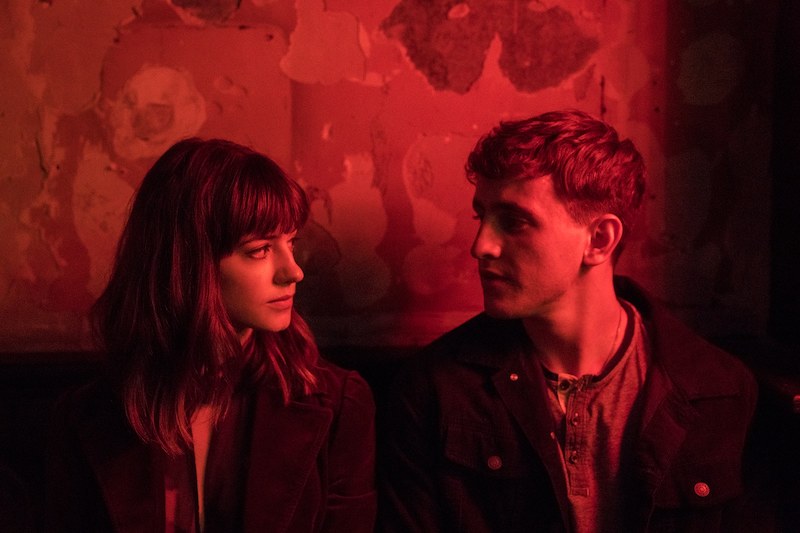 Normal People (BBC/Hulu, April 29)
Based on: Sally Rooney, Normal People (2018)
Hulu's much-anticipated adaptation of Rooney's novel, a 12-part limited series arriving on April 29th, and directed by Lenny Abrahamson and Hettie Macdonald, is a loyal adaptation, even if it necessarily smoothes over a patch or two. It's also a satisfying one. Connell (Paul Mescal) and Marianne (Daisy Edgar-Jones) are both electric, and the blocking is immersive, effective. For the most part, it feels like the book, and this is intentional. Apparently, the mantra on set for the actors and directors was "the book is the Bible." You can tell.
But it's not just strict adherence to a good novel that makes Normal People such a good television show. As others have pointed out, the sex in this series—and there's a lot of sex in this series, including full-frontal nudity of both genders—is unusually good, in large part because of how vulnerable it is, how tender, both in the acting and in the staging. But it's necessary, too. Marianne and Connell are magnetized in this mysterious way, both in the book and in its adaptation; it's a sexual magnetization as well as an emotional one, and it comes with the constant refrain: "it's not like this with other people." Indeed not, and for that reason the sex stops short of being realistic, exactly—which only makes it more effective at transmitting the narrative's central concern: the uncommon bond between these two people, and whether it can outlast the world around it.
It feels a little strange to admit, but I actually found the adaptation even more moving than the novel—and this is primarily down to the acting. Both lead actors are excellent, but Mescal is particularly convincing as the confused, heartsore Connell—a kind of male character that is still not often seen on screen. [Read our full review here.] –Emily Temple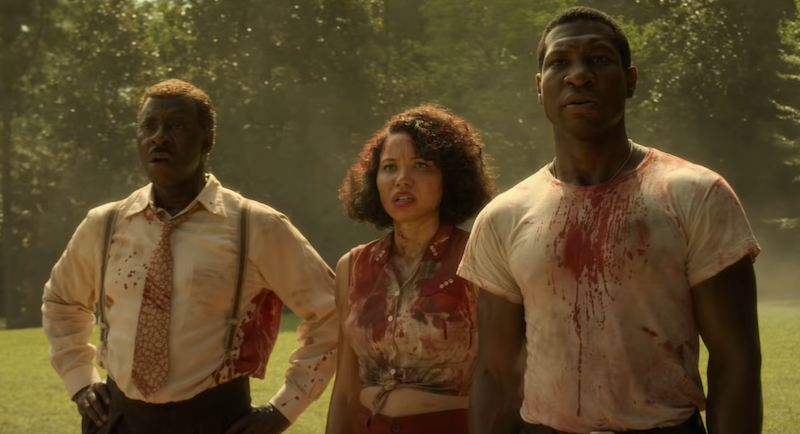 Lovecraft Country (HBO, August 16)
Based on: Matt Ruff, Lovecraft Country (2016)
HBO's Lovecraft Country is a strange and unexpected television experience, rife with arcane allusions, uncanny twists, and a wonderfully anachronistic soundtrack. I've never been much of a supernatural horror fan but I am as engrossed by the series as I am occasionally bewildered by it. Most of my confusion derives from the shifting, oneiric "logic" that guides the show, but it's also rich in allusive historical detail drawn from the Black American experience.
So I was happy to discover this actual episode-by-episode "unofficial" syllabus created by the Langston League which seeks to "highlight the Black history and Black innovation(s) mentioned in and connected to #lovecraftcountry. We uplift the labor of Black authors, Black musicians, Black filmmakers, Black podcasters, Black artisans, Black leaders, and all the Black people creating mirrors." [Read more here.] –Jonny Diamond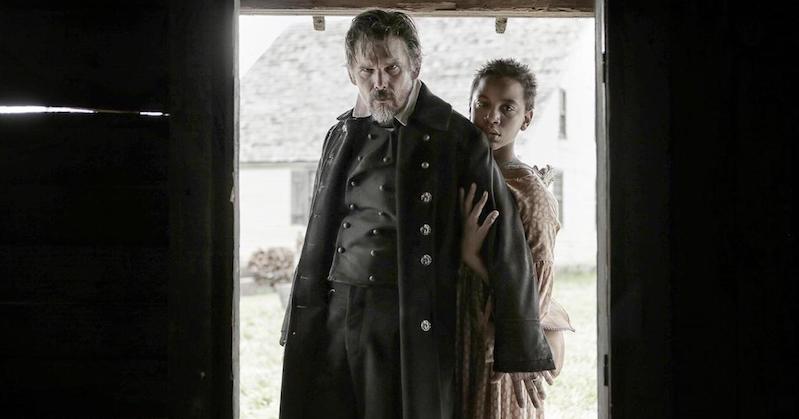 The Good Lord Bird (Showtime, October 4)
Based on: James McBride, The Good Lord Bird (2013)
Ethan Hawke just gets better and better, doesn't he? As the abolitionist John Brown, he is the magnetic center of this irreverent adaptation of James McBride's National Book Award winner, but newcomer Joshua Caleb Johnson, as Henry/Henrietta/Onion, certainly holds his own, and Daveed Diggs, shocking no one, give us a very memorable Frederick Douglass. The whole thing is a sharp historical critique and textured coming-of-age story, necessarily in period dress but with a fair helping of modern sensibility that makes it sing. –Emily Temple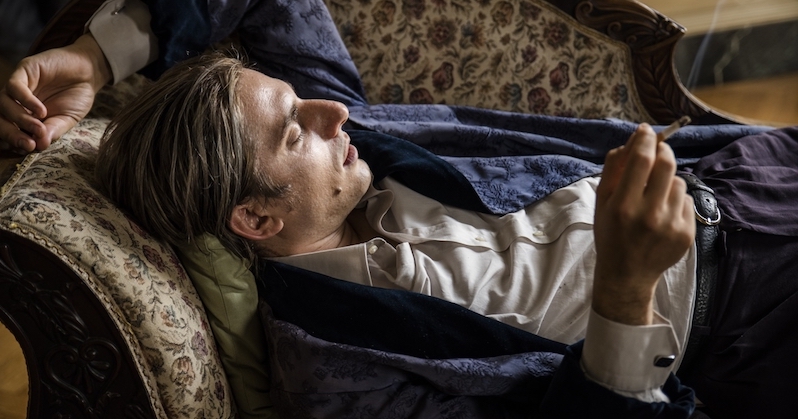 Martin Eden (Kino Lorber, October 16)
Based on: Jack London, Martin Eden (1909)
It wasn't immediately clear to me whether Marcello's Italian adaptation would be a work of earnest kitsch. I confess that I feared it would be a slightly fawning piece of Americana. This had nothing at all to do with the filmmakers but rather my own suspicion of novel-to-film adaptations in general, and particularly those that uproot the original narrative and graft it onto different locales. But Marcello's fine translation of London's work flourishes in its Italian setting, casting Eden as a Neapolitan seaman-turned-failed foundry worker (this, at least, before he attains his ultimate success).
Martin Eden would have made for an interesting watch at any point in time, but it is uncannily poignant in this moment, when many of us are reevaluating our relationships to work and pleasure. More to the point, the film is about the life of the writer, asking whether it can ever be a good in itself. Whether this life can escape the profit motive is one question, but the movie is most interesting when it prompts us to consider why we care for certain trappings and lifestyles. When war looms, when death encroaches, and when love proves fickle, what is there for the pen (or typewriter) to defend against? [Read our full review here.] –Aaron Robertson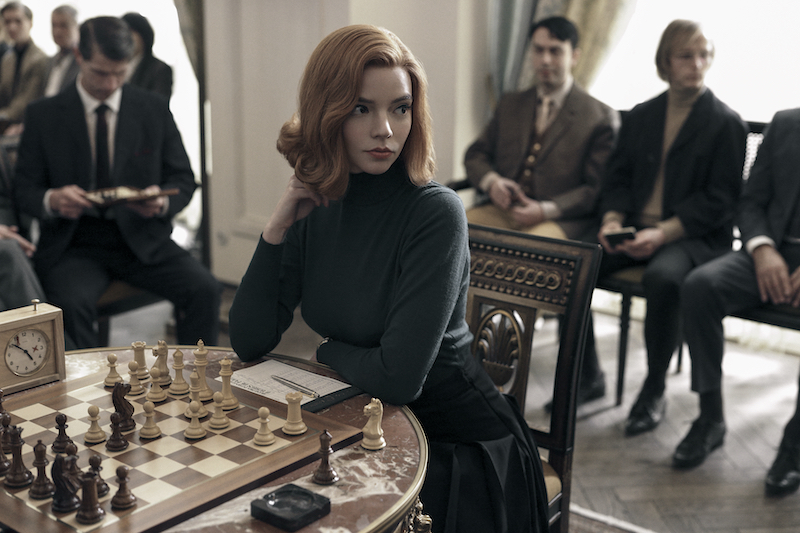 The Queen's Gambit (Netflix, October 23)
Based on: Walter Tevis, The Queen's Gambit (1983)
The reason everyone's suddenly into chess? Why yes, it's The Queen's Gambit, the second Anya Taylor-Joy adaptation on this list. (I can also recommend Thoroughbreds, and did you know she and Scott Frank are working on an adaptation of Nabokov's Laughter in the Dark? You're welcome.) So perhaps you won't be surprised to learn that I loved this gorgeous (the fashion! the landscapes!), clever (I thought I was going to hate the chessboard on the ceiling technique, but I have to admit, it works), and wish-fulfilling (no one actually seems that sexist? That can't be right . . . ) adaptation. –Emily Temple
Between the World and Me (HBO, November 21)
Based on: Ta-Nehisi Coates, Between the World and Me (2015)
The 90-minute film was shot with the actors in a number of different locations—in their homes, cars, backyards, Howard University—as they recite passages from Coates's book. These monologues are shown in between cuts of archival images and videos, artful animations, and contemporary clips, to augment the stakes of Coates project—as one example, the moment in which Coates narrates the precarity of his childhood in West Baltimore is cut against the visual iconography of the American dream (i.e. Brady Bunch, white adolescence, suburban life). But there are also clips of Malcolm X speeches, along with the late Chadwick Boseman delivering his commencement address to Howard's graduating class of 2018.
Though each of the actors reads Coates' very personal letter to his son, over the course of the film the text of Between the World and Me becomes a shared burden and a collective chorus. Coates' book is acutely concerned with questions of the Black body, so it is no surprise that the film itself feels so tactile, that we are made to feel aware of the uncertain existence of Black being in the United States, just as we are also made to be aware of the unique differences within Blackness (i.e. queerness, trans identity, etc.). Though one's experience of anti-Blackness might vary, there is in fact a uniformity in oppression; and this is most clearly understood at the very beginning of the film when the very address is personalized (some actors say "Dear daughter" or "Dear brothers" instead of "Dear son"), or even when Mahershala Ali sheds a tear after a particularly gutting passage.
It might seem a bit sad to think that after five years, during which we saw the rise of—and endured—a Trump presidency, Coates' book, which to some feels a bit outdated, remains as prescient as ever. But in fact, it is a testament to the larger networks of power that circulate and the unending project of the fight for a better future. The film closes with a heartbreaking piece from Breonna Taylor's mother—a reminder too that the fight is not just for the future but to defend the dead.
In all, the film is beautiful, a message of loss and hope. [Read our full review here.] –Rasheeda Saka
See also: My Brilliant Friend: The Story of a New Name (HBO, February 10), The Invisible Man (Universal Pictures, February 28), The Plot Against America (HBO, March 16), Perry Mason (HBO, June 21), The Personal History of David Copperfield (Searchlight, August 28)
---