The universally loved Netflix miniseries The Queen's Gambit is so popular it's affecting our purchasing habits. According to U.S. Retail Tracking Service data from NPD, sales of chess books have jumped a whopping 603 percent since the miniseries was released. Sales of chess sets also rose 87 percent. (Now we just have to see if it's affecting sales of stylish checkered coats.)
The Queen's Gambit's impact on sales is extreme but not shocking—after all, 62 million households watched the show in the first 28 days after its release. The lesson: if you want someone to read a book, make a TV show about it.
In fact, Walter Tevis's 1983 book, The Queen's Gambit, on which the Netflix miniseries is based, has just landed on the New York Times bestseller list 37 years after the book was first released. If you read that and are still hungry for more, here's a selection of chess-related books to accompany your binge-watching:
Vladimir Nabokov, The Luzhin Defense
"[A] sibilant, dazzling tale by the writer who has been defined as the leading fabulist of our time . . . A classic conte, with a brilliant descriptive elegance and all the impalpable tension and hushed fascination of a grandmaster's game."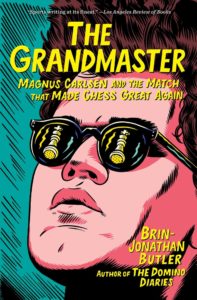 Brin-Jonathan Butler, The Grandmaster: Magnus Carlsen and the Match that Made Chess Great Again
"Butler goes beyond the [2016 world championship] and the two competitors to investigate spectators, journalists, other prodigies and the fates they'd met, those who knew Bobby Fisher, and other aspects of the interrelationship between chess and New York . . . [and] the coronation of Donald Trump. It's a bravura performance by the author . . . an entertaining book that contains everything you never imagined you wanted to know about chess."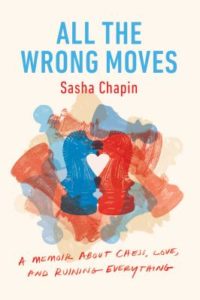 Sasha Chapin, All the Wrong Moves: A Memoir About Chess, Love, and Ruining Everything
"The quest memoir is a balky beast. To tame it as well as Canadian journalist Sasha Chapin does in All the Wrong Moves, you'll need an obscure but preferably universal target of obsession—chess mastery, in his case . . . 'It's tricky to explain the appeal of chess to someone who doesn't play,' Chapin concedes, yet he makes all the right moves in doing just that."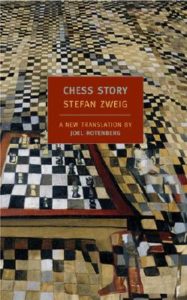 Stefan Zweig translated by Joel Rotenberg, Chess Story, or The Royal Game
"[Chess Story] is one of Zweig's most horrifying investigations into monomania and at the same time a parable of the dangers inherent in engaging with Nazism."
Garry Kasparov, Deep Thinking: Where Machine Intelligence Ends and Human Creativity Begins
"What makes [Kasparov]'s book fascinating is that he uses it to reflect on what it was like to have been defeated by a machine and on the more general implications of that experience … Even for readers with only a passing interest in chess, it's an absorbing, page-turning thriller that weaves a personal account of intellectual combat with the wider picture of what it's like to come up against a powerful corporation that is determined to do whatever it takes to crush opposition."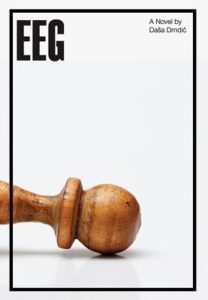 Daša Drndić translated by Celia Hawkesworth, EEG
"The complex narrative tapestry is a marvel . . . I am tempted to skim through the passages about the protagonist to get to the astonishing history, which reads like a collective noir . . . the narrative abandons suicide to get into homicide of many chess players under the Nazi and Soveit regimes, and from there we are drawn into the world of careerism, betrayal, assassination, and mass murder . . . Celia Hawkesworth has managed to translate these long sentences with ease and grace."
And of course . . .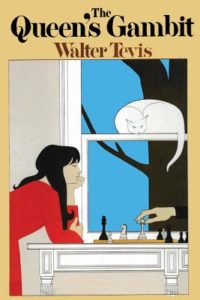 Walter Tevis, The Queen's Gambit
"[An] overlooked masterpiece."
"The best [novel about the game of chess] to be written since Nabokov's 'Defense.'"
If you haven't caught chess fever yet, you can watch The Queen's Gambit trailer here—or, check out this movie-musical hit.