The 50 Greatest Literary TV Adaptations Ever, Ranked
You Can't Watch Too Much TV If It's Literary TV
I don't know about you, but a lot of my favorite television shows used to be books. By now, it's a cliché (and definitely unnecessary) to point out how often great movies and television shows are based on literary properties, but I have to point it out to get on to the next, also obvious bit: the fact that some of them are better than others. Which is why, following several heated discussions in the Literary Hub office, I have decided to rank them. Of course, I couldn't rank them all. So below, you will find 50 of the best small-screen adaptations of literary works to date—according to me, with much input and argument from the rest of the Literary Hub editors, avid readers and television consumers all.
I will say that it was difficult—and maybe impossible—to rank all of these wildly different shows against each other. How to judge a three-part miniseries against a show with six seasons (and a movie)? How to judge comedies against high drama? How to adjust for shows revolutionary in their time but dated now? How to account for wildly uneven seasons? Well, just remember that I did my best. Also remember that all of these shows are good, which is why they're on the list in the first place. And finally, remember that I discounted adaptations of comics and graphic novels, because that's a whole different ball game, and I limited myself to a single adaptation of each work—so though there have been multiple War and Peaces, you will find only one on this list. I've undoubtedly forgotten many great shows, and I'm sure you will mention them in the comments.
Also, though they are not direct adaptations of specific books and therefore will not be listed below, I have to at least give a special mention to Shelley Duvall's Faerie Tale Theatre or Wishbone, two anthology adaptation shows, both of which are in my personal top 50.
And now, without any further ado, a definitely correct, current-as-of-this-moment, officially official ranking of the 50 greatest literary adaptations on television.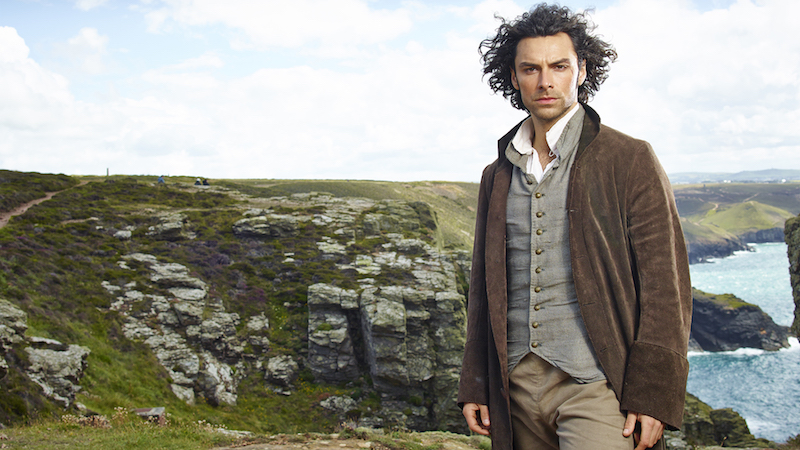 50. Poldark
BBC (2015-present)
Based on: the Poldark novels by Winston Graham
Soapy, sumptuous, and romantic, with plot twists, brooding looks, and well-timed heart attacks a-plenty. It's fun and diverting, if not much else.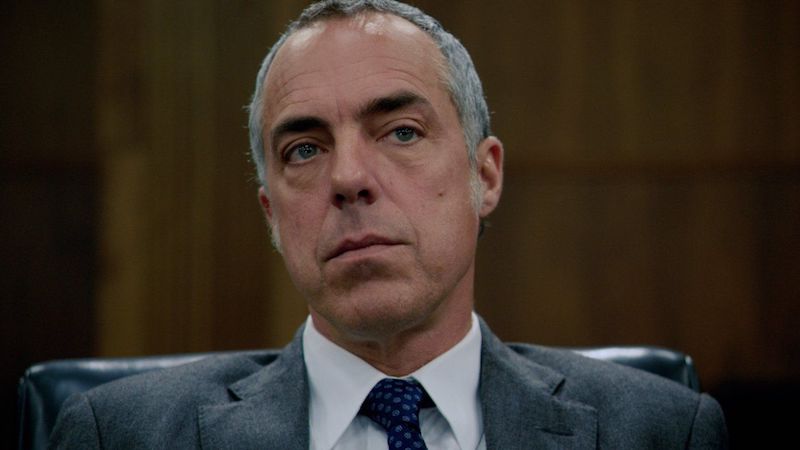 49. Bosch
Amazon Studios (2014-present)
Based on: City of Bones, Echo Park, and The Concrete Blonde by Michael Connelly
A solid if relatively uninspired police procedural, executive produced by Michael Connelly.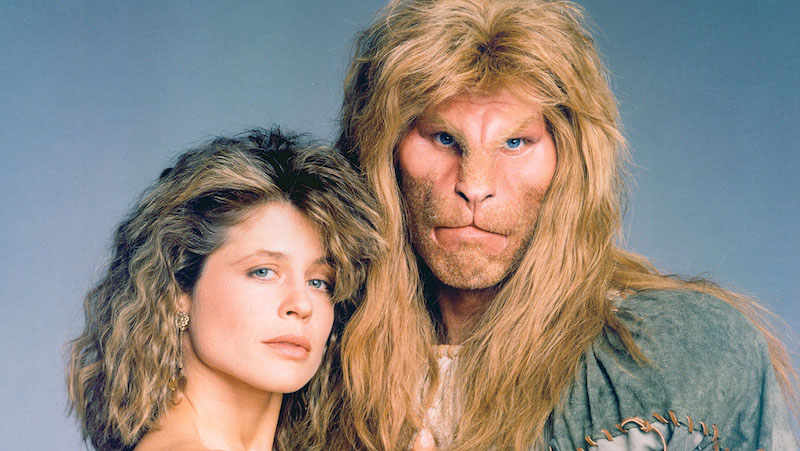 48. Beauty and the Beast
CBS (1987-1990)
Based on: Beauty and the Beast, by Jeanne-Marie Leprince de Beaumont
Oh, it's campy as all hell, but it's actually pretty well written, and yes, that's Rob Perlman and Linda Hamilton. And you know who liked it? Jack Zipes, fairy tale expert. "They're on to something very significant," Zipes told The New York Times. "They found the equivalents in contemporary society—the beast as outcast who lives with the homeless. I think it's a fascinating way to reinterpret a traditional fairy tale and make it very relevant with regard to social and political problems, the homeless, outcasts. It has a nice sense of justice. But it's a mixed bag. My complaint is that it also uses the worst aspects of criminal-adventure television."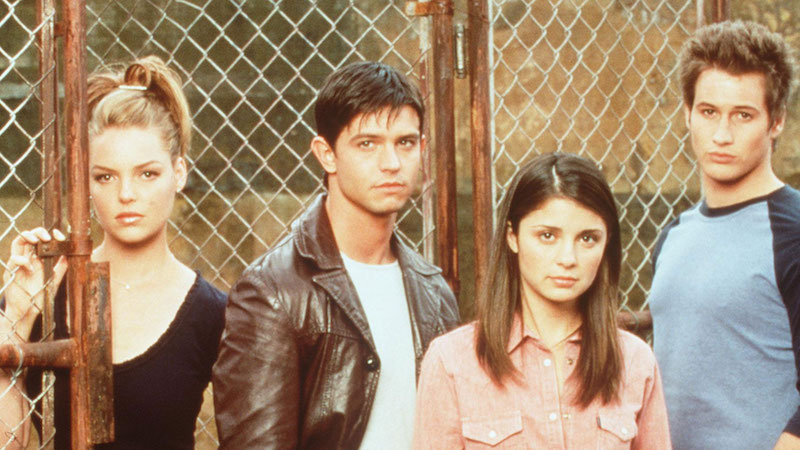 47. Roswell
The WB, UPN (1999-2002)
Based on: the Roswell High series by Melinda Metz
Listen, who doesn't like Roswell? Katherine Heigl, Shiri Appleby (who looks the exact same as she does now), and a bunch of other people who you would recognize if you went back and watched this show, which is about teenagers who make friends with aliens. It's campy and corny but consider it in context: it's one of the better teen shows of that time. Okay, it's no Buffy the Vampire Slayer or Veronica Mars, but it's pretty fun, and smart for what it is.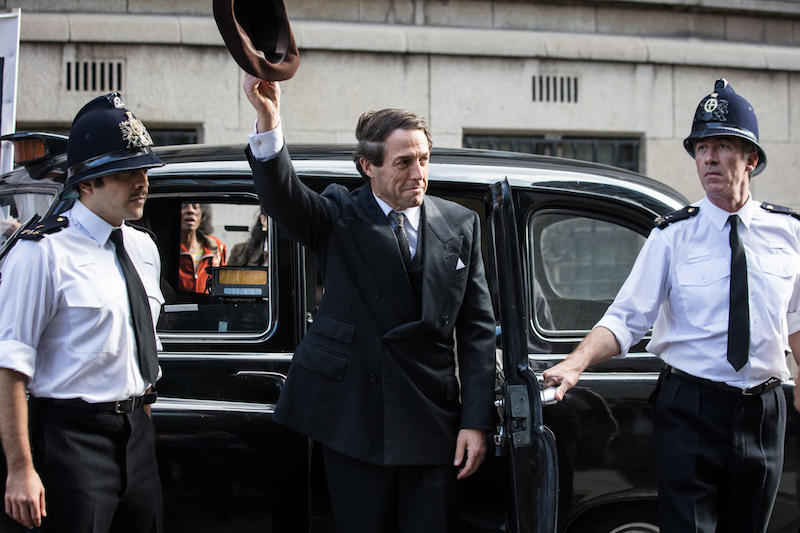 46. A Very English Scandal
BBC (2018)
Based on: A Very English Scandal by John Preston
Excellent performances (whatever else he's done, Hugh Grant kinda nails it here) and a riveting storyline make this three-part miniseries about the Jeremy Thorpe scandal fascinating television.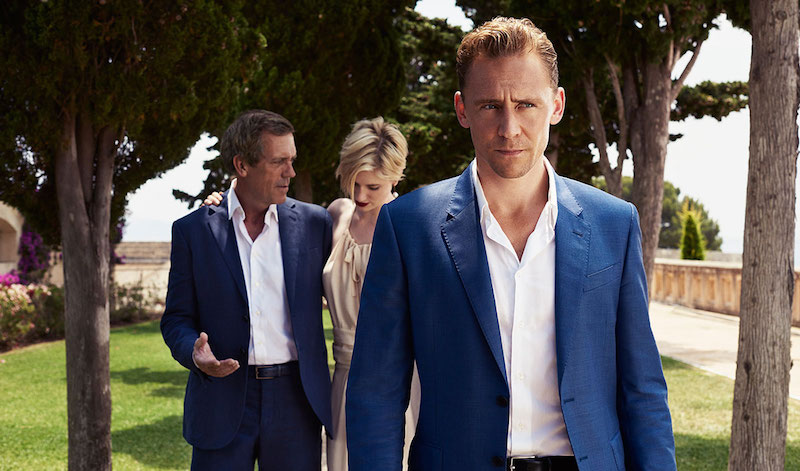 45. The Night Manager
AMC (2016)
Based on: The Night Manager by John le Carré
It's not exactly a faithful adaptation (though it isn't too far off), but you can't beat the cast—Tom Hiddleston and Hugh Laurie, plus Olivia Colman (always a delight), Elizabeth Debicki, and Tom Hollander—or the sumptuous production values (and scenery). It's not breaking any boundaries, but it sure is fun to watch.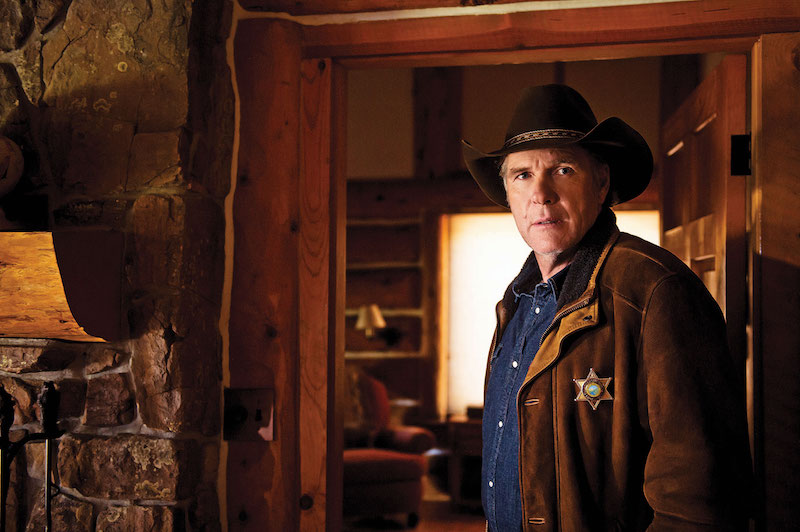 44. Longmire
A&E/Netflix (2012-2017)
Based on: the Walt Longmire Mysteries by Craig Johnson
Six seasons of dawdling, dusty mysteries solved by a stoic Wyoming sheriff.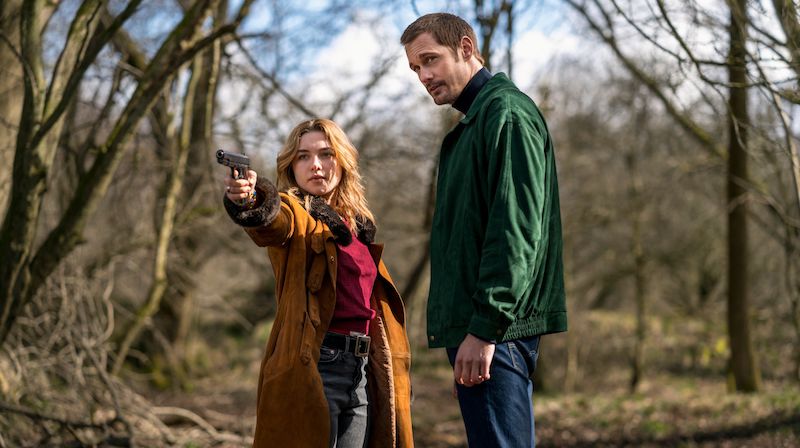 43. The Little Drummer Girl
BBC/AMC (2018)
Based on: The Little Drummer Girl by John le Carré
Confession: I will watch anything with Florence Pugh in it (for the sake of all that is good in this world, go rent Lady Macbeth). I will also watch anything directed by Park Chan-wook (ditto The Handmaiden). This six-part miniseries is blessed with both, and it's predictably gorgeous as a result—despite the fact that the story doesn't really make any sense.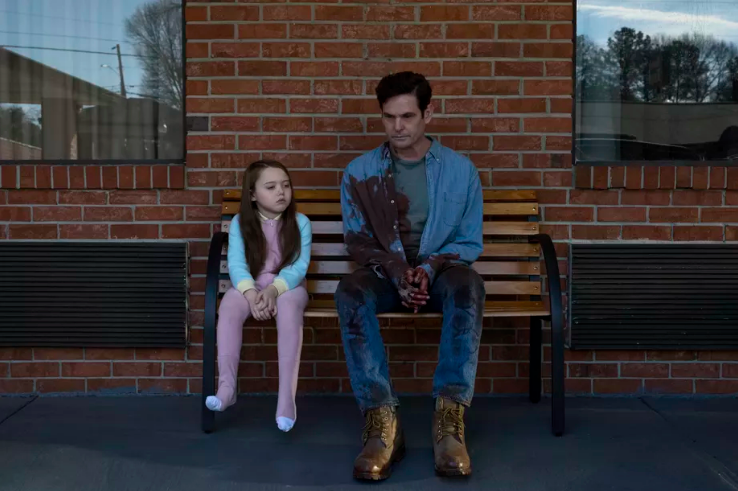 42. The Haunting of Hill House
Netflix (2018-present)
Based on: The Haunting of Hill House by Shirley Jackson
The show has very little to do with Jackson's iconic novel, but that's okay: it's part family drama, part horror story, and definitely scary, if a little slow.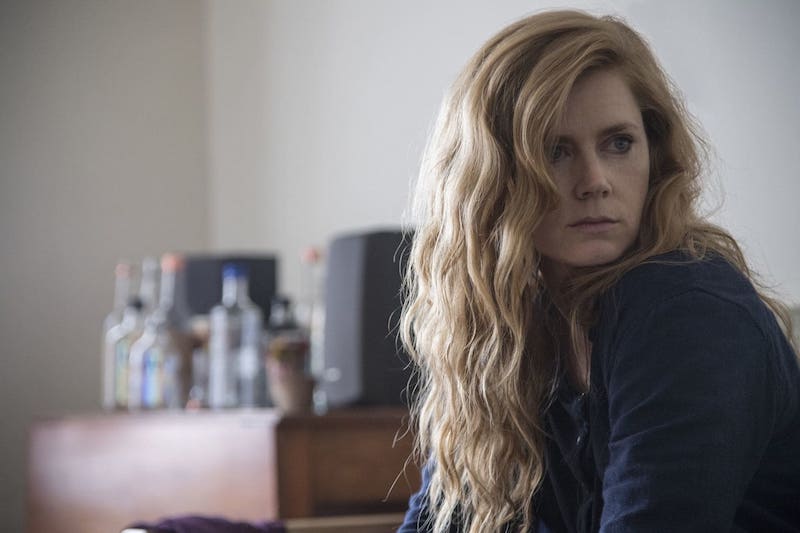 41. Sharp Objects
HBO (2018)
Based on: Sharp Objects by Gillian Flynn
This miniseries has everything a show needs to succeed: Gillian Flynn behind the story, Amy Adams in the starring role, Marti Noxon at the helm. And succeed it does: it's moody and atmospheric and frightening, if perhaps a little one-note at times.
40. Birdsong
BBC (2012)
Based on: Birdsong by Sebastian Faulks
To be fair, this is barely a tv show—a two part miniseries is basically just a long movie you fell asleep in the middle of and had to pause. But it's great, and Eddie Redmayne and Clémence Poésy are lovely, it's technically television, so here you go.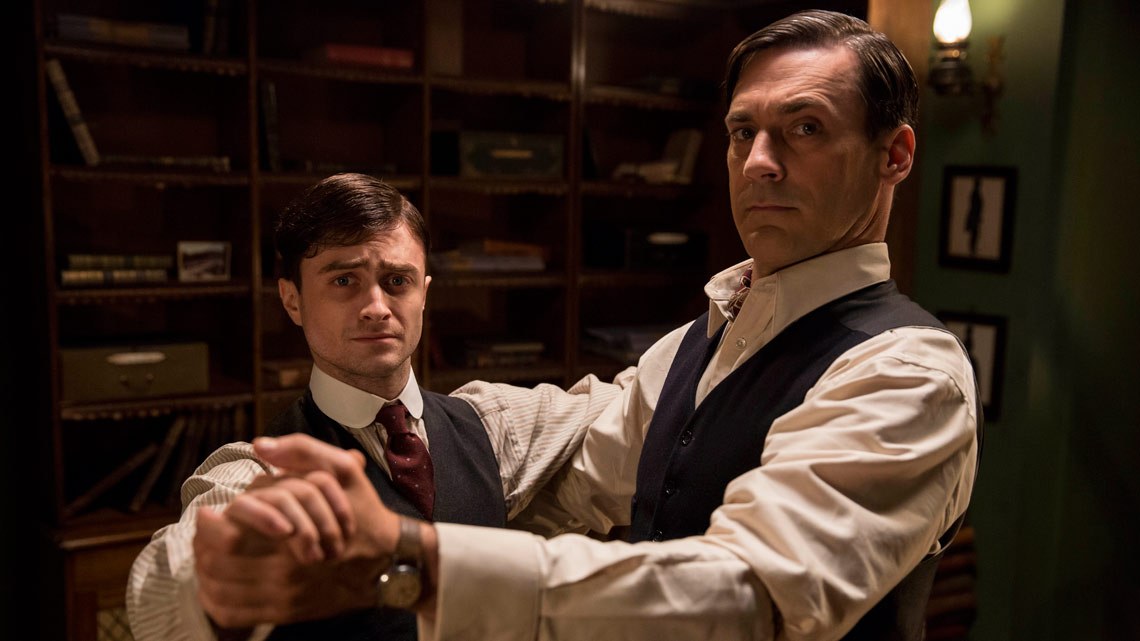 39. A Young Doctor's Notebook
Ovation (2013)
Based on: A Young Doctor's Notebook by Mikhail Bulgakov
As Mike Hale put it in The New York Times, A Young Doctor's Notebook "stands out on American television simply for being a serious adaptation of serious literature." That unfortunately high bar cleared, it's also wry and clever, and highly enjoyable if you can stomach the gruesome work of a Russian country doctor in 1916. Besides, it's Bulgakov.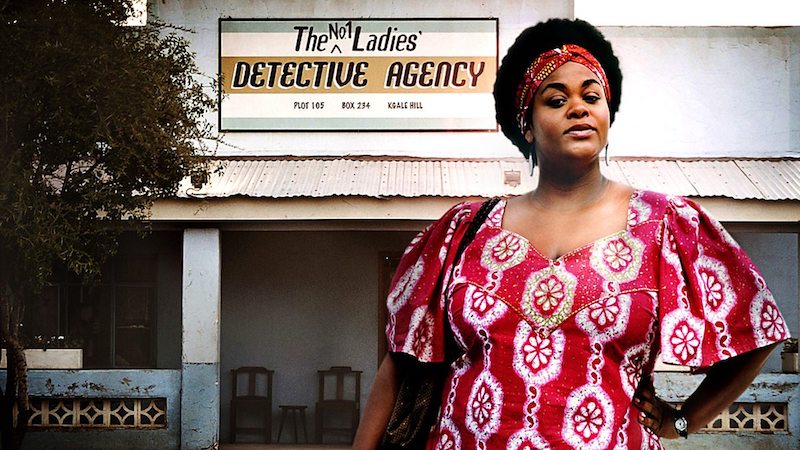 38. The No. 1 Ladies' Detective Agency
BBC/HBO (2008-2009)
Based on: The No. 1 Ladies' Detective Agency series by Alexander McCall-Smith
Totally delightful and unfairly cancelled.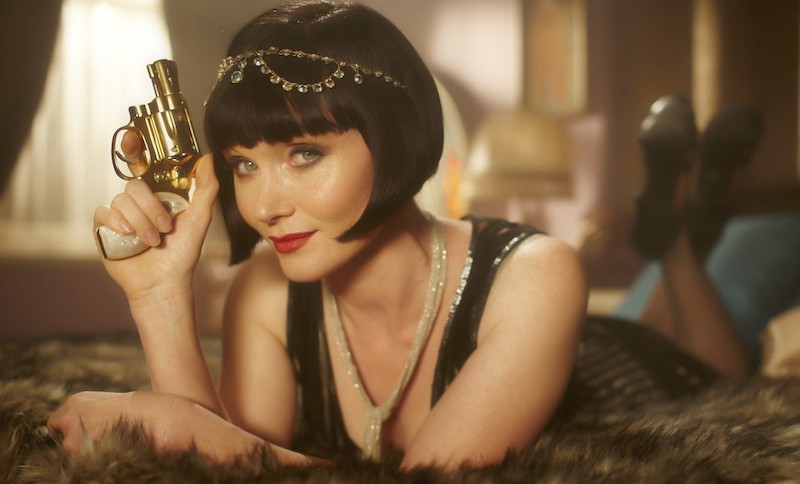 37. Miss Fisher's Murder Mysteries
ABC (2012-2015)
Based on: the Phyrne Fisher mystery series by Kerry Greenwood
Witty remarks, great clothes, and a very charming hero make this show, set in 1920s Melbourne, a welcome respite from all the usual gritty crime shows. Feminist, fresh, and a whole lot of fun.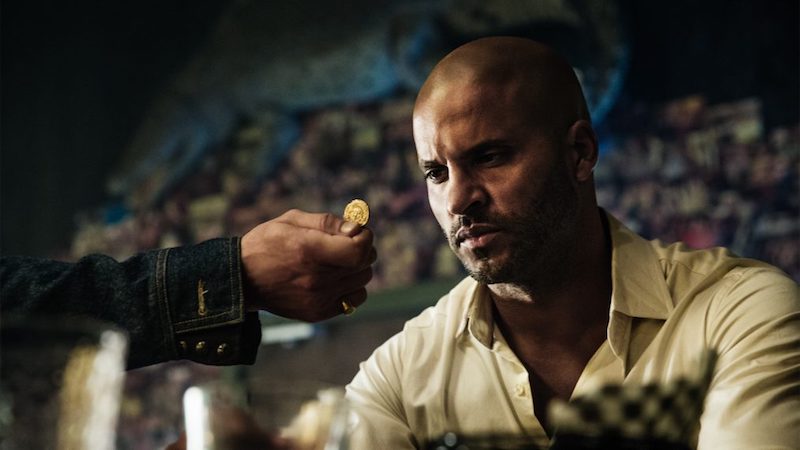 36. American Gods
Starz (2017-present)
Based on: American Gods by Neil Gaiman
The first season of American Gods looks great. Visually, it's rich and sensual and weird—which often makes for captivating television. The storyline—already a little watery in Gaiman's novel, if I'm remembering right—not so much. Which is great when you want to tune out and be awed by some godly behavior (so, often). We'll see what happens in the second season, but for now, it seems like the creators have chosen style over substance. Which is fine! Style is great! And at least you can always read the book to understand what's going on . . . sort of.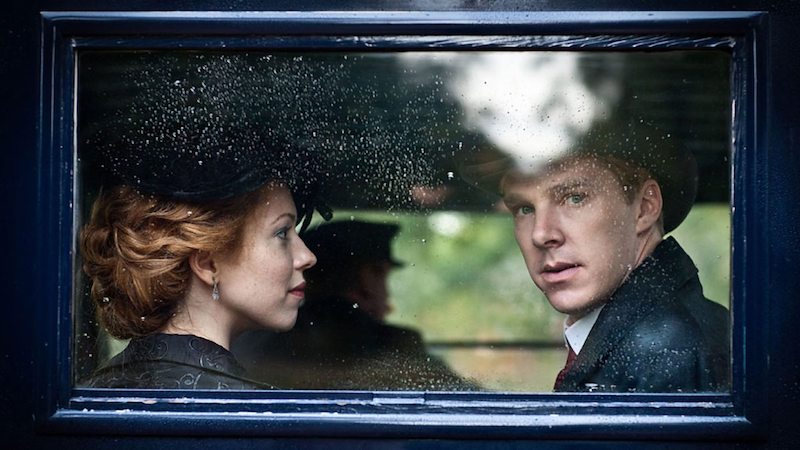 35. Parade's End
BBC (2012)
Based on: the Parade's End tetralogy by Ford Madox Ford
Another British adaptation of a British novel about upper class Brits—but written by Tom Stoppard, in his first work for TV in 30 years, and featuring standout performances from Rebecca Hall and Benedict Cumberbatch. It may be a tad dense and slow at times, which is why no one you know has seen it, but it's an emotionally complex, satisfying adaptation, and a fine tribute to the novels.
34. War & Peace
BBC (2016)
Based on: War and Peace by Leo Tolstoy
The most recent adaptation of many War and Peace adaptations is gorgeous, gossipy, and lots of fun to watch, if not as serious as it might be. Louis Menand wrote in The New Yorker:
Does the new series get the novel? Not really. It's a costume drama, "Downton Abbey" goes to Moscow, one of those "Masterpiece Theatre"-type shows that, despite the toniness and the high-end production values, is basically about the trials and tribulations of getting exceptionally attractive and ridiculously rich people properly paired off. Within the confines of that slightly soapy ambition, the series is credible and, at moments, quite moving. But it's much more interested in Anatole flirting at the opera than in Pierre eating the potato. It gives Tolstoy's big existential question—if we are only tiny bits of life being blown around in a great cosmic storm, and have no control over what happens to us, what can it possibly mean to live in the right way?—a pass.
Which honestly is fine by me. It's television, after all. It's meant to be enjoyable.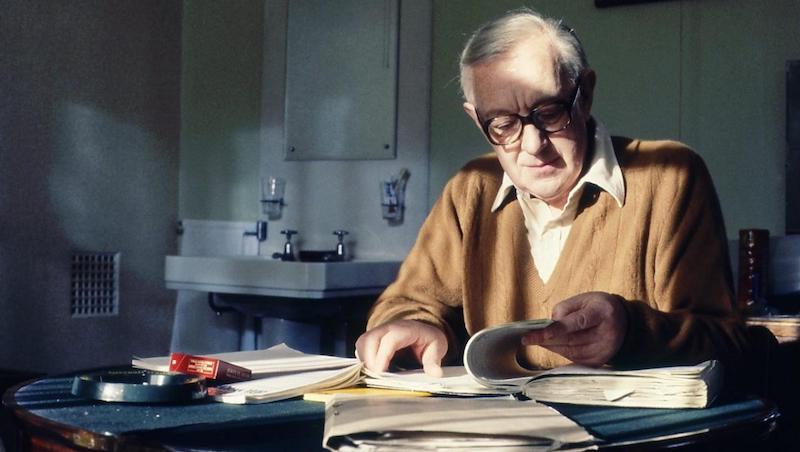 33. Tinker Tailor Soldier Spy
BBC (1979)
Based on: Tinker Tailor Soldier Spy by John le Carré
A languid, brilliant, and faithful spy series featuring one of the best performances of the era: Alec Guinness as a pitch-perfect George Smiley. Plus, this is John le Carré's favorite adaptation of his work, which is good enough for me.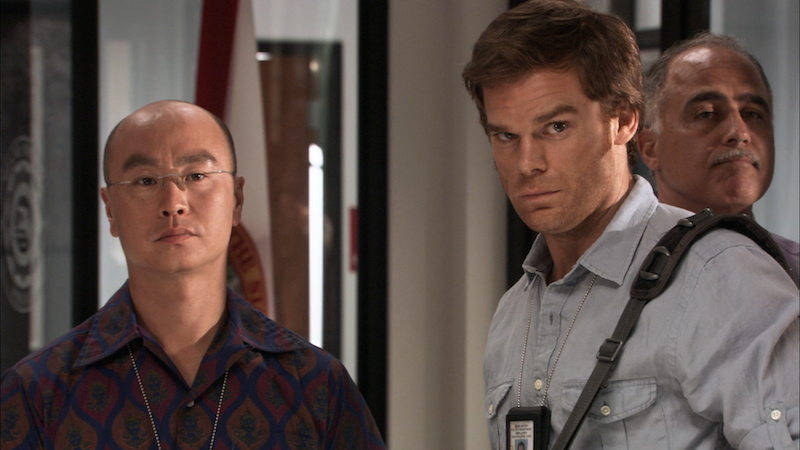 32. Dexter
Showtime (2006-2013)
Based on: Darkly Dreaming Dexter, and its sequels, by Jeff Lindsay
Oh, Dexter. When you were good you were very very good, but when you were bad you were horrid. For the record: two is best, fourth is John Lithgow, one is the most fun, five is Julia Stiles, three is totally forgettable, seven is a ray of hope, eight and six are both terrible, horrible, no good, very bad seasons.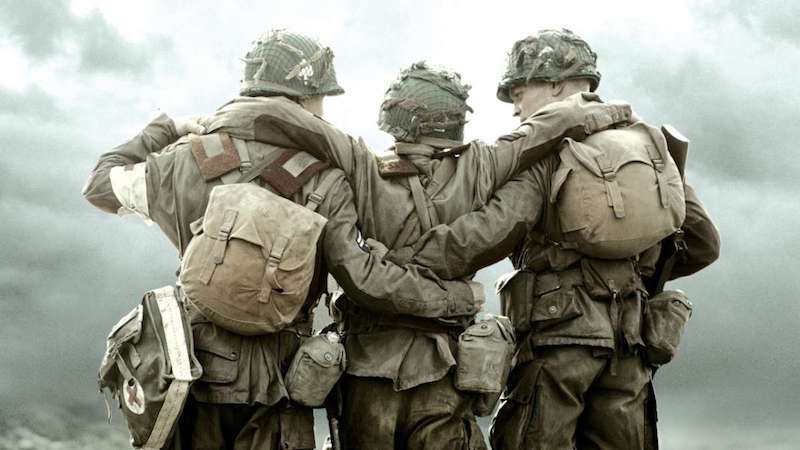 31. Band of Brothers
HBO (2001)
Based on: Band of Brothers by Stephen E. Ambrose
Steven Spielberg and Tom Hanks executive produced this war drama miniseries based on a nonfiction account of a WWII parachute infantry company in the 101st Airborne Division. It won an Emmy and a Golden Globe for best miniseries in the year of its airing and is generally considered to be a high water mark for WWII television.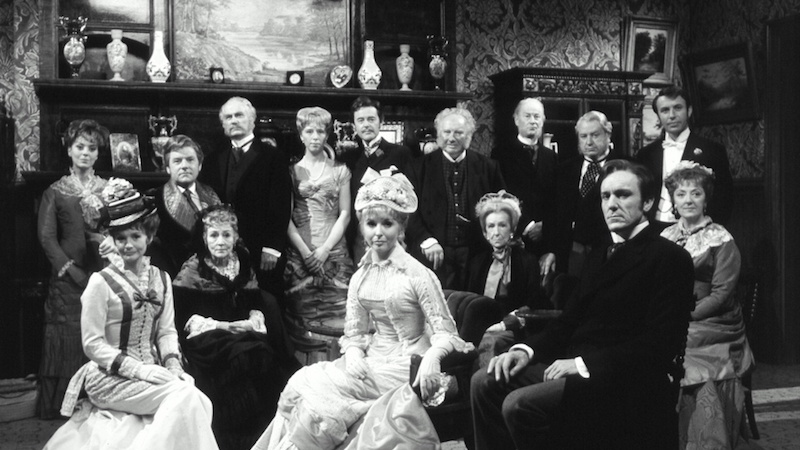 30. The Forsyte Saga
BBC2 (1967)
Based on: The Forsyte Saga series by John Galsworthy
One of the last great shows to be broadcast in black and white, and a massively popular adaptation of a relatively dry series of novels. A rare case in fact, in which I'm comfortable declaring that the TV show is actually better than the books. Even though the books won Galsworthy a Nobel Prize.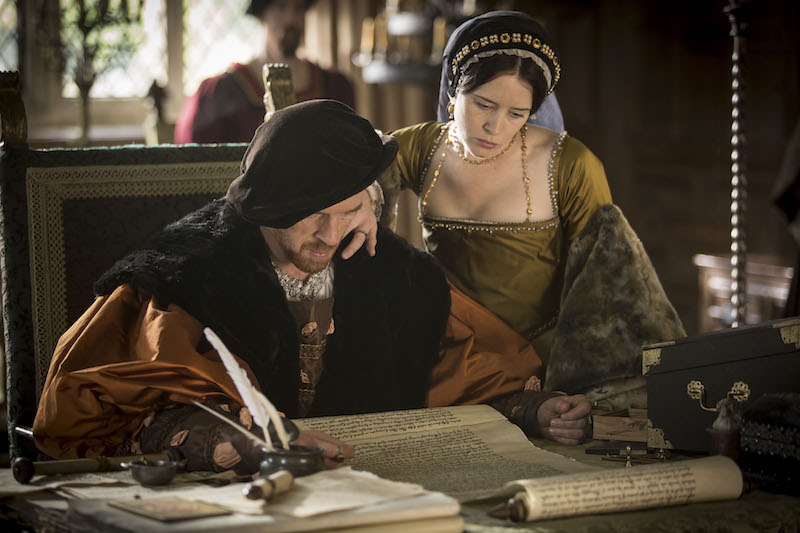 29. Wolf Hall
BBC2 (2015)
Based on: Wolf Hall by Hilary Mantel
Difficult but magisterial, well-acted, visually impactful, and highly rewarding if you have the endurance and attention to get through it all—just like the source material.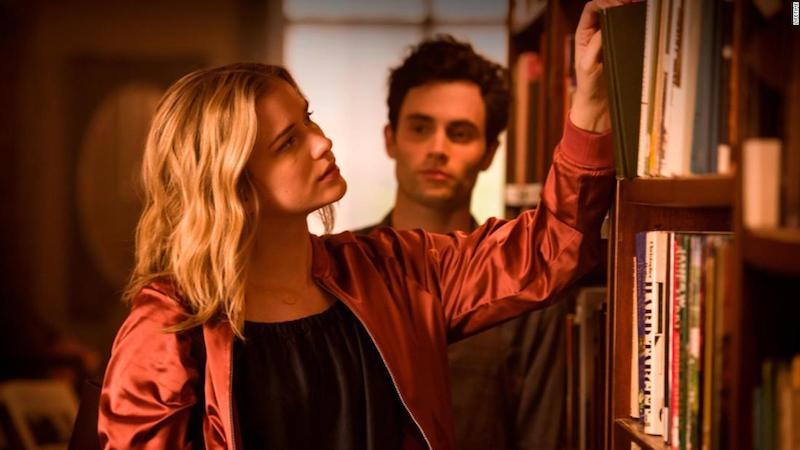 28. You
Lifetime (2018-present), Netflix
Based on: You by Caroline Kepnes
You is patently ridiculous, but it knows it. That's why it's so much fun. And the fact that Paula Fox's Desperate Characters figures instantly in the pilot's plot doesn't hurt it at all.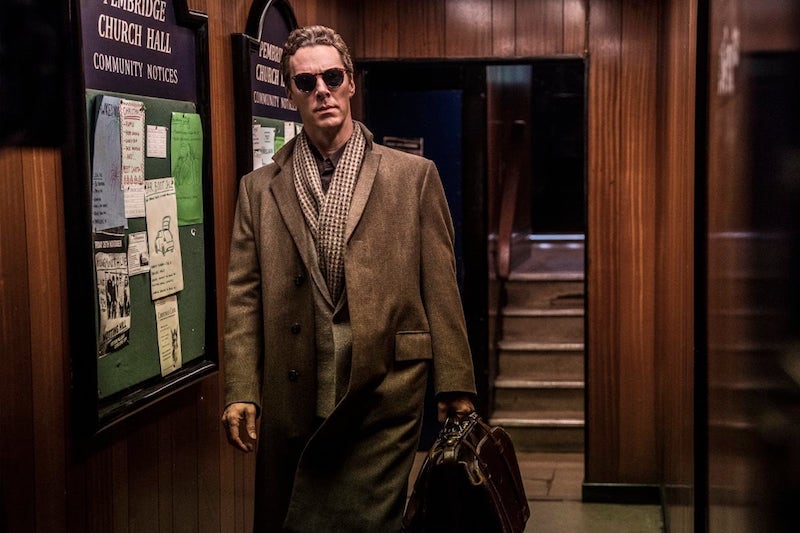 27. Patrick Melrose
Showtime (2018)
Based on: The Patrick Melrose Novels by Edward St. Aubyn
This miniseries—only five episodes—has its flaws. But none of them come from Benedict Cumberbatch, who is riveting the entire way through, nor from the fantastic production and acerbic takedown of upper class English society. Some of it can be hard to watch, but some of the books were hard to read, too. That's just the price you pay.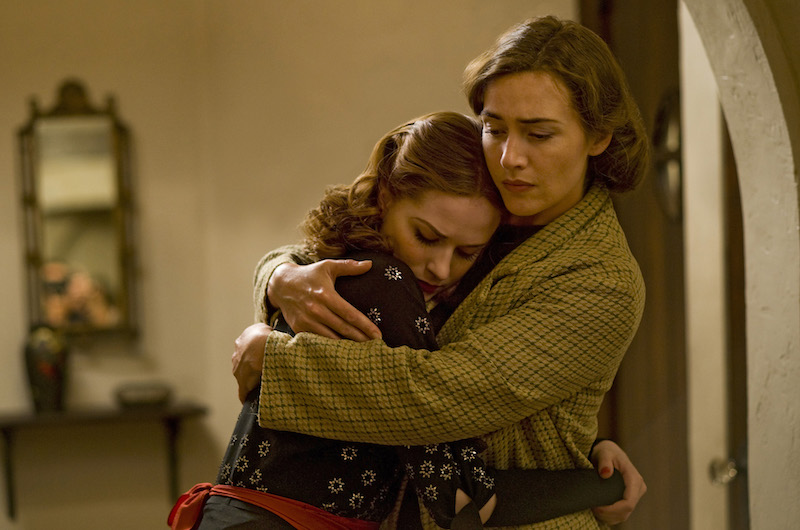 26. Mildred Pierce
HBO (2011)
Based on: Mildred Pierce by James M. Cain
No one can hold a candle to Joan Crawford, of course—but Kate Winslet comes pretty close.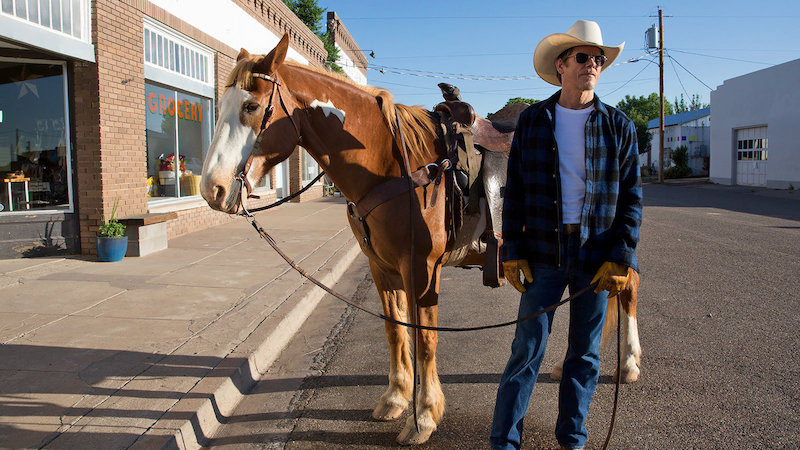 25. I Love Dick
Amazon (2016-2017)
Based on: I Love Dick by Chris Kraus
Honestly, I'm just amazed and thrilled that a book like this made it to television. And it was pretty good! It wasn't everything everyone wanted it to be, but nothing ever is, and the episode "A Short History of Weird Girls" has to go down in the history books as one of the best standalones ever aired.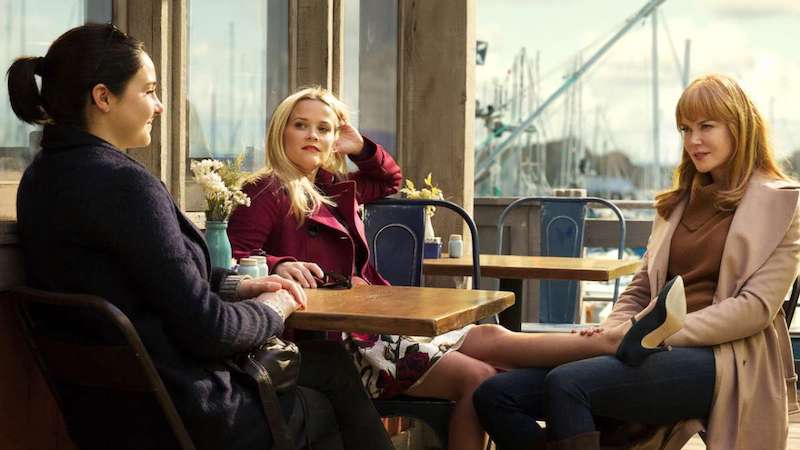 24. Big Little Lies
HBO (2017-present)
Based on: Big Little Lies by Liane Moriarty
Biting, caustic, funny, addictive, wildly entertaining—and a show that takes women and "women's problems" dead seriously. These are women leading lives of quiet desperation, until they get a little less quiet. Plus, you really can't do any better than this cast. Queen of Literary Projects Reese Witherspoon hasn't let me down with an adaptation yet.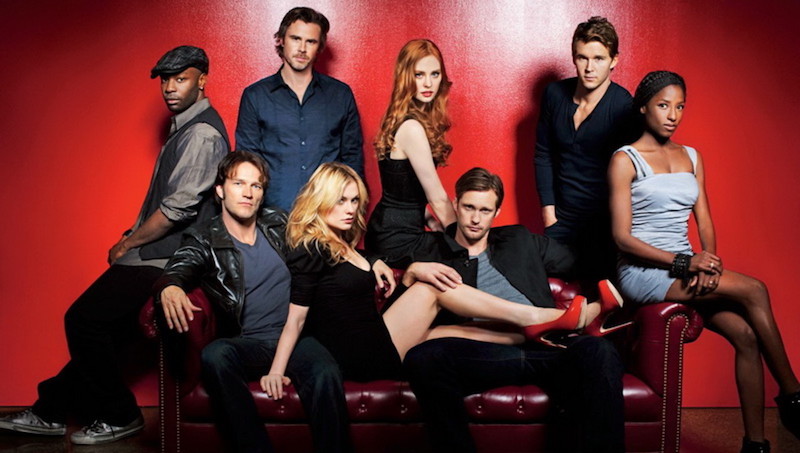 23. True Blood
HBO (2008-2014)
Based on: The Southern Vampire Mysteries by Charlaine Harris
In its early stages, and especially in season three, True Blood was campy Southern Gothic vampire perfection—sexy, fantastical, and with a witty edge. But then, we found out about the fairies, and things began to go downhill. We'll just ignore the last two seasons, shall we?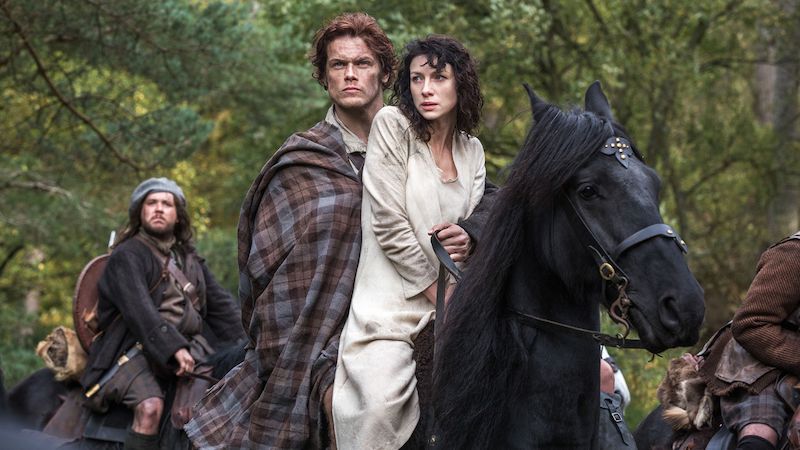 22. Outlander
Starz (2014-present)
Based on: the Outlander series by Diana Gabaldon
Oh, Outlander. People love Outlander. And why not? There's time travel, hot highlanders, alluring mystery, lush views, and epic romance—you couldn't ask for more. Unlike many adaptations, the show does a solid job of translating the books, bringing them to life in a satisfying, visually stimulating fashion. The second season is particularly good, because the only thing I would add to the preceding list is Paris.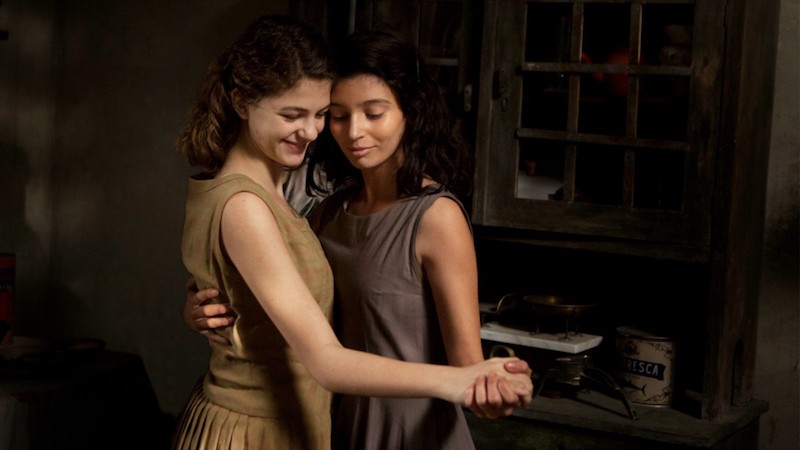 21. My Brilliant Friend
HBO (2018-present)
Based on: The Neapolitan novels by Elena Ferrante
Some people were disappointed by the highly anticipated first season of My Brilliant Friend. I wasn't. It's not exactly easy watching—for all its drama, it's slow—but it looks gorgeous, the chemistry between the actresses is phenomenal, and honestly, we all need to stop looking at our phones while we watch television anyway. You can read the subtitles. One magic screen at a time should be plenty.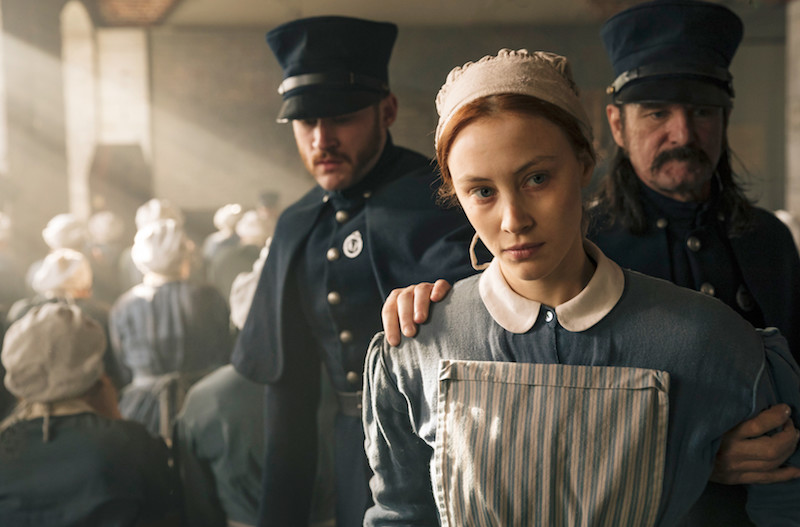 20. Alias Grace
CBC/Netflix (2017)
Based on: Alias Grace by Margaret Atwood
A truly riveting adaptation of Atwood's novel that was slightly undercut by the Atwood-glut we were going through at the time of its release. Sarah Gadon is hypnotic and unnerving; it was all over too soon.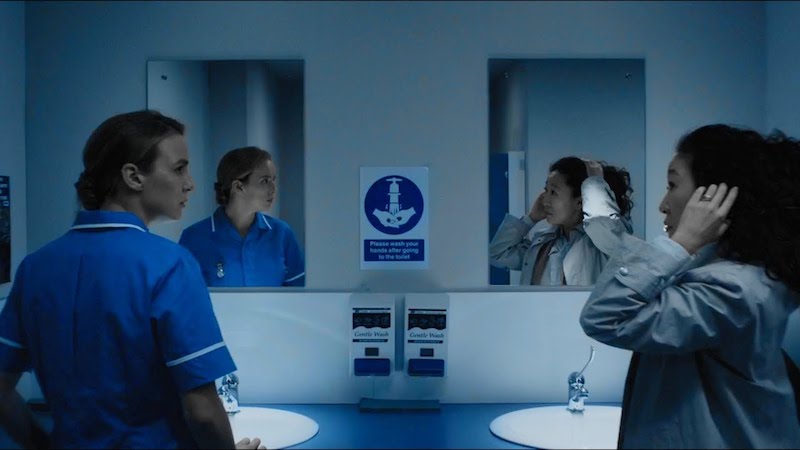 19. Killing Eve
BBC America (2018-present)
Based on: the Codename Villanelle series by Luke Jennings
It's hard to judge Killing Eve against some of the other entries on this list, considering that we've only gotten one season and eight measly episodes—but what episodes! What irreverent, charming, utter fun they are, thanks in large part to stellar performances by Sandra Oh and Jodie Corner (but definitely not discounting its creator, the wonderful Phoebe Waller-Bridge). Though there are a few early missteps, the tenor is fresh and appealing—not for nothing, I love that this is a crime show about smart women who get obsessed with each other—and it's one of the shows I'm most looking forward to seeing return.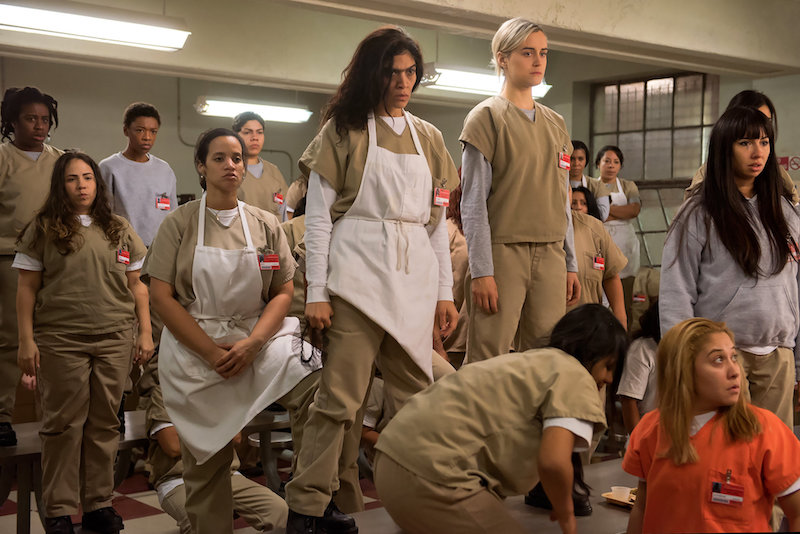 18. Orange is the New Black
Netflix (2013-present)
Based on: Orange is the New Black: My Year in a Women's Prison, by Piper Kerman
Though its power has dimmed in recent seasons, Orange is the New Black will still go down in history as a magnificent ensemble show, dramatic and funny, with a wealth of different characters and perspectives, as well as top-notch writing and acting.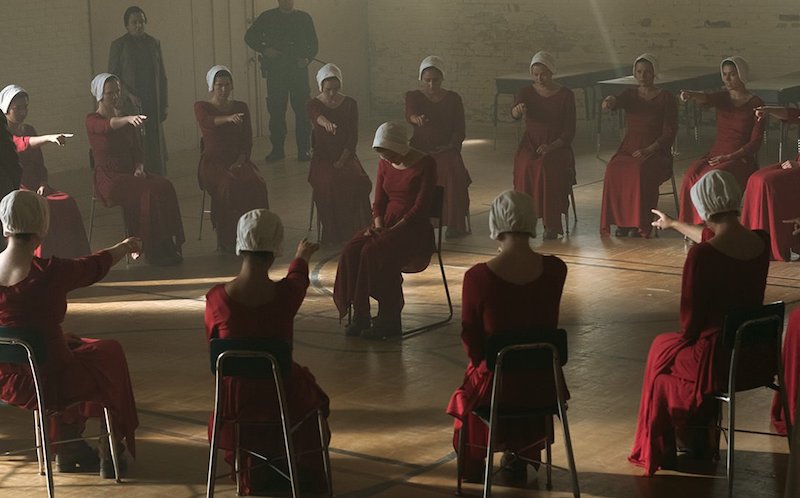 17. The Handmaid's Tale
Hulu (2017-present)
Based on: The Handmaid's Tale by Margaret Atwood
Despite its creepy branding efforts and unnecessary second season, the first season of The Handmaid's Tale is moving, chilling, and uncomfortably close to home. It also renewed everyone's interest in the original novel, which has its upsides (everyone reading or re-reading it) and downsides (the sequel is as unnecessary as the second season; both seem like money grabs). But for the first season alone, it belongs on this list.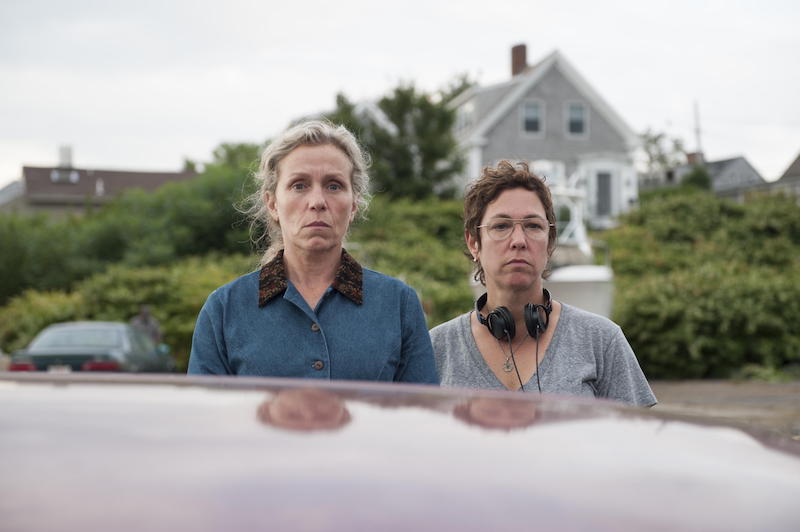 16. Olive Kitteridge
HBO (2014)
Based on: Olive Kitteridge by Elizabeth Strout
Not many people watched this adaptation of Strout's Pulitzer Prize-winning novel-in-stories, but the people who did know: it's great. I mean, it's Frances McDormand, so that's really all you need to know.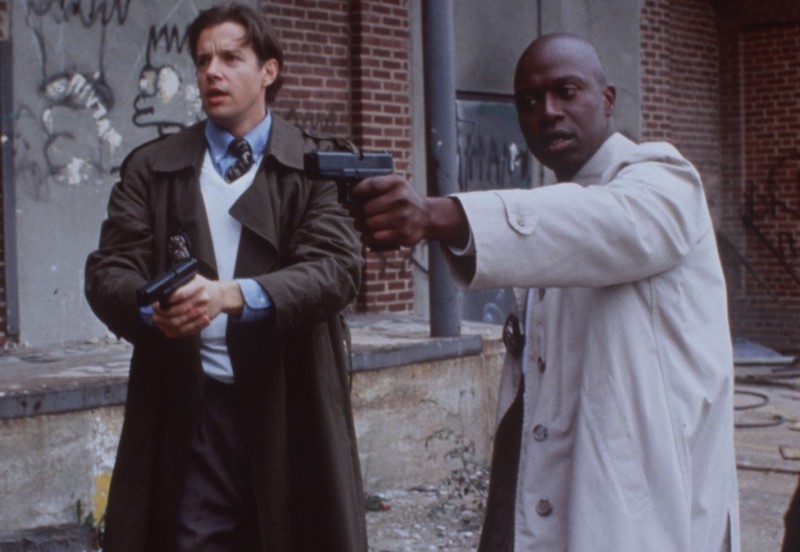 15. Homicide: Life on the Street
NBC (1993-1999)
Based on: Homicide: A Year on the Killing Streets by David Simon
David Simon, Baltimore, fictional stories based on real ones. It's basically the first draft of The Wire, and it's already better than tons of other shows. No wonder The Wire is one of the best shows ever made.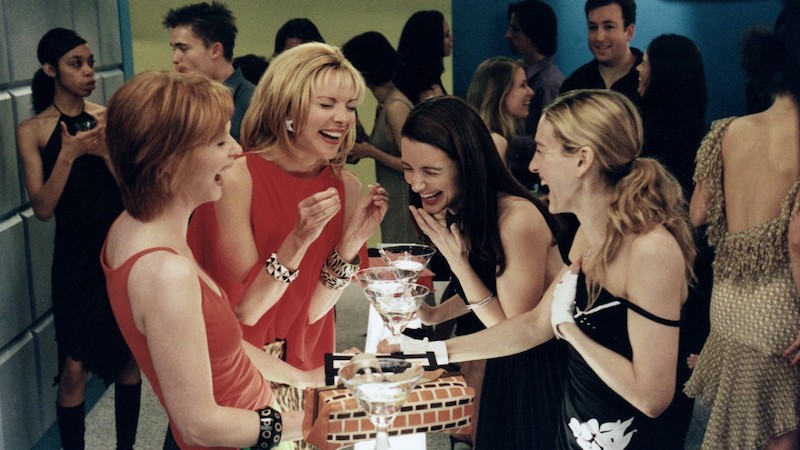 14. Sex and the City
HBO (1998-2004)
Based on: Sex and the City by Candace Bushnell
I'm not a huge fan of Sex and the City. I mostly missed it while it was on and it hasn't aged particularly well, so watching through some of it recently didn't exactly endear it to me. But I recognize that it is iconic and that a lot of people love it, and it has seven Emmys, eight Golden Globes, and three SAG awards, and hey, it's based on a book of essays, and so here we are.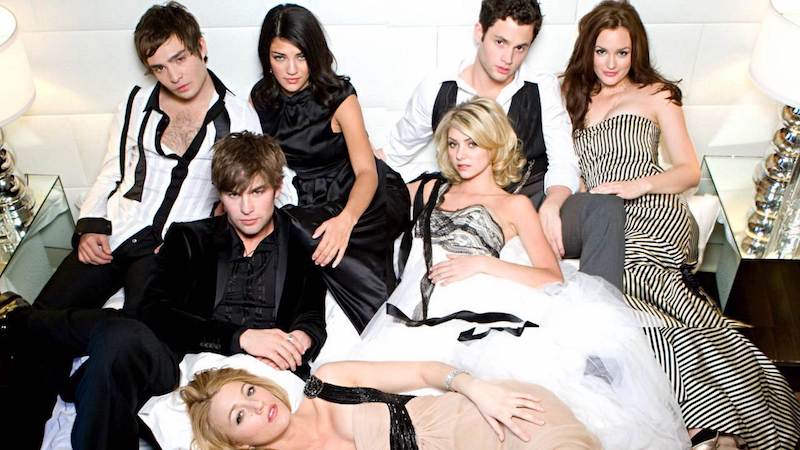 13. Gossip Girl
The CW (2007-2012)
Based on: the Gossip Girl series by Cecily von Ziegesar
Let's be frank: Gossip Girl is perfect. I mean that in the sense it does exactly what it sets out to do—whether or not you think it's "good" on a moral or aesthetic level is kind of besides the point. It's a rich-kid prep-school soap, and actually improves on the best-selling books. The early seasons are fun, taut, NYC catnip, and though (like many shows of its kind) it strains credulity and patience by the end, it's iconic for a reason.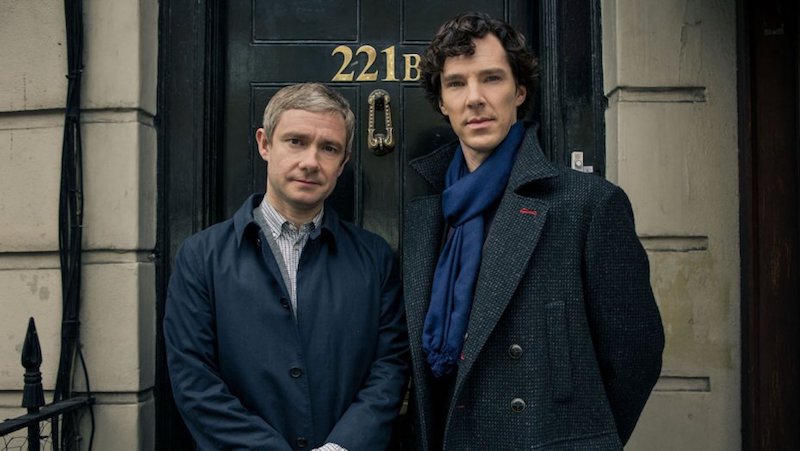 12. Sherlock
BBC (2010-2017)
Based on: The Adventures of Sherlock Holmes by Sir Arthur Conan Doyle
The most recent adaptation of Sir Arthur Conan Doyle's beloved stories may not be the purest version of Holmes (see below) but it makes for fine, entertaining television—with witty writing, great acting, and enough attitude to poison a small village.
Alternate Choice: Sherlock Holmes*
Granada Television (1984-1994)
Based on: The Adventures of Sherlock Holmes by Sir Arthur Conan Doyle
There have been many, many, iterations of Sherlock Holmes, so without breaking my rule I will also mention this one. Our resident Sherlock Holmes expert will tell you that the Jeremy Brett Sherlock Holmes is the truest and best Sherlock Holmes. Which is saying something.
*Styled as The Adventures of Sherlock Holmes (1984–1985), The Return of Sherlock Holmes (1986–1988), The Case-Book of Sherlock Holmes (1991–1993) and The Memoirs of Sherlock Holmes (1994)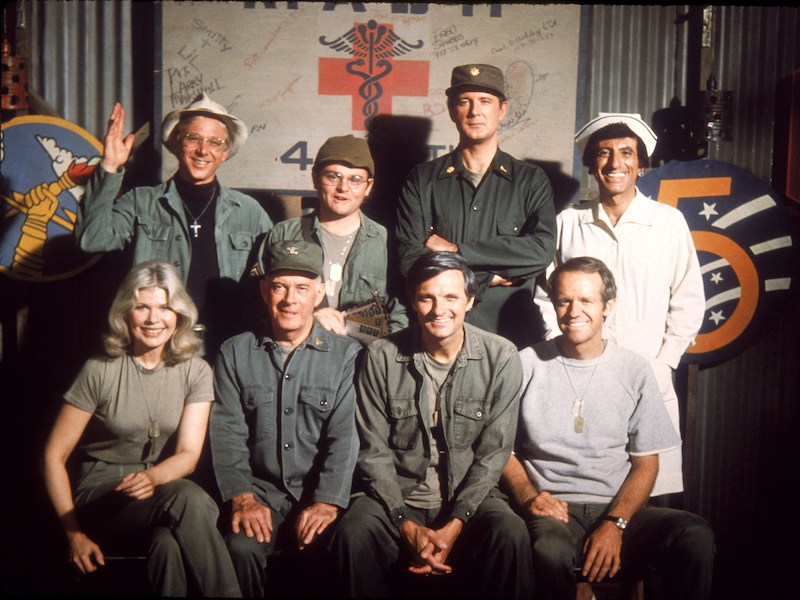 11. M*A*S*H
CBS (1972-1983)
Based on: MASH: A Novel About Three Army Doctors by Richard Hooker
Some of you will be angry that this isn't at the tippy top of the list, and that's okay. Lists are subjective. M*A*S*H is great. It's an American classic. It drags at the end, sure. And it's only sort of based on a book (the movie is based on the book and the show is based on the movie) but hey. No one is arguing.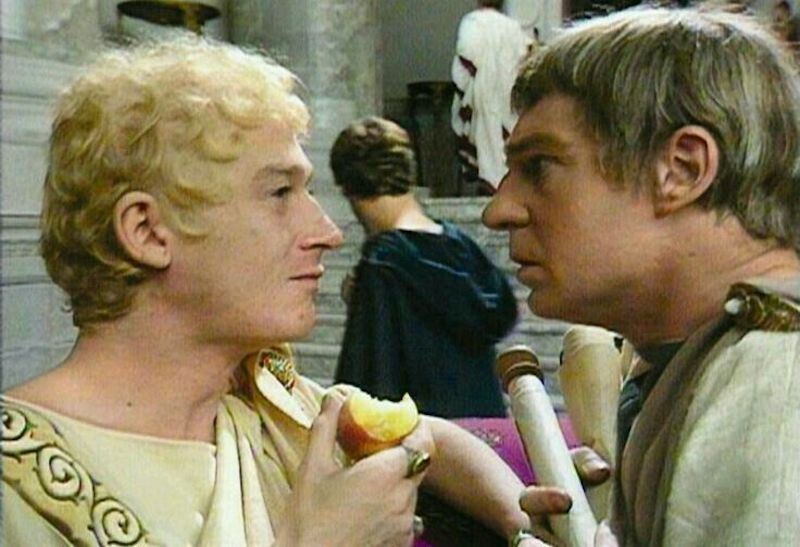 10. I, Claudius
BBC (1976)
Based on: I, Claudius and Claudius, The God by Robert Graves
I took Latin from sixth grade to twelfth grade, and every single one of those years we watched A Funny Thing Happened on the Way to the Forum. We didn't get to watch I, Claudius until we were in eighth grade, but that still means I've seen this 13-part miniseries five times. It's dated, to be sure, but it's also pretty great, and it set the stage for countless sweeping historical family and crime dramas with higher production values. But even without them, it's engaging, iconic, and vivid television.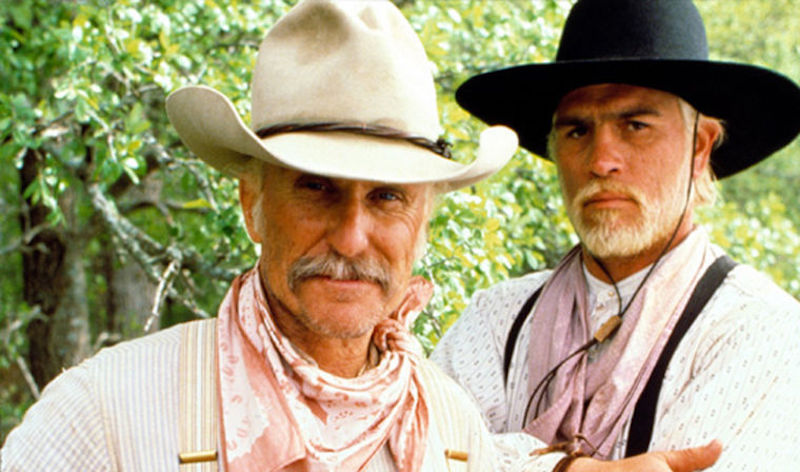 9. Lonesome Dove
CBS (1989)
Based on: Lonesome Dove by Larry McMurtry
The original Lonesome Dove miniseries is also the best, picking up seven Emmys and becoming instantly iconic. In fact, according to The New York Times, it was so well done and popular upon its release that it "revitalized both the miniseries and Western genres, both of which had been considered dead for several years." No sweat. Plus, um, Robert Duvall, Tommy Lee Jones, Anjelica Huston, Diane Lane, Danny Glover. I actually might be sweating a little now.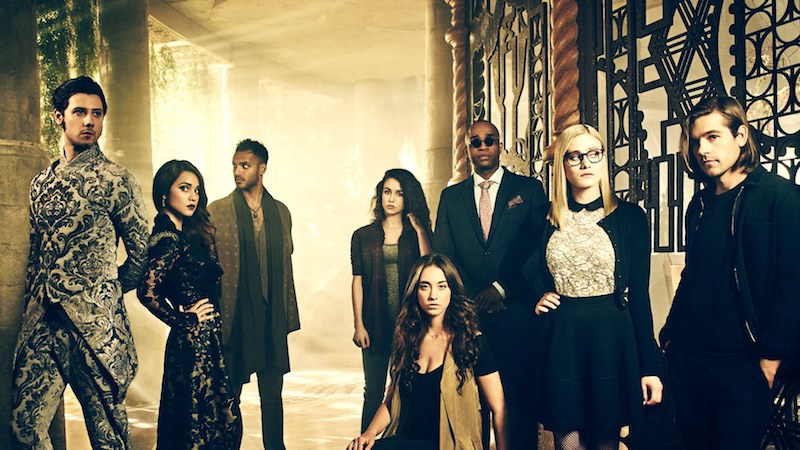 8. The Magicians
SYFY (2015-present)
Based on: The Magicians, The Magician King, and The Magician's Land by Lev Grossman
I have a serious emotional problem which is that I love The Magicians and no one else does or knows what I'm even talking about. But this is not, as you might expect, because I love the books. I read the first book when it came out in 2009, pitched as "Harry Potter at grad school with sex and drugs," and I remember enjoying it, but being underwhelmed. I am not underwhelmed by the show, which is hilarious, moving, and endlessly entertaining if you grew up reading fantasy. This may be the reason that not enough people watch or love this show: it rewards a lifetime of nerd-dom, and I see how it might be flatter without it.
For instance, one episode in the third season features a sequence in which two characters speak in code: the code being references from fantasy and science fiction. Another episode, in which two main characters spend their lives trying to solve a puzzle that could save the world, and die after many years spent together, is the most emotionally resonant thing I've seen on television in a long time.
Tonally, the show's closest analogue is Buffy the Vampire Slayer—it starts off fun and quirky and self-effacing, the characters punning along as they beat the monsters-of-the-week—and winds up dark as all fuck. Plus, like Buffy, the transformations are everything. It's worth watching this whole show just to see what happens to Margo. Don't @ me until you've done so.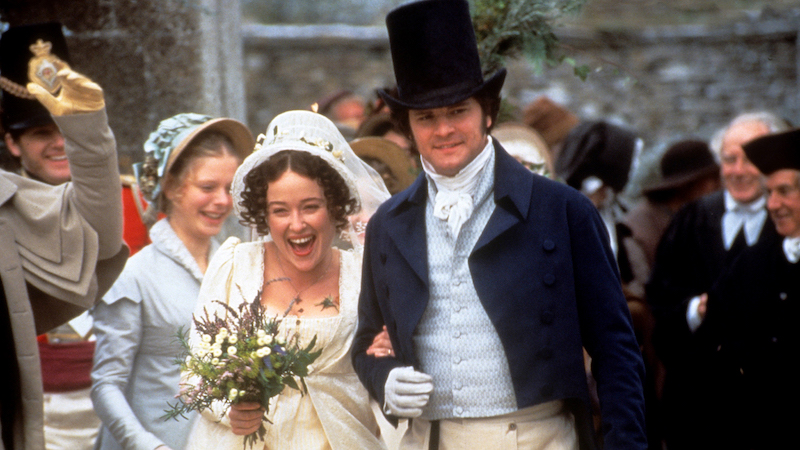 7. Pride and Prejudice
BBC (1995)
Based on: Pride and Prejudice by Jane Austen
Still the best Pride and Prejudice, and maybe the best Austen adaptation full stop (unless you count Clueless, which honestly I do, but it's a movie so let's not litigate that here). Witty, well-acted, and featuring that scene where Colin Firth comes out of the lake in his white shirt . . . swoon, etc. I mean, someone even made a statue out of it. I prefer the bath scene, though. All that copper.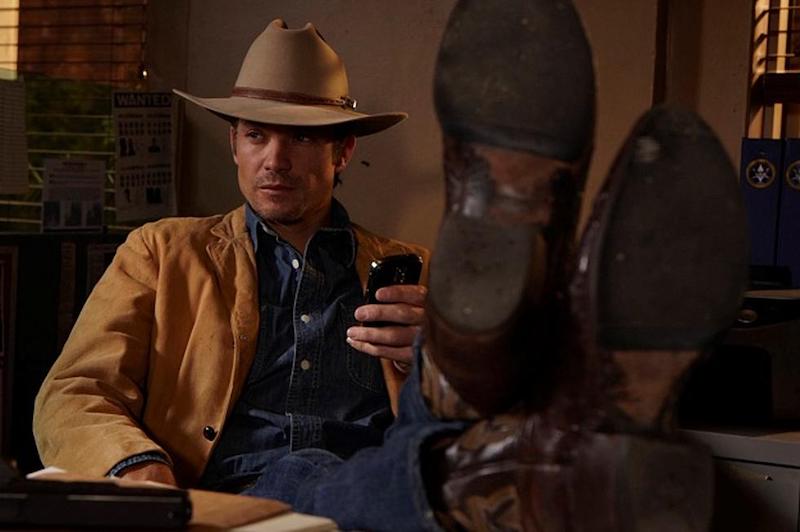 6. Justified
FX (2010-2015)
Based on: "Fire in the Hole" by Elmore Leonard
Points right at the start for being a good television show based on a short story—not even on a book, and not close to a series of them, as many of the shows listed here are. And it ran for six seasons! Six seasons of witty, irreverent storytelling, hard edges and some extremely fine acting: Timothy Olyphant is excellent here, and Walter Goggins isn't so bad either.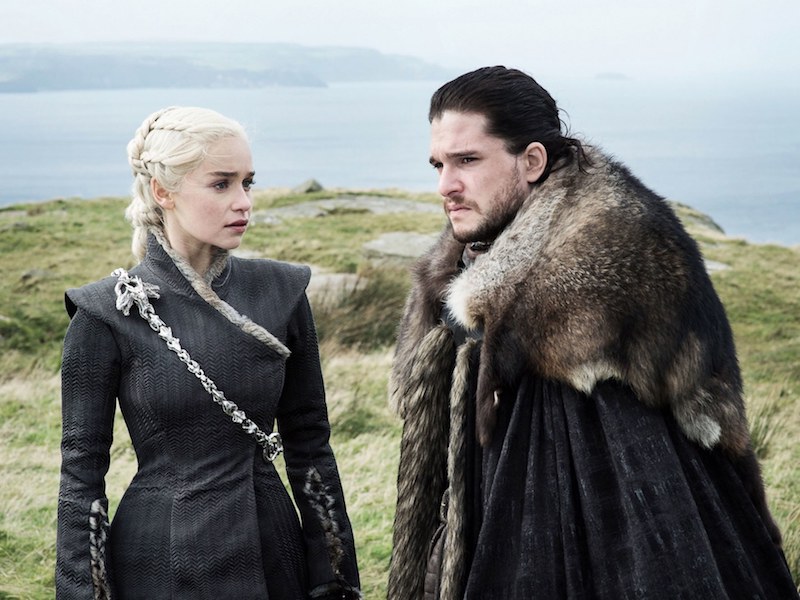 5. Game of Thrones
HBO (2011-present)
Based on: A Song of Ice and Fire by George R. R. Martin
I get it, I do. I used to be a fan of Game of Thrones. After the first season, I was obsessed. I read the first four books, and then my interest petered out. It was too grim, without enough payoff. I feel the same way about the show. (There's a whole separate litigation I could get into about why the show adds sexual violence where it's unnecessary, and how I feel about that, but I just won't.) I stopped watching when the Mountain crushed a man's skull on screen. I just don't need that kind of imagery in my life, no matter how badass Daenerys is.
Still, I can't ignore the sheer power and drama of this show, which has become a major cultural touchstone. When it's bad, it's ridiculous (or grisly and unpalatable), but when it's good, it's great.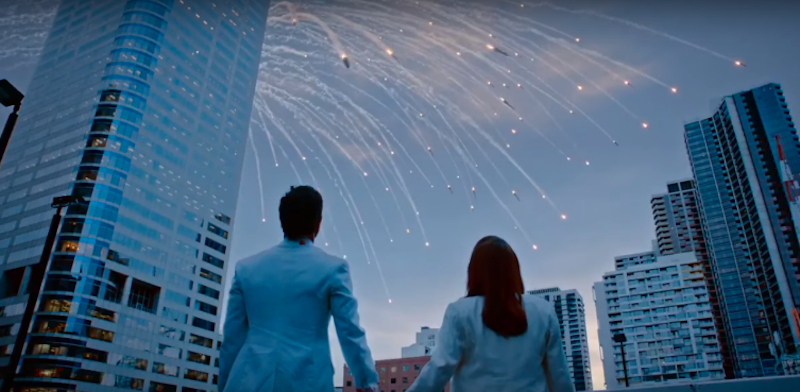 4. The Leftovers
HBO (2014-2017)
Based on: The Leftovers by Tom Perrotta
Rather unusually for an adaptation, The Leftovers was good when it was adhering to the source material, but great when it shook loose from it. The first season is more or less the novel, but after that, it's all invented—though, to be fair, Perrotta being on board the entire time probably has something to do with it, and blurs the line between adaptation and simple furtherance of the novel in a different medium. But regardless, the show is brilliant, taking on the biggest questions of existence in a way that stays entertaining, ambitious, and deftly told. Great performances all around don't hurt.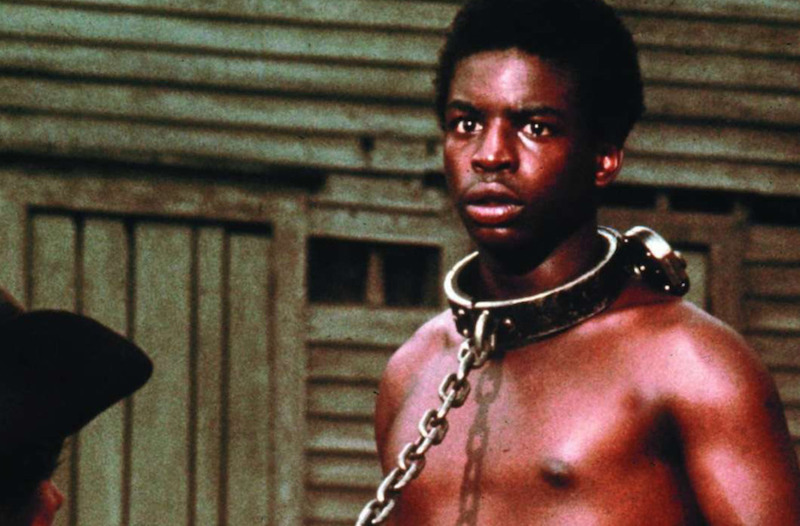 3. Roots
ABC (1977)
Based on: Roots: the Saga of an American Family by Alex Haley
It's hard to rank Roots. On the one hand, it was a verified phenomenon, with record-breaking viewership (over 100 million American viewers!) and acclaim. The finale was the most-watched episode of any kind of television ever—though the M*A*S*H finale beat it in 1983. It won a slew of Emmys and a Golden Globe for Best TV Series. Also: the making of LeVar Burton. Also: a serious show about the history of black Americans that forced many white people to recognize the horrors of slavery for the first time. On the other hand, that book it was adapted from? Some of it was plagiarized from a book called The African by Harold Courlander. And Haley's claim that the novel was based on his own family's history? Seriously called into question by researchers. Does any of that matter to this list? Well, yes. But there's no question that this was an important, trailblazing, and good show, and most importantly, it made people talk—and listen.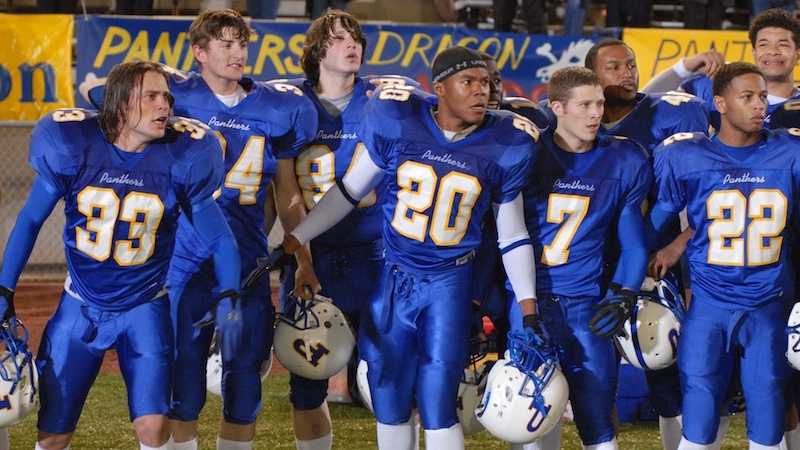 2. Friday Night Lights
NBC (2006-2011)
Based on: Friday Night Lights: A Town, a Team, and a Dream by H. G. Bissinger
Many people's choice for Best Show Ever, regardless of its literariness. And why not? It was a show about football that people who didn't care about football would watch, a realistic but twisty story of a small town in America and its many connected inhabitants, and a deeply absorbing drama. It made you care. That's about the best thing you can say about a show. There was just that one storyline that we don't talk about. And neither does Landry. Just doesn't come up again. It's fine. We've forgotten it.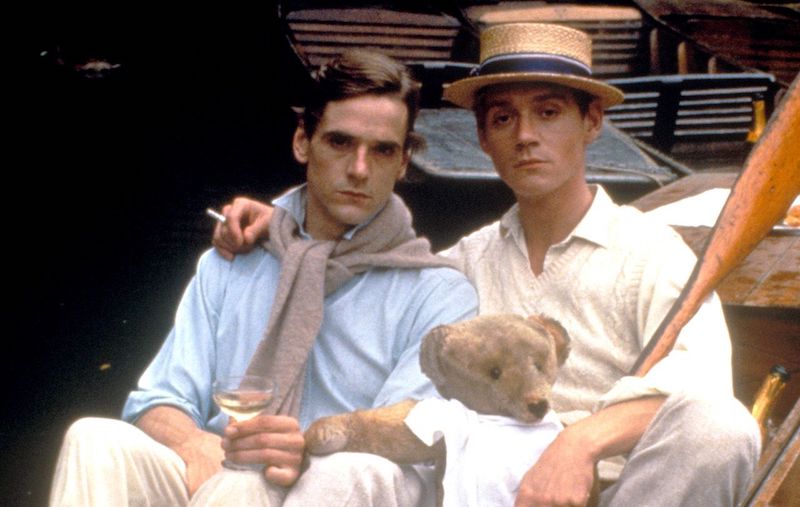 1. Brideshead Revisited
Granada Television/ITV (1981)
Based on: Brideshead Revisited by Evelyn Waugh
Controversial when it first aired (too much homoeroticism!), this sumptuous, dreamy 11-part adaptation of Evelyn Waugh's wonderful novel seems tame now, but no less wonderful: the best possible version of the period drama miniseries. More importantly, it's faithful to the book but also creates and maintains its own lush magic, which makes it the ideal literary adaptation. And honestly, speaking of magic, it doesn't get much better than young Jeremy Irons. "Perhaps no other television program or film has captured the experience of a place over time with such lyricism and sophistication," scholar Mark Broughton told The New York Times. "This lyricism is, however, tempered with a sense that the beauty fetishized by the protagonist, Charles Ryder, is a facade. The historical, cultural and personal forces that wear away at Ryder are unveiled at the same time as his self-deception becomes apparent."
---