Five Books Making News This Week: Tragedy, Sociology, and Knausgaard
Also: Cynthia Bond, David Means, Charles Bock and More
It's the centennial of the Pulitzer Prizes; winners of the awards in Fiction (Viet Thanh Nguyen's The Sympathizer), History (T. J. Stiles' Custer's Trials), General Nonfiction (Joby Warrick's Black Flags: The Rise of ISIS), Biography & Autobiography (William Finnegan, Barbarian Days: A Surfing Life), Poetry (Peter Balakian's Ozone Days), and Feature Writing (Kathryn Schulz of The New Yorker) are among those announced on Monday afternoon. The Man Booker International prize shortlist features Elena Ferrante, Han Kang's The Vegetarian and Orhan Pamuk's A Strangeness in My Mind. PEN Awards go to Mia Alvar's story collection In the Country and Ta-Nehisi Coates' Between the World and Me. Cynthia Bond's Ruby makes the Bailey Women's Prize for Fiction shortlist, which also includes Anne Enright's The Green Road, Elizabeth McKenzie's The Portable Veblen, and Hanya Yanagihara's A Little Life. Charles Bock's second novel draws from a personal tragedy. Mitchell Duneier's Ghetto inspires illuminating essays. A short story master delivers a dystopian novel set in the Vietnam era. And Karl Ove Knausgaard is back.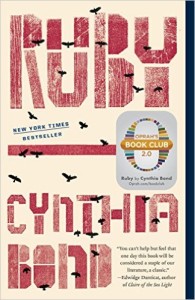 Cynthia Bond, Ruby
A first novel that became an Oprah Book Club 2.0, Ruby follows a young girl who rises above the violence of her East Texas childhood to travel to 1950s New York, then home again, where she is nearly destroyed by the hauntings of her past. Here's how her critics responded when the book was first published in 2014.
Angela Flourney (Los Angeles Review of Books) calls Ruby "a novel that channels Toni Morrison, Zora Neale Hurston, and Jean Toomer." And more:
The best word to describe Ruby might be "committed." Bond commits to depicting situations that require readers to go places they'd rather not venture. Places like hell. Hell is the Neches, Texas brothel in which 6-year-old Ruby must earn her keep, where she must fight even to keep the fistful of quarters her abusers have left her as tips. Where the Johns (called "friends" by the brothel owner) are able to indulge any sadistic whim, including beating to death a fetus and a young woman, for an extra charge. Hell is the survivor's guilt that follows Ruby throughout her life, making it impossible for her to love herself or anyone else.
"Bond proves to be a powerful literary force, a writer whose unflinching yet lyrical prose is reminiscent of Toni Morrison's," writes Leigh Haber (Oprah). "Whether Ephram, who's loved Ruby his entire life, can save her is at the heart of the story, which raises the question, Can hope triumph over pain?"
"Bond's style of writing is as magical as an East Texas sunrise, with phrases so deftly carved, the reader is often distracted from the brutality described by the sheer beauty of the language," concludes Rosalyn Story (Dallas Morning News) "If Ruby is a love story (and it would be hard to argue otherwise) then it is one where shattered remnants of self-love must be reassembled before another kind of love can survive. And like the author's own story, Ruby's is the story of a woman who has found a way to live with the unbearable, who has stared her truth in the face and lived to tell the tale."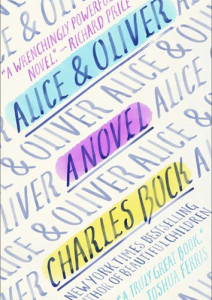 Charles Bock, Alice and Oliver
Bock's second novel is based on a personal tragedy. His wife Diana Joy Colbert, was diagnosed with leukemia in 2009, four years after they married and a year after his novel Beautiful Children was published. Their daughter was six months old at the time. The literary world rallied around his family, raising $41,000 at a 2010 fundraiser that drew support not just from friends but from writers he knew only in passing, including Sam Lipsyte, Gary Shteyngart, Mary Gaitskill and Jim Shepard, Bock tells the New York Times's Alexandra Alter. Reading Doestoevsky's Crime and Punishment influenced him to write this powerful personal story as a novel, not a memoir, he tells The Atlantic's Joe Fassler. "I understood, for the first time, that there is a deeper truth going on in fiction."
"Knowing Bock's investment in Alice & Oliver — how closely he's connected to the material — adds a deeper dimension to the story," notes Alexis Burling (San Francisco Chronicle). "It also means the book runs the risk of appearing too biased, too sentimental. Yet this is a novel, not a memoir, and by deliberately creating characters that were not mirror images of him and his wife but, instead, two unique souls forging their own muddled paths to recovery, Bock found enough distance to write a palpably raw yet surprisingly objective snapshot of the myriad ways illness can wield control over our lives."
Marion Winik (Newsday) applauds Bock's choice to choose fiction over memoir: "Much as I loved this novel, the acknowledgments at the end — where Bock speaks candidly about the origins of the story and its relationship to his real life — made me love it twice as much. Instead of blurring the beauty and truth of the novel with inevitable questions about 'how much is true' and 'why didn't he write a memoir,' those questions are directly answered — and the answers make you see why fiction was a great choice, allowing him to develop his heroine in a way that would have been impossible in memoir, to play with the fictional possibilities of New York City in the early '90s and to create the most engaging experience for the reader."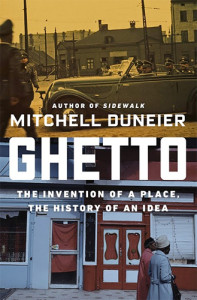 Mitchell Duneier, Ghetto: The Invention of a Place, the History of an Idea
A Princeton sociologist excavates the meaning of a word that dates back 500 years, to a Venetian island where Jews were segregated, and its ongoing evolution today. Critics respond thoughtfully.
"When it comes to understanding the black American ghetto, can we learn anything from the history of the European Jewish ghetto?" asks Adam Kirsch (Tablet). "It is a tricky question, which Duneier addresses carefully, since it seems to invite comparisons about who was more victimized and more resilient. Yet as he tells the story of the evolution of American thinking about the black ghetto—primarily through the lens of successive generations of academic sociologists, from Gunnar Myrdal to William Julius Wilson—the Jewish ghetto refuses to disappear. It haunts the subject like a ghost, raising questions that continue to define the way sociologists think about ghettos today."
Khalil Gibran Muhammad (New York Times) calls Ghetto "a stunningly detailed and timely survey of scholarly work on the topic," and concludes that the ghetto involves more than restrictsions on income: "African-Americans, like the Jews of 16th-century Venice or 20th-century Lodz, have historically had to contend with restrictions on where they could live — restrictions on space and on their very humanity. In Duneier's impressive and comprehensive volume, readers will find a greater sense of the complexity of America's problem of racial inequality, as well as the urgency — practical and moral — of solving it."
David M. Shribman (Boston Globe) judges Ghetto to be "a searing and searching examination of the political and cultural history at the root of this powerfully evocative and inflammatory term." He concludes:
Some readers may leave this volume with the weary conclusion that the American version of the ghetto is the sad reflection of the nation's failures regarding race. In some of these pages, Duneier shares that view, which bends toward hopelessness. But in his conclusion, he offers a heroic bow to the residents of these places, a salute to their valiant efforts and to their values.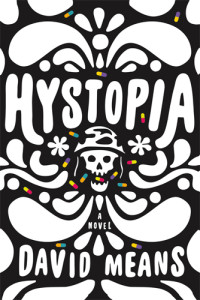 David Means, Hystopia
Means, a master of the taut short story, writes a novel one critic calls "something shaggier." He hits the mark.
Shoshana Olidort (Chicago Tribune) calls Means "a writer of imagination and vision, someone for whom history is not ossified but still very much alive, and rich with possibilities for reinvention."
"Hystopia, which follows a group of Vietnam War veterans trying to piece together what has happened to them, is a story about storytelling and the splintered shards through which accounts of trauma demand to be told," writes Chantal McStay (Bomb). "Here we find Means pushing on the structural bounds of the novel, testing their soundness to collect the disjointedness of unformulated experience. The effect is powerful and expansive."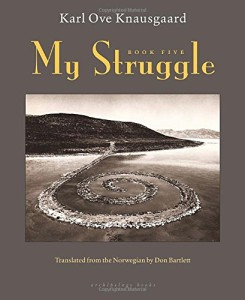 Karl Ove Knausgaard, Some Rain Must Fall: My Struggle, Book 5
Knausgaard fans fall upon his fifth volume, which brings him into a boozy early adulthood and the fate of an aspiring writer. Some say it's his best yet.
Charlotte Grimshaw (The Spinoff) sets it up artfully: "If you've ploughed through Volumes One to Four of Karl Ove Knausgaard's giant self-portrait, My Struggle, then Volume Five, Some Rain Must Fall, is a rich experience, representing as it does an accumulation of knowledge – of the writer's fantastically original project, and of the vast amount of detail he has already provided about his life. … If lack of love is the abyss, and if Karl Ove's emotional self can't quite confront it, his artistic self faces it square on. It is the most complex work of the My Struggle series yet translated into English, and all because of what it doesn't expressly say." And further:
Some Rain Must Fall stands alone as a deeply compelling novel, all blackness, balefulness, Scandinavian snows, dark fjords, violence, love, booze, brotherly brawling and of course, pop music. It's a grandly affirming epic of failure, bad behaviour and male shame. It's a love letter to Bergen, to lost youth and to the landscape of Norway. It's a study of loneliness: there's always the poignant, solitary figure of Karl Ove, making his way through the rainy streets to his bedsit. As Volume Five in the series of English translations, the novel marks a progression, a new stage in the venture. It's a commentary on the earlier works and on the project as a whole, and it's Knausgaard's most satisfying and intense outing yet.
My Struggle, notes Ryu Spaeth (The New Republic) "is best known for its obsessive devotion to one life, the intimate rendering of the quotidian events that mold it, and the tacit proposal that the universe, in its entirety, is but what passes through the prism of a single being….It is in Book Five that Knausgaard's epoch finally heaves into view, providing his granular foregrounding with its context. It is here that we get a fuller sense of this one of many possible worlds."
---