Five Books Making News This Week: #FerranteFever
Plus: Lisbeth Salander, and Jonathan Franzen Has a New Book Out!
This week has ushered in the return of beloved characters Elena and Lila from Elena Ferrante's Neapolitan novels (#4), and the punkish hacker Lisbeth Salander, in #4 of the Millenniumn novels, the first with a new author. There are a slew of Jonathan Franzen reviews in advance of his September 1 publication date. (We're all tracking Franzen; I'm gearing up for a conversation on-stage with him September 2 in Santa Rosa, plus an interview for my BBC Culture column.) Also making a splash: A first novel inspired by a vanished sea expedition and a book about the Voting Rights Act that hits the sweet spot in today's political climate.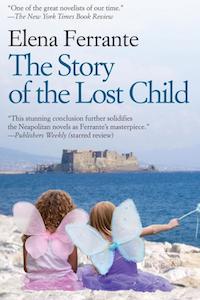 The Story of the Lost Child, Elena Ferrante
Elena Ferrante (a pseudonym) has built a fan-base so profoundly devoted that there's a hashtag (#FerranteFever) and an enthusiastic flush of anticipation as the fourth and final novel in her Neapolitan series descends.
John Domini (Washington Post) pronounces The Story of the Lost Child "the essential volume," describing it as "a 'city book,' a knowing and complex tale that encompasses an entire metropolis."
Rachel Cusk (New York Times Book Review) compares Ferrante's short novels with her Neapolitan series, teasing out the thematic resemblances.
One can call Ferrante's novels 'her story' for the reason that they are openly autobiographical in form: Against the telling and retelling of the life of a single Neapolitan mother of two—frequently called Elena—who rises from impoverished beginnings to become a successful author, publisher and academic… These facts are as consistent in the short novels as in the long, but in the Neapolitan saga Ferrante's writ runs much wider, into detailed accounts of state corruption, murder and political scandals whose participants are presumably recognizable to the modern Italian reader.
In this final volume, Cusk adds, "Elena's lifelong fear—that Lila, while having made no mark on the world, is in fact more brilliant than she is—bites more deeply, as the two women age, into the very roots of female identity: continuity, stability, the capacity to nurture."
The reviewer for The Economist offers further insights. Ferrante uses "the melodramatic tropes of soap opera to tell a cracking good story, all the while smuggling in piercing observations, like a file baked in a cake… Through this fusion of high and low art, Ms. Ferrante emerges as a 21st-century Dickens, with readers clamoring for the next installment at the shops. Readers are bored by the sameness of Anglo-American fiction, with its middle-class focus and its insistence on dialogue and scene. Above all, the story has what Marina Warner, a British writer and academic, calls 'hallucinatory vividness,' a density of detail that makes it burn."
As Ferrante's series has grown, writes Scott Esposito (San Francisco Chronicle), "each new novel has engulfed its antecedents, absorbing and assimilating them into its basic fiber." At times, he adds, "it feels as though every single one of this book's 150-plus subsections ends on a miniature cliffhanger, egging readers toward answers that Ferrante tends to explore with a skill worthy of her gifts."
Meanwhile, here's a reminder to take a look at Elissa Schappell's (Vanity Fair) rare conversation with the notoriously reclusive author, who talks about "the dangers of writing while female. And check out the Paris Review interview conducted by her Italian publishers, Sandro and Sandra Ferri, in which she discusses her final revisions for the book and her characters ("Much of the story depends on the differences between Elena and Lila. These can all be traced back to the changing condition of women").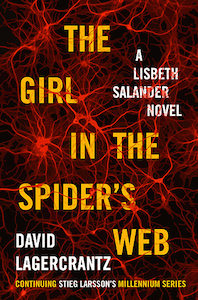 The Girl in the Spider's Web, David Lagercrantz, translated by George Goulding
The fourth book in the beloved Millennium series created by Stieg Larsson, who died of a heart attack in 2004, puts the famed "Girl with the Dragon Tattoo" in new hands; author Lagenkrantz had big shoes to fill. Critics varied in their assessment.
"Rest easy, Lisbeth Salander fans—our punk hacker heroine is in good hands," writes Patrick Ryan in USA Today. "With any luck, Lagercrantz is already firing up his tattoo gun for the next spellbinding adventure."
Patrick Anderson (Washington Post) says he'd welcome a fourth novel in the Millennium series, but not this one: "It's fitfully interesting, but more often the story is disjointed and annoying."
Michiko Kakutani (New York Times) points out that "there are plenty of lumps in the novel." But "Salander and Blomkvist have survived the authorship transition intact and are just as compelling as ever." Lagercrantz, she adds, "demonstrates an instinctive feel for the world Larsson created and for his two unconventional gumshoes: Blomkvist, the dedicated, mensch-y reporter (and unlikely middle-aged girl-magnet); and Salander, the fierce, damaged girl…"
Mark Lawson (The Guardian) calls The Girl in the Spider's Web "a respectful and affectionate homage to the originals" with "an elegant plot." Salander "remains a vengeful, homicidal, self-destructive love rat," he writes. "Blomkvist is still a shabby amoralist whose professional standing, as the new story starts, has been diminished by two ancient threats to print journalism—drink and sloth—and a modern one: online competition."
Marion Winik (Newsday) is disappointed. "Lagercrantz doesn't do elfin goth; the character has been reduced to the scary freak her detractors in earlier books mistook her for."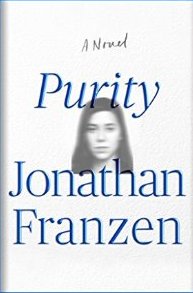 Purity, Jonathan Franzen
The tempest that is Franzenmania continues, as befits reaction to the work of a writer dubbed America's best novelist.
Lydia Kiesling (The Millions) captures the Franzen zeitgeist deftly: "Franzen, with his frequent public grumping, invites a certain amount of scrutiny. And despite the easy prey of Franzen's Vogue shoots, that essay, 'Perchance to Dream,' published in Harper's in 1996, contains an artist's statement that remains the tidiest, most cogent thesis on the project of Franzen's writing: 'It had always been a prejudice of mine that putting a novel's characters in a dynamic social setting enriched the story that was being told; that the glory of the genre consisted in its spanning of the expanse between private experience and public context.'"
Kiesling expresses admiration for Purity: "I think Jonathan Franzen is a wonderful novelist. I don't know him, but I often feel like he knows me, and for that I love him. His work is most vulnerable to attack when it tries too visibly to be the chief diagnoser and prognosticator of 'the culture.' It is most meaningful when it deals in those 'singularities within the profusion.' Still, it endeavors always to do both—and therein, I think, lies its essential goodness, its essential purity."
Laura Miller (Slate) is upbeat, calling Purity "a limber, untroubled, deliciously fluent piece of fiction" with a "larkish air," plus Trollope: "Franzen has never been a sentimentalist, and his prose, while lively, lacks the highly colored exuberance of Dickens, Pip or no. Trollope, with his Olympian yet tender irony, seems a truer comparison."
Colm Toibin (New York Times Book Review) calls Purity "a novel of secrets, manipulations and lies."
Like Franzen's previous two novels, it dramatizes the uneasy and damaging relationships between parents and their offspring in white America, the strains within friendships, and the ways time and familiarity and human failings work at corroding a marriage. It also connects the private and domestic world with pressing public matters. It is, in its way, an ambitious novel, in that it deals with the way we live now, but there is also a sense of modesty at its heart as Franzen seems determined not to write chiseled sentences that draw attention to themselves.
Franzen "has added a new octave to his voice," writes New York Times critic Michiko Kakutani.
Although its gripping, foot-on-the-gas plot touches on the fall of the Berlin Wall, stolen Stasi files and a missing thermonuclear warhead in Texas, the novel remains closely focused on the stories of its main characters—a young California woman named Pip who is looking for her father, and a Julian Assange-like figure who is eager to get Pip to work for him in South America. These people's efforts to sort out their identities and come to terms with the tangled mess of their private lives stand at the heart of what is Mr. Franzen's most fleet-footed, least self-conscious and most intimate novel yet.
Sam Sacks (Wall Street Journal) opens his review with a reminder of Franzen's most recent work:
…an extremely puzzling production called The Kraus Project (2013), in which the novelist translated four essays by the turn-of-the-century Austrian satirist Karl Kraus. That sounds simple enough, but accompanying the translations were extensive footnoted annotations by Mr. Franzen and two literature scholars, which often strayed far from their apparent subject. With a grouchy contrarianism meant to emulate Kraus, Mr. Franzen railed against blogs and Twitter and other 'intolerably shallow forms of social engagement.' The result of the editorializing—which of course caused a stir on blogs and on Twitter—was that Kraus's writing, which the book was supposed to help rehabilitate, was overshadowed by Mr. Franzen's harangues. Butting in to bemoan the ways that art is undermined by technology, he had undermined his own project.
Sacks's view of Franzen's work is bleak: "Dickens had social justice. Dostoevsky had theology. Bellow had a concept of the vitality of the human spirit. Jonathan Franzen doesn't seem to have anything at all."
Christian Lorentzen (New York magazine) adds his voice to the skeptics: "Purity reinforces the sense that Franzen is committed to his method of showing middle-class America itself in the mirror, but this time the execution is shoddier—the novel's topicality is relentless."
The value of Franzen's books, he concludes, "is that they're a theater to watch him swinging, a self-hating acrobat, from Pynchon and Gaddis back to Dickens and Austen. He's a microhistory unto himself."
"What is Purity about, after all, but the efforts of its characters to find a place in a world that resists reconciliation, in which we always and forever fight to be understood?" writes David Ulin (Los Angeles Times). "That's why the best stuff here is the most personal: Pip trying to pierce the surface of her mother, who conceals everything, including her real name; Tom wrestling with the ghosts of a past he cannot put away." Ulin praises Franzen's "fierce writing," which "does what fiction is supposed to, forcing us to peel back the surfaces, to see how love can turn to desolation, how we are betrayed by what we believe. It is the most human of dilemmas, with which we all must come to terms."
Heller McAlpin (San Francisco Chronicle) calls Purity "absorbing," and adds a caveat: "The various pieces of this exploration of honesty versus subterfuge and good versus evil—a theme flagged up front with an unattributed and untranslated epigram from Goethe's 'Faust'—dovetail impressively. But be warned: A saga about an unbearably warped relationship lands like a meteorite mid-book, causing considerable damage."
Purity, writes Charles Finch (Chicago Tribune), is never quite so consuming as The Corrections and Freedom.
Perhaps that's because it doesn't have domestic life at its center, anchoring his editorial flights. At moments the book's characters dissolve out of reality a little, leaving the writer and reader standing there, staring at each other—the downfall of the moralist, the satirist.
On the other hand it's so funny, so sage and above all so incandescently intelligent, there's never a moment you wish you were reading something else. Franzen still seems on every page of this book like America's most significant working novelist. Get ready for more noise.
Comparing Purity to Franzen's earlier work, Mark Athitakis (Minneapolis Star-Tribune) writes the new novel "doubles down on the social commentary but has the wit and intricacy of his best work."
Ellen Emry Heltzel (Seattle Times) suggests that "Purity has an unwieldy and discursive feel that would have benefited from another round of editing."
Ted Gioia (Dallas Morning News) riffs a bit on "Franzenfreude," calls Purity "a smart, fun novel," and adds that Franzen "has delivered another first-class novel that will almost certainly enjoy a long residency on the best-seller list."
Leah Greenblatt (Entertainment Weekly) gives Purity a B: "the book ends suddenly, somewhere between a bang and a whimper."
Curtis Sittenfeld (The Guardian) offers an idiosyncratic and thoughtful mixed analysis:
On the one hand, I'm disinclined to recommend this book to my female friends—I suspect that they'd feel their time is too precious for a 576-page novel in which a grown man is repelled by the "steroidal ugliness" of his mother's face due to her medication, or another man wonders, "Might it be possible, now that he was well into his 50s, to settle down with a woman without becoming bored?"
On the other hand, if I'd been told Purity was a first novel by an unknown writer—male or female—I suspect I'd be dazzled by its rich scenes and crackling dialogue, its delicious observations about contemporary life, the breathtaking scope of its ambition. The person who wrote this, I'd think, has an amazing future.
 Landfalls, Naomi J. Williams
Sometimes a first novel arrives with an outpouring of excitement and praise. That's the case with Naomi J. Williams's innovative historical novel.
Michael Upchurch (Seattle Times) is mightily impressed with Williams's first novel, a "fictionalized account of the Lapérouse expedition, which set out from France in 1785 and touched down in Tenerife, Chile, Alaska, California, Macao, Kamchatka and various South Pacific islands, before vanishing in 1791." Thanks to her "meticulous research and prodigious imagination," he writes, "Williams pulls off one miracle of historic recreation after another." Landfalls is, he concludes, "a bona fide masterpiece."
"Rather than setting her tale at sea," writes Andrea Wulf (Wall Street Journal), Williams chooses the landfalls." Each of the 14 chapters is "told from the perspective of a different person: the engineer Monneron, Capt. Lapérouse, the naturalist Lamanon, the surgeon Lavaux and so on. Colonial governors, an indigenous girl from Alaska and a woman from the Solomon Islands have their say. Many of them are based on real people…"
Katherine A. Powers (The Barnes and Noble Review) calls Landfalls "an ingenious encounter with the past and another demonstration of how far the historical novel has advanced from the tableaus, puppet shows, and costume dramas of yore." Powers lauds the author's "restraint and cunning … as well as her lively characters, sharp wit, and evocation of eighteenth-century optimism." Powers heaps praise on this debut, dubbing it "a real surprise and a triumph."
Henri Lipton's (Zyzzyva) take: Landfalls is "a smart, surprisingly hilarious, unusual, and moving story less concerned with maritime adventure—although Landfalls is an exciting and enjoyable read—than with carefully imagined dynamics of petty squabbles and momentous encounters alike."
"As in most adventurous endeavors, Williams's lapses cannot take away from the courage of her overall vision," writes Katy Simpson Smith (New York Times Book Review).  "Both disjunctive and rigorous, Landfalls confirms that history and literature share a fundamental exploratory impulse." She calls Landfalls an "ambitious and meticulous" debut.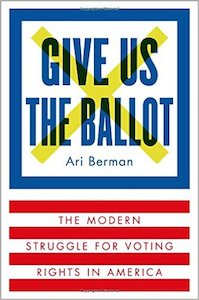 Give Us the Ballot, Ari Berman
Ari Berman's book was published on the 50th anniversary of the Voting Rights Act, which was signed into law on August 6, 1965. As luck would have it, Give Us the Ballot gives valuable context for heated issues arising during the presidential primary campaign, triggering a wave of review attention and opinion spinoffs that seems to have peaked this week.
Berman's "illuminating" history of the Voting Rights Act begins with story told often, including in the film Selma, but one that "bears repeating," writes Scott Porch (Chicago Tribune). Berman's opening tells of "John Lewis' Student Nonviolent Coordinating Committee and Martin Luther King's Southern Christian Leadership Conference organizing the Selma, Ala., voting rights march on March 7, 1965, which resulted in the brutal attack of the marchers on the Edmund Pettus Bridge." Give Us the Ballot, Porch writes, is "a smart compendium of election reforms" that "lays bare the many, many ways to game the outcome of an election."
Michael O'Donnell (Christian Science Monitor) calls Give Us the Ballot an "urgent, moving, deeply important" history of the modern right to vote in the United States, making particular note of the book's ending, "the Supreme Court's decision in Shelby County v. Holder in 2013 striking down a key section of the act."
"Berman's reporting is expertly balanced," Walton Muyumba (Dallas Morning News) notes
Among the heroes here are people such as U.S. Rep. John Lewis and several lawyers in the Justice Department's civil rights section. They countered the sometimes murderous and always maniacal attempts to keep ethnic Americans from gaining political representation or power.
Berman also makes it clear that powerful segregationists, such as Dixiecrat-turned-Republican Sen. Strom Thurmond of South Carolina, were fighting voting rights for people of color well before the modern civil rights era. Just as significant, conservative opposition was percolating at the highest levels of American jurisprudence.
Randall Kennedy (Harpers) has reservations. "I was predisposed to like his work," Kennedy writes, "his heroes are my heroes; his villains are my villains; his politics are my politics… I expected that with more room to work Berman would be more ambitious and plunge deeper into his subject. Instead, his book is to a substantial extent a mere compilation of his magazine journalism. While it can be profitably read by anyone seeking basic information about the racial dimensions of voting-rights controversies, it fails to capture the complexity of the modern voting-rights struggle."
Jeffrey Rosen (New York Times Book Review) calls Berman's book "an engrossing narrative history rather than constitutional analysis."
---