Five Books Making News This Week
Greatest literary writers: Vollman, Lispector, and Yanagihara
The sultry dog days of 2015 have been marked by a surprising and distinct quickening of attention in the literary world. July has brought us the Harper Lee phenomonon, Ta-Nehisi Coates' eloquent Between the World and Me, and an outpouring of praise upon the death of E.L. Doctorow. This week's upwelling of critical enthusiasm has been driven by the publication of the fifth volume in National Book Award winning William Vollmann's massive "Seven Dreams" cycle, a renaissance of interest in the work of the legendary Clarice Lispector, a spotlight on a novelist on the newly released Man Booker longlist and a couple of new books reflecting the darker side of our digital lives.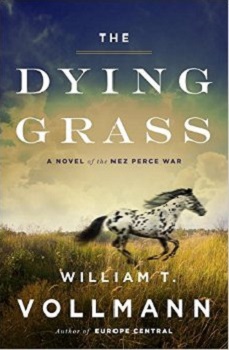 The Dying Grass: A Novel of the Nez Perce War, William Vollmann
Vollmann's lifework to date—in particular his epic seven-volume saga about the European conquest of Native Americans beginning with the Vikings, around the year 1000– inspires respect, even awe.
Vollmann, writes Jane Smiley in The New York Times Book Review "has certainly tried as hard as any living writer to convey the grandeur of real experiences, many of them cruel, some of them inspiring."
The Dying Grass, which covers the broken treaties and 1,213 miles of the 1877 Nez Perce War in 1,356 pages, has inspired ecstatic critical response, tempered with commentary acknowledging the challenges of its idiosyncratic form.
David Treuer (The Washington Post) calls the novel "the reading experience of a lifetime," despite its challenging structure:
It progresses without quotations marks and with trains of thought and interior dialogue set off by indents and further indents when a thought is interrupted by another. One must learn how to read this novel, how to chase the thread, just as [Brig. Gen. Oliver Otis] Howard and his crew must learn the language of the plains. For us, for the Nez Perce and for Chief Joseph's band, the ruthless pedagogy stretches on for what feels like an eternity and is followed by glossaries, addenda, indexes and a list of characters that reads like a Homeric catalogue of ships….
"What Vollmann has done is nothing short of miraculous," Treuer adds. "He has taken a story whose ending is well known, yet he has made us wonder how it will end."
Sam Sacks (the Wall Street Journal) suggests you skip the hundreds of pages of "unhelpful source notes" that conclude the book. "The story, by contrast, whistles ahead with the grace and speed of an arrow, and the happy few undeterred by length or price will find a novel as involving and beautifully assembled as any this year."
Booklist's Donna Seaman calls The Dying Grass a "rampaging, reflective, absurd, ironic, tragic, and poetic epic," "a work of grand invention, creative empathy, and holistic interpretation," a "virtuoso, polyphonic saga of invasion, resistance, forced exodus, and conquest [that] flows, whirls, and mesmerizes with riverine dynamics, and …is as large, encompassing, and deeply felt as it needs to be to do justice to its momentous subject."
Steve Donoghue (The Christian Science Monitor) calls the novel "a thunderous, magnificently troubling masterpiece, a grim but spellbinding masterpiece." He calls Vollmann "our greatest literary warrior."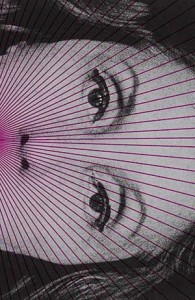 The Complete Stories, Clarice Lispector
In his cover review of this new collection of 86 short stories, Terrence Rafferty (The New York Times Book Review) describes the disorienting effect of Lispector's work: "There's a whiff of madness in the fiction of Clarice Lispector. The Complete Stories of the great Brazilian writer, edited by Benjamin Moser and sensitively translated by Katrina Dodson, is a dangerous book to read quickly or casually because it's so consistently delirious. Sentence by sentence, page by page, Lispector is exhilaratingly, arrestingly strange, but her perceptions come so fast, veer so wildly between the mundane and the metaphysical, that after a while you don't know where you are, either in the book or in the world."
Approach with caution, Rafferty advises: "For the ordinary reader — that is to say, for most of us — immersion in the teeming mind of Clarice Lispector can be an exhausting, even a deranging, experience, not to be undertaken lightly." This is, he adds, "a remarkable book, proof that she was — in the company of Jorge Luis Borges, Juan Rulfo and her 19th-century countryman Machado de Assis — one of the true originals of Latin American literature."
Meghan O'Grady (Vogue) describes the collection as "an ideal introduction to this 'female Chekhov on the beaches of Guanabara,' whose rediscovery has charged our understanding of Modernism with a certain sensuality."
Benjamin Anastas (The New Republic) writes, "You could call Lispector's stories telegraphs from the flames of hell, but that would discount how innocent and funny they can be. Manna from the shtetl? Prayers at the high-rise window before the tranquilizers kick in? You will not be disappointed if you read The Complete Stories. It might even become your bible."
And Benjamin Moser, Lispector's biographer and editor of the New Directions series of new translations of her work, describes her "dangerous" glamour in The New Yorker: "Be careful with Clarice," a friend told a reader decades ago, using the single name by which she is universally known. "It's not literature. It's witchcraft."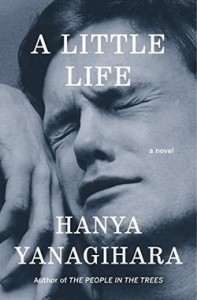 A Little Life, Hanya Yanagihara
Lucy Scholes in The Independent takes a look at A Little Life, longlisted for the Man Booker award this week.
"At over 700 pages long and littered with graphic descriptions of the physical and sexual abuse endured by the central character, Jude, as a child –and the trauma he suffers thereafter – in theory, Hanya Yanagihara's beast of a second novel shouldn't work," she writes. Then she shows how it does, concluding, "In practice, A Little Life makes for near-hypnotically compelling reading, a vivid, hyperreal portrait of human existence that demands intense emotional investment."
This adds to earlier enthusiasm from Jon Michaud (The New Yorker): "Yanagihara's novel can also drive you mad, consume you, and take over your life," Garth Greenwell (The Atlantic):"the most ambitious chronicle of the social and emotional lives of gay men to have emerged for many years," Nicole Lee (The Washington Post) "tender and large, affecting and transcendent," and Sam Sacks (Wall Street Journal): "announces her as a major American novelist."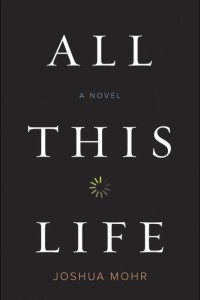 All This Life, Joshua Mohr
Joshua Mohr "captures a digital moment," writes Heather Scott Partington (Los Angeles Times). "The author brings together a cast of wounded people looking to simultaneously connect and avoid connection online, proving that social media is in some ways our most human endeavor — we invent that which we need to indulge our tendencies of social anxiety and informational gluttony." Mohr's damaged characters include a teenager who videotapes a group suicide during rush hour on San Francisco's Golden Gate Bridge and posts the video to YouTube, and a young waitress who takes flight after the sex tape her boyfriend posts as revenge porn goes viral.
The thing Mohr's work gets most right, she concludes, is that "the social media machine is never satisfied. As Jake says, 'All that matters is content. New content. More content.'"
Anita Felicelli (San Francisco Chronicle) praises Mohr's gift for dramatizing disparate characters, "even those who might seem grotesque or violent, such that the deep tenderness and humanity in their relationships is exposed. He may be at the height of this power in All This Life." Social media plays a large role at every level of the narrative, including numerous key plot points, she notes. "At the sentence level, images of technology are married to a gritty aesthetic. For example, the traffic from Marin to San Francisco across the Golden Gate Bridge is a 'Bluetooth chain gang.' Even characters' innermost thoughts are based on technology. Jake believes he's a backseat 'banner ad that the father won't click'…"
"All This Life is the kind of book that, thirty years ago, would have been called a prophetic slice of cyber-punk," writes Zach Ravas in ZYZZYVA. "Today, it just so happens to be the world we live in."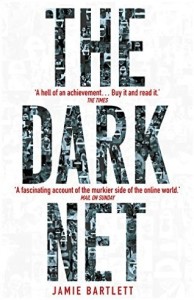 The Dark Net: Inside the Digital Underworld, Jamie Bartlett
What if Jamie Bartlett were a woman? Miranda Popkey (Bookforum) asks, examining The Dark Net as a counterpoint to Amanda Hess's National Magazine award winning piece on the hazards of being a woman online, written for Pacific Standard in early 2014: "…it echoes and reinforces a sub rosa narrative thread that runs through Bartlett's exploration of the less savory bits of the web: When things go bad online, it is often women who are harmed, and men who do the harming." An example:
Bartlett's investigations take him to the Hidden Wiki (an index of illicit websites that are accessible only on a Tor browser), where he finds, in two mouse clicks, a link to a child pornography site. He visits dark net markets, where he purchases marijuana (the customer service, he reports, is excellent). He…interviews programmers working on the "Dark Wallet," which will allow for more secure Bitcoin transactions. He speaks to "camgirls"… Throughout, he tracks the shifting boundaries between life on and off the Internet: Had he clicked on the link to the child pornography site, he would have seen images of actual minors being violated, and could have faced actual legal consequences; the marijuana he orders online shows up at the front door of his real apartment; the Dark Wallet is being created by men sitting on real sofas; the camgirls work from their own bedrooms. For Bartlett the permeability of these boundaries is an intriguing—if disquieting—philosophical problem. For many women, it has devastating consequences.
If Jamie Bartlett were a woman, The Dark Net would necessarily have included "a deeper analysis of misogyny on the web," Popkey writes. "But then, a female Jamie Bartlett would have faced a lot more trouble in writing the book in the first place."
---