Five Books Making News This Week: Sopranos, Spirituality, and Short Short Stories
Alexander Chee, Yann Martel, Diane Williams, and More
Winter launches cause a stir this week. Novelists, take heart from the example of Alexander Chee, whose much ballyhooed second novel arrives after a journey that encompasses "all the twists and turns of the greatest writing careers, a publisher bankruptcy, bouts of teaching yoga, the consequences of missing a deadline by 10 years, the advance money running out, an Amtrak residency, and surviving through four changes of editor," writes Claire Cameron (The Millions). "I thought I was going to lose my mind making it all fit together," Chee told Marian Ryan (Slate). Korea's Han Kang's 2007 novel The Vegetarian is the first to be translated into English, thanks to her persistent translator, and the results are extraordinary. Experimentalist Diane Williams has a new collection of idiosyncratic flash fictions. Laura Secor's first book delves into the soul of Iran since the 1979 Revolution. And Yann Martel (Life of Pi) is back.
Alexander Chee, The Queen of the Night
Chee set out to reinvent The Magic Flute, creating a character inspired by Jenny Lind. Lilliet Berne, the dazzling star of Belle Epoque Paris, leaves critics enthralled. (I called Chee's novel "a mystery, a meditation, a lyrical jewel.")
"Chee's novel isn't just about opera," writes Garth Greenwell (Towleroad). "It also takes on opera's aesthetic, embracing the surprises and sudden reversals, the extraordinary coincidences that can make operatic plots implausible and that also have something to do with how they access the sublime. The Queen of the Night is committed throughout to the operatic mode, inhabiting heights and depths of both social stratum and emotion." The novel, he concludes, "is, finally, maybe most profoundly about the gamble of art, the risk of entrusting one's fate to an instrument that always threatens to fail."
Julia Felsenthal (Vogue) calls Chee's novel "a tautly plotted historical doorstopper of a book that, even at nearly 600 pages, somehow rarely falters or drags."
Scott Simon (NPR) says The Queen of the Night is "sprawling, soaring, bawdy and plotted like a fine embroidery."
"Of the many high-drama events in the novel," writes Sonya Chung (The Millions), "my favorites are identity theft via cancan shoes, murder by fire-breathing, a hot-air balloon escape, and a scandalous curtsy."
Lilliet's "contest for self-determination, waged on many fronts, is conducted at an emotionally high—one might say Verdian—pitch, but it is the element that makes The Queen of the Night a 21st century work," concludes Katherine A. Powers (Newsday). "What is more, while the book does owe much to the extravagant spirit of mid-19th-century novels and operas, it pays its debt with grace. It is wonderfully free of the faintly smirking self-consciousness and knowingness that so often attends such ventures. It works on its own terms, boldly, lavishly, and, for the most part, successfully."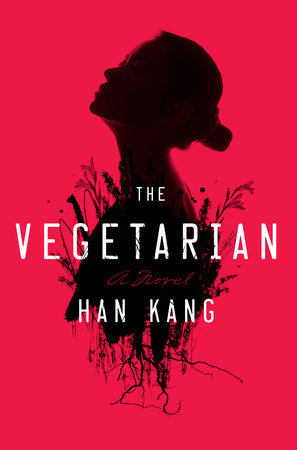 Han Kang, The Vegetarian
A surreal and disturbing 2007 novel by a South Korean novelist celebrated in her homeland for 20 years reaches the U.S., thanks in part to the enthusiasm of her British translator, Deborah Smith. Smith describes the complexity of translating this "brutally poetic triptych of taboo and transgression" while leaving room for a "diversity of interpretation" here.
Laura Miller (Slate) recommends this approach to reading The Vegetarian:
Sometimes how a book or a film puzzles you—how it may mystify even its own creator—is the main point. The way it keeps slithering out of your grasp. The way it chats with you in the parlor even as it drags something nameless and heavy through the woods out back. The person who made it went off into the dark somewhere and came back holding this beautiful thing, a genuine souvenir. But can even she understand exactly what it is or what it's for? Relax: You'll never know. You can never know.
"All the trigger warnings on earth cannot prepare a reader for the traumas" of The Vegetarian, warns Porochista Khakpour (New York Times Book Review). "At first, you might eye the title and scan the first innocuous sentence — 'Before my wife turned vegetarian, I thought of her as completely unremarkable in every way' — and think that the biggest risk here might be converting to vegetarianism….But there is no end to the horrors that rattle in and out of this ferocious, magnificently death-affirming novel."
"Han's glorious treatments of agency, personal choice, submission and subversion find form in the parable," Khakpour concludes, drawing comparisons to Ceridwen Dobey's Blood Kin, Melville's Bartleby, the Scrivener, Sadegh Hedaya's 1937 The Blind Owl, and Kafka's A Hunger Artist.
Daniel Hahn (The Guardian) calls Han's novel "a bracing, visceral, system-shocking addition to the Anglophone reader's diet."
It is sensual, provocative and violent, ripe with potent images, startling colors and disturbing questions. As Yeong-hye changes, the book's language shifts, too, with Deborah Smith's translation moving between the baffled irritation of Mr. Cheong's first-person narration in part one, the measured prose of In-hye's world, the dense and bloody narrative of Yeong-hye's dreams, and seductive descriptions of living bodies painted with flowers, in states of transformation or wasting away. Sentence by sentence, The Vegetarian is an extraordinary experience. Last year's London Book Fair had Korea as guest of honor, in the hope of tempting English-language publishers to seek out more contemporary Korean novelists, but The Vegetarian will be hard to beat.
Diane Williams, Fine, Fine, Fine, Fine, Fine
Diane William's experimental fiction has been drawing attention for twenty-some years. The title to her eighth collection comes from her story, "A Little Bottle of Tears." Kirkus Reviews calls these "Centrifugal stories, supershort and superpithy."
Rachel Syme (New York Times Book Review) compares Williams' "taut collection of flash fictions that are often beautiful but impenetrable, structured like little riddles to unspool" to the work of Lydia Davis, but adds, "this collection stands in its own category as defiantly whimsical and weird."
"Her work is certainly odd, but it's also poetic, passionate, and precisely crafted," concludes Carmela Ciuraru (Los Angeles Times). "Her strange voices linger in the mind. Part of the pleasure of reading Williams is you have no idea what's coming next. Don't fret. These marvelous stories do have a beginning, middle and an end — just not necessarily in that order."
"Williams renders every single word like a prism of implication, and she stretches the space between sentences as wide as chapter breaks, while the sentences themselves somehow read like stand-alone stories," notes James Shrieve (Zyzzyva). "The density of her writing warrants a closer reading than most fiction because it also reads like superb poetry, just casual and fluid and lilting between verse and improvised speech."
Christian Lorentzen (New York magazine) concludes, "Though Williams eschews psychologizing and we only see her characters in flashes and hear their voices in a handful of sentences at most, there is a cumulative power across the book; a unifying spirit that's desperate at times but never despairing, and once in a while joyous, even exuberant, like a veil lifted up to reveal an exclamation point."
Laura Secor, Children of Paradise
Secor, who reported from Iran for a decade for The New Yorker, the New York Times and Foreign Affairs, expands her reporting for her timely first book to create a group portrait of life in Iran since the 1979 Islamic Revolution.
Susanne Pari (San Francisco Chronicle) calls Secor's first book "an insightful view of the evolving intellectual character of a nation that has been largely hidden from us for 40 years."
As we mostly looked away, our memories etched by grainy images of blindfolded hostages and burning American flags, and accepted the notion that Iran was ruled by a monolithic theocracy, we missed a complex drama of revolutionary disillusionment and shifting ideologies that spawned a movement of religious and political reform. As Secor writes, the truth is, the halls of Iranian government, like all governments, "housed men of conscience cheek by jowl with the psychopaths and power mad.
Secor "indelibly portrays the journalists, dissidents, reformers and student activists who have fought bravely for their ideals in a country where voicing one's beliefs has often led to imprisonment, torture and death," writes Michiko Kakutani (New York Times). "What Ms. Secor does do in this book — with intense emotion — is convey the often harrowing stories of her subjects' lives: their hopes, their aspirations and the often terrible prices they paid for dissent." Kakutani concludes, "Although Ms. Secor does not always manage to situate such stories within a larger, coherent narrative, her subjects' experiences speak for themselves — and they provide sharp, pinhole windows into a country that for many years has seemed, in her words, like 'a black box whose contents were all but unknowable.'"
Steve Negus (New York Times Book Review) calls Children of Paradise "an engrossing but narrowly focused history of the Iranian reform movement," pointing out that Secor focuses on a dozen figures in the reformist movement. "Most, at some point, found themselves in prison; many were subjected to intense physical and psychological torture. She has unearthed some haunting human dramas…" But, he concludes, "she might have made a greater attempt to tie the stories together as a way of assessing what the reform movement actually accomplished. The personal stories of Iranian reformists' journeys are compelling. But readers must look elsewhere to judge whether their ideas really did make a difference."
"By Secor's accounting, Iran has never been the singularly theocratic state its hardliners and foreign critics wish it to be," writes Adnan R. Kahn (McLean's). "It is an experiment that has been taking shape for centuries. The 1979 Islamic revolution ushered in a new era. But its outcome remains uncertain: Even after nearly four decades, the struggle for Iran's soul rages."
Yann Martel, The High Mountains of Portugal
In Martel's third novel, it's clear from the beginning that there are no high mountains in Portugal. But Martel does give us a slave ship, a bear cub, an ape crucifix, and a chimp named Odo, of whom he writes, "Odo is a being of the present moment….Of the river of time, he worries about neither its spring nor its delta. And the present moment has no past address."
"In a novel by Yann Martel, whose work has featured a philosophical castaway tiger (Life of Pi) and a Holocaust play starring a stuffed donkey and monkey (Beatrice and Virgil), it's no surprise to discover that something is not what it's supposed to be," writes Ellen Akins (Minneapolis Star Tribune). "Nor will it spoil any of the delights of his new novel, if I tell you that the remarkable, perhaps transformative medieval artifact Tomàs seeks turns out to be an ape on a cross. ('And if he's an ape, so be it — he's an ape. He's still the son of God.')"
"Martel most definitely has his quirks," Jean Zimmerman (NPR) concludes. "There are some odd turns of phrase in The High Mountains: "… the road continues nearly villagelessly," he writes of a barren stretch of landscape….
But the exuberant wordplay enhances the equally vivid storytelling. I took away indelible images from High Mountains, enchanting and disturbing at the same time: the motorcar hitting obstacle after obstacle as it gradually, comically falls to pieces (as does its driver), or the ape as he swings his way across the rooftops of a Portuguese village. As whimsical as Martel's magic realism can be, grief informs every step of the book's three journeys. In the course of the novel we burrow ever further into the heart of an ape, pure and threatening at once, our precursor, ourselves. You must change your life.
"Martel's blend of fable, magic realism, road comedy and religious philosophy never coheres," concludes Lloyd Sachs (Chicago Tribune). "But there's no denying the simple pleasures to be had in The High Mountains of Portugal, ranging from the descriptions of the towns and townspeople to the insistence of Lozora's devout wife that Agatha Christie's novels are steeped in Christianity (the 13 passengers in Murder on the Orient Express are obviously stand-ins for Jesus' 12 disciples plus a Judas) to Tomas' frantic efforts to perform maintenance on the car, faced with 'a hundred little chicks chirping frantically…their whole beings trembling with need as they scream for their drops of oil.'"
---