"Running a Boatyard is Like Working in a Dementia Clinic"
From Jim Lynch's New Novel, Before the Wind
Einstein wasn't a great sailor, probably not even a mediocre one. He didn't race or cruise, but he understood the pleasing mix of action and inaction and the thrill of a sunset sail into the spangled bliss. Many of us have fallen hard for all of this. On water, we feel competent and exalted, the glory lingering until we step ashore and trip on the curb and can't find our keys and remember our yard is overgrown and the roof moss is two inches deep and the smoke detectors need fresh batteries and some rat died in the wall and our mothers sure wish we lived closer. At least somebody wants more of us. But the us we want more of is on a sleek boat with a clean bottom and crisp sails with wind on the beam.
Am I comparing us to Einstein? Yes. Sailboats attract the loons and geniuses among us, the romantics whose boats represent some outlaw image of themselves. We fall for these things, but what we're slow to grasp is that it's not the boats but rather those inexplicable moments on the water when time slows. The entire industry is built on a feeling, an emotion. It's rarely the thing—or is it?
Regardless, boaters are suckers. They'll pay more in moorage and repairs than their vessels are worth and rarely understand how swiftly rain and salt water conspire to corrode and rot, costs soaring as values spiral. And don't get me started on racers who blow thousands to make their sloops go half a smidge faster so they can finish eighth instead of eleventh in regattas so obscure they don't make the tiniest print in the sports section. One local fanatic spent eleven grand on a carbon-fiber toilet to save seventeen pounds. There are plaques on the walls at Capital City Boatworks from skippers thanking us for overpriced paint jobs they're convinced helped them win. It's all in their heads. So yes, there's a special wing of any boaters' asylum for racers, but they're all nuts. Myself included. Sinners too. Wrath began on boats, my grandfather told me, insisting Noah himself was a notorious cusser. But sloth, envy, lust, pride, greed and gluttony thrive here, too, as do naïveté, belligerence and other second-tier failings. Consider the new owner of that gutted twenty-one-foot speedboat against the fence there. He rammed the gas dock so hard last week that he tore a hole in the bow because he couldn't find the brake. Or pull up a lawn chair and watch public ramps on any sunny Saturday and let the blooper reels begin. As the saying goes, all you need to become a boater is money, though you don't necessarily need even that. Wait long enough, and somebody will pay you to haul theirs away.
Then, of course, there are those who refuse to ever let go. That gashed Pearson 36 peeking out of the first work bay hit a rock in a freak squall in March and lost its keel and rudder. Yet the owner insisted—before going under for three heart stents—to do whatever it took to get Sophia ready for the summer races.
Mr. Stanton, we gently counseled, fixing her may cost far more than you could sell her for.
"Who said anything about selling?" he asked, choking on his words. "I. Want. To. Sail. Sophia. Again."
Do boats have souls? Apparently. At least their essence mingles with their owners'. And just as people start to look like their dogs, they eventually begin to resemble their boats. I could stroll through the marinas and boatyards of the world and pick out the owners from lineups, then straighten their masts, rewire their engines, paint their bottoms and set them free again, until something else dripped, jammed or snapped. Like most boat doctors, I try not to get too close to my customers, but while they begin as strangers I get to know them soon enough. Many become friends; some are family.
This morning it was my father waking me to announce he'd be bringing me a boat to fix. He didn't say what that involved, nor ask if I had time or room in the yard. Just that he'd be bringing it all the way down from Seattle and might not arrive till five, so I'd better make damn certain the lift bastard waited for him. That was all. My father used the phone like a bullhorn, to make announcements and dispatch orders.
Bracing for his arrival, I made my final rounds as smitten boaters ogled the naked hulls propped on blocks and stands, the boatyard brimming, as usual, with everything from abandoned wrecks to gleaming yachts worth between nothing and a million. See that faded tub with its snapped lifelines and waterline beard of sea slime? Catalina 27s are as common as gulls around here, but in the moony vision of Rex and Marcy, that neglected waif is an exotic, ocean-ready sailboat.
Barely in their twenties, they moved here from St. Louis to work on an organic chicken farm south of town and discovered their spiritual elixir when their hippie boss took them sailing just once. The next weekend they began scouring marinas for orphaned boats such as this worn-out twenty-seven-footer they snatched at auction for $875.
"Gonna fix her up and sail the islands this summer?" I asked, scanning the harbor for incoming masts.
Smiling too hard to speak, they were glancing at each other to see who'd admit what.
"We're quitting in May and heading out," Rex finally volunteered.
"For how long?"
"Indefinitely."
I laughed before I could stop myself.
"Sailed her yet?"
"Nope." He grinned. "Can't wait."
"Spent a night on her?"
"Just in the lot here." Marcy's thick glasses made her eyes too big for her head. Now her teeth wouldn't fit in her mouth either. "It's totally comfortable," she said.
While offering my most reassuring nod, I noticed a tall black mast rounding the marina entrance buoy and storming toward us along the dredged channel.
"Heading to Alaska first," she told me, eyeing Rex to make sure she wasn't oversharing.
"Cool," I said. You're batshit crazy, I thought.
Running a boatyard is like working in a dementia clinic. We commiserate with comforting nods and winces. We play cameos in daydreams and delusions.
"After that, we're off to China," Marcy added, swinging an arm around Rex's bony hips and hooking a thumb inside his front pocket.
"Beautiful," I said. You're both gonna die, I thought.
Or maybe not. I tried to imagine them smiling lovingly in thirty-foot swells on their nineteenth straight day without seeing land. It was possible. Maybe they'd sail into transcendence. My problem was that Rex and Marcy from Missouri were already blurring with Chet and Laura from Nebraska, Jen and Osler from Texas and a dozen other bug-eyed, manifest-destiny couples I'd watched roll into this yard. If you haven't noticed, people rarely run east in America. They flee west, to reinvent themselves in Vegas and Hollywood or farther north to our deep waters where ice ages conspired to sculpt this boating wonderland.
I can spot these adventure migrants in a blink because strains of this gentle madness course through my family the way diabetes or alcoholism clusters in others. For years, sailing bound us. We were racers, builders and cruisers. It was our family business, our sport, our drug of choice. Yet eventually, sailing blew us apart, too.
"Got an extra beer?" I asked.
Rex and Marcy crashed into each other lunging toward the cooler for a sweaty Pabst I needed for fortitude, seeing as how the blackmasted boat gliding past the docks and shirking every NO WAKE sign was likely commandeered by my father. Once it got within a couple hundred yards, I could make out the familiar shape of an old Joho 39 and the large silhouette behind the wheel.
Approaching too fast, he slammed the engine in reverse at the last moment before stepping onto the dock with a midship line and shouting at tattooed Tommy, "Put the slings at the front and back of the cabin top!" He repeated these instructions after Tommy ignored them.
"Heard you the first time," Tommy said from his seat atop the lift.
"Then why didn't you respond?" Father asked. "Isn't that why we have a common language? So we can communicate? And tie those slings together so she doesn't slip when you hoist her. Got that, or should I repeat?" Then he found me with his eyes and hollered my name.
Nobody forgets meeting my father. Loud, tall and meaty, he invades your space and claims the right-of-way. There is nothing moderate about him. A leader and a lout, a gentleman and an ass, he never concedes a weakness, admits a sickness or says he loves anybody. Yet the flip side is that when you please him, your body temperature climbs a degree or two. And here he was, in his element once again. Anonymous on the streets, he remains a legend on the docks. Sailors still line up to shake his big hand, and if he sticks around for a drink, they might summon the nerve to ask about all he reputedly made his kids or crew do to help him win, or fact-check the lore and rumors about my brother or, more likely, my sister.
Obviously still agitated, Tommy quickly hoisted this battered sailboat and let it sway in the slings, something he did only when he wanted to remind owners that he could drop their toys if they were anything short of gracious.
"Hey!" Pop shouted, bounding up the ramp to me as Tommy feigned deafness again, lipping a cigarette. "What's with that jackass?"
"Good to see you," I said.
He stared down at me with glossy blue eyes that always seemed to demand forgiveness. "How do you know yet?" he asked.
In an awkward silence, we watched Tommy maneuver the lift while I pieced together the implications of his visit. This old boat was one of the earliest and fastest of the thirty-nine-foot Johos that my family had designed and built. No doubt he'd bought it for next to nothing and now wanted me to overhaul it on the cheap to sell or race.
"C'mon, skinny, I'll buy dinner," he said, then badgered me the entire quarter-mile stroll to the restaurant. "Tell me you finally have a car that runs" was his opener.
"Nope."
"How's a fix-it whiz like you still not have a car?"
"If I need one, I'll borrow it. I've got a bike."
"You're not a twelve-year-old, Josh. You need a car. You could come work for us, you know? We could still use you—more than ever, actually. You know that, right? You could make a whole lot more than whatever you're making down here."
"Think we've been through this a few times. How's Momma?"
He whipped off his ball cap and shook his head like a dog getting out of the water. "Wish I knew."
"She making any headway?"
He pulled out a handkerchief and honked. "Works around the clock. If I didn't put food in front of her, she wouldn't eat. To be honest, I don't even know what she's working on anymore." He looked down at me. "So when does this monk phase of yours end?"
"How many monks do you know who work in boatyards and date online?"
"How do you meet gals on computers anyway?" he asked.
I considered telling him about my latest encounter with a woman whose list of date disqualifiers went like this: No drinkers or smokers or Leos or Aquarians or unshaven men under 5-10 or guys over 37 who wear weird shoes or are into NASCAR. After our one and only outing she added another deal breaker: You can't live on a sailboat.
"How's Christy doing?" he asked.
"Kirsten. Same as I told you last time. Haven't seen her in years."
"I liked her."
"So you tell me."
"Is this the way it's gonna go?"
"I could ask the same thing."
What my father asked me to do over dinner reminded me that he was a cheater. If you didn't watch closely, he'd move the cue ball. Unpoliced, he'd cheat at cards and Monopoly, on diets and taxes. A cheapskate, too, he vastly underestimated the cost of transforming his old boat while trying to make me feel disloyal if I didn't help. "Your grandfather would be so offended if he knew we were monkeying with his original design," he added, meaning: Keep the circle of conspirators as small as possible. He didn't actually say all that, most of it coming in grunts and winks. So I looked away to get a break from his lies and expectations and saw a shrieking tern dive headfirst into the bay and resurface with a silver smelt in its beak. I related with the fish.
"A little help here?" Father shouted across the restaurant. "We're celebrating!" When the pouty waitress arrived, he leaned toward her, as if confiding. "So how much would a couple glasses of your finest red run us?"
Blinking and blushing, she handed him a wine list.
"Oh, Christ!" He groaned. "Nine dollars for a glass?"
"The table red's just six," she whispered, flaring pierced nostrils and glancing at the hostess, securing a witness.
"That's supposed to get me excited?" Father said. "And quit looking down your ornamental nose at us. We all know you can't afford to eat here either. So why don't you grab us a couple glasses of your overpriced six-dollar vintage, and then we'll see if we've got enough cash left over to eat."
She stormed off, but I knew he'd win her back before we left and leave a memorably tiny tip. Ahh, to be Bobo Johannssen Jr. By now it looked more like a role he'd mastered than who he actually was. He smirked at me like we'd just pulled off a heist, then blurted, "This is our year, Josh! This is it. This is our goddamn year!"
Standard bluster, sure, but it moved me. As it played out, 2012 was quite a year, one that inspired me to try to help my family cheat and dodge shame and fence contraband and maybe even explain something about the universe that everybody else had somehow missed. Add to that my dating misadventures—seven new prospects waiting there in my in-box—and my daily counseling of neurotic boat owners, and you've got a daunting to-do list for a man supposedly thin on ambition in a world seemingly falling apart. The Mayans predicted time would run out before Christmas. A preacher in Oregon asserted much the same, though with Judgment Day arriving six months sooner.
"If you're not thrilled about helping me with this," he suggested after the wine arrived, "do it for your grandfather. Or, goddamn it, do it for Ruby!"
That's what was said in lieu of an ethics debate on what all truly competitive racers secretly do to their boats. "Entirely her idea," he added, raising a palm as if testifying. Then he sneezed so loudly that everybody stared, surprised his skull hadn't popped off his shoulders. It was genetic. His father once sprained his neck sneezing. I waited out the next two bombs. They came in threes.
"She actually called," he said, between sniffles. "Said it was high time for one last family Swiftsure. Ask your grandfather. She finally called!"
He knew all my buttons, how I felt about my grandfather, who'd fainted yet again, and how I knew my sister had a magical feel for steering our family's fastest design in the grandest of Northwest sailboat races, or at least she had at one time. Steamrolled by his optimism, I felt bone weary, like I'd just swum across the bay.
"Your sister's definitely in," he added, sinking the hook deeper. "Completely her idea."
I couldn't hide my smile any longer. It's not just simpletons like me who are suckers for sailing with their sisters. Einstein's idea of an ideal summer was boating daily with his little sister Maja. In a 1929 letter, he wrote that he couldn't wait to get her out sailing on his beloved Tümmler. You will go into raptures when you (hopefully) visit me next year.
Raptures indeed.
Einstein dared to imagine a new flexible grid of space and time, but he never learned how to swim or drive and unwittingly dated a Soviet spy. He also moseyed through summers in a rope belt and lady's sandals and loved sailing with his little sister. Without knowing anything about her, though, I can promise you she wasn't anywhere near the sailor mine was. But that's not even slightly fair, because nobody has ever sailed quite like Ruby Johannssen.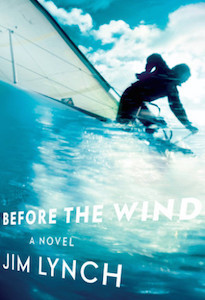 Excerpted from BEFORE THE WIND by Jim Lynch Copyright © 2016 by Jim Lynch. Excerpted by permission of Knopf. All rights reserved. No part of this excerpt may be reproduced or reprinted without permission in writing from the publisher.
---