The Best Reviewed Literature in Translation of 2020
Featuring Elena Ferrante, Isabel Allende, Sayaka Murata,
Samanta Schweblin, and more
Elena Ferrante's The Lying Life of Adults (trans. by Ann Goldstein), Isabel Allende's A Long Petal of the Sea (trans. by Nick Caistor and Amanda Hopkinson), Sayaka Murata's Earthlings (trans. by Ginny Tapley Takemori), and Samanta Schweblin's Little Eyes (trans. by Megan McDowell) all feature among the best reviewed literature in translation of 2020.
Brought to you by Book Marks, Lit Hub's "Rotten Tomatoes for books."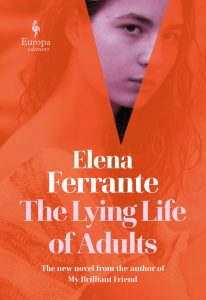 1. The Lying Life of Adults by Elena Ferrante, trans. by Ann Goldstein
(Europa Editions)
21 Rave • 21 Positive • 4 Mixed • 2 Pan
"… exquisitely moody … Life of Adults itself…invites us to evaluate lying not only as a moral problem, but also as an aesthetic challenge—to ask whether a lie can ever be elevated into an art form … It is a novel of disillusionment, as the literary critic Georg Lukács once described the category: a novel that strips away its young protagonist's major social relationships to elevate her interiority … this marvelously disconcerting novel of disillusionment is a product of the grace extended to the liar by the writer. Only the writer's truthful lies can mirror the liar's petty ones with the clear sight needed to affirm the intensity of her past. Only the writer knows how to conjure desire; sympathize with misjudgment; rebuke carelessness; disappoint mercifully. Always, Ferrante's fiction reminds us that sometimes you need someone else to help gather the scattered fragments of your existence."
–Merve Emre (The Atlantic)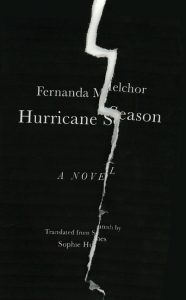 2. Hurricane Season by Fernanda Melchor, trans. by Sophie Hughes
(New Directions)
22 Rave • 10 Positive • 1 Pan
"…[an] impressive new novel …Hurricane Season belongs to the Gothic-grotesque tradition of the transnational American South. The novel's tortured self-deceptions and sprung-trap revelations evoke the stories of Flannery O'Connor, or, more recently, the neuroses of Marlon James's Kingston gunmen in A Brief History of Seven Killings In an interview about that novel, James spoke about the need to 'risk pornography' in the portrayal of violence—and Melchor certainly does. At times, she enters so deeply into the psyche of sexual violence that she skirts the voyeurism risked by any representation of cruelty … The crime is not an act but an entire atmosphere, which Melchor captures in language as though distilling venom. Sometimes, though, this claustrophobic style breaks like a fever, yielding to flights of mesmerically expansive prose … Offering such glints of transcendence at the edge of an ugly killing, Melchor creates a narrative that not only decries an atrocity but embodies the beauty and vitality it perverts."
–Julian Lucas (The New York Times Book Review)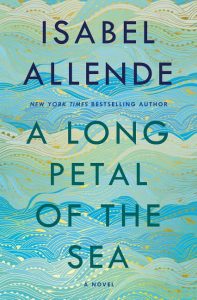 3. A Long Petal of the Sea by Isabel Allende, trans. by Nick Caistor and Amanda Hopkinson
(Ballantine)
12 Rave • 11 Positive • 3 Mixed • 1 Pan
Listen to an interview with Isabel Allende here
".. sweeping, splendid … This is [Allende's] best book in years, one she has poured all of her prodigious passion and talent into, perhaps because it tells a story so close to her heart … Allende eloquently schools us in those terrible times, taking us deep into the history and heart of the country she grew up in. Here there is no magical realism, the hallmark of her first and most famous novel, The House of the Spirits. This is bald, bloody realism … Yet the novel is also powerfully romantic … Allende's occasional tendency to sentimentalize is entirely absent from this story. Absent, too is any romanticizing of war—she chronicles Republican as well as Nationalist atrocities—and love—betrayals and mistakes are rife even with good people … Nor is there political proselytizing. But the story's focus on the plight and resilience of refugees is not just historical, but a matter that endures, worldwide, to this day."
–Pamela Miller (The Star Tribune)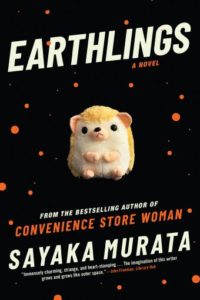 4. Earthlings by Sayaka Murata, trans. by Ginny Tapley Takemori
(Grove)
11 Rave 8 Positive 5 Mixed
Read Sayaka Murata on making friends with imaginary aliens here
"Murata displays her gift for scrambling notions of utopia and dystopia to propulsive effect—only this time, her characters are convinced that they're rebelling, not conforming … As Earthlings swerves into violent, transgressive, fantastical territory, Murata—ever the good scientist—keeps us in thrall by never putting her thumb on the scale. Her matter-of-fact rendering of wild events is as disorienting as it is intriguing. There is no right or normal, there is a narrator but no clear protagonist. Again and again, Murata frustrates our desire to make judgments or find meaning based on accepted norms. If the book's ending feels unreal and unsatisfying, perhaps Murata has succeeded in her experiment—and we were her subjects all along."
–Stephanie Hayes (The Atlantic)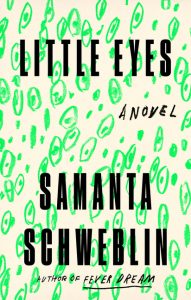 5. Little Eyes by Samanta Schweblin, trans. by Megan McDowell
(Riverhead)
7 Rave • 13 Positive • 8 Mixed
Read an interview with Samanta Schweblin here
"…[a] dark, quick, strangely joyful new novel … I cannot describe the thrill that ran through me when I realized what the premise of this book was. Of course the idea is timely … But what amazes me is how studiously Schweblin shuns this low-hanging fruit, pushing the book's thematic content into the background and spotlighting instead the intensity and specificity of her characters' inner lives. I cannot remember a book so efficient in establishing character and propelling narrative; there's material for a hundred novels in these deft, rich 242 pages … Each story unveils a new implication of the technology, new ways for human beings to love and hurt themselves and others … The writing, ably translated from the Spanish by Megan McDowell, is superb…the sentences snap like a flag in a gale, especially when deployed to evoke small, vivid details … a slim volume as expansive and ambitious as an epic."
–J. Robert Lennon (The New York Times Book Review)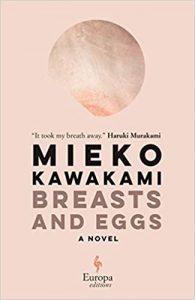 6. Breasts and Eggs by Mieko Kawakami, trans. by Sam Bett and David Boyd
(Europa Editions)
8 Rave • 10 Positive • 5 Mixed
Read an excerpt from Breasts and Eggs here
"Breasts and Eggswill appeal to readers who delight in finding the female intellect prioritized on the page; if you like Sheila Heti, you'll love Mieko Kawakami … combines conversational and structural looseness with a bracing, exacting reflection on the fundamental strangeness of having a female body … Her voice and concerns are so vibrant and present she practically levitates from the page; long after I finished Breasts and Eggs, Natsuko has remained with me, like a distant friend."
–Lily Meyer (NPR)
7. Tyll by Daniel Kehlmann, trans. by Ross Benjamin
(Pantheon)
10 Rave • 5 Positive • 4 Mixed
"… a deeply imagined early-seventeenth-century world … We are offered vivid descriptions … Kehlmann, a confident magician himself, plays his bright pages like cards. But he has a deeper purpose, which is revealed only gradually, as the grand climacteric of his chosen war steadily justifies its presence in the novel … A remote historical period, rollicking picaresque episodes, tricksters and magic, ancient foggy chronicles—all the dangers of the historical novel are here … Kehlmann is a gifted and sensitive storyteller, who understands that stories originate within communities, and that such stories are convincingly dramatized when the novelist selflessly inhabits his characters' perspectives … The book's narrative is daringly discontinuous … Despite the grimness of the surroundings and the lancing interventions of history, the novel's tone remains light, sprightly, enterprising. Kehlmann has an unusual combination of talents and ambitions—he is a playful realist, a rationalist drawn to magical games and tricky performances, a modern who likes to look backward … is vivified by the remoteness of its setting and the mythical obscurity of its protagonist, which oblige Kehlmann to commit his formidable imaginative resources to wholesale invention, and to surrender himself to the curious world he both inhabits and makes. At once magister and magician, he practices the kind of novelistic modesty that can be found at the heart of classic storytelling."
–James Wood (The New Yorker)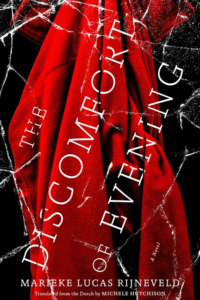 8. The Discomfort of Evening by Marieke Lucas Rijneveld, trans. by Michele Hutchison
(Graywolf Press)
11 Rave • 4 Positive • 5 Mixed • 1 Pan
Read an excerpt from The Discomfort of Evening here
"… an earthy and irreverent new voice, thrillingly uninhibited in style and subject matter … The novel teems—I say this admiringly—with all the filth of life … The title refers to the point in the evening when cows begin to low and call for relief, their udders heavy with milk. The story is about painful repletion of another kind, and of solace that never arrives … The novel didn't give me nightmares only because sleep became a faint possibility. Rijneveld will play to all your phobias and nurture new ones. Even now, my blood jumps to remember certain images … It's not the violence that feels so shocking—it's the innocence. The violence in the book is visited on small bodies, mute bodies, by those who are themselves small, young, lacking in language … However strong your readerly constitution, it might feel like a peculiar time to pick up a book so mournful and gory. And yet, I went to it every day without dread, with, in fact, a gratitude that surprised me. It was the gratitude of not being condescended to. Novels disappoint not only by being clumsily written or conceived but by presenting a version of the world that is simpler and more sanitized than we know it to be. Fiction about childhood is especially prone, with a few notable exceptions. The spaciousness of Rijneveld's imagination comes as terror and solace. That lack of squeamishness, that frightening extremity, which, in Hutchison's clean, calm translation, never feels showy or manipulative, gives full voice to the enormity of the children's grief, their obscene deprivation.
–Parul Sehgal (The New York Times)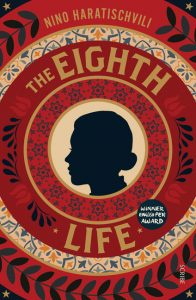 9. The Eighth Life by Nino Haratischvili, trans. by Charlotte Collins and Ruth Martin
(Scribe US)
9 Rave • 5 Positive • 2 Mixed
Read an interview with Nino Haratischvili here
"This novel has generated substantial industry buzz and international critical praise. Both are justified … this is not a Russian epic, it is a Georgian epic, and this distinctively flavors the narrative … Haratischvili has a compelling, clear-eyed perspective on her homeland. Though far from polemical, the novel should be required reading for those lacking the historical and ideological understanding of what socialism does to those forced to live under it. Stasia is perhaps the most vivid, but each of the multitude of unique characters is similarly vibrant and entirely real, their lives resonant. Don't let the page count deter; The Eighth Life—the story of a family, a country, a century—is an imaginative, expansive, and important read.
–Bethany Latham (Booklist)
10. Year of the Rabbit by Tian Veasna, trans. by Helga Dasche
(Drawn & Quarterly)
8 Rave • 7 Positive
"Veasna's energetic, loose lines are perfectly suited to capturing the nuances of the chaos and confusion. His art has the quality of a snapshot sketch, pinning a moment to the page: wide, frightened eyes; mud sliding under rubber sandals; the drip of rice gruel from a spoon. Although Year of the Rabbit primarily follows Khim and Lina (Veasna's parents), there are multiple overlapping storylines; Veasna's clear, characterful style makes it easy for the reader to follow the various threads … Year of the Rabbit movingly depicts the rising terror of the Khmer Rouge years … beautiful and jarring."
–Ka Bradley (Times Literary Supplement)
*
The Book Marks System:
RAVE = 5 points • POSITIVE = 3 points • MIXED = 1 point • PAN = -5 points
---