Samanta Schweblin on Writer's Block, Kjell Askildsen, and The Twilight Zone
The Author of Little Eyes Takes the Lit Hub Questionnaire
Samanta Schweblin's novel, Little Eyes, is out now, so we asked her a few questions about reading, writing, and what she likes to watch.
* 
Who do you most wish would read your stories? 
Kjell Askildsen, although I imagine that he wouldn't like them. They have too much action, too many words, too much of everything in comparison with his minimalist prose. And I know how mushy this could sound, but I loved being still read by my grandmother Susana. She was my first and best fan ever. I miss her so much!
What do you always want to talk about in interviews but never get to?
Everything except my book. Really! I know it's necessary for books to circulate and reach more readers, and I love people reading my books… it's not about that. When I finish a book, it is finished. It's as simple as that. Everything I wanted to say about the book is in the book. So I prefer questions about writing processes, readings, life experiences… Even when I read interviews from other authors, those are the questions I like the most. I can't answer your question too specifically, but I am curious as to how authors used their imaginations as children. What games did they make up and play? What did they day dream about? So I think I would enjoy being asked questions along those lines.
What time of day do you write?
Mornings, afternoons, nights… Any time can work. For me it is less so about the time of the day and more about my state of mind. I need to feel balanced and awake. I don't mean to say that I don't have an everyday routine. I try to work every day from 9 to 14. But, when an idea traps me I will work on it for the rest of the day. On public transport, in waiting rooms, on planes… sometimes I can even take notes in the restroom in the middle of a party. Writing wherever and whenever I want is my rebel commonplace. It could sound a little dumb, but I love it.
Article continues after advertisement
How do you tackle writers block?
I don't. I just wait. I read, walk, listen… If I don't have an idea of what to write next I stay away from my desk. I try to only sit down when I feel an urge to write. I need to keep moving to catch new ideas.
Which book(s) do you return to again and again?
Antonio Di Benedetto's stories, Kafka's stories, Tobias Wolff's stories, Shirley Jackson's stories. The novella Too Far From Home, by Paul Bowles. That book always takes my breath away. I don't know why, It's like reading a mantra. Some poems from Alfonsina Storni, Alejandra Pizarnik, Anne Carson…
Which non-literary piece of culture—film, tv show, painting, song—could you not imagine your life without?
The 80s edition of the Twilight Zone series and the films "Possession" by Andrzej Zulawski and "Stroszek" by Werner Herzog. Turner's skies and seas. "Sinnermann" by Nina Simone. Keith Jarret's "Köln Concert". "Dust Bowl III", by Other lives. "De cara a la pared" by Lhasa. And all Astor Piazzolla.
What's the best writing advice you've ever received?
It was from Cesar Aira. It was after a long and amazing monologue of almost two hours in a café in Buenos Aires. He simply looked at me, deeply resigned or maybe exhausted, and he said: "Just put the tip of the pencil on a lined paper and write one word behind the other. It always works."
What was the first book you fell in love with?
It was Joy Adamson's Born Free, which was also the first "grown up" book I read. The story of the lioness Elsa really broke my heart. I still remember the photos inside the book, and how I was drawn into story just by looking at them. I cried how I imagined adults cried when they read a really good and profound book.
Name a classic you feel guilty about never having read?
There are so many classics that I have not explored yet. I feel less embarrassed admitting that each time. I would choose Moby Dick. Because I have the intuition that, of all my debts with the classics, this will be the one I will regret the most.
Is there a book you wish you had written?
Yes, without any doubt: Swimmer in the Secret Sea, by William Kotzwinkle.
__________________________________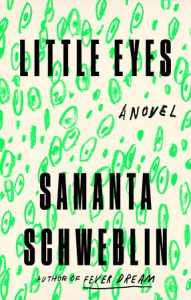 Samanta Schweblin's novel, Little Eyes, is available now from Riverhead. 
---