Can You Have Quidditch without Harry Potter?
How an Oddball Nerd Hobby Grew into a Semi-Professional Sport
Harry Potter and the Philosopher's Stone is celebrating 20 years in print, but when it comes to the book's beloved pastime, really who can say how long the thing has been around? Quidditch, depending on which version you're inclined to believe, was either invented in the year 1050 by a half dozen or so wizards with a passing knowledge of ancient broomstick games and access to a swampy area known as Queerditch Marsh, or in the mid-1990s, by a woman in a Manchester hotel room who had just gone through a bad breakup and was having a deep think on just what it is that keeps people and societies together, or in 2005, by a group of college students in Middlebury, Vermont, who, bored of a Sunday, decided they would fashion capes out of bath towels and go make a spectacle of themselves on the quad.
The alternatives may sound stark but they're nothing too far out of the ordinary for sports. Tetherball, for example, may or may not descend from a Tatar decapitation ritual. Baseball, who knows? Myths are part and parcel of our games, an active ingredient in the intoxicant that keeps us coming back for more winning and losing.
Quidditch, as much as any respectable sport, and not unlike the fictional universe where it was first dreamed up, is steeped in myth and occasionally bedeviled by it.
The game's earthbound iteration is now played in over two-dozen countries. Its devotees, numbering in the thousands, are referred to as "muggles," a term intended to clear up any doubt as to whether there are traces of magic in their blood. Most muggles participate casually—Sundays in spring, a tournament here and there. But in recent years, a hardcore movement has emerged with the goal of improving and professionalizing what was, until recently, a refuge for wizards and whimsical coeds.
In the US, that avant-garde is led by Major League Quidditch, better known as the MLQ. One of this year's MLQ hopefuls, competing for glory, bragging rights, and the famed Benepe Cup, is a plucky upstart from the East Division—the New York Titans.
*
On a recent balmy Saturday night, I attended the Titans' inaugural match of the 2017 season, against the Boston Night Riders. Boston is the league's juggernaut, boasting an unblemished record and two championships in as many seasons. The city, with its many colleges and high tolerance for quirk, is the sport's stronghold. This year, Boston is led by Harry Greenhouse and Max Havlin, described to me, respectively, as the quidditch "GOAT" (Greatest of All-Time) and "kind of an Adonis."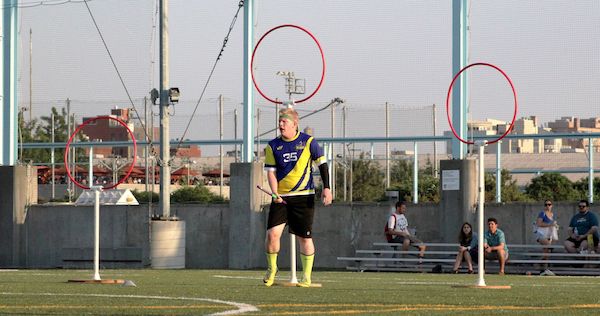 Before the game, New York's manager, Kerri Donnelly, acknowledged that those Titans who had put in extra training sessions in the preceding weeks had done so, at least in part, with Greenhouse and Havlin in mind. She also copped to her team's underdog status, which she thought might, at this early juncture of the season, present a competitive advantage, an idea that sounded more hopeful than strategic.
"Is Harry Potter good for quidditch? It's hard to know."
As the Titans huddled up for their pregame chant, a plucky question-and-answer session—Q: "How strong?" A: "Too strong." (Repeat)—Boston stood by, broomsticks at the ready, watching. Their keeper, who looked to be well over 6'5" and easily the weight of two Weasley brothers, didn't seem too impressed with New York's repeated claim.
The match was being held on the outermost pitch in Brooklyn Bridge Park. The crowd, numbering just over a hundred before the call of "brooms up," could be fairly divided into three camps: home, away, and there-to-be-sociable. One of the great joys of picking up any sport in its early days is the ability to watch a game from a picnic blanket spread out on the sideline. Red and blue solo cups were enjoyed discreetly. Ice cream cones were passed round. Most supporters were fresh out of college, only recently uprooted from northeast liberal arts enclaves to the city and with an admirable capacity to be overwhelmed by the sunset over New York Harbor.
The two great topics of conversation, aside from the sunset, were the location of the after-party and, once the action was underway, just what in the hell was the score.
Quidditch, professional or otherwise, isn't the easiest sport for a casual fan to follow. It lacks the slow march of progress that makes American football so simple to grasp on a boozy Sunday, and, unlike soccer or basketball, there's no netting to help the naked eye confirm whether a try on goal was successful or just an honorable miss. Hockey and lacrosse offer closer points of comparison, but with vigorous bouts of dodgeball and an amateur-wrestling match breaking out in the course of regulation.
And then there are the brooms. No aspect of the game causes more angst among players, league officials, and just about anyone else with a vested interest in the sport's development. "It's no different than having to dribble the basketball," was the line I heard most often, stated more or less consistently and with great aplomb.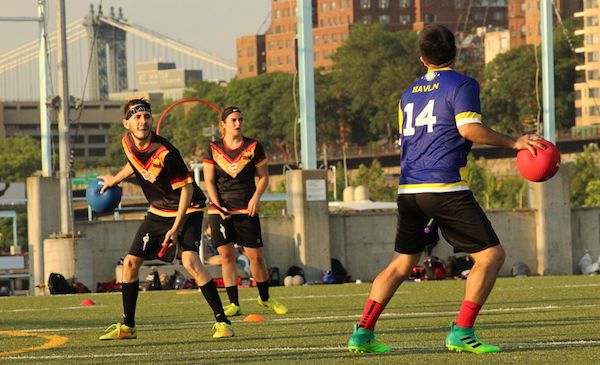 During gameplay, brooms are an essential variable, ensuring that only one arm will remain free for passing, catching, and tackling. They also ensure that players will have the wind knocked out of them from time to time. Fortunately, bristles have recently gone the way of the dodo. A lightweight PVC pipe is now the official gear, a rule change with near universal support, since it cuts down on the inner-thigh irritation that players, with a post-traumatic shudder, refer to as "broom burn."
But invariably, the "broom" is the thing newcomers notice and make hey out of. "What's that?" I was asked by a curious middle-aged couple who happened on the game. When told, their response was simple and inarguable: "They can't fly, though."
No, they cannot, which begs the question, what's a serious athlete to do about this wizard business? Major League Quidditch is, in effect, an answer. The league's aim, according to its website, is "to present quidditch in an elegant, highly-consumable form that mirrors other sports' top leagues." That means no capes, no scarves, and no bristles. For the New York team, it also means mandatory team practices plus four individual workouts per week. According to Kyle Carey, one of New York's veteran "chasers," a few Potter superfans always show up at open tryouts in April, but they rarely last long. "It's a tough sport," he said. "You're going to get hit. Hard."
Andy Marmer, the editor of The Quidditch Post, one of the sport's two major media outlets (its rival, The Eighth Man, is staffed largely by MLQ officials), says that the quidditch world is still sorting out whether sorcery and elite athletics can coexist. "It's a weird tension," Marmet says. "Some of the game's founders, the people who were playing quidditch ten years ago on campuses, they were Harry Potter fans, not necessarily athletes. They're losing their place in the community." It's a dilemma familiar to anyone who's ever fallen in love with an obscure band or supported a ragtag team. "There's no obvious reconciliation on how to grow while keeping true to the origins," Marmet says. "Is Harry Potter good for quidditch? It's hard to know."
For its part, the MLQ seems to regard the game's literary legacy with a less-is-more attitude. Currently, the league's website includes scores, stats, game video, replica jerseys starting at $69, and a broom sponsor (Petersons—"Quality You Can Afford"). But there's only one reference to Harry Potter, a legal disclaimer similar to the one used by US Quidditch, the Quidditch Premier League, the International Quidditch Association, and nearly every other amateur and professional body overseeing the sport's sprawling diaspora. It reads: "MLQ and its activities are not licensed by, sponsored by or associated with Warner Bros., J.K. Rowling, or their affiliates."
Ms. Rowling's publicist says the author is aware of the game's real-life rendering. Whether she approves, disapproves or finds it all a little baffling, there is no record.
*
Getting back to the game, the debate over the score went on for quite some time. Depending on which camp you were in, or how close you were sitting to the scorers and statisticians, it was either 80-30 or 100-40 in Boston's favor, with the snitch—in this case, a young man built like a Ford F-150 with a tennis ball dangling from his backside—set to be released, launching the game into its final, helter-skelter period.
A precise description of the rules of quidditch is a fool's errand. Suffice it to say, there are attackers, defenders, a keeper, and great flows of offense developed at sharp, dangerous angles like the slot patterns that have revolutionized the NFL in recent years. Occasionally all this gives way to a blistering counterattack. And then there's the snitch, who runs on toward the end of the game and tries like hell not to be caught, or else the gig is up—30 points coughed up as the final whistle blows.
Watching Boston's stars lock onto the snitch was compelling, but for my money the game's most intriguing subplot was on the right wing, where there was a turf battle underway between Boston's wingers and a New York chaser named, of all things, Molly Potter. (According to the Harry Potter wiki, Harry's wife, Ginny, is sometimes referred to as Molly and indeed was a professional quidditch player.) I had met Potter at a Titans' practice a few weeks before. She had only recently graduated from NYU, where she starred for the university's premier quidditch club, and been called up to the Titans for her first stint in the MLQ. She'd told me, with obvious displeasure, that she wasn't really much of a Harry Potter fan, and yes, having that name on the back of your jersey during a top-flight quidditch match was about as annoying as you might expect. Under the lights at Brooklyn Bridge Park, I found myself wondering whether any fans or passers-by might start up a Potter chant—a magic spell, or possibly a Gryffindor song—or if anyone on the Boston squad would try to get in her head with a well-aimed taunt. As it turns out, nobody thought of it, or possibly nobody dared. Potter is about 5'6", dirty blonde, and fresh-faced, but carries herself with a quiet ferocity. On the field, she's a bruiser.
Toward the end of the game, Potter took a wicked gutshot from the business end of a Boston broom. It was the type of hit that makes you double over and gasp just watching from the sideline. But Potter hardly seemed to register the shock. She bounced to her feet and darted upfield, calling for the quaffle as she made for goal.
Before our eyes, it seemed to me, the dream of Major League Quidditch was playing out: a summer night, a happy crowd, some decent action, and a Potter in the wings.
Who would fret over wizards and broomsticks when they had all that?
__________________________________
All photos by Amanda Dallas.
---