Beyond Borges: 5 Argentine Writers You Should Know
Of Clones, Cruelty, and "Dark, Startling Power"
Second only to the upcoming elections, the hot topic in Buenos Aires these past few months has been the lawsuit brought against the experimental writer Pablo Katchadjian by Borges's widow, María Kodama, for "fattening" the iconic story "El Aleph." Though the case was recently dismissed, the project, which—in a Menardian key—"expands without altering" the original text, was emblematic of the tensions between artistic freedom and intellectual property law, and reminded many how long a shadow Borges still casts over Argentine literature both at home and abroad.
I'm not saying we shouldn't all read Borges. But there are so many other writers worth our attention who work along very different, very interesting, lines. With the caveat that these lists inevitably leave off more great books than they could hope to include, here are a few good places to start.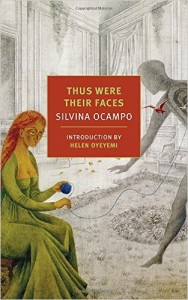 Silvina Ocampo, Thus Were Their Faces tr. Daniel Balderston (NYRB 2015)
One of the most-mentioned details of Silvina Ocampo's career is that she was denied Argentina's National Prize for Literature on the grounds that her stories were simply "too cruel." Whether or not this is an accurate description of Ocampo's fiction, it certainly speaks to the discomfort she produced in her contemporaries. Like others on this list, Ocampo mixes unembellished narration and dark, fantastic elements into a heady cocktail. A dress inexplicably takes the life of the women wearing it, to the refrain of "How amusing!" A beloved dog dies and is taxidermied, then used to kill a nosey neighbor. A young woman expires on her wedding day, the victim of a childish prank. Is this cruelty? Perhaps. Perhaps, as Ocampo suggests, she writes because it is "a way of death without dying … [a way] to forget scorn." Whatever the case, Borges summed it up neatly when he said that Silvina Ocampo "sees us as if we were made of glass, sees and forgives us. It is useless to try to fool her."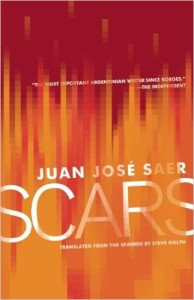 Juan José Saer, Scars tr. Stephen Dolph (Open Letter 2011)
While I still don't entirely understand how we didn't all catch Saer fever in the 1990s when Margaret Jull Costa translated El entenado (as The Witness) and Helen Lane followed with several other titles, I'm thrilled that Open Letter has given this virtuosic and culturally important writer a second chance to make a first impression. Scars is a compelling, exquisitely crafted novel about the aftermath of a May Day family hunting expedition, when union activist Luis Fiore very publicly turns his shotgun on his wife. Each chapter is told from the perspective of a different character, and each circles around the crime in increasingly tight loops (the first chapter spans five months, then three, then two; the last, told from Fiore's perspective, covers only the day of the murder). It's an early work that blends youthful urgency with a fully developed sense of structure and rhythm, from a man described by Ricardo Piglia as "one of the greatest living writers in any language."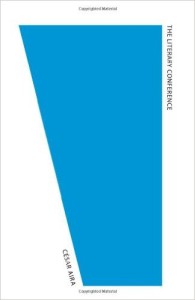 César Aira, The Literary Conference tr. Katherine Silver (New Directions 2010)
You've probably already heard how awesome Aira is, and how everyone should read at least one of his many, many books. If you've had trouble deciding which to pick up first, though, I'd definitely recommend The Literary Conference, in which a mad scientist (and erstwhile translator, natch) infiltrates said literary conference in an attempt to make an army of Carlos Fuentes clones. What could go wrong, right? Written using Aira's trademark "flight forward" technique, which eschews revision in favor of a free-associative style and feverish rate of production, this book is at once totally zany and an incisive lampoon of the literary scene.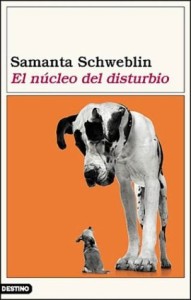 Samanta Schweblin, "Birds in the Mouth" and "Preserves" tr. Joel Streicker
Named one of the Best Young Spanish-language Writers by Granta in 2010, Schweblin hasn't yet had a full volume published in English, but I've included her here as both a recommendation and a bit of wishful thinking. Schweblin writes in a minor key with a grace few of her contemporaries can muster—as M Mark has remarked, "she has a gift for sketching comfortable worlds and then disrupting them with images of dark, startling power." In "Birds in the Mouth," a divorced couple struggles with how to handle their adolescent daughter's unsettling dietary preferences, while "Preserves" follows to its conclusion an unorthodox approach to an unexpected pregnancy. Schweblin's stories are exercises in narrative restraint with moments of gothic intrigue, and they're right here to enjoy, right now (hint, hint). BONUS: "To Kill a Dog" translated by Brendan Lanctot for The White Review.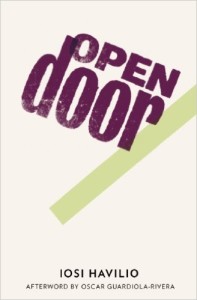 Iosi Havilio, Open Door tr. Beth Fowler (And Other Stories 2011 UK/2013)
Speaking of an artfully crafted sense of foreboding, Iosi Havilio's first novel is a captivating reflection on alienation, in every sense of the word. Set between Buenos Aires and the town—ahem, psychiatric colony—in nearby Luján from which the novel takes its name, Open Door follows its twenty-something protagonist from her initial visit to the village to examine an ailing horse, back to Buenos Aires, where she believes she inadvertently watches her girlfriend jump off a bridge, back to Open Door and into the arms of both the horse's aging owner and a local teenager whose sexual appetite is matched only by her talent for getting into trouble. As the months go by, it becomes less and less clear what really brought the young woman to Open Door and who, exactly, she is. Stretching effortlessly outwards, the novel also reminds us that, as observed in The Economist, "in an asylum without walls, there is 'nothing to limit the illusion of absolute liberty'—ultimate control is when people no longer feel they are being coerced."
Not on the list:
Given my obvious bias in the matter, I didn't include any of Sergio Chejfec's books. [Ed. note: Ms. Cleary has translated several books by Chejfec.] His intricately woven, meditative, and quietly humorous prose is definitely worth exploring, though; a great place to begin would be My Two Worlds, a short novel about a long walk, translated by Margaret B. Carson (Open Letter 2011).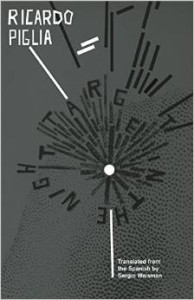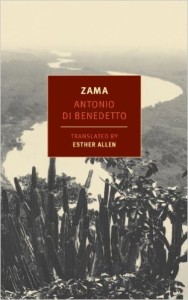 …and keep an eye out for:
Esther Allen's translation of Zama (NYRB 2016). Antonio di Benedetto was a master of existential malaise, and this lush yet precisely crafted novel about a frustrated functionary plotting a transfer to Buenos Aires from his remote post in Paraguay is a national treasure finally available to readers of English. I'm also looking forward to seeing my fellow BAR founding editor Pola Oloixarac's Las teorías salvajes (The Wild Theories) make its way into English, and to reading Ricardo Piglia's Target in the Night (tr. Sergio Waisman, Deep Vellum 2015). While we're all waiting for that to hit the shelves, though, Piglia's The Absent City (also translated by Waisman) is incredible…
---