It's been a banner season for scammers! From Inventing Anna and The Dropout to The Tinder Swindler and Bad Vegan, there is certainly no shortage of these off-the-wall stories with twists and turns so unexpected that they could only come from real life. You just can't make this stuff up! Except that you sort of can. In a sense, aren't scammers some of our greatest storytellers? They invent characters. They orate. They make the people around them feel and believe. I obviously don't mean to valorize the dangerous individuals who have done actual harm to real people (hello, Elizabeth Holmes; hello, diamond heir) but I can't seem to stop binge-watching these bonkers documentaries/mini series. They're a wild ride! And if you, like me, can't seem to find the exit, here are some books you might enjoy next.
*
NONFICTION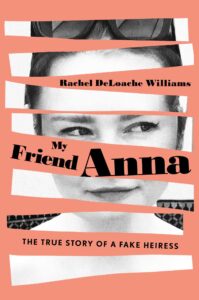 Rachel DeLoache Williams, My Friend Anna
We're going to start off with some of the more obvious recommendations. Whether you loved her or hated her in Inventing Anna (probably the latter), you can't deny that you're a little bit curious about what the Vanity Fair editor has to say in her own words. You can relive Marrakech! Pitched as "Sex and the City meets Catch Me If You Can," it feels like the perfect page-turner.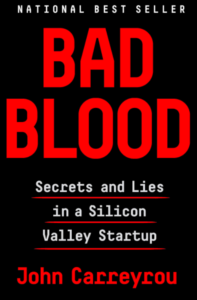 John Carreyrou, Bad Blood
If you found yourself googling for more information about Elizabeth Holmes after you finished The Dropout, might I recommend Bad Blood? Yes, it's by that John Carreyrou. While he's not as hot as Ebon Moss-Bachrach, he is a two-time Pulitzer Prize winner, and he's the one who broke the Theranos story wide open in The Wall Street Journal. At 368 pages, this work of investigative journalism will give you a very comprehensive deep dive into what happened.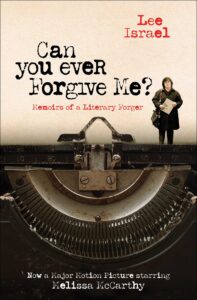 Lee Israel, Can You Ever Forgive Me?
We love a good literary hoax! For two years, Lee Israel forged and sold more than three hundred (300) letters from cultural icons like Dorothy Parker and Noel Coward. Before her con artist lifestyle, she was actually a fairly well-known biographer, and she put her research skills and ability to put herself in someone else's shoes to good use here. With humor, she tells her intoxicating story. (And in case you missed the movie, it stars the incredible Melissa McCarthy and has won our vote for one of the best literary film adaptations of the decade.)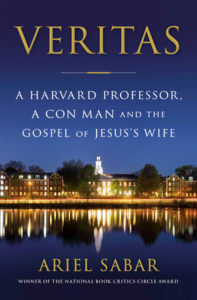 Ariel Sabar, Veritas
The year was 2012. The place was really close to the Vatican. The who? A theology professor at Harvard. She claimed she'd found an ancient piece of papyrus paper in which Jesus refers to Mary Magdalene as… his wife. (Cue Borat: "My wife!") The Roman Catholic Church was, understandably, shook. But the question you're thinking right now is the question award-winning journalist Ariel Sabar also had: where did this "ancient piece of papyrus" come from exactly? Inside, you'll find: a Florida man, a fake Egyptology degree, and more twists and turns than O. Henry himself could've written.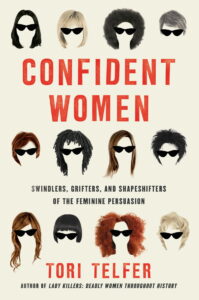 Tori Telfer, Confident Women
Obviously, men can be con artists, too. They're just not as fun or as good at it. In Confident Women, Tori Telfer zooms in on a history of female scammers and their brazen plans. In the 1700s, a woman steals 647 diamonds by pretending to be besties with Marie Antoinette. In the 1800s, two sisters start a religious cult by pretending they can commune with the dead. In the 1900s, another woman steals 40(!) show dogs(!!). Honestly, where is the mini series based on this book?
FICTION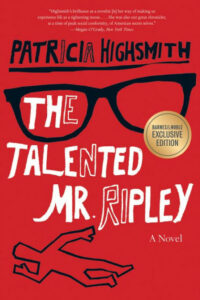 Patricia Highsmith, The Talented Mr. Ripley
Much has been written about The Talented Mr. Ripley here at Literary Hub dot com. It's a beloved coming-of-age story. It's a mid-century classic. We love it so much we even rounded up some of its earliest reviews for your viewing pleasure. In case you've been living under a rock, though, here's what you need to know: Tom Ripley is hired by a wealthy man to bring his playboy son, Dickie Greenleaf, back from Italy. But the eponymous Mr. Ripley becomes obsessed with Dickie. So begins a sinister game…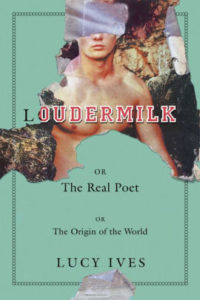 Lucy Ives, Loudermilk
Another great literary hoax, but this one is a work of fiction! A young man arrives at a very prestigious poetry program. What's weird about that? you're wondering. That shit happens all the time. Go to orientation day at any MFA program. Well, here's the snag: Troy Augustus Loudermilk has never written a poem. In this delicious satire, Lucy Ives pokes fun at the current state of elite writing programs.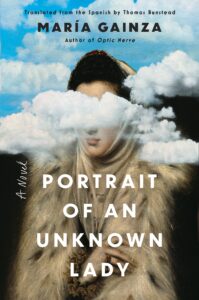 María Gainza, tr. Thomas Bunstead, Portrait of an Unknown Lady
There's a special place in my heart for crime stories revolving around art. Maybe it's because I'm overly fond of the debonaire fine art thief Pierre Despereaux in Psych. Also, I've recently become obsessed with How to Steal a Million, arguably one of the greatest caper movies ever made. In any case, Portrait of an Unknown Lady hits the spot. In Buenos Aires, a masterful forger is afoot. Tag along as our guide into this mysterious world (an art critic/auction house employee) tracks her down and questions everything we know about what is real.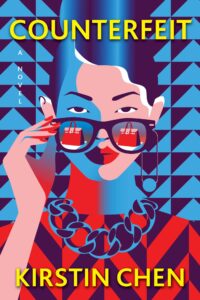 Kirstin Chen, Counterfeit
Think Hustlers with a little bit of Good Girls throw in for good measure. From the outside looking in, our protagonist is your stereotypical "model minority." She's a Chinese American lawyer, married to a doctor, with a young son. But her life is actually sort of falling apart, which is why she's thrilled when her old college roommate reaches out to shake things up. As it turns out, the past few decades have turned her old friend into the ringleader of a designer handbag knockoff scheme. Just in time to be your next fun summer read, Kirstin Chen's Counterfeit comes out in a few short weeks.