When The Beatles Met Their Idol, Elvis Presley
It Was Even More Awkward Than You'd Think!
There's an unwritten rule in entertainment that says you should never meet your idols—because nine times out of ten they will disappoint you. For John, Elvis Presley had already disappointed by appearing in vapid beach-boy movies since he'd left the US Army in 1960, and by making some mediocre records. All the same, although Hollywood stars had flocked to the Beatles when they'd first arrived in America, Elvis was, as John said, "the only person in the United States we really wanted to meet . . . though, I'm not sure that he wanted to meet us."
So when, during a break in Los Angeles halfway through the tour, a young English journalist called Chris Hutchins engineered a summit between the Beatles and their one-time hero at Elvis's home in Bel Air, the mood was tentative. Elvis had only agreed to it because the Colonel pushed him into it, believing that it would be good publicity. Now, however, he was no longer the 21-year-old rule-breaking and ground-breaking rebel who had inspired them almost a decade earlier.
No photographers were permitted to record the meeting, but if a picture had been taken it would show Elvis in a red shirt and black jerkin, his hair dyed black and lacquered like a helmet, being stared at by the four silent, shampooed, shaggy-haired English usurpers of his throne, John and Paul on either side of him on a horseshoe-shaped settee. Across his large sitting room were Priscilla Presley and some of her girlfriends, all overdressed for the occasion in party attire, who, in turn, gazed at the Beatles. Elvis was then 30 and John approaching his 25th birthday. But in the way the two men looked, and in their attitudes, there could have been a two-decade difference in age.
Uncomfortable with the awed silence, Elvis finally joked, "Well, if you guys are just going to stare at me, I'm going to bed."
The ice was partly broken. But while Paul tried to get a conversation going about the bass guitar, as Elvis was nervously playing a Fender along to Charlie Rich's "Mohair Sam" that was on his jukebox, John began to speak in a mock Peter Sellers–type German accent. He was trying to be funny, but such was the awkwardness of the situation it's unlikely that Elvis realized. George, meanwhile, had been stoned before he got there, and took little part in any conversation, while Ringo went off to play pool with some of Elvis's Memphis Mafia entourage. For Paul the most memorable part of the evening was that Elvis had the first TV remote he'd ever seen.
Had they not been overawed by the occasion, John and Paul should at that point have offered to write a song for their host.
It wasn't an unpleasant evening, and John would later say he enjoyed it, but the immediate rapport that had occurred at his meeting with Bob Dylan the previous year was not repeated. Things got better when guitars were passed around and plugged in so that some ensemble versions of rock and roll riffs were played, without much singing. After which Paul ventured to tell Elvis how much they'd all liked his early rock records. To which Elvis replied that he was thinking of recording some more songs in similar vein. Had they not been overawed by the occasion, John and Paul should at that point have offered to write a song for their host. They had the magic touch of the moment and were regularly handing out songs to their friends, some of which became very big hits. But no suggestion was made and the moment passed with John's slightly brusque retort: "Oh, good. We'll buy them when you do," which sounded ruder than intended. Years later, Elvis would include "Get Back" and "Yesterday" in his stage act, but 1965 was when he really needed a little Lennon and McCartney magic.
As the Beatles left that night, inviting Elvis to visit their rented home in Beverly Glen for a party the following evening—an invitation that was not taken up—John, now quite drunk, returned to his German accent and said: "Sanks for ze muzik, Elvis. Long live ze King!" It probably sounded as though he was being sarcastic, but he meant it. As he would tell some of Elvis's pals who did attend the Beatles' party the next night: "Without Elvis I would have been nothing." He meant that, too.
"It was a nice meeting," he would say later. "But he wasn't articulate, that's all . . . He did some good stuff after the army, but it was never quite the same. It was like something happened to him psychologically." On a crueller day, though, looking for a laugh, he would say that meeting Elvis had been "just like meeting Engelbert Humperdinck." His habit of changing his mind was a constant in his life.
__________________________________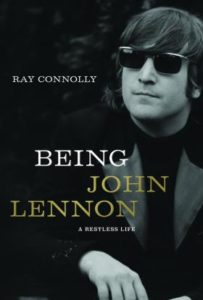 From Being John Lennon: A Restless Life. Used with the permission of the publisher, Pegasus Books. Copyright © 2018 by Ray Connolly.
---