The Annotated Nightstand: What Simon Jacobs is Reading Now and Next
Tana French, Tobias Carroll, Tove Jansson and More
This month, as a kind of looking back, instead of having authors whose books are out this month I invited two authors who wrote great books that are absolutely worthy of more attention than it seemed they received. While there are lots of new books I loved this year (Paul Hlava Ceballos' banana [ ], Douglas Kearney's Optic Subwoof, dg nanouk okpik's Blood Snow, Heather Radke's Butts: A Backstory, Catherine Taylor's Image Text Music), one of the two books I really wish more people were talking about was Simon Jacobs' String Follow.
For those who celebrate Christmas (and of course those who don't), the Victorians made it a season of ghost and horror stories. So, gather 'round kids. Jacobs' novel focuses on a group of teenagers in suburban Ohio who, like all teenagers, are represent a menagerie of teen angst we likely all know too well. But the manifestations of their angst are particular to our modern moment (one is a survivor of a school shooting, another swept up in online fascist conspiracy theories).
Yet the particularities of String Follow that make it good December reading isn't the horror of understanding yourself as a teenager. Instead, we read with growing horror as an unknown malevolent energy attempts to locate points of ingress into these kids' minds. After "jumping" in, this supernatural force compels them to behave more and more erratically, impulsively, violently. While this gothic horror sounds like a relatively straightforward allegory regarding the dangers of aimlessness for those of an impressionable age, particularly as adulthood looms on the horizon, Jacobs manages to keep several plates spinning.
He infuses the book with wonderfully dark humor, develops his characters with care, and maintains a compelling style throughout. Indeed, even the narrator's perspective, first-person plural, infuses it with an uncanny feel. As the Kirkus review of String Follow states, "Yes, it's Midwestern teen gothic, and narrated in a sinister, watchful first-person plural, but Jacobs' novel bears less resemblance to The Virgin Suicides (1993) than to dystopian works like Lord of the Flies (1954) or even A Clockwork Orange (1962)."
Regarding his to-read pile, Simon tells us, "An intimate relationship with the Multnomah County Library keeps my reading on a reliable three-week cycle (despite their lack of overdue fines), meaning my TBR stack is mostly small press, poetry, or stuff I dip into repeatedly over time. I also spot a minor New Jersey punk theme (Ex-Members, Sellout, Paul Robeson)."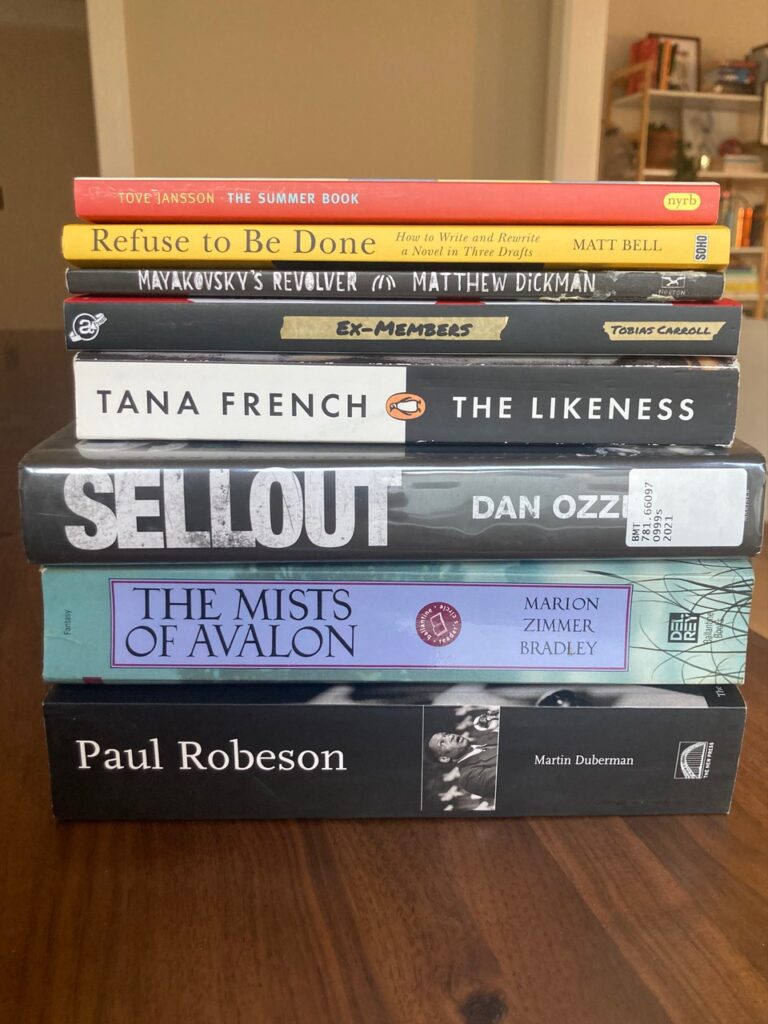 Tove Jansson, The Summer Book (trans. Thomas Teal)
While Jansson is perhaps most famous for creating the Moomins in her beloved Moomintroll comics, this short novel celebrating its fiftieth year apparently describes island life similar to where Jansson spent her days. A child and her grandmother connect over the world around them, as well as the realities of life (the former just beginning to enter it, the latter soon making an exit relatively soon). Elizabeth Gilbert of the New York Times writes, "Absent of sentimentality, full of love and humor and wisdom, this is a tale about how much fun two people can have in the middle of nowhere, when they are practicing social isolation in earnest."
Matt Bell, Refuse to Be Done: How to Write and Rewrite a Novel in Three Drafts
The title of this book perhaps pretty thoroughly describes its contents. In an interview with Publishers Weekly, we learn some suggestions are to retype the entire first into the second draft, when to walk away from a project. Perhaps my favorite, is when Bell suggests to "write toward joy." He explains, "I'd suggest looking for signs of that kind of craft pleasure. And then, of course, knowing when you're just avoiding writing something because it's harder, or you don't know how to do it. The book's a puzzle. I think I actually find the problem-solving part may be one of the most enjoyable things about writing, at least once it starts being solvable."
Matthew Dickman, Mayakovsky's Revolver
The title of this poetry collection references the Russian poet of early 20th century Vladimir Makayovsky—and the weapon with which he completed suicide. Brachah Goykadosh wonderfully synthesizes the meaning of the title in conjunction with one of Dickman's influences. Goykadosh writes, "Frank O'Hara penned a poem simply titled 'Mayakovsky,' where he writes, 'That's funny! there's blood on my chest' and then, 'Now I am quietly waiting for / the catastrophe of my personality / to seem beautiful again.'"
Maybe Matthew Dickman was alluding to both of these poets in his new collection of poetry Mayakovsky's Revolver. The poems in this collection—mostly quiet and often startling elegies—are concerned with suicide, this "blood on my chest," and these "catastrophes of personality." That is to say, at its most intrinsic level, Mayakovsky's Revolver examines not just the contours, angles of grief, but how grief contours and molds us.
Tobias Carroll, Ex-Members
Carroll's gritty book about the punk band Alphanumeric Murders is described in the jacket copy as "a novel about punk scenes, old secrets, and hometowns that stalk us and break our hearts despite our best efforts to escape." Author Chris L. Terry writes, "Tobias Carroll has crafted a touching, quietly devastating novel about the triumphs and tragedies of chasing your dreams with your friends. From embattled architects, to punk rock innovators and unlikely web scammers, I'll never forget the layered characters in Ex-Members or the singular marks that they leave on their forgotten corner of northwest Jersey."
Tana French, The Likeness
The second of six mysteries in French's Dublin Murder Squad series, French wowed and left people chewing on their fingers after the first installment In the Woods provided no resolution to one of the crimes. The protagonist Detective Cassie Maddox is met with a particular challenge in this installment. As Barrie Hardymon writes in NPR, the novel's "murder victim, a Ph.D. student, is a near perfect physical match for Cassie. Weirder still, the slain doppelganger—found stabbed on the outskirts of Dublin and whose death is still unknown to her friends—had appropriated Cassie's old undercover name, Lexie Madison." Most important of all, Hardymon states, "It's a credit to French, and her knack for snappy dialogue and crisp prose, that the setup never feels convoluted."
Dan Ozzi, Sellout: The Major Label Feeding Frenzy that Swept Punk, Emo, and Hardcore
This book tracks eleven bands of the 90s and 00s transitioned from those known only to superfans who kept track of what their favorite zines had to say about music to landing deals with major labels. In his review in the Los Angeles Times, Jim Ruland gives perhaps the most (in)famous example of Green Day, an underground punk darling that ultimately alienated its entire original fanbase by signing with Warner Bros., in a culture where "major-label bands were regarded as literal scum."
Ruland goes on: "What makes Sellout so engrossing is that it profiles both the artists and the suits—the label heads and their A&R reps. Ozzi not only provides a rigorously researched look at how labels targeted bands and fought to sign them; he also amasses an impressive number of firsthand accounts of major-label talent scouts acting like major league sleazeballs."
Marion Zimmer Bradley, The Mists of Avalon
Almost twenty years after The Mists of Avalon was published, Diana L. Paxson wrote of the The Mists of Avalon in the academic journal Arthuriana (you can likely guess at what area of research it covers). "More than almost any other mythos," writes Paxson, "the Matter of Britain—the Arthurian Cycle—lends itself to reinterpretation." Bradley's impulse to reorient the legend of King Arthur's court from the perspective of women had a remarkable impact—and one we're still feeling today. Paxson writes the novel "has been translated in almost every country in the world, and has never been out of print."
Martin Duberman, Paul Robeson: No One Can Silence Me: The Life of the Legendary Artist and Activist
Robeson famously played the title role in Othello on Broadway for almost 300 performances—the longest-running Broadway production of Shakespeare to date. In writing about his experience of being selected by Paul Robeson's son Paul Robeson, Jr. as the biographer in his essay collection The Rest of It (and excerpted at Lit Hub), Duberman writes, "Paul said he was ready to turn his father over to history, to "give him up."
But why so precipitously, to a man he met once? To a white, Jewish, gay activist? It didn't quite add up. There were any number of gifted, left-wing black historians around who, I felt sure, would likely have grabbed an offer to do Paul Robeson's biography." By something of an answer, Duberman remarks on a comment Paul Jr. said during a meeting: "that both his parents had had 'remarkably diverse' affective and sexual lives I've had until now I've been totally concealed. He encouraged me to 'tell all.'"
---