I Wanted to Understand the Breathtaking Violence of American Policing,
So I Became a Cop
Rosa Brooks Wrestles with the Puzzle of State-Sanctioned Violence
By any measure, policing in the United States is a breathtakingly violent enterprise. American police kill more people each month than police in most developed countries kill in several decades. For instance, during the first 24 days of 2015—the year I applied to the MPD Reserve Corps—police in the United States killed more people than police in England and Wales killed in the previous 24 years. Adjusting for population size, American cops kill people 64 times as often as police in the UK.
Ask how the United States became a country where police kill more than a thousand citizens each year, so many of them young Black men, and you'll get two standard but quite different answers. The first, offered most frequently on the political left, is that American policing is fundamentally violent and racist—American police officers kill so many young Black men because police are the agents of a brutal state that does not value Black lives. For America's first two centuries, Black people were enslaved by white Americans; for a century after slavery ended, Black citizens were denied access to wealth and political power by overtly discriminatory laws; in the decades since Brown v. Board of Education and the Civil Rights Act of 1964, racially biased policing practices and mass incarceration have replaced older forms of discrimination and brutality to become "the new Jim Crow," as legal scholar Michelle Alexander puts it. American policing is violent because violence has always been a key means through which the country's white majority defends its unearned privileges against the encroachment of minorities.
Adjusting for population size, American cops kill people 64 times as often as police in the UK.
The second answer, offered most frequently on the political right and understandably preferred by many police officers, casts police in the roles of heroes and victims, not villains or racist thugs. In this version of the story, the problem is not the violence of police, but the violence of American society more broadly. America charges its police officers with the difficult, dangerous task of preventing and responding to violent crime—of which the gun-saturated United States has far more than its share—and in the United States, young Black males commit a disproportionate number of violent crimes. The reasons for this are complex, but certainly not the fault of the police, and the relatively high rate of criminality among young Black men brings them into more frequent contact with police officers than other demographic groups. The disproportionate number of young Black men killed during encounters with police reflects this unfortunate statistical reality and nothing more, and although there are always a few bad apples who make other cops look bad, it is not fair to blame police officers for simply doing their dangerous, poorly paid, underappreciated jobs.
These two competing stories about policing don't exhaust the possibilities, of course, and well before I decided to become a police officer, my instinct was that the true causes of US police violence are far more complicated than either of these narratives acknowledges.
Violence is a puzzle. We all say we oppose violence and want to reduce it, but no human society gets by without it. Violence, or the credible threat of violence, lies behind the laws and institutions of even the most seemingly placid society. In some societies, the state's violence is right out there in the open; in others, it's well hidden. But as the legal scholar Robert Cover argued in a now-classic 1986 article, "Violence and the Word," we should not be fooled by surface decorum. In criminal trials, for instance, the defendant "sits, usually quietly, as if engaged in a civil discourse. If convicted, the defendant customarily walks—escorted—to prolonged confinement, usually without significant disturbance to the civil appearance of the event." Yet, wrote Cover, "It is, of course, grotesque to assume that the civil facade is 'voluntary' except in the sense that it represents the defendant's autonomous recognition of the overwhelming array of violence ranged against him, and of the hopelessness of resistance or outcry." If most prisoners walk into prison, it is because "they know they will be dragged or beaten into prison if they do not walk."
We tell ourselves that a central project of law and political institutions is the reduction of violence, but this is mostly a fairly tale. Law and politics play a role in structuring violence, but rarely "reduce" it. In every human society, soldiers, police officers, "criminals," and ordinary people all create their own stories about violence, stories that explain—to their own satisfaction, at least—why some violence is acceptable and some is not. It would not be too extreme to say that much of human "civilization" revolves around the problem of violence: not how to reduce it, but how to channel and control it, how to make sense of it and assign it moral meaning.
It's always easy to condemn the violence of others; we label the violence we don't like as savage, unthinking, immoral. To Murphy and Auguste, struggling to make sense of the crime and dysfunction they see as they patrol in DC's Seventh District, the residents of Southeast DC become "these fucking people" and "fucking animals." To those protesting police shootings, the police themselves are brutes and animals: robocops, killers, crackers, pigs.
It's the same the world over. Virtually no one conceives of their own behavior in such derogatory, dehumanizing terms. Instead, we construct stories—whole systems of meaning, often accompanied by elaborate legal and institutional structures—to explain and justify our own biases and behavior.
And humans can justify almost anything to themselves, no matter how horrific. In his 1992 book, Ordinary Men: Reserve Police Battalion 101 and the Final Solution in Poland, the historian Christopher Browning writes about the German police officers ordered to hunt down fleeing Jewish families in the forests of Poland in 1942. They didn't see themselves as war criminals; for the most part, they persuaded themselves that they were doing painful, difficult, but necessary work for the sake of their comrades and friends. It wasn't that hard for them to convince themselves—after all, everything they did was "legal" under Nazi laws, and they operated within an institutional architecture that praised and rewarded those who killed Jews, and often punished those who didn't.
In every human society, soldiers, police officers, "criminals," and ordinary people all create their own stories about violence, stories that explain why some violence is acceptable and some is not.
The Germans who participated in the Holocaust weren't unusual. Look at any of the worst horrors humans have inflicted on one another—the Holocaust; the Soviet gulag; genocide and ethnic cleansing in Cambodia, Rwanda, Bosnia. In each case, it took only a few short years for thousands of ordinary, "decent" people to join in the abuses and the killing—and most did so in the full belief that their actions were justified, patriotic, even praiseworthy.
Even those whose acts of violence aren't sanctioned by the state readily persuade themselves of their own righteousness. In the late 1990s, I was sent to Uganda by Human Rights Watch to investigate reports of atrocities carried out by a rebel group calling itself the Lord's Resistance Army (LRA). In terms of numbers, the LRA had nothing on the Nazis or the Rwandan genocidaires—the LRA's victims numbered in the thousands, not the millions. But in terms of sheer brutality, the LRA gave the Nazis a run for their money. Like many rebel armies, the LRA looted, raped, murdered, and press‐ganged others into serving their cause. But unlike most rebel groups, the LRA focused particularly on children. To replenish their ranks, LRA units abducted children from villages throughout northern Uganda to serve as servants, concubines, and soldiers. Since the children rarely served willingly, the LRA developed gruesome rituals to separate their child captives from their past lives. Often, they would force their young conscripts to slaughter others, including their own family members, telling them that they could choose: they could kill, or they could die. I met children who had been forced to beat and hack their own friends and siblings to death.
To this day, nothing I have ever seen or encountered comes close to the sheer horror of LRA activities in northern Uganda. But despite their seemingly gratuitous cruelty, even the toughest LRA fighters worked hard to convince themselves that their brutality was justified. Those they killed were possessed by evil spirits, they sometimes claimed, so killing them was in fact a kindness; alternatively, they argued that the killing they carried out or ordered was necessary to set an example. "We [only kill people] because they are misbehaving," a vexed LRA commander told a young captive who had the courage to challenge the group's actions. "Jesus did not ask his disciples to come with him, he just told them, 'Follow me.' But today Ugandans do not follow the Holy Spirit, so they must be forced. . . . You don't know what we are doing. . . . One day . . . you will see we are God's people."
When I told my mother about my plan to join the DC police reserve corps, I tried to say some of this. We were in the car, heading out from Alexandria, Virginia, where we both lived, for a quiet family weekend on Maryland's Eastern Shore.
"I just don't understand this police officer idea at all," my mother said. "Police use violence to suppress dissent. They oppress poor people. They oppress minorities. That is not an incidental aspect of what they do. It's at the center of what they do. Why would you want to join them?"
I was defensive. "I'm not 'joining' them. I'm trying to learn about them. If we want to understand why police officers do what they do, we need to understand how they see the world."
"So go interview some cops. You don't need to become a cop."
"But maybe I do," I insisted.
The kids and the dog were in the back seat, the dog snoring and the girls plugged into their earphones, oblivious to our tense exchange. Violence, I argued, can be understood only through a nuanced attention to the narratives people create to justify and explain their behavior. If I became a police officer—a part‐time police officer, yes, but a police officer all the same—I could, maybe, begin to understand how the world looks through the eyes of those with badges and guns, and how so much that seems baffling or wrong from the outside has come to seem acceptable, even necessary, to those on the inside.
I don't remember how the argument proceeded, except that at some stage my mother quoted Nietzsche on gazing into the abyss, at which point she was interrupted by one of the girls asking for a bathroom break. I pulled into the first gas station we passed, and took the dog for a walk while my mother and the girls went in search of restrooms and snacks. I was upset, but after walking for a while I calmed down.
When the drive resumed, neither of us returned to Nietzsche and the abyss.
"It's so quiet and peaceful here," my mother said, looking out the window at the meadows and, in the distance, the afternoon sun glinting off the water of the Chesapeake Bay.
"You know," I said, "one the neighbors I met out here told me that the guy who lives three houses down is a retired DC homicide detective."
My mother didn't respond.
________________________________________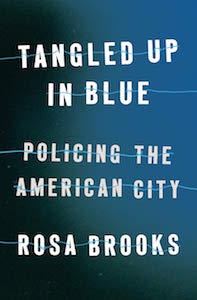 From TANGLED UP IN BLUE: Policing the American City by Rosa Brooks, published by Penguin Press, an imprint of Penguin Publishing Group, a division of Penguin Random House, LLC. Copyright (c) 2021 by Rosa Brooks.
---