How the Mosul Book Forum Became a Hub of Expression in a Struggling City
Hannah McCarthy on Efforts to Rebuild Cultural Spaces After the Islamic State's Brutal Campaign
Engineer Fahad Sabah had been due to start a PhD at the University of Tennessee in 2014, but when the time came to leave his home in Mosul, he and his family found themselves in hiding from the Islamic State as it declared the city its capital in Iraq.
During its reign from 2014 until 2017, when Mosul was liberated by coalition forces, the Islamic State's brutal campaign included a desecration of the city's cultural sites: the terror group dynamited the 12th-century Al-Nouri Mosque, used churches as jails and torture chambers, and destroyed historic artifacts at the Mosul Museum. UNESCO has described the group's actions as "cultural cleansing" and a war crime.
In this climate, reading about the history of Iraq and its culture was a psychological refuge for Sabah as he made sense of what was happening in his home city; Dr. Ali Al-Wardi's book Waad al Saladin ("the Sultan's Preachers") had an especially profound effect on him. The book includes Al-Wardi's analysis of the role religious preachers have historically played in dividing Iraqi communities and entrenching political power through the promotion of sectarianism, which placed the events of those years in historical and sociological context for Sabah. He soon became determined to give others a way to read and cultivate a detailed knowledge of Iraq's history and its religions; this knowledge was essential to escape from the "dark" political situation of the time.
The idea of raising society's awareness by reading books and discussing the ideas in them was "the spark for opening this place," Sabah said from the Book Forum, a bookstore and coffee shop that occupies the first floor of a building opposite the University of Mosul in West Mosul. The university was once famous for its impressive collection of historic maps and old manuscripts (including a 9th-century Quran), and it is where Sabah earned both an undergraduate and master's degree.
During the battle to liberate the city in 2017, several airstrikes from coalition forces hit the university and destroyed part of its main library. Islamic State militants responded by burning the books inside the library, both to destroy evidence and to create a smokescreen to obscure their location from coalition air forces. "I remember that day clearly because the sky above Mosul was full of black smoke," Sabah said.
After coalition forces prevailed and liberated the city, Sabah worked with a group of young people to salvage the books that remained at the university, having evaded coalition airstrikes and the Islamic State's bonfires. Sabah also started a social media campaign for donations to the University's library. Within a month, they collected more than 16,000 books; 7,000 of them remained at the university's central library, while the rest were offered to locals for free at a book festival, the city's first cultural event since the liberation.
While working for an NGO in West Mosul after the liberation, Sabah met Harith Yaseen Abdulqader. The two young men from Mosul were both keen to develop a business that could help with the city's economic rehabilitation, which was sorely needed after the years of Islamic State rule and vicious fighting that followed.
"We had been talking about projects to overcome the economic challenges in the city after the liberation, and we spoke about opening a café," Sabah said. With Al-Wardi's book still on his mind, he suggested that they make it "a unique kind of café" and the first new cultural space in liberated Mosul.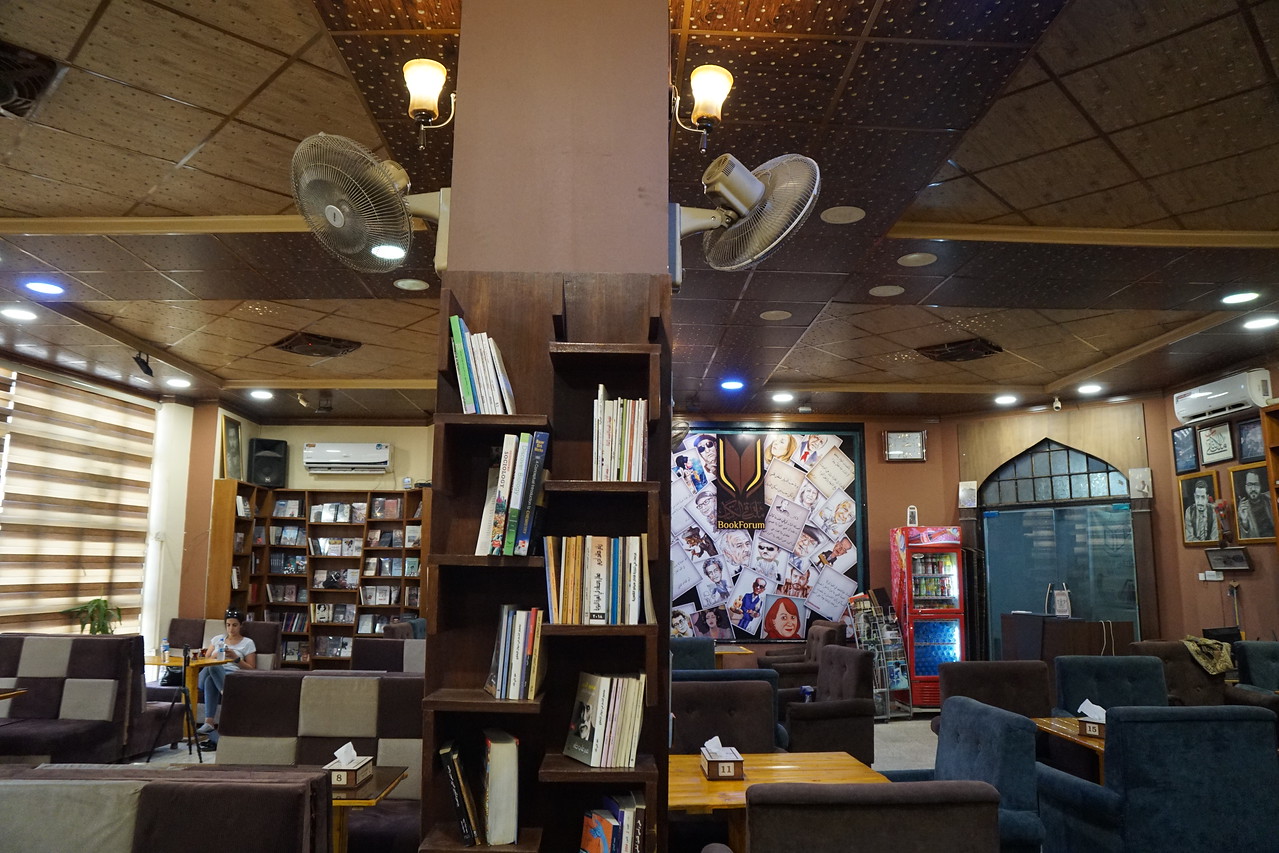 In December 2017, funded by a combination of personal savings and donations, the Mosul Book Forum opened its doors. The city was still reeling from the heavy fighting that had taken place between the Islamic State and coalition forces. Much of Mosul and its infrastructure had been destroyed, while many Moslawians were struggling to buy basic goods. "It was risky to open a cultural place just three months after the liberation," Sabah said. "NGOs were focused on healthcare, food and helping people to rebuild their houses."
With the city facing a humanitarian crisis, it was difficult to explain "the importance of culture and [its] effect on society," he said.  "It wasn't easy, but… I felt that if we have to rebuild our city, we need to rebuild our minds, as well as our buildings and streets."
The old city in East Mosul that remains full of rubble still today was once the capital of northern Mesopotamia. It has long served as a crossroads between what is modern-day Syria, Turkey, and Iran and before the rise of the Islamic State was a melting pot of Iraq's minorities including Christians, Kurds, Turkmen, and Yazidis. These diverse communities, as well as the wealth that the city accumulated as a trading hub, helped to develop Mosul into an intellectual center for the region; the city's wealthier families curated private book collections, long a hallmark of the upper classes. The city was home to the 10th-century philosopher al-Mawsili and the 12th-century historian Ali ibn al-Athir.
"It was risky to open a cultural place just three months after the liberation. NGOs were focused on healthcare, food and helping people to rebuild their houses."
Today, the city and its residents are still reeling from the physical and psychological impact of the Islamic State; the reconstruction of the city has happened at a glacial pace, due in part to a lack of funding from the federal government in Baghdad. Corruption is endemic, and the city remains carved up by various local militias, each manning their own checkpoints and extracting money from local businesses.
Yet many in Mosul remain afraid to protest these difficulties, fearing that they may be misunderstood as supporting the former Islamic State regime, Sabah said. "It's very difficult for Moslawi people to express their problems … we are [still] trying to help politicians to accept press about themselves without responding with violence," he said.
Regardless, the café has become a hub of expression since its opening, holding events with writers, poets, and musicians from across Iraq and abroad. Sabah said these events respond to a growing interest among Moslawis in novels by foreign writers as well as Iraqi writers. Sabah often recommends the work of local novelist Hussain Rahim to customers but notes that American author Dan Brown is very popular, too.
And the project has expanded into publishing as well: this year, the Book Forum arranged for a collection of Arabic poems and essays by 16 local young women to be published and translated into English. The result is "Chamomiles of Mosul," which was named after the Assyrian Empire's floral symbol for the Moslawi people. The collection reflects the young writers' experiences of their home city: they reference "blocked roads" and "unfinished sentences" but also defiance that from Mosul's debris they can "flourish out of nothing."
---