Going Nowhere: A Book Tour Through America's Liminal Spaces
Martin Seay Crosses Two Bridges, On Two Coasts
It's hard to know anything for sure, but my life will probably not include many weeks during which I drive across both the Brooklyn and the Golden Gate Bridges.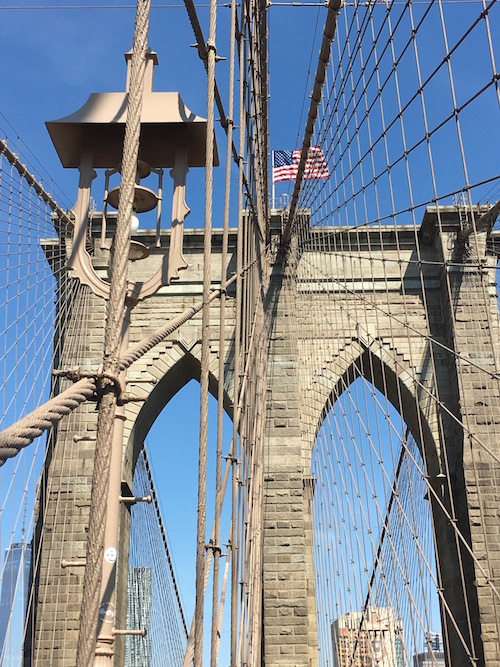 My first novel, The Mirror Thief, came out on May 10th, and thanks to the financial and logistical support of my publisher Melville House, I was able to leave my home in Chicago and spend two weeks visiting bookstores in ten cities in five of the United States, talking about, reading from, and signing copies of my book.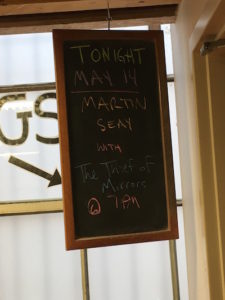 It's obliquely fitting that my journey involved crossing two very famous bridges. A third of my book is set in Venice in 1592, the year after the completion of the now-iconic stone bridge that spans the Grand Canal in the Rialto, and some of the background chatter in those sections consists of debates about its design, a topic that harshly divided the citizens of the republic. Seemingly straightforward decisions about the bridge's engineering and ornamentation revealed conflicts between progressives and conservatives, humanists and dogmatists, empiricists and rationalists, those who favored closer ties with Rome and those who advocated openness to Protestant and Islamic lands. Beyond being merely functional, a bridge is always an expression of the values of the community that builds it.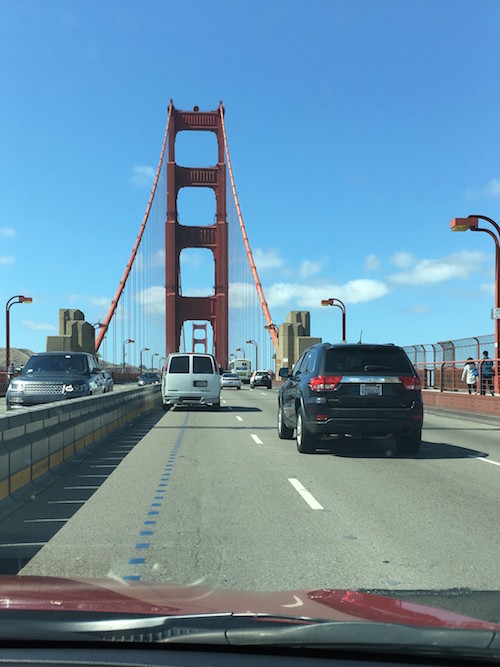 While I was on the tour I also spent a lot of time in airports and airplanes, and this gave me a lot of time to read. One of the books I brought along—my book club's pick for this month—was In the Café of Lost Youth by Patrick Modiano. One of the four narrators of the short novel contemplates writing a study of what he calls "neutral zones":
There was a series of transitional zones in Paris, no-man's-lands where we were on the border of everything else, in transit, or even held suspended. Within, we benefitted from a certain kind of immunity. I might have called them free zones, but neutral zones was more precise.
It occurred to me that travel largely amounts to navigating spaces similar to (though not quite the same as) those that Modiano's character aims to write about: places that exist in order to be passed through, what we might call liminal spaces. Bridges are such spaces; so are the highways that lead to and from them. So are airports. So, I suppose, are airplanes.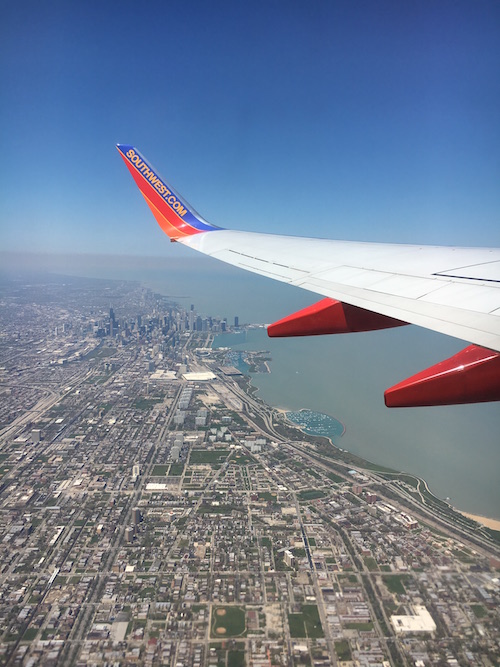 These spaces are often (though not always) intended to be functional, antiseptic, anonymous, devoid of history—although, of course, they're often of great historical importance, and for that matter often serve as landmarks. Because of their nature and their purpose, they are often zones of conflict and spaces of discomfort—although this discomfort can sometimes be productive, or rewarding, yielding unexpected connections that result from random encounters, or enforced stasis that prompts contemplation, reassessment, epiphany.
The characteristically chipper Southwest Airlines flight attendant on the plane leaving Chicago Midway described the emergency exits as "eight ways to get away from me."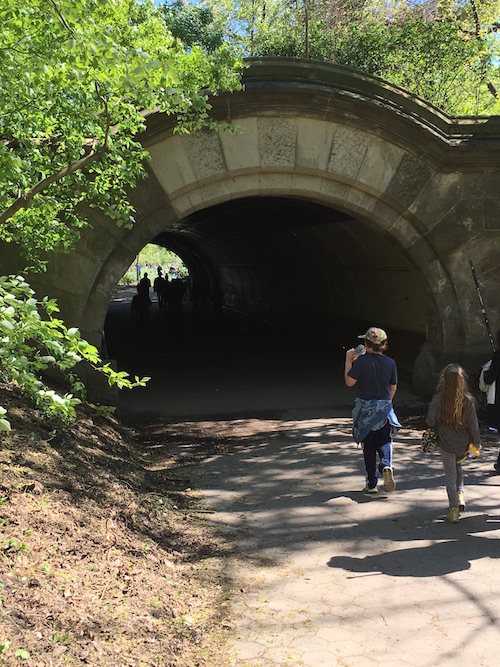 It is sometimes difficult to know what exactly to want from spaces like these. While we recognize that the success of our projects may depend on their seamless functioning—bad weather or a long line at the TSA checkpoint could mean a missed flight, which in turn could mean a cancelled event, a skipped city—we also remain aware of the odd magic that can result from the accidents and suspensions unique to such locations, even (or maybe especially) if the price is the derailment of our ostensible priorities. Many of us try to split the difference by padding our schedules, arriving absurdly early "just to be safe," although our real desire is guiltless time spent idling in some travelers' nowhere.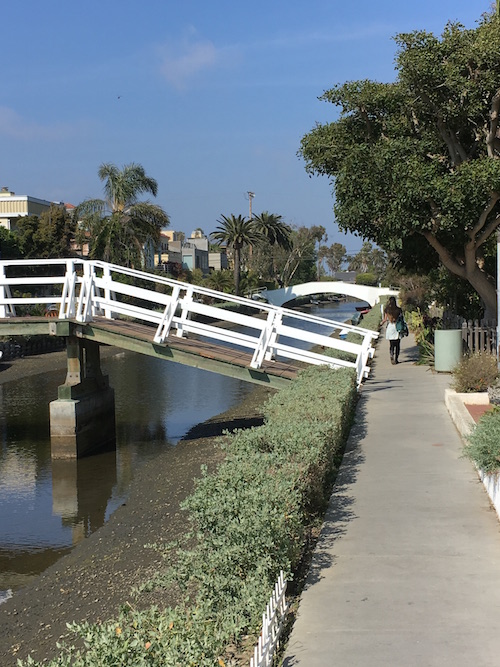 It's particularly interesting to take note of groups of voyagers who are clearly not in agreement about how these spaces ought to be used, or on what the best outcome of time spent in them is. Couples can differ on how disastrous an extra night in town might be; children can value watching planes taxi more highly than making it to Grandma's house by Thanksgiving. Liminal spaces can be unremarkable conduits; they can also secretly be the true destination of the journey, the places where transformations occur and enduring discoveries are made.
Hotels are also liminal spaces. In San Francisco I stay across the hall from several rooms of high-school students in town for an academic competition. Each night (I can hear this clearly) their chaperones issue each student enough cash to cover breakfast at the adjoining IHOP; then they bid them good night, close each room's door, and put masking tape across its jamb and casing. If the kids sneak out, they won't be able to replace the telltale strips when they sneak back in.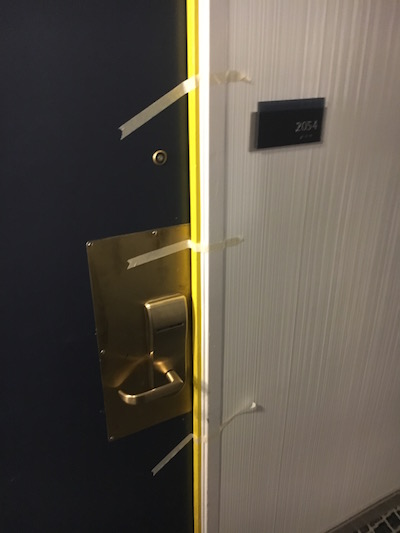 "Neutral zones have at least one advantage," writes Modiano's character. "They are only a starting point and we always leave them sooner or later.
For a long time, the postmodern fashion seemed to be to represent these spaces as areas of pure institutional control, as hyperreal wastelands that reflect the dead-eyed emptiness of those who pass through them. That characterization isn't so much inaccurate as incomplete. Because they're utilized by large numbers of diverse individuals, and because this use is often prompted by significant events in those individuals' lives that cause them to act in a manner that demonstrates their values, these liminal spaces are also emblematic of cooperative effort, of the kinds of unforced democratic exchanges that a healthy society is founded on. The emptiness at the heart of bridges, airports, hotels, and so forth—their structured anonymity—is exactly what invites us in, what allows us to imaginatively inhabit them, to take them as occasions to dream about what our lives could become in a world of expanded possibilities.
In this way, these spaces are a little like bookstores. In this way, these spaces are a little like books.
All photos by Martin Seay except the photo of the Golden Gate Bridge, which is by Seth Burton.
---