Elizabeth McCracken on Savoring the Mystery of Writing
"Some mysteries must be left alone."
This first appeared in Lit Hub's Craft of Writing newsletter—sign up here.
It's dark when I set out. When I'm nearly there I think, I don't want to do this. The next five minutes are varieties of I don't want to do this. Maybe the pool will be closed. It has been, once or twice. But usually it's open with a sign that says Swim at your own risk. The pool is surrounded by hills, and I walk the long way around, putting it off. I don my goggles. I doff my face mask. If the air is cold, mist unfurls from the pool's surface, and soon it will look lovely. In the pitch black it's not lovely. I wade in.
The water is 68 degrees, warmer than the air and colder than my body. To my ankles, knees, hips. When the water's to my waist I think, it's time, don't dally. Sometimes I dally. Then I jump in the air and think as I fall, melodramatically and every single time, it's too late to change your mind now! Then I'm submerged. Then I'm swimming.
In the water, in the dark, at my computer: at first I'm concerned only with the cubic yard in front of me. There are other people nearby but early on, we're so far away from each other we don't have to take each other into account. It's about the water. People come in different equipment and I judge them, especially the people in wetsuits. Then I wonder whether I'd swim better in a wetsuit. I swim in running tights and a long-sleeved top. Sometimes I wear a flowered grandmotherly cap. I look ridiculous, I bet, but I don't think about that while I'm swimming. When I'm swimming I'm swimming. When I'm writing I'm writing. At neither time do I consider the judgment of others, though I am judgmental myself.
The pool is long: one eighth of a mile. The first lap, when I can't see the end, takes forever. But by then the sky is pink at the edges, and I can see some beauty. That's if it's clear; if it's overcast, there's no sunrise, just a slow raising of the light. The sun has arrived even if I can't see it.
The lighter it gets, the more detail is available to me: the edge of the pool; the ladders out of the pool. The clock hanging off an electric pole. The shock of swimming is over. I'm just swimming now. I hear birdsong and the freight train whistle. Other people swim faster than me but we're all in the same water. It doesn't matter how expert they are: how they swim has no effect on how I swim, though if they get near me or they're swimming and talking loudly to each other and they force me to navigate, I hate them, these loud strangers, just as I occasionally hate people on Twitter offering writing advice that I happen to disagree with.
It's vivifying, to disagree, to swim faster to get away from people, or to write against advice or common wisdom or even a book whose popularity mystifies me. People will tell you that a novelist has to have a love for the human race but if I didn't hate strangers from time to time I wouldn't get any work done at all.
Sometimes a whole crowd of young swimmers arrives making a big joyous encouraging noise and they all jump in at once and get out quickly and that's NaNoWriMo. The rest of us keep swimming. The second lap passes quickly. I'm thinking about the whole world then, and not the water. My mind wanders pleasantly.
It's possible to run aground in Barton Springs, on an outcropping of rocks. I've done it. But I get myself free.
Yesterday I had to stop to avoid a cormorant with a good-sized fish in its beak, a solid flapping fish the size of two packs of cards. I didn't know there were such fish in the swimming pool. I don't know what that's a metaphor for, though the bird swallowed the fish. He managed after a struggle and in one gulp: both things can be true. They're sometimes true for me.
When I'm done I get out of the pool. I'm glad to be out but I pretend that if I had all day I'd keep swimming. I walk the long way around to leave, too, and at the crest of the hill I look down at the water. Then I understand the pool in a different way: its ragged edges, the elbows of a dozen swimmers. But I can't see everything.
Beneath the water, in the depths, is the endangered Barton Springs Salamander. It's a mystery. It lives only in Barton Springs. Like many mysteries, you mustn't touch it. Some mysteries must be left alone so that they don't die, even if some readers want you to hold them up in the palm of your hand in the brightest light. That's as good as any writing advice I have to offer.
*
Read more on how writers find their rhythm:
Hilary Mantel on how writers build confidence.
Amanda Whiting on swimming to loosen writer's block.
Sarah LaBrie on demystifying the writing process.
Kate Angus on learning to accept fallow periods.
*
4 Books That Immerse the Reader
RECOMMENDED BY ELIZABETH MCCRACKEN
Yiyun Li, Where Reasons End
Allan Gurganus, Plays Well With Others
Denis Johnson, Jesus' Son
Antonio Ruiz-Camacho, Barefoot Dogs
__________________________________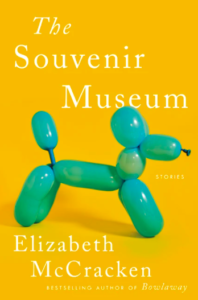 The Souvenir Museum by Elizabeth McCracken is available via Ecco.
---