A Century of Reading: The 10 Books That Defined the 1980s
This List is, Like, Totally Bitchin'
Some books are flashes in the pan, read for entertainment and then left on a bus seat for the next lucky person to pick up and enjoy, forgotten by most after their season has passed. Others stick around, are read and re-read, are taught and discussed. sometimes due to great artistry, sometimes due to luck, and sometimes because they manage to recognize and capture some element of the culture of the time.
In the moment, you often can't tell which books are which. The Great Gatsby wasn't a bestseller upon its release, but we now see it as emblematic of a certain American sensibility in the 1920s. Of course, hindsight can also distort the senses; the canon looms and obscures. Still, over the next weeks, we'll be publishing a list a day, each one attempting to define a discrete decade, starting with the 1900s (as you've no doubt guessed by now) and counting down until we get to the (nearly complete) 2010s.
Though the books on these lists need not be American in origin, I am looking for books that evoke some aspect of American life, actual or intellectual, in each decade—a global lens would require a much longer list. And of course, varied and complex as it is, there's no list that could truly define American life over ten or any number of years, so I do not make any claim on exhaustiveness. I've simply selected books that, if read together, would give a fair picture of the landscape of literary culture for that decade—both as it was and as it is remembered. Finally, two process notes: I've limited myself to one book for author over the entire 12-part list, so you may see certain works skipped over in favor of others, even if both are important (for instance, I ignored Dubliners in the 1910s so I could include Ulysses in the 1920s), and in the case of translated work, I'll be using the date of the English translation, for obvious reasons.
For our ninth installment, below you'll find 10 books that defined the 1980s. (Head here for the 1910s, 20s, 30s, 40s, 50s, 60s, and 70s).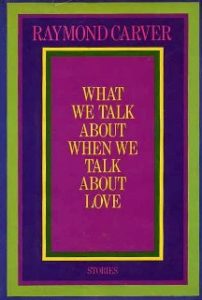 Raymond Carver, What We Talk About When We Talk About Love (1981)
Raymond Carver has a fair bid for being the most iconic and influential American short story writer ever—but he's certainly the most iconic and influential American short story writer of the 1980s, due to this collection (just think of how many times you've seen the title construction parodied and reused) as well as Cathedral (1983) and Where I'm Calling From (1988). "Carver stands squarely in the line of descent of American realism," Marilynne Robinson wrote in a 1988 review of the latter.
His weaknesses are for sentimentality and sensationalism. His great gift is for writing stories that create meaning through their form. Much attention has been paid to his prose, and to his preoccupation with very ordinary lives and with disruption, divorce, displacement, sadness, the thankless business of cadging income from small and unlikable jobs. He should be famous for the conceptual beauty of his best stories, and disburdened of his worst, which could then pass into relative neglect. The narrative foreground in Mr. Carver's fiction is typically muted or flattened. The stories have in common a sort of bafflement, justified in the best ones by the fact that their burdens are truly mysterious. Anecdotes – for want of a better word – looming and untranslatable like remembered dreams (which they sometimes are) figure so largely in these stories as to suggest that they are analogues to fiction itself, and also to consciousness, specifically to consciousness as it is shared, collective or bonding. It has been usual for a long time to lament the absence of myth in modern life, as if intuitions of the primordial and essential were the products of culture and would be dispelled with the loss of certain images and illusions, as if the forces myth describes were not real or powerful enough to impose themselves on our attention all unbidden. The bafflement in the best of these stories does not render an absence of meaning but awkwardness in the face of meaning, a very different thing.
His work sold exceptionally well (for short stories) in his lifetime and is still a staple of contemporary literary culture, taught widely at the undergraduate and graduate levels, and copied everywhere. Even whispers that his editor Gordon Lish had too much of a hand in his stories have not much tarnished his legacy—or appeal.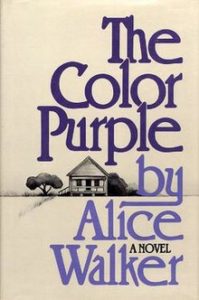 Alice Walker, The Color Purple (1982)
Walker's most famous novel was a critical hit upon its release, winning the National Book Award as well as the Pulitzer (she was the first black woman ever to win it). It was a groundbreaking work and remains an essential womanist text, hailed for its literary excellence as well as its frank portrayal of impoverished black women, domestic abuse, and lesbian relationships. The 1985 film adaptation made it a full-blown sensation, for all Americans, but particularly for black women. As Victoria Bond put it in The New Republic, "The Color Purple lingers as perhaps the cultural touchstone for black women in America, a kind of lingua franca of familiarity and friendship." As far as the controversy, she goes on:
Spike Lee said that the Steven Spielberg–produced film was "done with hate," and that the Mr.— character was a "one-note animal." The Coalition Against Black Exploitation protested The Color Purple's 1985 Los Angeles premiere for its depiction of black men abusing black women. The novelist Ishmael Reed called The Color Purple "a Nazi conspiracy," and even suggested that both the novel and the film were critically acclaimed expressly because they slam black men.
Reed was wrong then and he's wrong now. The popularity of The Color Purple has very little to do with besmirching black men. Instead, it has everything to do with black women's rejection of respectability politics: from the lesbian relationship between Celie and Shug, Mr.—'s ex-lover; to the representation of traditional Christianity as small-minded and stifling; to the narrative's assertion that domestic violence arises from patriarchal hysteria about women's strength, not our weakness.
Black women turned out in droves to see the film. We continue to reference it today because it breaks a certain cultural silence about abuse. Respectability politics imperil black women by demanding we stay mute; they insist that black people are a monolith whose reputation must be protected and preserved, whatever the cost. This extends to art, which appears only to be acceptable if black characters are struggling to "get better," to put checkered pasts firmly in the past. But the truth is obvious. We aren't interested in stories about the perfect; we're interested in stories about the real.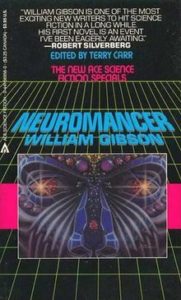 William Gibson, Neuromancer (1984)
"There is no way to overstate how radical Gibson's first and best novel was when it first appeared," Lev Grossman wrote in TIME. "Violent, visceral and visionary (there's no other word for it), Neuromancer proved, not for the first or last time, that science fiction is more than a mass-market paperback genre, it's a crucial tool by which an age shaped by and obsessed with technology can understand itself."
The book, Cory Doctrow told The Guardian, "remains a vividly imagined allegory for the world of the 1980s, when the first seeds of massive, globalised wealth-disparity were planted, and when the inchoate rumblings of technological rebellion were first felt."
A generation later, we're living in a future that is both nothing like the Gibson future and instantly recognisable as its less stylish, less romantic cousin. Instead of zaibatsus [large conglomerates] run by faceless salarymen, we have doctrinaire thrusting young neocons and neoliberals who want to treat everything from schools to hospitals as businesses."
In it, Gibson popularized the term "cyberspace" (this is the 80s, remember) and predicted the internet, that "consensual hallucination" that we're all now plugged into at all hours. He also more or less invented "cyberpunk," an aesthetic system that has had untold influence on all the SF and fantasy since. It was, after all, the first novel to win the "holy trinity of science fiction": the Hugo Award, the Nebula Award, and the Philip K. Dick Award, and it is still read and lionized today.
Sandra Cisneros, The House on Mango Street (1984)
A coming-of-age classic, a staple of middle and high school reading curriculums, and a classic of Chicano literature that by 2002 had sold two million copies in 11 languages, "making Ms. Cisneros one of the best-selling Hispanic authors in the United States." Critic Lorna L. Pérez called the novel "perhaps the most widely read and taught text in Latina literature" and highlighted its "striking revision of the Western literary and theoretical canon."
Her appropriation of the form, style, and philosophical complications of her literary predecessors reveals profound and entrenched assumptions about subjectivity, class, and ethnicity, categories that historically and contemporarily marginalize individuals like her protagonist Esperanza Cordero. In engaging—both explicitly and implicitly—the literary predecessors that haunt the house on Mango Street, Cisneros is able to alleviate what Harold Bloom calls the "anxiety of influence" not by attempting to overshadow or destroy her predecessors, but by revealing the ideological constructs that lay in the foundations of their writing, thereby redefining the grounds of subjectivity and revealing the unhomely—or that which remains hidden—in the work. By engaging her literary influences in this way, Cisneros offers a revision to their assumptions, and as such lays the foundation for a radical literature that can encompass positions that have been relegated to the margins.
This last, of course, being something we gratefully see more and more every day.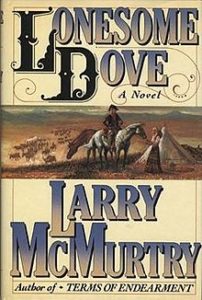 Larry McMurtry, Lonesome Dove (1985)
There was considerable dissent in the Literary Hub office over this book—or, to be precise, over whether we should replace it with Cormac McCarthy's Blood Meridian, which is also a western published in 1985, and which most of our staff (yours included) prefer, as a novel. But Cormac McCarthy, for me, is on the whole more a writer of the 90s and 00s, and unlike Blood Meridian, Lonesome Dove was loved and appreciated in its time as well as afterwards. And honestly, the literary 1980s was all about Lonesome Dove. It was a stupendously reviewed bestseller, and went on to win the 1986 Pulitzer Prize for fiction. The New York Times called it the first "Great Cowboy Novel" and the LA Times called it "Larry McMurtry's loftiest novel, a wondrous work, drowned in love, melancholy, and yet, ultimately, exultant." Then, of course, there was the miniseries, which premiered in 1989, and as with Roots, cemented the legacy of its source material (not to mention brought back the miniseries format, which had been considered increasingly unprofitable). It is now a canonical pillar of the American western, perhaps the most uniquely American of all genres—and no more so than in Texas, where it ranks with the Bible and the Warren Commission Report.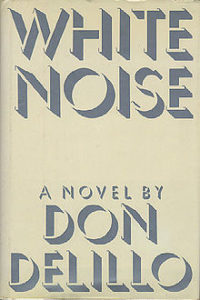 Don DeLillo, White Noise (1985)
This is an essential novel of 1980s America not only because it was written then, and not only because it was popular and acclaimed then (it won the National Book Award), but because it hacks directly at the culture of that time. "White Noise finds its greatest distinction in its understanding and perception of America's soundtrack," Jayne Anne Phillips wrote in The New York Times.
White noise includes the ever-present sound of expressway traffic, "a remote and steady murmur around our sleep, as of dead souls babbling at the edge of a dream." Television is "the primal force in the American home, sealed-off, self-contained, self-referring . . . a wealth of data concealed in the grid, in the bright packaging, the jingles, the slice-of-life commercials, the products hurtling out of darkness, the coded messages . . . like chants. . . . Coke is it, Coke is it, Coke is it." Television, Murray Siskind asserts, "practically overflows with sacred formulas." White noise includes the bold print of tabloids, those amalgams of American magic and dread, with their comforting "mechanism of offering a hopeful twist to apocalyptic events." Fast food and quad cinemas contribute to the melody, as do automated teller machines. Nowhere is Mr. DeLillo's take on the endlessly distorted, religious underside of American consumerism better illustrated than in the passage on supermarkets.
As Lev Grossman put it in TIME: "Though it's pitched at a level of absurdity slightly above that of real life, White Noise captures the quality of daily existence in media-saturated, hyper-capitalistic postmodern America so precisely, you don't know whether to laugh or whimper."
The book was precise about the anxiety, self-absorption, and alienation of the '80s—which, what do you know, hasn't exactly let up. "This turning inward was happening across America in 1985," writes Nathaniel Rich in The Daily Beast.
Exhausted by the paranoia of Watergate era, and the panic of the oil embargo and the Iran hostage crisis, the nation sought the comforts of old-fashioned Hollywood movies, delivered by an old-fashioned Hollywood actor. White Noise was published two months after Ronald Reagan's second inauguration, which followed the most effective marketing campaign in American political history, sounding visceral notes of hope ("It's morning again in America") and terror ("There is a bear in the woods"). In "Supermarket", the narrator asks Americans to judge the state of the country by the contents of their local supermarket—a tactic, incidentally, followed by DeLillo, who ends White Noise with a nightmarish scene inside of one. Walter Mondale, who had tried to make the election about the budget deficit and interest rates, soon realized his mistake, releasing ads with horror-movie music and images of nuclear warheads, but it was too late.
White Noise even eerily presaged the Bhopal gas leak with his airborne toxic event. "In light of the recent Union Carbide disaster in India that killed over 2,000 and injured thousands more," Phillips notes, "White Noise seems all the more timely and frightening—precisely because of its totally American concerns, its rendering of a particularly American numbness."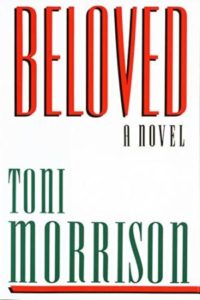 Toni Morrison, Beloved (1987)
If you're reading this space, I probably don't have to expound on the importance of Toni Morrison to you. But just to cover all our bases, Beloved won the Pulitzer Prize for Fiction in 1988, and was a finalist for the 1987 National Book Award—though lost out to something called Paco's Story, which rankled then and rankles now. In 2006, the editors of the New York Times asked "a couple hundred" writers, critics, and editors to vote on "the single best work of American fiction published in the last 25 years," and the winner—by a relatively large margin—was Beloved. "Any other outcome would have been startling," wrote A.O. Scott, "since Morrison's novel has inserted itself into the American canon more completely than any of its potential rivals.
With remarkable speed, Beloved has, less than 20 years after its publication, become a staple of the college literary curriculum, which is to say a classic. This triumph is commensurate with its ambition, since it was Morrison's intention in writing it precisely to expand the range of classic American literature, to enter, as a living black woman, the company of dead white males like Faulkner, Melville, Hawthorne and Twain. When the book first began to be assigned in college classrooms, during an earlier and in retrospect much tamer phase of the culture wars, its inclusion on syllabuses was taken, by partisans and opponents alike, as a radical gesture. (The conservative canard one heard in those days was that left-wing professors were casting aside Shakespeare in favor of Morrison.) But the political rhetoric of the time obscured the essential conservatism of the novel, which aimed not to displace or overthrow its beloved precursors, but to complete and to some extent correct them.
In Slate, Stephen Metcalf agrees. "Like two other American novels devoted to race, The Adventures of Huckleberry Finn and To Kill a Mockingbird, Beloved exists wholly beyond its own artistic merits and demerits," he writes.
These books have become something more than mere literature; they're homework, with an afterlife guaranteed by their place (or in the case of Huck Finn, its embattled absence) on the high-school and college syllabus. ("Only Shakespeare rivals her in the number of senior theses devoted to her work," Harvard English professor Barbara Johnson has said.) Were it simply a matter of social redress, we could all go home now, the Dead White Males having been forced to cocktail with a Living Black Woman. But Beloved isn't solely a work of protest and advocacy, as Morrison herself has insisted, nor solely a symbol for the progress and virtue of the prestige-granting institutions in American letters. It's a serious novel and a work of art, and it deserves to be accorded the highest respect. It deserves, in other words, to be asked, Yes, but are you any good?
Reader, it is.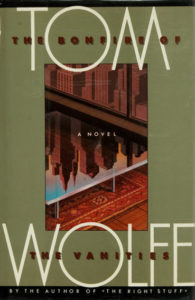 Tom Wolfe, The Bonfire of the Vanities (1987)
This may be the most 80s of all the 80s books on this 80s list (though it's a foot race against White Noise), which is not a particularly novel point. "So regularly is Tom Wolfe's brash 1987 tome described as 'the quintessential novel of the 80s' that you almost feel the phrase could be slapped on as a subtitle," Hermoine Hoby wrote in The Guardian. "But the ability to 'capture the decade' isn't the only measure of a writer's ability, and like a hot-pink puffball dress, this story displays a blithe disregard for nuance." Indeed—though un-nuanced as it is, it's a riot, a satirical novel about money, clothes, success, greed, racism, and corruption in New York City, an absolute nonsense whirlwind that turned into a major best-seller.
"Now comes Tom Wolfe, aging enfant terrible, with his first novel, (his first novel!), six hundred and fifty-nine pages of raw energy about New York City and various of its inhabitants—a big, bitter, funny, craftily plotted book that grabs you by the lapels and won't let go," Pat Conroy wrote in the New York Times. "As in much of his other work, such as The Right Stuff, Mr. Wolfe's strategy is to somehow batter the reader into submission, using an incantatory repetition of certain emblematic phrases, (HIS FIRST NOVEL!), detailed description of people's clothing, hyperbole, interior monologue whenever he feels like it, and various other New Journalism devices he is apparently too fond of to give up. What is amazing is that he gets away with it." Great, now I have to say "indeed" again.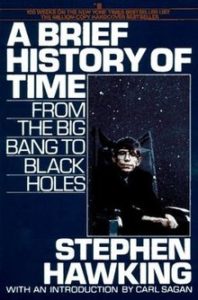 Stephen Hawking, A Brief History of Time (1988)
Again, there was some argument in the Literary Hub office over whether it was more important to include this volume or Carl Sagan's Cosmos (1981), so I'd say that all things being equal, Hawking has had the greater cultural influence. After all, Hawking's plain-language explanation of the universe has sold more than 10 million copies since it was first published—spending 147 weeks on the New York Times bestseller list and an astonishing 237 weeks on the Times of London bestseller list—and been translated into some 35 languages. It's more or less the reason why the average American has any idea about space, or black holes, or quantum mechanics, or the theory of relativity—despite the theory that it is "probably the least-read, most-bought book ever."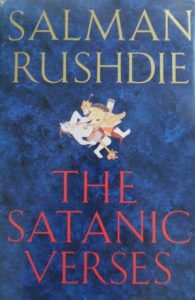 Salman Rushdie, The Satanic Verses (1988)
Midnight's Children (1981) is probably the better book, but it was The Satanic Verses that kicked off the largest literary controversy of the 1980s. The book, based in part on the life of the Islamic Prophet Mohammad, was vehemently protested by some Muslims, and on February 14th, 1989, Ayatollah Ruhollah Khomeini, the Supreme Leader of Iran, issued a fatwa against Rushdie, calling for his assassination. "I inform the proud Muslim people of the world that the author of the Satanic Verses book, which is against Islam, the Prophet and the Koran, and all those involved in its publication who are aware of its content are sentenced to death," he announced, and the Iranian government offered $6 million to anyone who killed Rushdie. The author apologized, but to no avail. Bookstores carrying the book in the US and UK were bombed, and so was at least one newspaper that ran an editorial supporting the book. Rushdie's Japanese translator was murdered, and his Italian and Norwegian translators were attacked and seriously injured. Protests were held all over the world, and Rushdie spent the next nine years in hiding—until September 1998, when the new Iranian President Mohammed Khatami said he would not uphold the fatwa. (Though it is still in effect.)
See also:
Pat Conroy, The Lords of Discipline (1980), Marilynne Robinson, Housekeeping (1980), J. M. Coetzee, Waiting for the Barbarians (1980), John Kennedy Toole, A Confederacy of Dunces (1980), Carl Sagan, Contact (1980), Italo Calvino, If on a winter's night a traveler (first English translation, 1981), Angela Davis, Women, Race, and Class (1981), Stephen King, Cujo (1981), Donald Barthelme, Sixty Stories (1981), Salman Rushdie, Midnight's Children (1981), Rachel Ingalls, Mrs. Caliban (1982), W. P. Kinsella, Shoeless Joe (1982), Thomas Keneally, Schindler's List (1982), Raymond Carver, Cathedral (1983), Umberto Eco, The Name of the Rose (first English translation, 1983), Elizabeth Bishop, The Complete Poems, 1927-1979 (1983), Marion Zimmer Bradley, The Mists of Avalon (1983), Mark Helprin, Winter's Tale (1983), Susan Hill, The Woman in Black (1983), Stephen King, Pet Sematary (1981), Jay McInerney, Bright Lights, Big City (1984), Primo Levi, The Periodic Table (first English translation, 1984), Audre Lorde, Sister Outsider (1984), Kathy Acker, Blood and Guts in High School (1984), Martin Amis, Money (1984), Milan Kundera, The Unbearable Lightness of Being (first English translation, 1984), Isabel Allende, The House of the Spirits (first English translation, 1985), John Irving, The Cider House Rules (1985), Bret Easton Ellis, Less Than Zero (1985), Patricia MacLachlan, Sarah, Plain and Tall (1985), Orson Scott Card, Ender's Game (1985), Margaret Atwood, The Handmaid's Tale (1985), Laura Numeroff, If You Give a Mouse a Cookie (1985), Cormac McCarthy, Blood Meridian (1985), Lorrie Moore, Self-Help (1985), Jeanette Winterson, Oranges Are Not the Only Fruit (1985), Richard Ford, The Sportswriter (1986), Brian Jacques, Redwall (1986), Stephen King, It (1986), Art Spiegelman, Maus I (1986), Alan Moore, Watchmen (1986), Paul Auster, The New York Trilogy (1987), James Ellroy, Black Dahlia (1987), Stephen King, Misery (1981), Randy Shilts, And the Band Played On (1987), Gary Paulsen, Hatchet (1987), Mary Gaitskill, Bad Behavior (1988), John Grisham, A Time to Kill (1988), David Markson, Wittgenstein's Mistress (1988), Alan Hollinghurst, The Swimming Pool Library (1988), Roald Dahl, Matilda (1988), Gabriel García Márquez, Love in the Time of Cholera (first English translation, 1988), Martin Amis, London Fields (1989), Kazuo Ishiguro, The Remains of the Day (1989), Tobias Wolff, This Boy's Life (1989), Katherine Dunn, Geek Love (1989), Oscar Hijuelos, The Mambo Kings Play Songs of Love (1989), Amy Tan, The Joy Luck Club (1989)
---