A Century of Reading: The 10 Books That Defined the 1940s
This Series Isn't Even Half Way Done
Some books are flashes in the pan, read for entertainment and then left on a bus seat for the next lucky person to pick up and enjoy, forgotten by most after their season has passed. Others stick around, are read and re-read, are taught and discussed. sometimes due to great artistry, sometimes due to luck, and sometimes because they manage to recognize and capture some element of the culture of the time.
In the moment, you often can't tell which books are which. The Great Gatsby wasn't a bestseller upon its release, but we now see it as emblematic of a certain American sensibility in the 1920s. Of course, hindsight can also distort the senses; the canon looms and obscures. Still, over the next weeks, we'll be publishing a list a day, each one attempting to define a discrete decade, starting with the 1900s (as you've no doubt guessed by now) and counting down until we get to the (nearly complete) 2010s.
Though the books on these lists need not be American in origin, I am looking for books that evoke some aspect of American life, actual or intellectual, in each decade—a global lens would require a much longer list. And of course, varied and complex as it is, there's no list that could truly define American life over ten or any number of years, so I do not make any claim on exhaustiveness. I've simply selected books that, if read together, would give a fair picture of the landscape of literary culture for that decade—both as it was and as it is remembered. Finally, two process notes: I've limited myself to one book for author over the entire 12-part list, so you may see certain works skipped over in favor of others, even if both are important (for instance, I ignored Dubliners in the 1910s so I could include Ulysses in the 1920s), and in the case of translated work, I'll be using the date of the English translation, for obvious reasons.
For our fifth installment, below you'll find 10 books that defined the 1940s. (Head here for the 1910s, 20s, and 30s).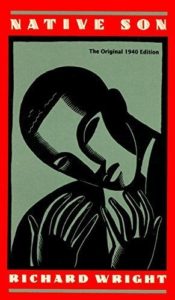 Richard Wright, Native Son (1940)
"The day Native Son appeared, American culture was changed forever," wrote critic Irving Howe in 1963 essay.
No matter how much qualifying the book might later need, it made impossible a repetition of the old lies. In all its crudeness, melodrama, and claustrophobia of vision, Richard Wright's novel brought out into the open, as no one ever had before, the hatred, fear, and violence that have crippled and may yet destroy our culture.
A blow at the white man, the novel forced him to recognize himself as an oppressor. A blow at the black man, the novel forced him to recognize the cost of his submission. Native Son assaulted the most cherished of American vanities: the hope that the accumulated injustice of the past would bring with it no lasting penalties.
It is a difficult novel, in which a young black man named Bigger Thomas, living in Chicago in the 1930s, who suffocates, decapitates, and burns the body of a white woman, then rapes and kills his own girlfriend after he tells her about it, and eventually is sentenced to death, to which he goes without expressing much remorse. It is an intentional exaggeration meant to expose the racism and oppression that could create such a monster.
"Nobody in America had ever before told a story like this, and had it published," Louis Menand wrote in The New Yorker. "In three weeks, the book sold two hundred and fifteen thousand copies." He notes that while Native Son was on the bestseller list, Hattie McDaniel won an Academy Award for her performance as Mammy in Gone with the Wind, making her the first black actor ever to win an Oscar.
"Only in America, the Land of the Free, could such a thing have happened," the columnist Louella Parsons explained. "The Academy is apparently growing up and so is Hollywood. We are beginning to realize that art has no boundaries and that creed, race, or color must not interfere where credit is due." She did not go on to note that when McDaniel and her escort arrived at the Coconut Grove for the awards ceremony they found that they had been seated at a special table at the rear of the room, near the kitchen.
Wright quickly became the richest and most famous black author of the era, and is often credited as the "father of black American literature" (though of course black American literature had existed before him). Certainly his influence is undeniable, though the book is not without its critics. In 1949, James Baldwin published an essay entitled "Everybody's Protest Novel" that criticized Native Son as a protest novel, comparing it to Uncle Tom's Cabin and concluding that "the failure of the protest novel lies in its rejection of life, the human being, the denial of his beauty, dread, power, in its insistence that it is his categorization alone which is real and which cannot be transcended."
Well, it's an ongoing debate.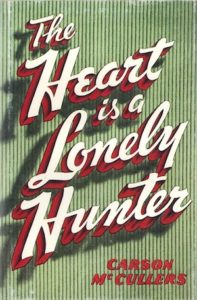 Carson McCullers, The Heart is a Lonely Hunter (1940)
McCullers began working on what would become her first novel when she was 19; it would be published when she was only 23. The book, now a classic story of a loose handful of misfits in a small Georgia mill town in the late 1930s, was "something of a sensation" upon its release. "There have been candid-camera studies of American life, past and present. There have been the usual quota of sensitively recorded novels of personal experience," wrote one reviewer. "But we have waited a long time for a new writer." And the time was right for one, too. "Turmoil was in the air that fervid summer in 1940," Rafia Zakaria wrote last year in The Guardian.
Despite Roosevelt's New Deal, the depredations of the Great Depression had sucked hope from America's bones, birthed a generation that had only known want and that was sceptical of the possibility of change. In small crowds around newsstands on city corners, uncertain Americans read about the war raging in Europe, but remained unsure as to whether it was "their" problem. Everyone, it seemed, wanted change and no one seemed to know how to hasten it, direct it or evaluate it. In this last sense, and possibly many more, America then was not so different from America now.
Where truth fails, fiction flourishes. In The Heart Is a Lonely Hunter, Carson McCullers . . . distilled all of these consternations, enabling in literature the self-reckoning that had been avoided in reality.
As you see, self-reckoning is already a theme in this decade—though writing from 2018, one wishes we had accomplished it a little more thoroughly.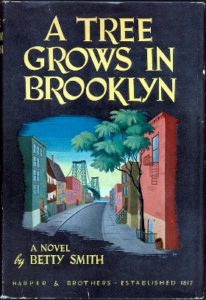 Betty Smith, A Tree Grows in Brooklyn (1943)
A bestseller when it was published, Smith's semi-autobiographical chronicle of a girl growing up in Williamsburg has remained a touchstone for readers young and old. Like The Great Gatsby, it was one of the novels chosen to reprint in paperback and send over to the American troops in WWII. "A Tree Grows in Brooklyn was perhaps the most popular ASE of them all," Molly Manning writes in her book about the program, When Books Went to War.
It provided such a vivid account of childhood that many men felt as though Smith were writing about theirs. . . . Smith received a steady stream of letters from men around the world, thanking her for the effect her writing had on them.
"When I first picked up your book, I was down in the dumps, a sad sack, as the boys say," a sergeant said to Smith. But as he read, "my spirits rose until at the end I found myself chuckling over many of the amusing characters." He needed the lift that A Tree Grows in Brooklyn had given him. He had felt depressed and lonely for months, and nothing had given him any relief from these feelings, until Smith's book.
There were more like that. Manning reports that Smith "received approximately four letters a day from servicemen, or about fifteen hundred a year. She responded to almost all of them. . . . "Some letters bring tears to one's eyes," she admitted. "I am very much touched by the service men away from home thinking so much of the book. I feel that I have done some good in this world." Many—and not just the servicemen—would agree.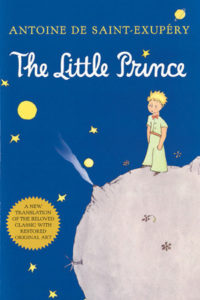 Antoine de Saint-Exupéry, The Little Prince (1943)
The Little Prince was an atypical entry in the work of French pilot and writer Antoine de Saint-Exupéry, and initial public reception when it was published (first in the US in concurrent editions in English and French, and then two years later in France) was mixed. "The startling thing, looking again at the first reviews of the book, is that, far from being welcomed as a necessary and beautiful parable, it bewildered and puzzled its readers," Adam Gopnik wrote in 2014. "Among the early reviewers, only P. L. Travers—who had, with a symmetry that makes the nonbeliever shiver, written an equivalent myth for England in her Mary Poppins books—really grasped the book's dimensions, or its importance." People caught on, however, and now it is this work for which he is best remembered. Now it sells 2 million copies a year and is the world's most translated non-religious book, as well as, not for nothing, possibly the loveliest and most astute children's book ever written.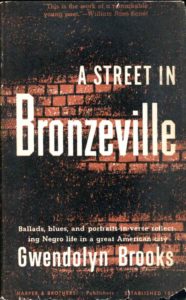 Gwendolyn Brooks, A Street in Bronzeville (1945)
If you'll allow me the cheat, please consider this entry inclusive of A Street in Bronzeville, Gwendoyln Brooks' first collection of poems, published to wide and enthusiastic acclaim, as well as her second, Annie Allen (1949), which won the Pulitzer Prize, the first time a book by a black writer had ever done so (she was also the first black person to be appointed to the American Academy of Arts and Letters, in 1976). Basically, the 1940s was the decade we first got Gwendolyn Brooks, and she was a new star, and people knew it. "Although the claim of newness in art must always allow for relativity and exceptions," wrote Brooks's biographer George E. Kent, "readers of A Street in Bronzeville during the 1940s were aware that it struck a new note in black poetry. Reviews reveal that white readers were impressed by the breadth of its humanistic concerns, while black readers were impressed by its refusal to be "obsessed" with race." Brooks even became something of a celebrity, and was featured by Mademoiselle as one of their "Ten Young Women of the Year."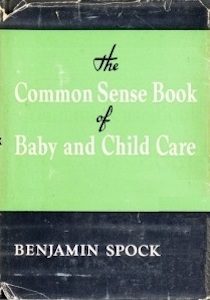 Benjamin Spock, The Common Sense Book of Baby and Child Care (1946)
"Babies do not arrive with owner's manuals," Spock's 1998 obituary begins. "But for three generations of American parents, the next best thing was Baby and Child Care." Indeed, this 1940s child-rearing guide had a massive influence on the way parents in the 40s, 50s, and 60s raised their kids—and even, to some extent, the way those kids raised their kids. Influenced by Sigmund Freud and John Dewey, Spock told parents that it was okay to show their children liberal affection, that it was okay to loosen the reins a bit, and more or less reminded them children were people too. Previous to this book, the prevailing advice had been to show your child as little affection as possible, so they wouldn't grow up "weak," and to keep their feeding to a strict schedule. "Trust yourself," Spock's book begins. "You know more than you think you do." It was a huge phenomenon, selling 500,000 copies in the first six months, and over 50 million in total, and was translated into 42 languages. "As soon as it hit the market, it was acclaimed," Spock's biographer Lynn Bloom told the BBC. "It was so radical and so different from the child-rearing manuals that preceded it. People wanted the opportunity and the sanction to have children and to love them. And that book did this." Later, he was criticized for his involvement protesting the Vietnam war, and even blamed by some for the "self indulgence of the '60s generation," who had largely been raised in accordance with his guidance.
"I didn't want to encourage permissiveness, but rather to relax rigidity," Spock said in response to these charges. "Every once in a while, somebody would say to me, "There's a perfectly horrible child down the block whose mother tells everybody that he's being brought up entirely by your book." But my own children were raised strictly, to be polite and considerate. I guess people read into the book what they wanted to. . . . Maybe my book helped a generation not to be intimidated by adulthood. When I was young, I was always made to assume that I was wrong. Now young people think they might be right and stand up to authority."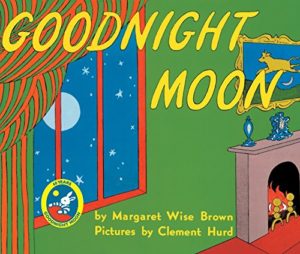 Margaret Wise Brown, Goodnight Moon (1947)
Here's another book that wasn't a bestseller in the year of its release, but steadily increased in the public imagination, becoming more and more popular until it became the much parodied children's book juggernaut that we know and love today, which everyone knows and which has sold over 48 million copies. The book reflected the "here and now" style that Brown had learned from Lucy Sprague Mitchell, who "wanted children to read about the sights and sounds of their own world, unadorned with fantasy. She joked, in fact, that she was introducing the "spinach school" to children's literature." Though now critics would suggest that it's a little more influenced by Gertrude Stein and modernism than spinach. Either way, it's an enduring classic.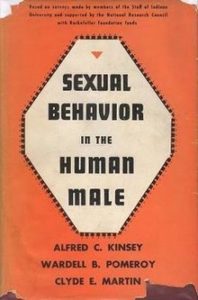 Alfred C. Kinsey, Sexual Behavior in the Human Male (1948)
Another book, that with its companion volume, Sexual Behavior in the Human Female (1953), changed the way Americans thought about themselves, and even the way they lived. It sparked outrage, interest, and acclaim in equal measure when it was originally published, and is a landmark text in the field of human sexuality. "The practice of sexuality was quite varied in the United States before the publication of these books, but it was largely unrecorded, at least by scientists," wrote John Gagnon, Ph.D., in the New England Journal of Medicine.
Before the late 1940s, the sexual lives of most people were shaped by personal experiments, isolated sexual encounters, uninformed gossip, media sensation, and moral condemnation (not necessarily in that order). The national myth was that most people were obedient to a traditional set of sexual rules and those who were not were relatively rare and defective in morals or willpower.
It was against this background of repression and prurience that Kinsey asserted the right of science to speak about sexual behavior. As a scientist, Kinsey spoke and wrote plainly, using language about sexuality that was rarely heard or read at the time. The facts reported in the book on men's sexual behavior were at fundamental variance with the myths. Kinsey reported that the practice of masturbation was nearly universal among men (90 percent did it), that homosexual relations were widely experienced (37 percent had done it once), that premarital sexual relations were common (most college men did it), that half of married men had had extramarital sexual relations, and that oral sex was routine in deed if not in public discourse (70 percent of educated husbands said they and their wives had done it).
But it was not only these facts that evoked a powerful negative response from traditional figures in churches, legislatures, and the press. The book also had a strong reformist tone, with Kinsey arguing, completely in the American grain, that progress in dealing with sexual problems could only be made by objectively uncovering the facts of sexual life. That the reported sexual practices of American men differed from moral expectations was (in Kinsey's interpretation) evidence of the power of sexuality and not a mark of moral decay. The problems associated with sexuality were a consequence of social repression, not inherent to sexuality itself.
Knowledge is power, after all.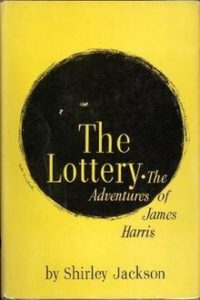 Shirley Jackson, The Lottery and Other Stories (1949)
When Jackson's now-legendary short story "The Lottery" was published in The New Yorker on June 26, 1948, readers had no idea what to make of it. They wrote into the magazine by the hundreds—it was, as Jackson's biographer Ruth Franklin tells us, "the most mail the magazine had ever received in response to a work of fiction." They were split, Jackson once quipped, into three categories: "bewilderment, speculation, and plain old-fashioned abuse."
Readers wanted to know where such lotteries were held, and whether they could go and watch; they threatened to cancel their New Yorker subscriptions; they declared the story a piece of trash. If the letters "could be considered to give any accurate cross section of the reading public . . . I would stop writing now," she concluded.
The collection, published a year later, in which it appeared was the only one to be published during Jackson's lifetime, though she did publish several novels. "The Lottery" is still taught in high schools and colleges all over the country, and so it is likely her most famous work—a pity, really, as The Haunting of Hill House and We Have Always Lived in the Castle are her real masterpieces. Oh well, good thing we get them all.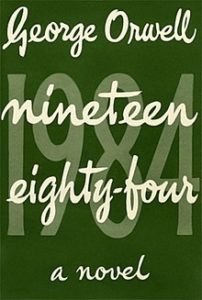 George Orwell, Nineteen Eighty-Four (1949)
Maybe you've heard of it. Orwell's most famous work (maybe it's just the times, but I rank it above Animal Farm in this respect, despite AF having taught all American schoolchildren what an "allegory" is) was received with impressed if depressed reviews upon its release. "Nineteen Eighty-Four goes through the reader like an east wind, cracking the skin, opening the sores," wrote V. S. Pritchett in the New Statesman upon the book's release. "[H]ope has died in Mr Orwell's wintry mind, and only pain is known. I do not think I have ever read a novel more frightening and depressing; and yet, such are the originality, the suspense, the speed of writing and withering indignation that it is impossible to put down. The faults of Orwell as a writer—monotony, nagging, the lonely schoolboy shambling down the one dispiriting track—are transformed now he rises to a large subject."
But what's more impressive is the way it has remained in the cultural consciousness ever since. Big Brother is a TV show. "Orwellian" is in common usage, and of course, the novel has been used time and time again to criticize both Democrats and Republicans, depending on who's in power.
See also:
Arthur Koestler, Darkness at Noon (1940), Ernest Hemingway, For Whom the Bell Tolls (1940), Christina Stead, The Man Who Loved Children (1940), Eugene O'Neill, Long Day's Journey into Night (1940), James M. Cain, Mildred Pierce (1941), James Agee and Walker Evans, Let Us Now Praise Famous Men (1941), C. S. Lewis, The Screwtape Letters (1942), Clarice Lispector, Near to the Wild Heart (1943), Ayn Rand, The Fountainhead (1943), W. Somerset Maugham, The Razor's Edge (1944), Lillian Smith, Strange Fruit (1944), Tennessee Williams, The Glass Menagerie (1944), Pablo Neruda, Selected Poems (1944, first English translation), Christopher Isherwood, The Berlin Stories (1945), Chester Himes, If He Hollers Let Him Go (1945), Richard Wright, Black Boy (1945), Henry Green, Loving (1945), Nancy Mitford, The Pursuit of Love (1945), George Orwell, Animal Farm (1945), Evelyn Waugh, Brideshead Revisited (1945), E. B. White, Stuart Little (1945), T. S. Eliot, Four Quartets (1945), John Hersey, Hiroshima (1946), Albert Camus, The Stranger (1946, first English translation), Arthur Koestler, Thieves in the Night (1946), Eugene O'Neill, The Iceman Cometh (1946), Robert Penn Warren, All the King's Men (1946), Mervyn Peake, Titus Groan (1946), W. H. Auden, The Age of Anxiety (1947), Tennessee Williams, A Streetcar Named Desire (1947), Dorothy B. Hughes, In a Lonely Place (1947), Malcolm Lowry, Under the Volcano (1947), James A. Michener, Tales of the South Pacific (1947), Albert Camus, The Plague (1948, first English translation), Graham Greene, The Heart of the Matter (1948), Norman Mailer, The Naked and the Dead (1948), Irwin Shaw, The Young Lions (1948), Dodie Smith, I Capture the Castle (1949), Arthur Miller, Death of a Salesman (1949), L. Ron Hubbard, Dianetics (1949), Jean-Paul Sartre, Nausea (1949, first English translation)
---