Patrick Modiano: To Flee a Parisian Crime Scene
"I ended up shoving the gun in the bottom of a trash can."
From the age of eleven, escapes played a large part in my life. Escapes from boarding schools; escapes from Paris on a night train when I was supposed to show up at the Reuilly barracks for my military service; appointments that I disappointed; or stock phrases to get away: "Wait here, I just have to go buy cigarettes," and that promise I must have made dozens and dozens of times, not keeping it once: "I'll be right back."
Today, I feel some regret about it. Although I'm not very good at introspection, I would like to understand why flight was my modus operandi. And it lasted a fairly long time, I'd say until the age of twenty-two. Was it like those childhood illnesses that have such peculiar names: whooping cough, chicken pox, scarlet fever? Beyond my personal case, I've always dreamed of writing a treatise on escape, in the manner of those French moralists and memorialists whose style I've so admired since I was an adolescent: Cardinal de Retz, La Bruyère, La Rochefoucauld, Vauvenargues . . . But I can only relate concrete details, precise places and moments. In particular, that afternoon in the summer of '65 when I found myself at the bar of a narrow café at the beginning of Boulevard Saint-Michel, which stood out from the other cafés in the neighborhood in that it didn't cater to students. A long counter, like the ones in Pigalle or around Saint-Lazare train station. I realized, that afternoon, that I had been letting myself drift and that, if I didn't do something about it immediately, I'd be swept away. I had always thought I was in no danger, that I enjoyed a kind of immunity in my capacity as a nocturnal spectator—as one 18th-century writer who explored the mysteries of nighttime Paris had styled himself. But in this case, my curiosity had led me a bit too far. I felt what they call the "wind of the cannonball." I had to disappear right away if I wanted to stay out of trouble. This would be a much bigger escape than the others. I had hit bottom, and my only recourse was to push off hard with my heel to rise back to the surface.
The evening before, an event had occurred that I alluded to twenty years later, in 1985, in a chapter of a novel. It was a way of ridding myself of a weight, of setting down in black and white a kind of partial confession. But twenty years was too short a time for certain witnesses to disappear, and I wondered what the statute of limitations was before the law would give up pursuing the perpetrators or their accomplices and drape them once and for all in a veil of amnesty and oblivion.
*
The person I had met several weeks earlier, whose name I hesitate to write—even after fIfty years, I'm wary of precise details that would allow someone to identify her—had called me very late one night, in that month of June 1965, to tell me there had been an "accident" in the apartment of Martine Hayward, 2 Avenue Rodin, where we had been introduced, and where, every Sunday evening, the motley group that Martine Hayward called "the nighthawks" would gather. She begged me to come.
In the living room of the apartment, on the carpet, lay the body of Ludo F., the shadiest member of that group of "nighthawks." She had killed him "by accident," she told me, while holding a gun that she had "found on one of the bookshelves in the library." She handed me the weapon, which she had put back in its suede case. But what was she doing alone in the apartment that evening with Ludo F.? She would explain everything "as soon as we're far away from here, in the open air."
Without switching on the hall light, I took her arm and helped her down the stairs in the dark, preferring not to take the elevator. On the ground floor, light behind the glassed door of the concierge's lodge. I pulled her toward the street exit and, just as we passed by the lodge, a man came out, small and dark with a brush-cut. He watched us in the dim light as I groped at the street door. It was locked. After a moment—and that moment seemed an eternity—I spotted the button on the wall that released the latch. I heard the click and pulled it open. I performed each movement in slow motion, to make it as precise as possible, and I didn't take my eyes off the short man with brush-cut hair, as if I were daring him to etch my features in his memory. She grew impatient, and I let her go ahead of me; then, before following her out, I stood still for a few moments in the doorway, my eyes riveted on the concierge. I expected him to come toward me, but he too stood still, watching. Time had stopped. She was about a dozen yards ahead of me and I didn't know if I could catch up: my steps grew slower, ever slower, and I felt as if I were floating, my slightest movements broken down.
We arrived at Place du Trocadéro. About two in the morning. The cafés were closed. I felt increasingly calm and I breathed more and more normally, without having to make an effort. Where did such tranquility come from? From the silence and limpid air of Place du Trocadéro? That air felt as soft and glacial as on the slopes of the Haute-Savoie. I was certainly under the sway of the book I had been reading the past several days, Dreams and How to Direct Them by Hervey de Saint-Denys, which lay on my bedside table. I felt like I had communicated my calm to her and that she and I were now walking in step. She asked where we were going, exactly. It was much too late to return to Montmartre, to the Hôtel Alsina, or to her place in Saint-Maur-des-Fossés. I spotted a hotel sign at the very beginning of one of the avenues that led away from Place du Trocadéro. But I had kept the revolver in its suede case in one of my jacket pockets. I looked for a sewer in which to drop it. Since I was holding it in my hand, she threw me some worried looks. I tried to reassure her. We were alone in the plaza. And even if, by chance, someone was watching us from a dark window in one of the buildings, it didn't matter. He couldn't do anything to us. I had only to redirect the dream, following Hervey de Saint-Denys's prescriptions, like giving the steering wheel a slight turn. And the car would roll smoothly—one of those American cars from the period, that seemed to glide over the water, in silence.
*
We skirted the plaza and I ended up shoving the gun in the bottom of a trash can, in front of the maritime museum. Then we turned down the avenue with the small hotel whose sign I had spotted. Hôtel Malako. Since then, I've had occasion to walk past it and, one evening five years ago, when it was as warm as on that night in June 1965, I stopped at the entrance, thinking I might take a room, perhaps the same one as back then. It would serve as a pretext, I told myself, to flip through the registration cards and see whether my name was still there for the date of June 28, 1965. But did they keep the old registers, which might be checked from time to time by members of the vice squad? That night fifty years ago, given the late hour, only the night watchman was on duty at the reception desk. She stood back, and I was the one who wrote my name, address, and date of birth on the registration card, even though the watchman didn't ask us for anything, not even an I.D.. I was sure that Hervey de Saint-Denys, who was so familiar with dreams and how to redirect them, would have approved of my compunction. As I traced the letters—and I wanted to use my best handwriting, with proper upstrokes and downstrokes, but the ballpoint pen didn't allow it—I felt a soothing calm that I had never experienced before. I even put down my address as 2 Avenue Rodin, where Ludo F. lay stretched out on the carpet, resting in peace.
*
In the days that followed, the anxiety that had gripped me in that bar on Boulevard Saint-Michel died down. Perhaps it had been caused by the proximity of the courthouse and the police headquarters, which were visible nearby, just across the bridge. I knew that detectives frequented certain cafés in Place Saint-Michel. From then on, we remained in Montmartre; we felt safer there, and ended up wondering whether the events of the other night had really happened.
I have some trepidation about bringing up those days. They are the last and most memorable days of a part of my youth. From then on, nothing would have quite the same coloration. Did the death of Ludo F., a man we barely knew, serve as a slap of reality? Still later after that event, I was often jolted awake by gunshots and, after a moment, I realized those gunshots hadn't been fired in real life, but in my dreams. Every day, upon leaving the Hôtel Alsina, I went to buy the newspapers in a small shop on Rue Caulaincourt—France-Soir, L'Aurore, the ones that carried human interest stories—and read them in secret, so as not to alarm her. Nothing about Ludo F. Evidently he was of no interest to anyone. Or else the people in his circle had managed to cover up his death. No doubt to avoid getting mixed up in it themselves. A little farther up Rue Caulaincourt, at the sidewalk of the café Le Rêve, I wrote in the margins of one of those newspapers the names of the people I remembered from those Sunday evening "gatherings," where I had met her.
And today, fifty years later, I can't help, once more, writing on this blank sheet some of those names. Martine and Philippe Hayward, Jean Terrail, Andrée Karvé, Guy Lavigne, Roger Favart and his wife, who had freckles and gray eyes . . . others . . .
Not one of them has been in touch these last fifty years. I must have been invisible to them at the time. Or else, quite simply, we live at the mercy of certain silences.
__________________________________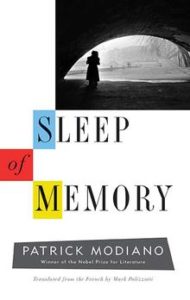 From Sleep of Memory. Translated from the French by Mark Polizzotti. Published by Yale University Press in October 2018 in the Margellos World Republic of Letters series. Reproduced by permission. 
---