A Century of Reading: The 10 Books That Defined the 1970s
Yup, It's the Me Decade!
Some books are flashes in the pan, read for entertainment and then left on a bus seat for the next lucky person to pick up and enjoy, forgotten by most after their season has passed. Others stick around, are read and re-read, are taught and discussed. sometimes due to great artistry, sometimes due to luck, and sometimes because they manage to recognize and capture some element of the culture of the time.
In the moment, you often can't tell which books are which. The Great Gatsby wasn't a bestseller upon its release, but we now see it as emblematic of a certain American sensibility in the 1920s. Of course, hindsight can also distort the senses; the canon looms and obscures. Still, over the next weeks, we'll be publishing a list a day, each one attempting to define a discrete decade, starting with the 1900s (as you've no doubt guessed by now) and counting down until we get to the (nearly complete) 2010s.
Though the books on these lists need not be American in origin, I am looking for books that evoke some aspect of American life, actual or intellectual, in each decade—a global lens would require a much longer list. And of course, varied and complex as it is, there's no list that could truly define American life over ten or any number of years, so I do not make any claim on exhaustiveness. I've simply selected books that, if read together, would give a fair picture of the landscape of literary culture for that decade—both as it was and as it is remembered. Finally, two process notes: I've limited myself to one book for author over the entire 12-part list, so you may see certain works skipped over in favor of others, even if both are important (for instance, I ignored Dubliners in the 1910s so I could include Ulysses in the 1920s), and in the case of translated work, I'll be using the date of the English translation, for obvious reasons.
For our eighth installment, below you'll find 10 books that defined the 1970s. (Head here for the 1910s, 20s, 30s, 40s, 50s, and 60s).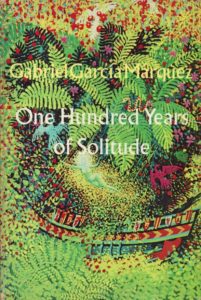 Gabriel García Márquez, One Hundred Years of Solitude (first English translation, 1970)
Though García Márquez's magnum opus was published in Argentina in 1967, and helped usher in the international literary Latin American Boom, it wasn't published in English until 1970. It was an instant success. "The novel came off the press in Buenos Aires on May 30, 1967, two days before Sgt. Pepper's Lonely Hearts Club Band was released, and the response among Spanish-language readers was akin to Beatlemania: crowds, cameras, exclamation points, a sense of a new era beginning," wrote Paul Elie in Vanity Fair. It sold 8,000 copies in Argentina in its first week. After its publication in English, the paperback edition "became a totem of the decade. By the time García Márquez was awarded the Nobel Prize, in 1982, the novel was considered the Don Quixote of the Global South, proof of Latin-American literary prowess, and the author was "Gabo," known all over the continent by a single name, like his Cuban friend Fidel."
It wasn't just read but acclaimed from nearly every corner. William Kennedy famously described it this way in the New York Times Book Review: "One Hundred Years of Solitude is the first piece of literature since the Book of Genesis that should be required reading for the entire human race. . . . Mr. García Márquez has done nothing less than to create in the reader a sense of all that is profound, meaningful, and meaningless in life." It has won literary awards in Italy, France, Venezuela, and the United States. It has influenced countless novelists, from Toni Morrison to John Irving to Salman Rushdie. It continues to be read, studied, and adored, and has been translated into over 37 languages and sold over 45 million copies. It was a lot of people's first favorite novel. It is still a lot of people's favorite novel.
In 2009, the international literary magazine Wasafiri asked 25 writers from around the world to "pick the title that they felt had most influenced world writing over the past quarter-century," and only One Hundred Years of Solitude received more than one vote (three, to be exact). "[It] taught the west how to read a reality alternative to their own, which in turn opened the gates for other non-western writers like myself and other writers from Africa and Asia," explained Ghanaian writer Nii Ayikwei Parkes. "Apart from the fact that it's an amazing book, it taught western readers tolerance for other perspectives."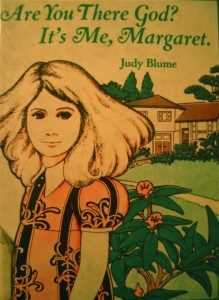 Judy Blume, Are You There God? It's Me, Margaret (1970)
"You could almost hear the collective generational sigh of relief in 1970 when Blume published this groundbreaking, taboo-trampling young adult novel: finally, a book that talks frankly about sex without being prim or prurient, and about religion without scolding or condescending," Lev Grossman wrote in TIME. "Blume turned millions of pre-teens into readers. She did it by asking the right questions—and avoiding pat, easy answers." She turned millions of pre-teens into readers, and she also helped them turn into teens, a little less painfully than they might have done otherwise.
"Blume wasn't the first writer to legitimize and celebrate the interior life of young girls," Anna Holmes pointed out in The New Yorker.
Fitzhugh, Beverly Cleary, and Laura Ingalls Wilder all imbued their female protagonists with the same sort of spunk and self-reliance, as did the beloved Y.A. writers Lois Lowry and Lois Duncan, whose most popular books, like Blume's, were released in the years between 1970 and 1985. But Blume's work feels significantly more influential than that of her predecessors and peers, at least where contemporary pop culture is concerned. (I suspect this has a lot to do with the straightforward way Blume that approaches difficult subjects, not to mention her gift for realistic dialogue and her palpable compassion for both her characters and her readers.) Oscar-winning screenwriter Diablo Cody, who wrote "Young Adult," last year's critically acclaimed drama about a messed-up Y.A. writer, published an appreciation of Blume in the pages of Entertainment Weekly in 2008. And Chuck Palahniuk's 2011 novel, Damned, which centers on a thirteen-year-old female protagonist's death and descent into Hell, is inspired by Blume's books, right down to its structure.
So it's not that it was such a literary feat—it's that generation after generation has read and loved and taken solace in this book. It has sunk deeply into our cultural consciousness—without even being a movie. Now, after nearly 50 years, the book is being adapted into a film, which has spurred a new round of reminiscing and remembrance. "It is this right of passage for women and girls" director Kelly Fremon Craig told Deadline. "It's rare for me to run into a woman or girl who hasn't read it and every time I've mentioned it to a woman, they clutch their heart and let out this joyful gasp. There's something so timely and full of truth and I remember for me that at that age, it felt like a life raft at a time when you're lost and searching and unsure. This book comes along and tells you you're not alone. Women remember where they were when they read it. I can't think of another book you can say that about."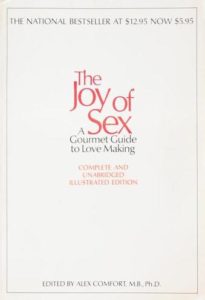 Alex Comfort, The Joy of Sex (1972)
Just as The Joy of Cooking was life-changing and ubiquitous in American households in the 1930s, so was The Joy of Sex in the 1970s. Upon its publication in 1972, as Sarah Lyall memorably put it, "the book thrust itself into public consciousness with all the subtlety of a gigolo at a convention of bishops. It was also stunningly popular, a well-thumbed fixture of bedside tables across America that spent 343 weeks on the New York Times best-seller list." Sex is okay, it reminded us. It's loving, and feels good, and is also fun—even if you look like the Hairy Man, and like him, are fervently against deodorant. Written by British scientist and physician Alex Comfort, and eventually selling over 12 million copies worldwide, the book was a seminal (sorry!) piece of the growing sex-ed landscape.
A runner-up for this space, of course, is Our Bodies, Ourselves, a similar volume assembled by the Boston Women's Health Book Collective. As Ariel Levy put it in The New Yorker:
If The Joy of Sex was like Joy of Cooking—though in some ways it was closer to Julia Child's Mastering the Art of French Cooking, what with its strong authorial voice and affection for elaborate undertakings, to which Comfort assigned French names like pattes d'araignée, cuissade, and feuille de rose—Our Bodies, Ourselves was like the Moosewood Cookbook. Everything in it was healthful, enlightened, nourishing.
And slightly lacking in bacon fat.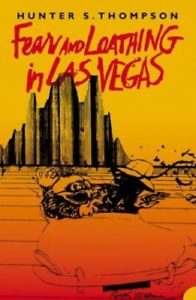 Hunter S. Thompson, Fear and Loathing in Las Vegas (1972)
Thompson's drug-binge road-trip extravaganza is about the 60s, not the 70s, but it was in the latter decade when it was published, and when it became a name-making sensation. It didn't exactly debut to great critical reviews, but the papers soon came around. In a 1972 New York Times review, Crawford Woods called it "by far the best book yet written on the decade of dope gone by," and, of its literary importance, wrote:
Not the least of Thompson's accomplishments is to suggest that, by now, the New Journalism is to the world what the New Criticism was to the word: seductive, commanding—and, finally, inadequate. The form that reached apotheosis in Armies of the Night reaches the end of its rope in Fear and Loathing, a chronicle of addiction and dismemberment so vicious that it requires a lot of resilience to sense that the author's purpose is more moralizing than sadistic. He is moving in a country where only a few cranky survivors—Jonathan Swift for one—have gone before. And he moves with the cool integrity of an artist indifferent to his reception.
Now of course, it's a classic of counterculture literature and the most famous example of Thompson's Gonzo journalism (though he considered it a failed example) and has sent many an enthusiastic young man to Vegas, one imagines.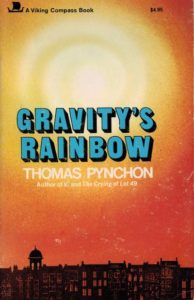 Thomas Pynchon, Gravity's Rainbow (1973)
Though not everyone loves it, Pynchon's mammoth WWII novel is certainly a candidate for our Great American Novel and has in turn influenced a slew of other Great American Writers, including George Saunders, who wrote:
I don't think anyone has gotten closer than Thomas Pynchon to summoning the real audacity and insanity and scope of the American mind, as reflected in the American landscape. I read Pynchon all out of order, starting with Vineland, and I still remember the shock of pleasure I got at finally seeing the America I knew—strange shops and boulevards, built over former strange shops and former boulevards, all laid out there in valleys and dead-end forests, heaped on top of Indian cemeteries, peopled with nut jobs and hustlers and moral purists—actually present in a novel, and present not only in substance but in structure and language that both used and evoked the unruly, muscular complexity of the world itself.
In Pynchon, anything is fair game—if it is in the world, it can go in the book. To me there is something Buddhist about this approach, which seems to say that since the world is capable of producing an infinity of forms, the novel must be capable of accommodating an infinite number of forms. All aesthetic concerns (style, form, structure) answer this purpose: Let in the world.
This is why Pynchon is our biggest writer, the gold standard of that overused word inclusiveness: No dogma or tidy aesthetic rule or literary fashion is allowed to prefilter the beautiful data streaming in. Everything is included. No inclination of the mind is too small or large or frightening. The result is gorgeous madness, which does what great literature has always done—reminds us that there is a world out there that is bigger than us and worthy of our utmost humility and attention.
Gravity's Rainbow won the 1974 U.S. National Book Award for Fiction (or technically, shared it with Isaac Bashevis Singer's A Crown of Feathers and Other Stories—is this why there was a streaker at the ceremony?), and was selected unanimously for the Pulitzer by the fiction jury—Elizabeth Hardwick, Alfred Kazin, and Benjamin DeMott—but the Pulitzer board turned it down as "unreadable," "turgid," "overwritten" and "obscene," and no prize was awarded that year. In a 1973 review in the New York Times entitled "One of the Longest, Most Difficult, Most Ambitious Novels in Years," Richard Locke wrote:
Gravity's Rainbow is longer, darker and more difficult than his first two books; in fact it is the longest, most difficult and most ambitious novel to appear here since Nabokov's Ada four years ago; its technical and verbal resources bring to mind Melville and Faulkner. Immersing himself in "the destructive element" and exploring paranoia, entropy and the love of death as primary forces in the history of our time, Pynchon establishes his imaginative continuity with the great modernist writers of the early years of this century. Gravity's Rainbow is bonecrushingly dense, compulsively elaborate, silly, obscene, funny, tragic, pastoral, historical, philosophical, poetic, grindingly dull, inspired, horrific, cold, bloated, beached and blasted.
"Among American writers of the second half of the 20th century, Pynchon is the indisputed candidate for lasting literary greatness," Richard Lacayo wrote in TIME. "This book is why."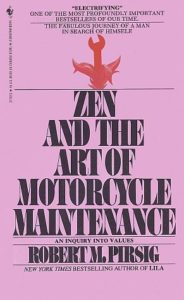 Robert Pirsig, Zen and the Art of Motorcycle Maintenance (1974)
Pirsig's "novelistic autobiography" was rejected 121 times before it was eventually accepted for publication, but his editor James Landis knew a good thing when he saw it. "The book is brilliant beyond belief," he wrote ahead of the book's publication. "It is probably a work of genius and will, I'll wager, attain classic status." Someone give this guy a fortune telling stand, because the book was an instant and enduring hit. Zen and the Art of Motorcycle Maintenance sold a million copies in its first year, and has continued selling in the 40 years since. "Zeitgeist novels tend to fall in one of three categories, none of which have anything to do with the quality of the work itself," wrote Nathaniel Rich.
In the first category are books nostalgic for a simpler, romanticized past; James A. Michener's Centennial, the best-selling novel of 1974, is an example. The second category is made up of books that unwittingly capture the spirit of their time, a feat accomplished in the early '60s by One Flew Over the Cuckoo's Nest and The Group. Forward-looking novels that provide glimpses into the future, while echoing anxieties of the present—1984, Neuromancer, White Noise—comprise the third category. Robert M. Pirsig's Zen and the Art of Motorcycle Maintenance pulls off the remarkable feat of straddling all three categories, achieving an unusual triple crown. It is a nostalgic, old-fashioned novel that nevertheless reflects the malaise of its era and prefigures our own technophiliac age. Pirsig's hat trick has much to do with the novel's incredible commercial success.
"There is such a thing as a zeitgeist, and I believe the book was popular because there were a lot of people who wanted a reconciliation—even if they didn't know what they were looking for," sociologist Todd Gitlin told the New York Times. "Pirsig provided a kind of soft landing from the euphoric stratosphere of the late '60s into the real world of adult life."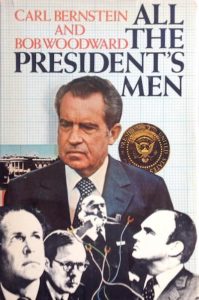 Carl Bernstein and Bob Woodward, All the President's Men (1974)
"It's the work that brought down a presidency and launched a thousand reporting careers," as Alex Altman put it in TIME. "It remains a testament to the power of shoe-leather reporting—and is perhaps the most influential piece of journalism in history." Yes, Woodward and Bernstein changed the country with this book—or, to be precise, first with their reporting on Nixon and the Watergate scandal, next with this book, and finally with the film adaptation, because Robert Redford makes anything go down smoother. This, of course, was back in the 70s, when disco was in, we all had shag carpets, and Congress actually cared whether or not the American president was a corrupt liar. Indeed, Nixon resigned only a few months after the book's publication. Better days, friends.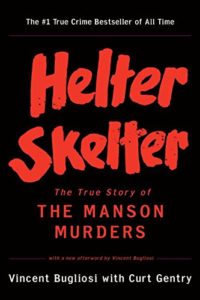 Vincent Bugliosi, Helter Skelter (1974)
Few events captured the public consciousness like the Manson murders and subsequent trial. Even 45 years after Charles Manson's conviction in 1971, if you write a novel based on him, it is likely to become a bestseller. Prosecutor Vincent Bugliosi's account of the crimes, trial, and conviction sold over seven million copies and is (or at least was at the time of Bugliosi's death in 2015) the best-selling true crime book ever published. In a 1974 review in the LA Times, Robert Kirsch described it this way:
Though basically a prosecutor's view of the complex case, the book attempts something more: the most comprehensive account of the murders, the investigation, the trials and the aftermath yet written. Some part of this account emerges from direct observation and months of immersion in the depths of the affair — including the paradoxical nature of the author's contact with Manson, who often demonstrated his grudging respect for Bugliosi as an adversary by conversing with the prosecutor. It is a measure of the latter's importance in Manson's eyes that Bugliosi was put at the top of the Family's death list.
The way that review ends is telling. "We cannot afford to shrug away the Tate-La Bianca murders," Kirsh writes. "Too much has happened since then to show the threat to society from casual and seemingly senseless violence, from the Santa Crux murders and the Houston mass killings to the crimes of the Symbionese Liberation Army. To accept these as simply symptoms of the malaise of the times is to abandon the obligations of civilization to rationally address even the most irrational and fearful events." Bugliosi's volume was one such rational address—in a sea of hysterical ones.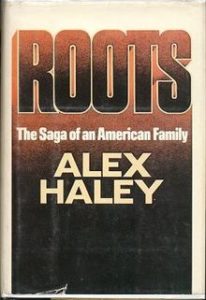 Alex Haley, Roots (1976)
I'm bending the rule on not repeating authors for Alex Haley, because The Autobiography of Malcolm X, while being told to and reported by him, wasn't really his story. Roots: The Saga of an American Family was based on his own family's history (though the authenticity of the book and even the originality of Haley's work has been called into question), and it quickly became a cultural sensation. It sold more than six million copies by 1977, and was on the New York Times bestseller list for forty-six weeks, twenty-two of them at number one. Though Saul Bellow won the Pultizer for fiction in 1976, Haley was awarded a special citation the next year—which, incidentally, was the year the miniseries hit American televisions and truly exploded this book into the mainstream. Haley was a huge celebrity; Historian Willie Lee Rose called it "the most astounding cultural event of the American Bicentennial." According to Haley's 1992 obituary in the New York Times, the book and miniseries "spurred an interest in genealogy among Americans of many ethnic heritages," and at least at that time, the show was still counted "among the 100 highest-rated programs. According to Nielsen Media Research, its eight episodes reached average audiences that ranged from 28.8 million households to 36.3 million households." In a 1992 interview, Haley said, "To this day, people, particularly African-American people but white people as well, will just totally, unexpectedly walk up and not say a word, just walk up and hug you and then say "Thank you.""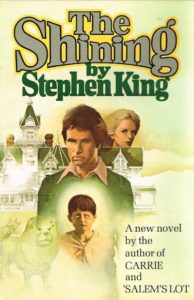 Stephen King, The Shining (1977)
Stephen King has had as much (or more) influence on the American literary landscape as any other author; The Shining was his first major breakout. Yes, his first two novels, Carrie (1974) and Salem's Lot (1975) had been big sellers in paperback, but The Shining was the first King novel to become a bestseller in hardcover. That is, people were willing to pay the big bucks for it. "I think my audience shifts up," King theorized in 1981. "A lot of people started reading my books when they were 15 and now they're older and can afford to buy a hardcover." Either way, The Shining has become one of King's most iconic works, in part because of the Stanley Kubrick adaptation, which he famously hated. In a 2001 introduction to the book, King describes it as his "crossroads novel," and suggests that its success is based on his decision "to go deeper—to admit Jack's love of his father in spite of (perhaps even because of) his father's unpredictable and often brutal nature." The end result both satisfied and transcended the usual genre rules—and though he's always gotten his fair share of bad reviews, you can't deny that the people love their King.
See also:

Toni Morrison, The Bluest Eye (1970), Stanislaw Lem, Solaris (first English translation, 1970), Dee Brown, Bury My Heart at Wounded Knee (1970), Kate Millet, Sexual Politics (1970), James Dickey, Deliverance (1970), Joan Didion, Play it As It Lays (1970), The Complete Stories of Flannery O'Connor (1971), Dr. Seuss, The Lorax (1971), Frederick Forsyth, The Day of the Jackal (1971), William Peter Blatty, The Exorcist (1971), Jane Goodall, In the Shadow of Man (1971), Boston Women's Health Book Collective, Our Bodies, Ourselves (1971), John Berger, Ways of Seeing (1972), Harold Bloom, The Anxiety of Influence (1973), Richard Bach, Jonathan Livingston Seagull (1973), J. G. Ballard, Crash (1973), Toni Morrison, Sula (1973), Adrienne Rich, Diving Into the Wreck (1973), Italo Calvino, Invisible Cities (first English translation, 1974), Studs Terkel, Working (1974), Peter Benchley, Jaws (1974), Annie Dillard, Pilgrim at Tinker Creek (1974), Stephen King, Carrie (1974), Ursula K. Le Guin, The Dispossessed (1974), John Ashbery, Self-Portrait in a Convex Mirror (1975), E. L. Doctorow, Ragtime (1975), William Gaddis, J R (1975), Saul Bellow, Humboldt's Gift (1975), Edward Abbey, The Monkey Wrench Gang (1975), Samuel R. Delany, Dhalgren (1975), Natalie Babbitt, Tuck Everlasting (1975), James Salter, Light Years (1975), Paul Theroux, The Great Railway Bazaar (1975), Renata Adler, Speedboat (1976), Raymond Carver, Will You Please Be Quiet, Please? (1976), Marge Piercy, Woman on the Edge of Time (1976), Anne Rice, Interview with the Vampire (1976), Maxine Hong Kingston, The Woman Warrior (1976), Bruno Bettelheim, The Uses of Enchantment (1976), Philip K. Dick, A Scanner Darkly (1977), Toni Morrison, Song of Solomon (1977), Michael Herr, Dispatches (1977), Joan Didion, A Book of Common Prayer (1977), John Irving, The World According to Garp (1978), Iris Murdoch, The Sea, The Sea (1978), Hubert Selby Jr., Requiem for a Dream (1978), Edward Said, Orientalism (1978), Douglas Adams, The Hitchhiker's Guide to the Galaxy (1979), Octavia Butler, Kindred (1979), Elizabeth Hardwick, Sleepless Nights (1979), William Styron, Sophie's Choice (1979), Angela Carter, The Bloody Chamber (1979), Norman Mailer, The Executioner's Song (1979), Cormac McCarthy, Suttree (1979)
---