A Century of Reading: The 10 Books That Defined the 1960s
Apparently This Was an Important Decade in American History
Some books are flashes in the pan, read for entertainment and then left on a bus seat for the next lucky person to pick up and enjoy, forgotten by most after their season has passed. Others stick around, are read and re-read, are taught and discussed. sometimes due to great artistry, sometimes due to luck, and sometimes because they manage to recognize and capture some element of the culture of the time.
In the moment, you often can't tell which books are which. The Great Gatsby wasn't a bestseller upon its release, but we now see it as emblematic of a certain American sensibility in the 1920s. Of course, hindsight can also distort the senses; the canon looms and obscures. Still, over the next weeks, we'll be publishing a list a day, each one attempting to define a discrete decade, starting with the 1900s (as you've no doubt guessed by now) and counting down until we get to the (nearly complete) 2010s.
Though the books on these lists need not be American in origin, I am looking for books that evoke some aspect of American life, actual or intellectual, in each decade—a global lens would require a much longer list. And of course, varied and complex as it is, there's no list that could truly define American life over ten or any number of years, so I do not make any claim on exhaustiveness. I've simply selected books that, if read together, would give a fair picture of the landscape of literary culture for that decade—both as it was and as it is remembered. Finally, two process notes: I've limited myself to one book for author over the entire 12-part list, so you may see certain works skipped over in favor of others, even if both are important (for instance, I ignored Dubliners in the 1910s so I could include Ulysses in the 1920s), and in the case of translated work, I'll be using the date of the English translation, for obvious reasons.
For our seventh installment, below you'll find 10 books that defined the 1960s. (Head here for the 1910s, 20s, 30s, 40s, and 50s).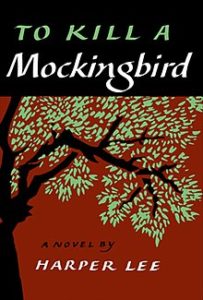 Harper Lee, To Kill a Mockingbird (1960)
I probably don't have to underscore the enduring importance and influence of this novel for you, but just as a reminder, it was an instant phenomenon when it was published in 1960, becoming a bestseller and winning the Pulitzer Prize the following year. According to Christopher Metress's 2003 essay "The Rise and Fall of Atticus Finch," it ultimately sold more than 30,000,000 copies worldwide, third bestselling American novel of the 20th century. In a 1991 "Survey of Lifetime Reading Habits" conduced by the Library of Congress's Center for the Book, it was mentioned second, after the Bible, as a book that made a difference in respondents' lives—in part, no doubt, because of the culture-wide lionization of Atticus Finch.
Though it has suffered a bit with age (and with the release of the "sequel"), it has been widely assigned in schools for decades and is still firmly an American classic, in part because of its readability. "Sometimes novels are considered "important" in the way medicine is—they taste terrible and are difficult to get down your throat, but are good for you," Chimamanda Ngozi Adichie wrote in The Guardian on the novel's 50th anniversary. "The best novels are those that are important without being like medicine; they have something to say, are expansive and intelligent but never forget to be entertaining and to have character and emotion at their centre. Harper Lee's triumph is one of those."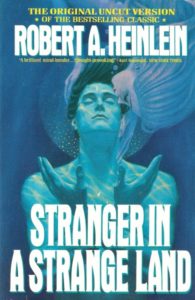 Robert A. Heinlein, Stranger in a Strange Land (1961)
Heinlein's classic was the first science fiction novel ever to become a New York Times bestseller. "It didn't just sell to science fiction readers, it sold widely to everyone, even people who didn't normally read at all," Jo Walton wrote. "People claim it was one of the things that founded the counter-culture of the sixties in the U.S. It's Heinlein's best known book and it has been in print continuously ever since first publication. Sitting reading it in the metro the other day, a total stranger assured me that it was a good book. It was a zeitgeist book that captured imaginations." The book is certainly problematic by today's standards, and I even thought it was pretty corny when I read it as a teenager, but there's no denying its cultural influence. (This kind of observation has led at least one critic to call it the Catcher in the Rye of SF.) It got thousands of readers into science fiction, and was so famous that one of its essential invented terms—to "grok"—made it into common usage and even the OED. For another, it invented a religion— the "Church of All Worlds"—that was eventually actually founded by a guy named Tim Zell. It also probably made the waterbed happen. No big deal.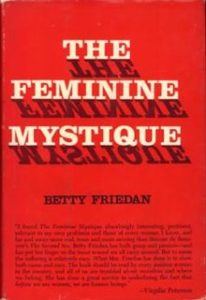 Betty Friedan, The Feminine Mystique (1963)
According to Friedan's obituary in the New York Times, this book (can we call it "seminal?" I don't know) "ignited the contemporary women's movement in 1963 and as a result permanently transformed the social fabric of the United States and countries around the world." It sold millions of copies and established Friedan as one of the chief architects of the women's liberation and second-wave feminist movement—which, despite being rather passé now, made a monumental difference in American society. Social theorist Alvin Toffler described it as "the book that pulled the trigger on history."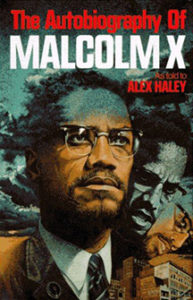 Malcolm X and Alex Haley, The Autobiography of Malcolm X (1965)
Highly inflammatory, highly influential, and highly political, Malcolm X himself was a major force in America in the 1960s—and he was only around for half of it, because in 1965, he was assassinated. His autobiography, as told to Alex Haley in the two years preceding his death, was published later the same year, and it is a truly inspirational, angry, and transformative text, working with incendiary ideas as well as postmodern literary techniques. It sold millions of copies and galvanized its readership—in Revolution in the Air, Max Elbaum calls it "without question the single most widely read and influential book among young people of all racial backgrounds who went to their first demonstration sometime between 1965 and 1968″—to protest, make art, and change minds. In his essay "Malcolm's Mythmaking," originally published in 1992, David Bradley writes:
"When I was a young college student in the early seventies, the book I read which revolutionized my thinking about race and politics was The Autobiography of Malcolm X," wrote bell hooks in "Sitting at the Feet of the Messenger: Remembering Malcolm X." She is not alone. Ask any middle-aged socially conscious intellectual to list the books that influenced his or her youthful thinking, and he or she will most likely mention The Autobiography of Malcolm X. Some will do more than mention it. Some will say that, back in the sixties (by which they really mean the late sixties and early seventies), when they were young and earnest but callow, and oh, so confused, they picked it up—by accident, or maybe by assignment, or because a friend pressed it on them—and that they approached the reading of it without great expectations, but somehow that book . . . took hold of them. Got inside them. Altered their vision, their outlook, their insight. Changed their lives.
Fair enough.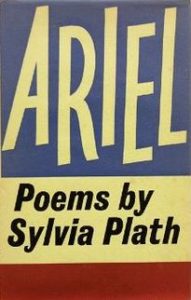 Sylvia Plath, Ariel (1965)
It's a little unfair to choose Ariel, because it came out after Plath's death. But it would be just as unfair to choose The Bell Jar, which was only published just before, and while being very famous, is not really her best work, or The Colossus, where she was holding back. So in order to represent Plath's enormous influence on the literary landscape of the decade—and of the decades since—I will choose Ariel, which includes most of Plath's best and best-known poems, including "The Applicant" (always my personal favorite), "Lady Lazarus," and "Daddy." Plath won a posthumous Pulitzer Prize in 1982, for her Collected Poems.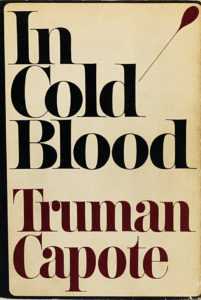 Truman Capote, In Cold Blood (1966)
Originally published as a four-week serial in The New Yorker, starting with the September 25 1965 issue, then published by Random House the following January, Capote's "nonfiction novel" was among the first of its kind, and was also the first real blockbuster of the New Journalism movement, becoming a bestseller and rocketing him to fame. "I've been staggered by the letters I've received, their quality of sensibility, their articulateness, the compassion of their authors," Capote told George Plimpton in 1966.
The letters are not fan letters. They're from people deeply concerned about what it is I've written about. About 70 percent of the letters think of the book as a reflection on American life, this collision between the desperate, ruthless, wandering, savage part of American life, and the other, which is insular and safe, more or less. It has struck them because there is something so awfully inevitable about what is going to happen: the people in the book are completely beyond their own control.
"It is hard to think of any murder case involving six relatively unknown individuals that has captured so many imaginations," wrote Ed Pilkington in The Guardian 50 years after the book's release. "In Cold Blood has sold millions of copies and been translated into 30 languages. It was made into a black-and-white film of the same name in 1967 and there was a colour remake in 1996." He cites the precision of the prose and the depth of the research as possible reasons for its instant and ongoing cultural relevance. "There is also something monumental about the timing of the book," he says.
America in 1959 was at a crossroads. It was still bathing in the victory of the second world war and ensuing economic boom. The country was confident and secure, and the body blows of Vietnam still lay ahead.
Nowhere was this sense of purpose more evident than in the US heartlands, with their hundreds of tight-knit communities, like Holcomb, scattered along railway lines across the Great Plains. Capote noted with satisfaction that Holcomb itself lies almost in the exact middle of the continental US.
If Holcomb was representative of that small-town rootedness that defined 1959 America, then the Clutters were representative of Holcomb. "Of all the people in all the world," Capote quotes a local detective, "the Clutters were the least likely to be murdered."
And yet.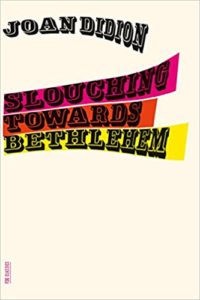 Joan Didion, Slouching Towards Bethlehem (1968)
Even if Joan Didion wasn't on a certain tote bag, this collection would hold its own as an essential text of the 1960s—one that defines and describes it, particularly if you live in California. In 1979, Michiko Kakutani wrote that Didion "has created, in her books, one of the most devastating and distinctive portraits of modern America to be found in fiction or nonfiction—a portrait of America where "disorder was its own point." A gifted reporter with an eye for the telling detail-the frayed hem, the shaking hand-she is also a prescient witness, finding in her own experiences parallels of the times. The voice is always precise, the tone unsentimental, the view unabashedly subjective. She takes things personally." She is still the foremost chronicler of the American 60s, and one of the most important living American writers.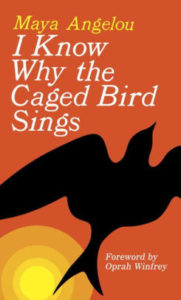 Maya Angelou, I Know Why the Caged Bird Sings (1969)
Angelou's first book, a memoir of her childhood, became a bestseller upon its publication, "confounding the stereotype," as her obituary in the New York Times put it, "pervasive in the publishing world, that black women's lives were rarely worthy of autobiography." Her work was widely praised, widely assigned, widely read, and opened the door to many writers to follow her. "When I Know Why the Caged Bird Sings came out, in 1970, Angelou was hailed as a new kind of memoirist," wrote Hilton Als in The New Yorker. "Relegated to the margins of life, [black women] found it difficult to rewrite themselves as central characters. Only in private could they talk about their personal lives. But Angelou took those stories public. She wrote about blackness from the inside, without apology or defense." But this wasn't actually new territory, Als argues.
The success of I Know Why the Caged Bird Sings, like that of many memoirs, had less to do with the originality of its writing than with its resonance in the prevailing Zeitgeist. By the time [it] was published, Martin Luther King, Jr., and Malcolm X were dead, and the only hope for black politics, it seemed, lay in the voices that were just beginning to be heard: those of such strong-willed female politicians as Shirley Chisholm and Barbara Jordan, two of the first black women to serve in Congress. Chisholm and Jordan, products of the colonial West Indies and the Old South, respectively, pinned their speeches to the idea of a changing United States, and it was their brand of rhetoric—a fierce criticism of the past blended with a kind of survivor's optimism, a belief in the future of the urban family—that cleared the way for Angelou's narrative of damage, perseverance, and eventual triumph.
In addition to being widely assigned, Angelou's memoir is also often challenged, and in fact it was the book that inspired Banned Books Week.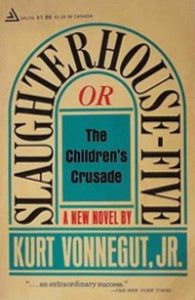 Kurt Vonnegut, Slaughterhouse-Five (1969)
Despite its strangeness, mixing science fiction, historical fiction, autobiography, and satire with a strong postmodern hand, Vonnegut's Slaughterhouse-Five achieved cult status after its publication, which landed smack in the middle of the Vietnam War, the anti-war movement, and the civil rights movement. The novel, wrote critic Jerome Klinkowitz, "so perfectly caught America's transformative mood that its story and structure became best-selling metaphors for the new age." The repeated phrase "so it goes" entered the lexicon as well, a response to death and destruction that, according to the Times, "became a catchphrase for opponents of the Vietnam war." But even outside of the context of Vietnam, this novel has become a touchstone for young readers, and despite its popularity, I'd still categorize it as a cult classic today—it remains a shibboleth for a certain kind of reader, at a certain age.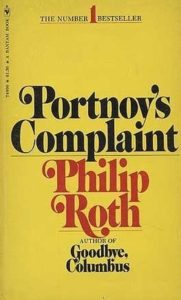 Philip Roth, Portnoy's Complaint (1969)
You know, the one where the kid diddles the slab of liver. It's a literary classic! No really, it is—he may have won the National Book Award for Goodbye, Columbus, but this is the book that made Roth an international celebrity. "For all its avowed literary seriousness, this "wild blue shocker" (Life), a novel in the guise of a confession, was an immediate bestseller," wrote Robert McCrum in The Guardian. "Taken by hundreds of thousands of American readers as a confession in the guise of a novel, it placed its author inexorably centre stage in the minds of his audience. He's been there ever since."
"The scandalous content of the book drove up its sales," Kyle Swenson wrote in the Washington Post.
Portnoy's Complaint sold over 400,000 copies in its first year of printing. Critics were also largely supportive of the taboo-blasting work. In the New York Times, Josh Greenfeld called it "the very novel that every American-Jewish writer has been trying to write in one guise or another since the end of World War II."
By marshaling vulgarity to illustrate a deeper point, Roth broke literary ground, proving even wisecracks about masturbation could lead readers to a profound place.
See also:

John Barth, The Sot-Weed Factor (1960), John Updike, Rabbit, Run (1960), Lawrence Durrell, The Alexandria Quartet (1960), Elie Wiesel, Night (first English translation, 1960), Edna O'Brien, The Country Girls (1960), Walker Percy, The Moviegoer (1961), Joseph Heller, Catch-22 (1961), Muriel Spark, The Prime of Miss Jean Brodie (1961), Henry Miller, Tropic of Cancer (first US publication, 1961), V. S. Naipaul, A House for Mr. Biswas (1961), J. D. Salinger, Franny and Zooey (1961), Tillie Olsen, Tell Me a Riddle (1961), Irving Stone, The Agony and the Ecstasy (1961), Richard Yates, Revolutionary Road (1961), Anthony Burgess, A Clockwork Orange (1962), Ken Kesey, One Flew Over the Cuckoo's Nest (1962), Ezra Jack Keats, The Snowy Day (1962), Rachel Carson, Silent Spring (1962), J. G. Ballard, The Drowned World (1962), Helen Gurley Brown, Sex and the Single Girl (1962), Robert Frost, In the Clearing (1962), Jorge Luis Borges, Labyrinths (1962), Madeleine L'Engle, A Wrinkle in Time (1962), Shirley Jackson, We Have Always Lived in the Castle (1962), Martin Heidegger, Being and Time (first English translation, 1962), Edward Albee, Who's Afraid of Virginia Woolf? (1962), James Jones, The Thin Red Line (1962), Doris Lessing, The Golden Notebook (1962), Anne Sexton, All My Pretty Ones (1962), Vladimir Nabokov, Pale Fire (1962), William Carlos Williams, Pictures from Brueghel and Other Poems (1962), Sylvia Plath, The Bell Jar (1963), Mary McCarthy, The Group (1963), LeRoi Jones, Blues People (1963), Jean Genet, Our Lady of the Flowers (first English translation, 1963), John le Carré, The Spy Who Came in from the Cold (1963), James Baldwin, The Fire Next Time (1963), John Fowles, The Collector (1963), Maurice Sendak, Where the Wild Things Are (1963), Thomas Pynchon, V. (1963), Kurt Vonnegut, Cat's Cradle (1963), Saul Bellow, Herzog (1964), Roald Dahl, Charlie and the Chocolate Factory (1964), Louise Fitzhugh, Harriet the Spy (1964), Ken Kesey, Sometimes a Great Notion (1964), Surgeon General's Office, Smoking and Health (1964), Martin Luther King, Jr., Why We Can't Wait (1964), Christopher Isherwood, A Single Man (1964), Ernest Hemingway, A Moveable Feast (1964), Jean Merrill, The Pushcart War (1964), Kenzaburō Ōe, A Personal Matter (1964), Hubert Selby Jr., Last Exit to Brooklyn (1964), Shel Silverstein, The Giving Tree (1964), Frank Herbert, Dune (1965), Lloyd Alexander, The Black Cauldron (1965), Ralph Nader, Unsafe at Any Speed (1965), John Williams, Stoner (1965), Jerzy Kosinski, The Painted Bird (1965), Julio Cortazar, Hopscotch (first English translation, 1966), Anaïs Nin, The Diary of Anais Nin Vol. 1 (expurgated version) (1966), Robert A. Heinlein, The Moon is a Harsh Mistress (1966), Thomas Pynchon, The Crying of Lot 49 (1966), Jean Rhys, Wide Sargasso Sea (1966), Susan Sontag, Against Interpretation (1966), Tom Stoppard, Rosencrantz and Guildenstern Are Dead (1966), Claude Lévi-Strauss, The Savage Mind (first English translation, 1966), Ira Levin, Rosemary's Baby (1967), Mikhail Bulgakov, The Master and Margarita (first English translation, 1967), William Styron, The Confessions of Nat Turner (1967), Anna Kavan, Ice (1967), S. E. Hinton, The Outsiders (1967), Anne Sexton, Live or Die (1967), Joan Lindsay, Picnic at Hanging Rock (1967), James Salter, A Sport and a Pastime (1967), Flann O'Brien, The Third Policeman (1967), James D. Watson, The Double Helix (1968), Richard Brautigan, In Watermelon Sugar (1968), Tom Wolfe, The Electric Kool-Aid Acid Test (1968), Edward Abbey, Desert Solitaire (1968), Arthur C. Clarke, 2001: A Space Odyssey (1968), Philip K. Dick, Do Androids Dream of Electric Sheep? (1968), Ursula K. Le Guin, A Wizard of Earthsea (1968), Gore Vidal, Myra Breckinridge (1968), Valerie Solanas, SCUM Manifesto (1968), The Complete Poems of Elizabeth Bishop (1969), Michael Crichton, The Andromeda Strain (1969), Shusaku Endo, Silence (first English translation, 1969), Mario Puzo, The Godfather (1969), Philip K. Dick, Ubik (1969), Ursula K. Le Guin, The Left Hand of Darkness (1969)
---