7 Music Novels to Shape Your Summer Soundtrack
Allison Larkin Recommends Emma Brodie, Willa Cather, and More
It's fascinating to delve into the ways we archive our lives through music. I can't always remember the year something happened, but I can remember the song that was playing. For example, whenever I hear Roam by the B-52s, I'm a kid at art camp again, tempera paint splattered across the shorts I cut from last year's jeans, singing and laughing with my friend, Kate, until my ribs ache. That joy and those chords are twisted together in my mind, and I'm thankful for the easy pathway to a cherished memory.
I'm always eager to read books about music because there's an instant acknowledgment by the author that music has timestamped their memories, too, so we're already sharing a connection before that first page.
If you also have a mind shaped by songs, here's a list of music-focused novels to commune with this summer.
*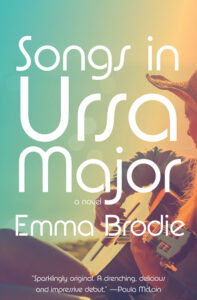 Emma Brodie, Songs of Ursa Major
(Knopf)
Jane Quinn steps into the folk/pop scene when her townie band, The Breakers, is called to fill in for ultra-famous frontman Jessie Reid after he crashes his motorcycle on his way to the Bayleen Island Folk Fest. Jane sings her take of Jessie's hit song, astounding the audience and an A&R rep. After the show, with a label offer in hand, Jane meets Jessie when her sister becomes his home health aid. Jessie mentors Jane as she navigates the music industry, and their relationship becomes so much more. The lyrical prose in Emma Brodie's debut novel expertly captures the excitement of live music, late sixties and seventies nostalgia, the angst of art for commerce, and the joy of creative collaboration.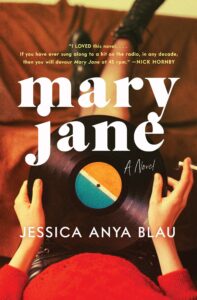 Jessica Anya Blau, Mary Jane
(Custom House)
I love when the collective unconscious gives us two stories with a similar plot point simultaneously, and we get to see how the spark of an idea can go in many different directions. Like Songs of Ursa Major, Mary Jane also has an ailing rockstar getting treatment in an everyday-life setting. When fourteen-year-old Mary Jane finds a summer job nannying for the Cone family, she has the chance to meet (and sing with) rockstar Jimmy, and his actress wife, Sheba, because Dr. Cone is treating the couple for substance use issues. With sharp humor and a particular sensitivity to the vast divides of sensibilities in the 1970s, Jessica Anya Blau uses music as a way to connect Mary Jane with a world she can't quite contextualize yet.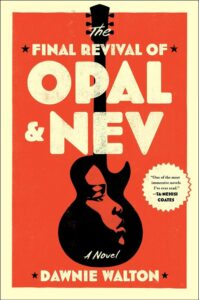 Dawnie Walton, The Final Revival of Opal & Nev
(37 Ink)
When you Google "Opal & Nev," "opal and nev real," comes up as a frequent search, which isn't surprising since the authentic details and vivid characters in The Final Revival of Opal and Nev make it hard to remember that Dawnie Walton's debut novel is fiction. Told as an oral history of the revolutionary rock duo as they consider a reunion, the story is framed with notes from the editor, who is the grown daughter of Opal's married lover. The stars of the book are obviously the audacious, bald, black punk artist, Opal, and her bandmate, a British rocker named Neville, who met at an amateur music night in 1970. However, there is also an astounding cast of characters in this book, each with a distinctive voice and unique perspective on the duo and the tragic riot ignited by a southern rock group from the same label flying a confederate flag at a Rivington Records showcase. Full of textured wisdom and twisty reveals, this book will leave you wishing you could find old (and new) videos of Opal & Nev on YouTube.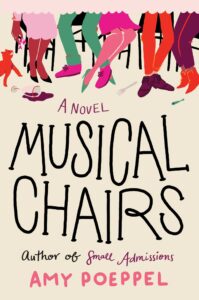 Amy Poeppel, Musical Chairs
(Emily Bestler Books)
In a story full of heart, astute details, and dry wit, Musical Chairs provides a peek behind the curtain at the world of classical music, the obliviousness that comes with inherited wealth, and the artistic struggles that come without it. As chamber musicians, Bridget and Will struggle to find a third member to rebuild their Forsyth Trio. What Will views as the most practical solution to their violinist problem, makes the Trio much more complicated. This charming family drama delves into the core of what it means to be a career musician and the intense bond created by sharing that career with a dear friend.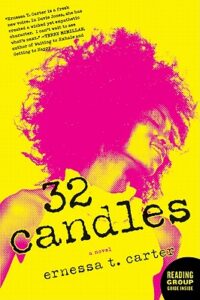 Ernessa T. Carter, 32 Candles
(Amistad)
Davie Jones goes from small-town ugly duckling to Hollywood swan when her career as a lounge singer takes off. Of course, she hopes that just like in her favorite movie, Sixteen Candles, she'll get the guy in the end, but her personal journey is so much more than this romance. 32 Candles is a smart, sparkling romcom with brilliant depth. Incredible as an audiobook (read by Adenrele Ojo). I listened to this 2010 novel at least eight years ago and still think of Davie Jones often.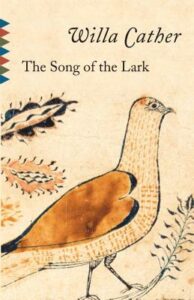 Willa Cather, Song of the Lark
(Vintage)
This is my ultimate music book. Written in 1915, Song of the Lark begins in the 1890s, continuing for almost twenty years, as we follow the journey of Thea Kronborg, the aloof and enchanting child of Swedish immigrants, growing up in the fictional town of Moonstone, Colorado. The town doctor and local music teacher take an interest in Thea's eager intelligence and exceptional singing voice, supporting her education beyond what her parents are capable of providing. She leaves home at seventeen to study music in Chicago, eventually launching a career that will take her all the way to the Metropolitan Opera. Through Thea's story, Willa Cather wrestled with the emotional brutalities of turning one's art into a career and what an artist sacrifices in the wake of ambition. This novel is sweeping, cinematic, and unforgettable.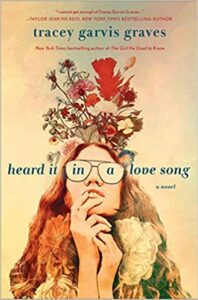 Tracey Garvis Graves, Heard it in a Love Song
(St. Martin's Press)
If you want to keep your musical reads going into fall, plan to pick up Heard It in a Love Song on November 2nd. Sharing a title with a song from The Marshall Tucker Band, this novel follows lead singer turned elementary school music teacher Layla as she navigates love post-divorce in a landscape that has changed drastically over the course of her ten-year marriage. Tracey Garvis Graves is a master at writing characters who pull you in from the first page, and I expect this to be the kind of book that hijacks an entire Sunday in the best possible way.
__________________________________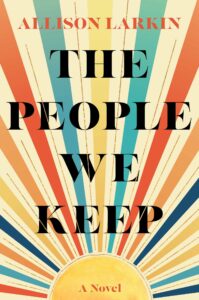 The People We Keep by Allison Larkin is available now from Gallery Books.
---