Zakiya Dalila Harris on the Writing Soundtracks that Work
"A dance break never hurt anybody."
The following first appeared in Lit Hub's The Craft of Writing newsletter—sign up here.
*
A few weeks ago, I found myself on a late-night train returning home to New York City. I was groggy, grumpy, and tired—so tired that the mere act of staring out the window felt like work.
Of course, that wasn't my only entertainment option. A pen and paper sat in the bottom of my bag, as they often do. It's just that I wanted nothing to do with either.
Not until the opening notes of Céline Dion's "The Power of Love" started to trickle through my earbuds.
What is it, exactly, that music does to our brains? I won't pretend to know; I switched my major from psych to English lit the second I realized how much science is involved. But I do know what music does to your soul. Music manipulates, shapeshifts. It can creep in and dip out without seeming to leave a trace until it returns days or decades later. Or it can stay long enough to marinate you, change you. The most powerful music can influence the way you speak, the way you think. Even the way you write.
Music is a reminder that sometimes it's better to put down that project and just be.
During my aforementioned never-ending train ride, "The Power of Love" brought me back to the '90s. To being a kid riding in the backseat of my mom's Volvo; to a time when Céline Dion was all over the airwaves—which, back then, seemed to be always. To feeling warm, safe, and loved.
So rather than continue to stare grumpily out the window, dreaming of a hot shower and a soft bed, I reached for my notebook. I had more in me than I'd previously thought. Grumpiness gone, I picked up my pen, and I began to write.
*
I love chatting with other authors about craft—asking if they're plotters or pantsers, or if they write by hand versus on a computer. Usually, these questions garner long, fascinating explanations as to why a writer chooses the methods they choose.
But the question of whether or not they listen to music while writing never goes quite the same way. More often than not, it's answered with an unequivocal, "No, I can't. Do you?"
I tell them that I do. That I even write to music with words.
The response? Genuine surprise. "But how do you concentrate?!"
It's a good question. To be fair, listening to music can be distracting. Do I occasionally feel the urge to sing along? Yes—especially if I'm home, where no one can hear me. Do I feel a desire to sometimes go down a rabbit hole of music knowledge, sinking deeper and deeper into an artist's discography before I realize that ten minutes have passed and zero words have been written? Oh yes.
Still, of all the distractions that exist in today's world (Twitter, Instagram, the news, Twitter, Instagram, Twitter), I find music the most freeing, tied only with a glass of whiskey, neat. Because in my opinion, both have the potential to unlock something wonderfully creative that might have previously felt inaccessible.
Another similarity between these two "distractions," though, is that both require a decent amount of moderation, and a ton of self-awareness. Personally, my own writing soundtrack usually hinges upon my answers to the following:
What am I working on, and how do I feel about it today?
Am I excited about this project yet, or am I still finding my footing?
And perhaps the biggest factor: How much time do I have to complete this?
My music selection also hinges upon my willingness to acknowledge my own musical Kryptonite. Lots of genres fall into this category, but my biggest is 1980s to early-2000s R&B. So, no Beyoncé or Janet Jackson unless I am either considerably close to completing a project, or okay with a lower productivity work session.
I know—it saddens me, too. But I find that waiting to indulge in these treasures means far less stressing and cramming later on down the line. Besides, there are so many other musical gems that will keep me far more focused, which is a must when I'm in the early stages of working on something. In these moments, I'll opt for laidback albums that I know like the back of my hand, like Van Morrison's Astral Weeks or SZA's Ctrl. Knowing every song that's going to play puts me in a cozy kind of headspace, where the music drifts into the background, and my subconscious is in trustworthy hands. I absolutely need this, particularly when I'm laying the groundwork for an essay.
If I'm deep into a project, I'll play something jazzy that has little to no lyrics. I can't (and I shouldn't) sing along to Nancy Wilson or Nina Simone. But I can feel their energy. I'm as fueled by what jazz greats of the past can do with their instruments as I am by what writers can do with their words.
When I really need help sticking to a task, though, I'll cut the internet cord altogether and reach for the turntable instead. Putting on a record precludes my ability to easily switch the song or queue up another. I have no choice but to stay put in my word document, or—if I'm writing by hand, which is often the case—my notebook. In these instances, I challenge myself to sit in my chair and do nothing but write until it's time to flip the album over. No email-checking. No text-messaging. No scrolling. Just me, the music, and the page.
I'm only human, though. I might have discovered ways to wield music as a tool for productivity, but there are days when the outside world screams louder than the one within. That's when I'll temporarily throw productivity to the wind and blast a banger like Control by Janet Jackson. Because music, like literature, can be reaffirming. It can remind us how lovely and scary and messy it is to be alive, and how vital it is to document all of these feelings while we still can.
Perhaps most importantly, though: Music is a reminder that sometimes it's better to put down that project and just be. A dance break never hurt anybody. In fact, it could do us all a world of good.
__________________________________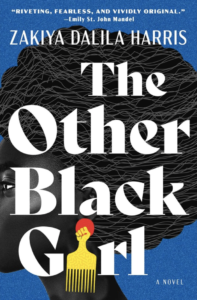 The Other Black Girl by Zakiya Dalila Harris is available via Atria Books.
---