"With Laughing Cheer, As Is Her Custom." On the Laughing Queens of Early Modern Europe
Joy Wiltenburg Considers the Power of Laughter In Female Rulers
Popular wisdom has it that women of the past were sadly downtrodden. Even at the highest social ranks, they were traded around like property. Everyone knows that a female ruler was considered a disaster. Look at the lengths Henry VIII went to avoid one! He ran through six wives and overturned England's religious establishment, all with the one goal of a male heir.
Female rulers themselves, if they did accidentally wind up on a throne, were sadly beset, enduring works like John Knox's First Blast of the Trumpet Against the Monstrous Regiment of Women. Knox, a Scottish Protestant, aimed to attack the Catholic Queen Mary of England with all the reasons why female rule was an abomination to both God and man. (He never did get to a second blast of his trumpet; he was too busy making excuses to the new Protestant queen, Elizabeth.)
And yet, a closer look shows that we are too quick to assume historical female helplessness. Take the sorry fates of all those poor princesses as pawns in the marriage market: The fact is that the males of Europe's ruling houses did not have a whole lot of free choice, either. Rulers married off their sons as well as their daughters for political purposes. The ties of blood and dynasty were so strong that rulership frequently fell into the hands of women, even though men tended to hate the idea. A snapshot in 1560, for example, finds women wielding royal power (either in their own right or as regents) at a broad range of European courts: England, France, Scotland, Portugal, and Navarre.
I doubt that anyone nowadays will be surprised that these female rulers were often extremely effective at their jobs. But it may be a surprise to find them laughing about it.
In response to her bewildering laughter, the Spanish diplomat Guzman de Silva threw up his hands: "She is very strange . . . . I have little confidence in her unless God himself does it all."
Take Queen Elizabeth. She laughed a lot, and not only at the court entertainments she sponsored. Her laughter, in fact, served her political purposes. She was under a tremendous amount of pressure to marry and save England from that terrible fate of a female ruler—a pressure that continued well into her reign. She famously resisted it and remained the "Virgin Queen," partly by laughing it off.
Courtiers and diplomats were continually frustrated at her humorous deflection of their proposals. It was impossible to pin her down. Even when they thought she might be in earnest, perhaps she was only playing. Her comic treatment of the subject was wide-ranging and unpredictable. She joked about marrying the son of the Great Turk, Suleiman the Magnificent—a crazy mismatch for a Christian queen in that era. She even joked about marrying the Pope!
The courtiers had to laugh, in spite of themselves—after all, these ideas were pretty funny. In response to her bewildering laughter, the Spanish diplomat Guzman de Silva threw up his hands: "She is very strange . . . . I have little confidence in her unless God himself does it all." The men were powerless to impose seriousness.
Another laughing lady is less well-known: Margaret of Austria, daughter of the Habsburg Emperor Maximilian and ruler of the Netherlands for over two decades in the early 16th century. Historians of that era have long recognized her political skill, even praising her "masculine temper and intrepidity." She might have laughed at the irony—because she thought women were better able to promote peace and the public good, while male rulers were too obsessed with their masculine honor. One of her notable initiatives was the "Ladies' Peace" of 1529, which she negotiated with another royal dame, Louise of Savoy, putting a very temporary stop to the chronic hostilities between France and the Holy Roman Empire.
Tradition has painted Margaret as brilliant but sad; early in life she faced the deaths of a beloved brother and two husbands, after which she never remarried. An admiring historian wrote that these losses "cast an ineffaceable tinge of melancholy on the character of this superior woman."
Why did the ruling ladies laugh? Of course, like everyone, they enjoyed it.
But the image of her as a perennial "Lady of Mourning" has more to do with gender stereotypes than reality. In fact, Margaret was regularly laughing and joking. The English envoy wrote of how she spoke to him "with laughing cheer, as is her custom." She was a ready jester, including about touchy subjects.
To a quip about her relations with the King of France—whose predecessor had jilted her to make a political marriage elsewhere—she "laughed heartily, after her accustomed manner, and told a merry tale." In her funny story of a young prince who marries an old shrew, she played with the anti-female clichés of the shrew and the old woman by jokingly casting herself in those roles. Instead of the chagrin one might expect, she went for a laugh.
Why did the ruling ladies laugh? Of course, like everyone, they enjoyed it. For us moderns, it's well worth recognizing the fun they could have in their challenging position, in spite of all the misogyny around them. Beyond this, humor and laughter enabled them to shape the political atmosphere according to their own designs. Royal laughter was a well-known resource of medieval kings, used by rulers from Henry II of England to Frederick Barbarossa of Germany.
For ruling women, royal laughter had an extra edge: women were not only the weaker sex, but also the frivolous and supposedly incapable sex. The laughter of women like Elizabeth and Margaret played with those gender stereotypes, projecting an aura of confidence and disarming those around them while emphasizing their royal authority. The women knew how to be serious as well, of course, and how to choose their mode. Instead of blasting a trumpet, they could just laugh.
____________________________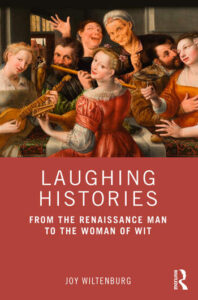 Joy Wiltenburg's Laughing Histories: From the Renaissance Man to the Woman of Wit is out now from Routledge.
---