Why the Line Between Fact and Fiction is Even Blurrier Online
"The Internet Offers a Secret Life to Everybody"
When you write novels, you take from the world what you must, and give back what you can, and you take it for granted that the imagination is sovereign. But what happens when you are writing a reported story?
Isn't it dictated by matters of fact and therefore outside the imagination? My proposition is that the separation won't hold, especially not in the world now. When I'm reporting I feel less like a news gatherer and more like an actuality seeker, someone for whom the techniques of fiction are never foreign and seldom inappropriate. The people I write about tend to inhabit a reality that they make for themselves or that in other ways consorts with fiction, and one is required to enter their ether and dance with their shades in order to find the story. When I was a young reader, I learned from the poets not to trust reality—"reality is a cliché from which we escape by metaphor," Wallace Stevens wrote—and the subjects of my non fiction, each of whom is real or began real, depend for their existence and their power in the world on a high degree of artificiality.
It is the habit of the times to organize the ironies embedded in this state of affairs and call it culture. (Just look at reality TV.) And the creative writer, given what I've said about metaphor, may have a head start when it comes to investigating that culture—which is why we would do well, now and then, to open the notepad and turn on the recording device. Asked which of the arts was closest to writing, Norman Mailer once told me the answer was "acting." He talked about an essential loss of ego, a circumstance that most people wouldn't associate with him. But the principle will be familiar to writers of fiction and non fiction who are always on the lookout for a second life, believing it must be a writer's business to invest freely in self-transcendence. I believe that is what F. Scott Fitzgerald meant when he said there can be no reliable biography of a writer, because a writer "is too many people if he's any good."
We were addicted to the ailments of the Web long before we understood how the technology would change our lives. In a sense it gave the tools of fiction-making to everybody equally, so long as they had access to a computer and a willingness to swim into the Internet's deep well of otherness. J. G. Ballard predicted that the writer would no longer have a role in society—he would soon become superfluous, like those characters in 19th-century Russian novels. "Given that external reality is a fiction," Ballard wrote, "he does not need to invent the fiction because it is already there." Every day on the Web you see his point being made; it is a marketplace of selfhood. With e-mail, everyone can communicate both instantly and invisibly, as either themselves or someone else. There are 67 million "invented" names on Facebook, many of them clearly living another life, less ordinary, or at any rate less checkable. Nobody knows who they really are. Encryption has made the average user a ghost—an alias, a simulacrum, a reflection. In this climate, only our buying power makes us real, and what self we have is open to offers of improvement—new eye color, better insurance, slimmer body—from marketing firms and mobile-phone companies before they hand our data to governments, who aim to make us visible again in the interests of national security.
"On every bright acre of the Web, your personal data is harvested to furnish a neural network, a global mind, and your reward is to feel you contain multitudes."
In W. H. Auden's "The Age of Anxiety," we meet Quant, a man who sees his own reflection in the mirror of a New York bar, surrounded by a "facetious culture," by which he means a factitious one. It seemed to Auden an aspect of modern life that a man might see no correspondence between his social or economic position and his private mental life. Quant speaks to himself in the mirror. "My double, my dear image," he says. "Is it lively there" in "that land of glass?" "Does your self like mine / Taste of untruth?" I think of Auden's poem when I consider the two generations who have now spent their time looking at the glass of their computer screens. What have we been looking for? Is it lively there? And have we grown addicted to the taste of untruth? The Internet offers a secret life to everybody. On every bright acre of the Web, your personal data is harvested to furnish a neural network, a global mind, and your reward is to feel you contain multitudes.
In 1964, 13 years before Apple sold its first home computer, Joseph Mitchell opened a profile in The New Yorker with the following sentence: "Joe Gould was an odd and penniless and unemployable little man who came to the city in 1916 and ducked and dodged and held on as hard as he could for over 35 years." Mitchell had written about Gould in the magazine 22 years before, but his new profile, "Joe Gould's Secret," summoned the cloud of uncertainty surrounding the man's great masterwork, "The Oral History of Our Time," which Gould claimed to have spent several decades working on. Joseph Mitchell reported that Gould had never really started the book and it was all just blank pages. Yet, more recently, the writer Jill Lepore unearthed material from "The Oral History," and she demonstrates that "Joe Gould's Secret" has fictional elements. "Two writers guard an archive," Lepore says. "One writes Fiction; the other writes Fact. To get past them, you have to figure out which is which. Mitchell said that Gould made things up. But Gould said that Mitchell did." What we know for sure is that Joseph Mitchell had a secret of his own: he had never written a word of the Joycean novel about New York that he said he would write. He lived for more than 30 years after his second Joe Gould piece came out, but never published another word.
The conversation between a writer and his subjects is often, as Wordsworth said, too deep for tears, and it can involve finding sentences for realities and correspondences that are invisible to the naked eye. Such difficulties have always interested me. Moreover, I have come to feel that literature, formerly the main arena of double lives, now takes second place to the Web, where nobody today can be simply one thing.
__________________________________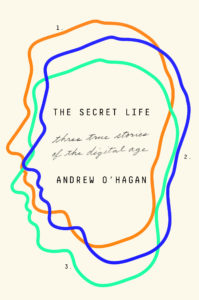 Adapted from the introduction to THE SECRET LIFE: Three True Stories of The Digital Age by Andrew O'Hagan, published by Farrar, Straus and Giroux. Copyright © 2017 by Andrew O'Hagan. All rights reserved.
---