What the "Traditional Conception" of Physics Fails to Account For
Chiara Marletto on the World-Opening Potential of Counterfactuals
There are phenomena that cannot be fully expressed by the traditional conception. By this I mean that physical theories and explanations about those phenomena can take only approximate, non-exact forms when expressed using the traditional conception's approach. So, by restricting oneself to that approach, one cannot adequately explain them within science.
One important example of things the traditional conception cannot adequately capture includes thermodynamic entities such as those associated to particular kinds of energy transfers—in physics, they are called "work" and "heat." The laws stating how work can be turned into heat, and vice versa, are central to things like heat engines, which made possible the industrial revolution. Yet thermodynamics is often regarded as only a useful approximation, not a fundamental physical theory; so heat and work are regarded as not worthy of further explanation, because an exact physical theory about them cannot be cast in terms of statements about what happens, given initial conditions and laws of motion.
The traditional conception has thus given up on an exact understanding of work and heat and similar entities, and claims to be content with the existing, problematic, approximate theories. These theories, as you will see, are highly effective, but only in certain limited domains (e.g., to design heat engines such as those used in cars and locomotives); however, they appear to rely on various approximations which, when we consider these laws as fundamental, become inadequate.
More generally, any phenomenon or entity that happens not to fit in an exact physical theory expressed by stating what happens given dynamical laws and initial conditions is considered by the traditional conception as an accessory phenomenon. Philosophers of science call these entities "emergent" because they emerge as meaningful entities only at a certain level of explanation, which the traditional conception regards as non-fundamental. Even though our current understanding of them is not exact and poses problems, the traditional conception urges us to press on, declaring those entities as not really of interest to fundamental physics.
The problem with this take is that all levels of explanations are necessary to grasp a given situation (remember the example with computation and factoring): levels of explanation work together like layers in a cake. It is impossible to get the cake's full flavor by ignoring the top layers and just sticking to the base. In this book you will be able to grasp the flavor of the full cake, by being introduced to counterfactuals.
It is about what could be made to happen to the white paper. It is a counterfactual property: it is about what could be, rather than what is.
To understand what exactly physics and science are missing by relying solely on the traditional conceptions, let's take a look at a simple example of some property that cannot be adequately captured by the traditional conception. To this end, I can evoke an imaginary masterly storyteller. As well as being dedicated to his craft, he is generous and enjoys featuring in stories that other authors write. For the sake of argument, suppose he was the best storyteller ever and was fond of writing novels by hand—say, with a green ballpoint pen. As a prolific writer, he likes always to have some blank paper at hand for when inspiration strikes, and he keeps, in a particular secret drawer of his desk, an emergency supply of blank sheets—a thick pile of them.
Now, it may be the case that over the course of his whole career that special stash of paper is never used. In this case, the sheets will stay blank: this fact is something the traditional conception of physics could, in principle, predict, given the initial conditions of the universe and the laws of motion. However, the most important property of that paper is not that it will stay blank: rather, it is that something could be written on it. This property is the most important because it explains why the paper is kept there in the drawer, and why it is blank. Yet the traditional conception of physics cannot express it. That property is about what could be made to happen to the white paper. It is a counterfactual property: as I said earlier, it is about what could be, rather than what is.
The traditional conception of physics cannot possibly capture counterfactual properties, because it insists on expressing everything in terms of predictions about what happens in the universe given the initial conditions and the laws of motion only—in terms of trajectories of apples or electrons, forgetting the other levels of explanation. But these other levels of explanation are essential sometimes to grasp the whole of physical reality. Neglecting them misses out on several aspects that are significant for a full understanding of what's going on.
Consider, as another example, a simple story: one that could be told from generation to generation by oral tradition, without having to be written down. An ancient Greek myth will do. The story goes that Theseus, son of Aegeus, king of Athens, went to Crete to kill the Minotaur. Theseus made an agreement with his aged father that if he defeated the Minotaur, on their return his crew would raise white sails on the ship; if he perished, they would raise black sails. So off went Theseus, and he defeated the Minotaur. But on his way back, distracted by all sorts of things (including, possibly, the presence of his fiancée, Ariadne, on the ship!), he forgot to tell the crew about the sails. The crew left the black sails on, and Aegeus, who from the highest tower of Athens could see the ship approaching, thought his son was dead. So he threw himself into the sea and drowned. This tragic story is why the sea is now called the Aegean.
Now suppose we asked our master storyteller to tell that story with the constraint that he can formulate statements only about what happens—that is, he must report the full story without ever referring to counterfactual properties. In particular, he cannot refer to properties that have to do with what could or could not be done to physical systems.
This task turns out to be impossible: for the story to make sense, and to convey fully its meaning, two attributes of the ship are essential: one, that it can be used to send a signal, by assuming one of two states—white sail showing or black sail showing; the other, that the state of having black or white sails can be copied onto other physical systems—such as Aegeus's eyes and brain. The copiability property tells us that the flag contains information (just as in the case of replicators).
These two properties, just like the property of blank paper, are counterfactual. So, that myth could not be told, conveying its full meaning, under the constraint that one should refer only to what happens. Not even by the best storyteller ever!
__________________________________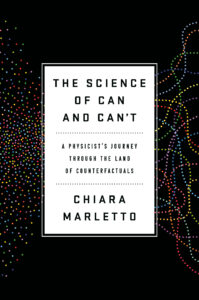 From The Science of Can and Can't by Chiara Marletto, published by Viking, an imprint of Penguin Publishing Group, a division of Penguin Random House, LLC. Copyright © 2021 by Chiara Marletto.
---