WATCH: Kima Jones Reads James Cagney's Poem "Identity to Burn"
"Poetry is the most honest way for me to express my gratitude to the literary community."
Featured photo of Kima Jones by Rohan DaCosta.
This year, on September 19, 2021, I turned 39 years old. This decade is marked by all I've built through Jack Jones Literary Arts, and, at the center of my building, is my love for black poetry because, after all, it is the thing that keeps me here, on this plane, helping me to find meaning in my large and small moments: arresting, transformative, necessary, and beautiful. Because I know poetry that is completely round and balanced in its existence, because I know poems that have become shoes for me and carried me as I went about building a life for myself, I see the poems I love everywhere and use them as sight to guide my choices.
When my friends at Nomadic Press first sent their book bundle, my schedule didn't allow me to start any of the titles right away. At the urging of J.K. Fowler, Nomadic's publisher, I made room and time to start James Cagney's Black Steel Magnolias in the Hour of Chaos Theory. I read the first poem and then shut the book. I read the second poem, screamed, and shut the book again. I stayed up all night reading and rereading the book and then I got J.K. Fowler on the phone the next morning to let him know that he was right.
In thinking about the ways to celebrate myself and this decade, I knew that poetry would be the most honest way for me to express my gratitude to the literary community that has sustained me and allowed for my work to grow sprawling in all the ways that it has.
And because it is my birthday, I want to share the feeling that I felt with all of you, hoping that maybe we can get together to talk about the intensity we feel when we read James Cagney. I chose to start my 39th year at the Botanical Garden, in the native gardens, with my sister and her children. Here, exclusively for Literary Hub, is James Cagney's "Identity to Burn" alongside an interview with him, my gift to myself and to all of you.
Kima Jones: Talk more about Black Steel Magnolias in the Hour of Chaos Theory. What is the significance of the title and can you talk about your inspiration and drive for writing the book?
James Cagney: The title is me. I tell people it's an extra poem. It's that, but it's also my sense of humor, my fancy signature. It was a language doodle in my notes that I wanted to use one day. I put it in the manuscript because quite frankly, I would pick up a book with that title. There were more logical, simpler titles. I went back and forth over it but I finally thought, It's my first book, it might be my only book—I'm cashing out this title right now.
KJ: What is the experience of publishing your debut at this time in the world? A pandemic, mass evictions… it feels so bleak but at the same time very helpful. Do you have more thoughts around how writing has helped you to better cope with all that's going on?
JC: Writing has always stabilized me through some monstrously difficult times. Writing is both a kind of meditation and dialogue and it's always been a vehicle for me to relieve something or work something out. When I didn't have anyone to vent to, I could write. And the action of journaling was healing to me. A way of grounding something out of myself. Things do feel heavy and bleak right now. All I would tell people is be an active witness in your life and work. Document what's happening in your life and your heart. If we manage to find a way to thrive in another hundred years or so, people might want to know what happened to us at this time, what we were doing, how we survived.
KJ: You're a black Oakland poet, signed to an independent black press that's based in Oakland. I'd love to hear more about your relationship to your city and the ways it shows up in the book.
JC: I owe everything I am to Oakland. The textures in my poems come from life in Oakland. The poetry community in the Bay has birthed and sustained me since day one. For a long time I was happy just to be with my poetry family and occasionally selling chapbooks for burrito money. I was thrilled when Nomadic Press announced itself and its intention as a publisher. Over the years many writers I knew chased publishing opportunities elsewhere. Truthfully, I'm glad I was able to take this journey with them. They're all about community love.
KJ: More than anything else, what do you want readers to walk away from the book feeling?
JC: I don't know. People bring different perspectives and readings of the book back to me that I hadn't thought of. That's incredibly valuable to me. I try really hard to make the poem stand up on its own, by practicing and re-writing it. When I can develop it no further, the poem lives or dies on its own.  It's either funny or sad or thoughtful or pretty or it's not. I hope readers enjoy the work, enjoy the poems. But when they close the book and look up at me, I would just listen.
KJ: What is one of your hopes for the future of literature?
JC: That people keep experimenting and pushing language and storytelling forward in different ways. My hope is that people keep trying new and different things. More than anything, I hope people keep writing the truth.
*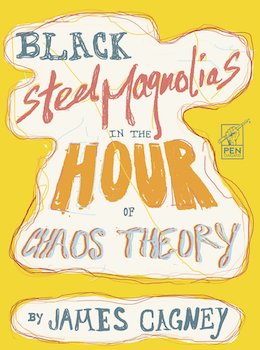 Nomadic Press knits community relationships through publishing intentional books and hosting events across the US and beyond with a particular focus on the hyperlocal. Headquartered in Oakland, California, Nomadic Press weaves together platforms for intentionally marginalized voices to take their rightful place within the world of the written and spoken word and builds alliances and community partnerships with others who share a collective vision for a future far better than today.
---