The Tournament of Literary Sex Writing: And the Winner Is…
James Baldwin vs. Jeanette Winterson: Our Esteemed Judges Declare a Victor!
After a grueling week of euphemizing, trash-talking, biologizing, and sexytime literary word-making, The Tournament of Literary Sex Writing is ready to declare a winner. But first, a recap.
Round one (aka The Sexy Sixteen) saw tight match-ups between the likes of Kate Chopin and Gustave Flaubert (Roxane Gay declared Chopin the winner, saying: She is a bit circuitous in this scene but she does acknowledge the physical reality of what is happening, LIKE A LADY!), Jean Genet and Henry Miller (Candace Bushnell chose Genet noting that his pet names for the penis are priceless.), and Kathy Acker vs. Dennis Cooper (Naomi Jackson went with Acker, praising the blend of blasphemy, intimacy, and a dash of childhood trauma.)
With the help of our other wonderful judges—Garth Greenwell, Eileen Myles, Molly Crabapple, Alexander Chee, and Sarah Nicole Prickett—the second round (aka The Erotic Eight) took shape. Though competitive, the early tournament favorites rose to the top, yielding a Final Four of *ucking that many might have predicted:
Philip Roth vs. Jeanette Winterson · D.H. Lawrence vs. James Baldwin 
To help us determine the championship final we enlisted the wit and wisdom of literary greats John Ashbery and Walter Mosley. Responding almost immediately, Mr. Mosley displayed little hesitation in choosing the salty, luminous prose of Jeanette Winterson. Taking a more circumspect approach, Mr. Ashbery opted for Baldwin's wonderful evocation of sex in all its human uncertainty, tenderness, and heat.
THE CHAMPIONSHIP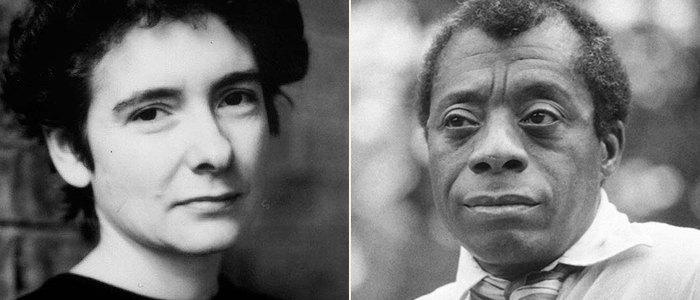 JEANETTE WINTERSON VS. JAMES BALDWIN
With the final set, we asked all eight judges from the first round to weigh in, using their own criteria for "literary sex writing" to vote on a winner from the two passages below.
Written on the Body, Jeanette Winterson (1993)
She arches her body like a cat on a stretch. She nuzzles her cunt into my face like a filly at the gate. She smells of the sea. She smells of rockpools when I was a child. She keeps a starfish in there. I crouch down to taste the salt, to run my fingers around the rim. She opens and shuts like a sea anemone. She's refilled each day with fresh tides of longing.
Giovanni's Room, James Baldwin
He looked at me with his mouth open and his dark eyes very big. It was as though he had just discovered that I was an expert on bedbugs. I laughed and grabbed his head as I had done God knows how many times before, when I was playing with him or when he had annoyed me. But this time when I touched him something happened in him and in me which made this touch different from any touch either of us had ever known. And he did not resist, as he usually did, but lay where I had pulled him, against my chest. And I realized that my heart was beating in an awful way and that Joey was trembling against me and the light in the room was very bright and hot. I started to move and to make some kind of joke but Joey mumbled something and I put my head down to hear. Joey raised his head as I lowered mine and we kissed, as it were, by accident. Then, for the first time in my life, I was really aware of another person's body, of another person's smell. We had our arms around each other. It was like holding in my hand some rare, exhausted, nearly doomed bird which I had miraculously happened to find. I was very frightened; I am sure he was frightened too, and we shut our eyes. To remember it so clearly, so painfully tonight tells me that I have never for an instant truly forgotten it. I feel in myself now a faint, a dreadful stirring of what so overwhelmingly stirred in me then, great thirsty heat, and trembling, and tenderness so painful I thought my heart would burst. But out of this astounding, intolerable pain came joy; we gave each other joy that night. It seemed, then, that a lifetime would not be long enough for me to act with Joey the act of love.
ALMOST UNANIMOUSLY, THE JUDGES CHOSE…
JAMES BALDWIN!
---