The Poison of the Bees by Isabel Fargo Cole
At the Festival Neue Literatur, a Crash Course in Contemporary German Literature
This year's Festival Neue Literatur runs from November 11th to 14th. To reserve your seat, click here. The following excerpt was translated by the author.
__________________________________________
Meanwhile the semester had started. The vaulted corridors resounded; I stood in line, sat on the floor of packed lecture halls, vanished in the crowd. The main campus on Unter den Linden was as intimidating as a ministry. But who or what presided here? The Brothers Grimm or Humboldt, or Karl Marx, whose words gleamed in gold on the foyer's grand staircase?
The philosophers have only interpreted the world in various ways; the point, however, is to change it.
No one would tell me how the system worked, what courses were required or how to earn credits. Now that I wanted Prussian discipline, it was nowhere to be seen. The students disappointed me. In class they were passive, guarded, taking notes but holding back. In the seminar on Berlin Alexanderplatz no one bothered to read the book, so I tossed it aside half-finished. Back home the prof would have kicked us out! I thought. I couldn't find an opening for my theories on utopia. Everyone seemed preoccupied with other things entirely. Cafeteria gossip—indignant or gleeful—about professors who'd been fired, demoted, replaced by West Germans. A general sense of upheaval. When class was over all the others hurried off as if they had places to go—real apartments, real jobs, or the train station for a quick trip to the seaside. I wished I could follow, find out what their real lives were.
I never would have thought I'd end up following Meta. On Tuesdays and Thursdays, before our seminar on Berlin's Jewish Intellectual History, I'd see her sitting with the Goths under the chestnut trees in the courtyard. She was the only one who didn't look like a child playing dress-up. Her black clothes were well cut and she had no piercings whatsoever. I liked that—I was too much of a coward to get any myself. Her long hair, dyed black, made her seem even paler and thinner than she was, and a good deal younger than me. She radiated energy, her sweeping gestures seemed to hurl it out over the others. The first time I saw her sitting there, I stopped a safe distance away, as though the group, under her spell, were about to launch on some adventure, even whirl off into the sky. But a moment later they scattered like billiard balls struck by the cue ball, Meta, who glided ahead of me into the classroom.
In our seminar she offered ideas on everything, impetuous questions that left everyone stumped. It got on their nerves: She likes hearing herself talk. But I felt that Meta wanted them to talk just as heatedly—then someone at least might make the breakthrough we needed. But no one accepted her challenge; her enthusiasm embarrassed them. They snubbed her like a gifted child. She'd swallow the disappointment and stride off afterwards with her anklets jangling. When I finally got up the nerve to disagree with her in class, she grinned at me.
She volunteered for the oral report on Jewish mysticism, I followed suit, and the professor let us prepare it together.
"Do you have the Kabbalah, by any chance?" she asked me. I wasn't even sure quite what the Kabbalah was. I couldn't ask Ethan; I still owed him an e-mail. "I bet my neighbor has it. Are you free now, want to come along? It's right nearby."
This was the way I walked home from Mitte to Prenzlauer Berg, along the elevated tracks, across Museum Island and Hackescher Markt, with its faded mural for socialism's defunct Museum of German History: a woodcut peasant from the Peasants' War, waving a flag that said Freedom. Whenever I saw him, I wanted to follow him into battle.
"To be honest," Meta said, "I don't have much use for religion. My mother always dragged me to church, and I hated it. Oh, sorry, you're an Ami, aren't you? You're all so…"
"I was raised as an atheist. I'm from New York. When I was a kid I was afraid to go into churches. My parents like churches for the architecture. But I always felt like we couldn't go in. Because people in church think atheists go to hell. I thought we'd go to hell if we went inside a church. But I like going in churches now, and maybe that's why."
"In East Germany we had it the other way around. If you went to church, you went to socialist hell."
She asked how long I'd been here, how old I was, what my plans were. As for her: since 1988; twenty-eight; wanted to do something with art, was looking for inspiration. "This summer I'm going to Israel for six months, one of those things that just came up, totally by chance. I've never taken that long a trip, I've never been on a plane, I've never thought about Judaism, it's a whole new world for me, and now the mysticism, art as golem, there's an idea—or spirits, ghosts, death could be the medium…." What does she know about death? I wondered. "…The material is the artist's medium, but the artist is the 'medium' of the material…"
Twenty-eight, she was twenty-eight already. The age I'd be at the turn of the millennium. So would I still be young then, as young as she seemed? Her grey-blue eyes protruded, as though they'd outgrown her face. She had a little girl's skin, every shadow like a bruise. But her hands were rawboned, chapped and red, as if she knew what real work was.
I knew this empty lot along Rosenthaler Strasse, I knew the row of grey buildings behind it, where one stood out, butter-yellow. When you walked on, the yellow house would slip behind a derelict back building where a footpath led, winding through the weeds. Now I followed Meta along the footpath. The yellow house loomed immaculate and glowing like a computer simulation. Its terracotta patio jutted into the wasteland. Just off the patio, in the tall grass in front of the back building, stood chairs and a table: cups with coffee dregs, the wooden cutting boards Germans eat their breakfast from, half a loaf of bread. The door to the ruin was open.
"Is it really okay to go in?" I asked.
"All property belongs to the people," said Meta. "Besides, I live here."
It looked just like my favorite bar: worn floorboards, tattered Turkish carpets, wallpaper hanging in shreds, family photos bought at a flea market, treadle sewing machines for tables, a tile heating stove like an ornate white skyscraper. Behind a massive wood counter, mirrors and bottles caught the light.
The yellow house and the back building had stood vacant for years; the squatters moved in shortly before the Berlin Wall fell, Meta told me after making espresso and taking it back outside. She'd moved her jewelry workshop into the ground floor of the ramshackle back building, where none of the other squatters ever stayed for long. The yellow house had just been renovated, but the back building, its ownership unclear, had been spared. During the year-long renovation the former squatters, housed elsewhere in the meantime, congregated in Meta's salon, watching the façade of the front building be replastered and painted yellow. The tile stoves were torn out and the tiny flats merged to make larger ones. In January they'd all moved back in with socially subsidized leases. They'd gotten soft—they'd never dream of squatting the back building now. Meta was left holding down the fort with her salon. No, it wasn't what it used to be, but anyway it was a real community. When people wanted a drink, they came to her, when they wanted a book, they went to the Wolf. Well, she'd just run up and ask him about the Kabbalah and so on—and she vanished into the yellow house.
She was gone for a good fifteen minutes, waving at me once from the second floor, where strange music came faintly out the window. Were there people besides me who listened to Gesualdo? Swallows wheeled over the wasteland, and the smell of lilacs, the sound of hammering and sawing drifted up from the horizon. The squatters had been… what was the opposite of expropriated? With their communal breakfasts they'd earned the right to the house. This was utopia, small and habitable. A door slammed, steps clattered, Meta appeared with a book and a power drill.
"I always thought the Kabbalah was a book. But actually it's lots of books. Wolfgang only has The Book of Splendor. Why don't you take it? I can't read it this weekend anyway. Be sure not to bend the spine. Okay, I have to kick you out now."
I gave her my phone number, and she gave me Wolfgang's, because she didn't have a phone. At her front door she hugged me goodbye. That was a thing the Germans did, just a gesture, I'd always thought, like a handshake. But her hug seemed to snatch me up, whirl me around and set me down somewhere else entirely. I walked out through the stairwell of the yellow house and around the corner to the streetcar stop where I'd waited many times before. But this time I was sober.
The telephone rang as I unlocked the door to my apartment share.
"I always think of things too late. Want to come camping with us? Tomorrow night at 11 at my place. Do you have the address? C…strasse 24."
The name of the street doesn't matter. You could say it no longer exists, you could say it never existed at all.
*
I was so excited, I could hardly sleep. But when I woke up, exhausted, the invitation seemed like an onerous duty. I took the streetcar to Mitte that night, but with a hankering, the strongest in a long time, for my Mitte, for wine, for a walk in the rain, for the streetcar ride home and the return to my desk. When I got out, the rain was coming down hard. The front door of the yellow house stood ajar in the draft. If it hadn't been open, I would have gone on walking. I was supposed to ring Wolfgang's doorbell, and I'd never met him before.
This is what secret Spartakist meetings in the 1920s must have looked like, I thought as I peered through the salon window: candlelight, Meta in a leather jacket gesticulating to a shadowy group. She poured me a tea. Did I have a sleeping bag? I was completely unprepared.
A mutter from the corner, a dialect I'd never heard: "She can take mine, I'm not coming anyway." That was the Wolf. They were trying to talk him into coming, but he was putting up a fight—all this fuss for one night's camping, it was raining, and he wanted to go to the flea market tomorrow. He ducked his grizzled head warily.
We set out just before midnight to catch the first train with the special weekend fares, and by then the sky was clear: it would be the first fine spring weekend. Wolfgang, still undecided, walked with us to Alexanderplatz, and then didn't feel like walking home alone. So he came after all. On the train, I asked Meta where we were going. I didn't understand the answer.
"Poland," she explained. By sheer chance I had my passport on me. Wolfgang insisted that if we were going to go to Poland, it had to be—another name I didn't understand—that place where the forest was, he'd seen it on TV, Europe's last primeval forest. Otherwise there was no point in going to Poland.
The others smoked and let him talk. They were endlessly indulgent. They didn't know I hadn't slept, never did sleep, couldn't stand cigarette smoke, wasn't human without coffee in the morning, I was a monster and the problem was mine—no one knew, so maybe it wasn't true. I had the Book of Splendor in my backpack. Meta lay with her head in the lap of the Russian who played the violin in the underpass at the Friedrichstrasse. His name was Volodya, and he'd been the first violinist of the Irkutsk Symphony. I had given him money once.
Wolfgang sat across from me. He had the face of a young man. He opened a tin of herring and handed it to me, and I ate as if I ate herring every day. When they passed around the vodka, I took a swallow and leaned back in the corner. The door between the cars was open, the night wind blew in, the summer with schnapps on its breath.
****
I never slept in the apartment share again. My American roommates gave shrugs of disapproval. He could be a murderer for all you know. Meta helped carry my two bags up the stairs of the yellow house. Had she meant to hook us up? After all, who'd gone on the camping trip? Three couples, two sisters, and us two. And there'd only been the one sleeping bag. But Meta seemed taken aback. Wolfgang was a wonderful person, she said—we were sitting in the back yard, waiting for him to find the bottle of Saxon wine he'd been saving for a special occasion ever since the time of socialism—but he had his little quirks. If I ever felt like climbing the walls, I could always come over to her place. In July she was going to Israel for six months, so as far as she was concerned, I could move into the salon and keep an eye on things. Anyway, she really hoped I'd stay that long.
He was back, grinning crookedly. "Let's drink to that."
The Wolf, short and wiry, with shaggy grey hair, cooped up in a hoarder's home. Profession: private librarian. Employer: Self. Why look for a job? The future is a thing of the past. Anyway—if he could start all over again, he'd want to be a cabinetmaker, work with his hands. No university, no Library Science, no Medieval Studies, no ten semesters without ever making the interim exams. Above all, no buying books: in East-times every West-book, in West-times every East-book that fell into his hands. No stacking books so prodigiously that his rooms turned into landscapes: Wolf Peaks, Wolf Ravines. Instead of bookshelves he would have built a house.
So far he'd "finished" one room, the big one facing the street, had lined its walls with shelves of books two or three deep. No bookstacks on the floor here, just his workbench and tools, and a jumble of furniture that he'd taken apart and put back together differently. All this is yours now—like something in a fairytale. It left me speechless, the chaos, no, the system. Everything had its place: the preserving jars used as bookends, filled to the brim with watch gears and dials, the animal skulls on the windowsills, the cacti potted in antique typewriters. And me. Wolfgang kept the two small rooms in the back: before the remodeling, that had been the whole apartment, with a hotplate for a kitchen and a toilet on the landing, that his ex-girlfriend Claudia had squatted in 1988. He had come from Dresden to join her. Before that he'd never have dreamed of moving into a ruin—if a building wasn't being lived in, he figured the state had to have its reasons. Claudia made him question those reasons. But just a year later she'd left him for a woman.
"Poor Claudia, the woman was just as bad as me. Maybe if we'd had more space… it's important for you to have your own room. I'll move my workshop into the basement. But the books have to stay."
That was fine with me. Five years in dorm rooms and apartment shares with nothing but a computer, a lamp, three posters—and now a mosaic of book spines and pictures, fitted close as if a gap would make everything implode. Like my childhood room in New York. The pictures—Cranach, Schiele, Klee—could have hung in my room. But then there were the photos: the Saxon farmers, the grandfather in uniform who hadn't come home from the war, Wolfgang's fatherless father in the hand-carved wooden shoes of the war's aftermath. And the Wolf, just as black-and-white, a ghost. Like me, he'd been an ugly, sulky child. But his gauche 1970s were already faded.
Scattered among the family photos were snapshots of the squatters and their visitors, with Mohawks or mullets, dark lipstick and kohl around their eyes, fishnet stockings and torn jeans showing bony knees or childishly plump ones, lounging against crumbling walls or in graffiti-covered stairwells, pictures like record covers of underground bands I wished I was cool enough to appreciate.
Now they lived in the two immaculate yellow wings of the renovated building. The stairwell, still smelling of fresh paint, hinged the front building to the right-hand wing that jutted back into the empty lot. On the left, past the patio and the linden tree, the ramshackle back building stood surrounded by tall grass like an otherworldly image of Before. We lived in the front building, below us Dora with her little dressmaking shop; above us Eva and Bruno, unemployed Russian teachers who'd just moved in; and on the top floor the twins Susi and Michi, who studied sociology and biochemistry and went dancing. Next door, in the side wing, was Holger, who sold junk. Downstairs from Holger was the workshop of Bielagk, the frame maker, upstairs was Thorsten, who had studied informatics with Holger, and above Thorsten was his mother Karla, who'd once been an actress and now grew orchids.
As we sat under the linden with the Saxon wine my first evening, they walked past one by one, eying me, and vanished in the back building. Wolfgang and Meta exchanged nods and I followed them into the salon. The babble of voices embraced me like their reminiscences had by the campfire in Poland: Meta's life as a punk, Thorsten's black-market deals with West German records, Eva's and Bruno's hitchhiking trip through Siberia. Well, they said, at least the whole fiasco had given them some good stories. The fiasco—they meant the fall of the Wall, the fiasco they meant was freedom. I'd listened in shock, sitting by the campfire: Was nothing sacred to these people? But Wolfgang had started griping: Just you wait, pretty soon you'll be kowtowing to the System. What does he mean? I'd wondered.
I just wanted to go on listening, but Wolfgang insisted on giving me a proper introduction. He threw me to the lions, and Meta sat by and watched.
"This is Christina. She comes from Ami-land."
So they had my number right away: I was the System.
Ever since seventh grade I'd been saying democracy is the worst form of government except for all the others. I'd never dreamed this cynical attitude could still leave me open to attack. But suddenly I was under fire from all sides. Meta watched, smiling, to see how I'd hold up. The last defenders of the socialist German Republic seemed to be barricaded in this ruin. I had to convince them to surrender, or at least bring them the news that the war had ended years ago. Faced with their fierce resistance, I put up an unconditional defense of democracy. It had triumphed, after all.
But for them the triumph of democracy was the proof of its inferiority. Back then they'd rejected socialism, but they'd changed their minds in the meantime: it had failed like all things too good for this world. And democracy had prevailed like all things cheap and vulgar. Wolfgang, though, allowed that democracy might redeem itself by failing too. Yes, its downfall was imminent, you could almost start feeling nostalgic.
I got up and left so they wouldn't see me crying. Ten minutes later Meta rang the doorbell. They were worried about me. And Wolfgang had turned around and started defending me.
"No I didn't—" he burst in after her, "—all I said was, the Amis will come out on top, just wait and see!"
We drank a round of schnapps that gave me a coughing fit. "Don't worry, you'll get the hang of it," they said, pounding me awkwardly on the back.
*
Wolfgang showed me photos, whole albums and boxes of them, a full briefing on the twenty-nine years of his life. Kindergarten, Young Pioneers, Jugendweihe (a sort of socialist communion), elite high school. And all of a sudden: the Wolf in uniform, under a banner with the word Grenzausbildungsregiment—Border Training Regiment.
"In Berlin?"
"No, on the Green Frontier, in the Harz Mountains."
"I never would have recognized you."
"I gained twenty pounds in the army." He lapsed into a mumble, a barricade of dialect. That was his way of being honest. "I was a nervous wreck, spent all my free time hanging around the kitchen—at least you could eat all you wanted."
In the photo he looked as if he'd burst with zeal. Like a schoolboy called onstage to get a medal, believing for one moment that all the kids who'd always mocked him would suddenly admire him.
The same year he'd been sent to the border, I'd been in Berlin, peering into the windows of the guard towers. What was it I'd needed to know, a few years later, when I tried to write a story about a border guard? For example, how did they choose you for the border? Wolfgang didn't know himself. All he knew was, if he'd refused they wouldn't have let him study—but he'd never even thought of refusing. For him, the Wall was the Anti-Fascist Protective Barrier. The unease set in once he was there, once he met Kuno, who opened his eyes almost wordlessly to the power structures, the empty slogans, coercion for coercion's sake. The senselessness of their mission: if it was true that they were there to block the imperialist NATO invasion, then all they were was cannon fodder—they'd be crushed in an instant. But nothing had ever happened in that year and a half he'd spent at the border—only once at the very end he'd had a… bad moment when everything…got confused, or maybe it was just a funny feeling. Someday he'd try to describe it for me.
In my mind I took down everything he said. But it was as if I couldn't see his face, as if someone on TV were confessing off-camera. I smiled more and more understandingly, the person sent to obtain his confession. I put my shoes on.
"Where are you going?"
"I have a lecture."
I didn't hear a word of the lecture. I kept seeing Wolfgang as a shadow in a guard tower. Be careful what you wish for, I told myself. I'd blundered into another trap. Did I really need to know all this, was it any of my business? After the lecture I walked home wondering how to tell Wolfgang that I was sorry but we had no future together. He was asleep on the couch: grizzled head, youthful chest, childish feet. He'd shed twenty pounds, and what else? I had to shake him awake.
"I thought you weren't coming back."
"No."
"I had a bad dream. I always have bad dreams on the couch."
He was drenched in sweat. I flinched at the smell, as if his fear might infect me, then checked myself. "Poor Wolf."
He relaxed when I covered his eyes with my hand.
________________________________________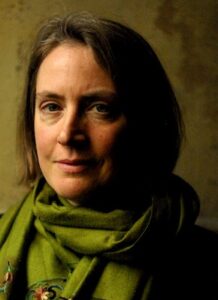 About the author
Isabel Fargo Cole grew up in New York City, received a BA from the University of Chicago in 1995, and has lived in Berlin ever since as a writer and translator. Her translation of Wolfgang Hilbig's Old Rendering Plant received the Kurt & Helen Wolff Prize in 2018, and her other translations of work by Wolfgang Hilbig and Franz Fühmann have been nominated for several awards. Since 2005 she has published short fiction and essays in German, and her debut novel Die grüne Grenze (Edition Nautilus, 2017), was nominated for the Klaus Michael Kühne Prize and the Prize of the Leipzig Book Fair. Her second novel, Das Gift der Biene, was published by Edition Nautilus in 2019 and selected for the 2019 LiteraTour Nord.
---