The Parallel Lives of Translators: On Mario Levrero's The Luminous Novel
Annie McDermott Marvels at the Genius of One of Latin America's Most Esteemed Writer
In the year 2000, in Montevideo, Uruguay, Mario Levrero was awarded a Guggenheim grant to complete his "luminous novel," a project he had abandoned some fifteen years before. Thanks to "Mr. Guggenheim's dollars," he was preparing to spend the next twelve months living a life of "full-time leisure," released from his usual money-making commitments and able to turn his whole attention to writing. But first, he thinks, he'd better fix the shutters in his apartment. And buy a couple of armchairs. And maybe a lamp. So begins his "diary of the grant"—and so it goes on, for 400 pages, recording everything Levrero does except finishing his book: the detective novels he reads, the computer programs he writes, the pigeons he watches through the window and the portable air-conditioning units he makes endless ill-fated attempts to purchase. This diary becomes the prologue to the unfinished manuscript, and the two together form Levrero's masterpiece: The Luminous Novel.
In January 2018, in south London, I was preparing to translate this beguiling, preposterous, uncategorisable book. I had a grant from English PEN, a year to finish the project, and more leisure than I'd had in a long time, having recently left an office job. And, as the year went on, I found my life overlapping with Levrero's in ever more ways. Soon I, too, was keeping a diary, in which I recorded my own dreams, run-ins with bureaucracy and attempts to get out of bed at a civilized hour. After a few months, when the file containing my translation grew too unwieldy, I tried my hand at Levrero's beloved Visual Basic, using a macro to split the text into six exactly equal parts.
Meanwhile, my dabbling in computer card games—for research purposes—became an addiction that encroached alarmingly on my translation time, and I, like Levrero, began keeping a guilty eye on whether my most-used program was Word or Solitaire. In the summer, inspired by Levrero's musings on the activities of some ants, I decided to investigate the insects in my garden, and ended up gripped for weeks on end by the drama unfolding among the spiders on the patio. And when, in August, my boyfriend announced that he was considering buying a portable air-conditioning unit, I fixed him with a thousand-yard stare and told him he didn't know what he was getting into.
And, as the year went on, I found my life overlapping with Levrero's in ever more ways. Soon I, too, was keeping a diary, in which I recorded my own dreams, run-ins with bureaucracy and attempts to get out of bed at a civilised hour.
The translator Robin Myers has said that translating a text is like going to live in it for a while, and this felt particularly true with The Luminous Novel. The book is a world unto itself, existing half in real life—I corresponded with and even met several of the characters—and half in Levrero's own inner universe of dreams, visions, supernatural presences and telepathic communication with booksellers. Levrero, however, would have bristled at such a distinction: he was adamant that what took place in his imagination was no less real than what took place in "so-called objective reality," just as he maintained that instead of saying that something was "only a dream," we ought to say it was "no less than a dream." Marcial Souto, Levrero's first publisher, describes him as "a realistic novelist who lives on another planet," and he's right: Levrero treats the fantastical as if it were perfectly ordinary, and makes the mundane shimmer with bizarre possibility. As he becomes increasingly reclusive and nocturnal, drifting through the "never-ending small hours" in his Montevideo apartment, exploring the inner reaches of the computer and his subconscious mind, though rarely venturing further afield than the supermarket or the dentist, he records his experiences with the care and curiosity of a traveller through uncharted terrain.
Only Levrero would devote pages to an account of finding an automatic dial-up program in the early days of the internet, being "annoyed beyond words" by a particular dialogue box that appeared whenever the program opened, and writing "a very interesting, entertaining, agreeable email" to the program's manufacturer, a man from Texas, offering to "send him some amusing stories in exchange for the codes that would get rid of that damn box." Only Levrero would make it so funny—"But I couldn't soften his hard Texan heart"—or describe, with no shift in tone whatsoever, how he took a siesta one "warm, muggy summer evening," dreamed about visiting the programmer's house and being given a cup of coffee by his wife, and then woke up knowing exactly how to solve the problem. And only he would move from this to a discussion of ownership and artistic creation—"A text I've written isn't 'mine' because I own it; it's 'mine' in the way a child might be 'mine.'"
The Luminous Novel was published in 2005, a year after Levrero's death from a heart attack at sixty-four, and it is often compared to another posthumous novel that changed the face of Latin American literature at the turn of the millennium. While Levrero was wrestling with Word 2000 and refining his home-made yoghurt recipe in his Montevideo apartment, thousands of miles away, in Spain, the Chilean writer Roberto Bolaño was racing to finish his continent-hopping, genre-defying magnum opus, 2666. First published in 2004, a year after Bolaño's death from liver failure at the age of fifty, 2666 takes in Nazi Germany, the Black Panthers, Dracula's castle, European academia and the maquiladora factories on the US-Mexico border, and couldn't be further from the cloistered, inward-looking Luminous Novel.
Nonetheless, these two literary epics thrust together by circumstance make a fascinating pair, one full to the brim and the other empty—but empty to the brim. In the words of the Argentinian author Mauro Libertella: "If Roberto Bolaño showed us it was still possible to write the great Latin American novel, Levrero told us it wasn't necessary." 2666 is a book about everything, but The Luminous Novel is a book about everything else: about how writing, imagination and the human soul behave in the downtime, in the "never-ending small hours" when most people are asleep.
__________________________________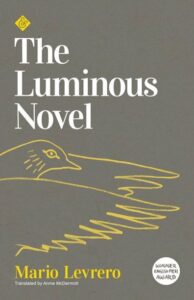 Excerpted from The Luminous Novel by Mario Levrero, translated by Annie McDermott. Used with the permission of And Other Stories.
Mario Levrero was born in Montevideo, Uruguay, in 1940 and died there in 2004. He gained cult status amongst readers in Uruguay and Argentina, despite keeping a low profile. He has inspired Latin American writers such as Juan Pablo Villalobos, César Aira and Alejandro Zambra. In 2000 he was awarded the Guggenheim grant that allowed him to complete work on The Luminous Novel, which was published posthumously. Annie McDermott's afterword is excerpted from The Luminous Novel, published in English in August 2021 by And Other Stories.
---