The Obvious Truth About Drinking with Colleagues
David Nutt on Alcohol and Regret
It seems incredible now that it used to be normal—almost part of the job description—to get drunk at work, to have convivial lunches and schmooze clients. Drinking even took place in consultants' restaurants in hospitals and in senior common rooms in universities. My life as a junior hospital doctor in the 1970s was spent either on the wards or in the hospital bar. Every hospital had one consultant who would regularly be unfit for action because of being drunk. In one of my first senior resident jobs in a top London hospital, I once found a senior professor collapsed on the floor. As I tried to get him up and into an office, the professor of medicine walked by, saw him lying there, sighed, "Oh no—not again!" and helped me carry the incapacitated prof to his office to sleep it off.
During my first stint on a Medical Research Council grant panel in the 1990s, they served wine at lunch. Though not everyone drank, I suspected that grant scoring was more lenient in the afternoon—unfairly for the morning grants. After a few of us pointed this out, the alcohol was discreetly removed from the menu.
Long lunches still happen in some industries but they are for high days and holidays celebrations and vacations, not the everyday norm. Now most industries are dry, at least during the daytime, and in hospitals drinking is a dismissible offense. The reason for this is obvious—alcohol impairs performance. But also, lunchtime drinking has become unfashionable, so there's social pressure against it too.
In Japan, there's still a tradition that you seal a business deal with alcohol, and drinking after work with your colleagues is seen as obligatory. You must never leave the bar before your boss, which is why workers stay overnight in tiny hotel rooms built just for this purpose.
In China, which now consumes half of the trillion-dollar-a- year global alcohol market, celebratory drinking at meals with the shout of "Kampai!" is standard (or at least it seems to be when I am there). I find avoiding getting drunk at every meal the most challenging aspect of being in China, even more so than the language barrier.
The biggest morning-after regrets of those who did drink? Revealing personal secrets to colleagues and complaining about work-related issues to the boss or coworkers.
In the US as in many countries, companies now use booze as a bonding mechanism, with Friday happy hours and team drinks and, of course, the classic Christmas party. The fallout from those has probably led to more Dry Januaries than any other factor.
It does seem that companies are going to have to become more creative and less alcohol-focused with their after-work activities since the advent of #MeToo and the fact that fewer people now drink. That includes ex-alcoholics as well as those who've chosen to go sober and people who don't drink for religious reasons, such as Muslims and Jehovah's Witnesses.
According to one US survey, one in three people (35 percent) preferred not to drink alcohol at work events. Sixteen percent said they drank at them despite not wanting to, and 12 percent pretended to drink in order to fit in. The biggest morning-after regrets of those who did drink? Revealing personal secrets to colleagues (14 percent) and complaining about work-related issues to the boss or coworkers (13 percent). Nine percent said they embarrassed themselves by getting too drunk and eight percent said they "engaged in sexual activity with a coworker."
Which brings us to the morning after. Have you ever spent a day slumped at your desk, achieving barely anything? People reckon they are around 40 percent less productive when hungover. The Atlantic reports, "Excessive drinking costs the US economy more than $220 billion—or about $1.90 per drink, according to the Centers for Disease Control and Prevention, which studies the negative externalities of alcohol consumption each decade. Seventy-two percent of the costs came from lost workplace productivity, according to the 2006 survey, which suggests that the economic drag from hangovers is about $160 billion."
A review of 19 studies by the University of Bath has shown that it's your sustained attention—concentration and focus— that's hardest hit by a hangover. Your memory is also affected, both short- and long-term, but the problem is in making memories, rather than retrieving them.
It sounds obvious, but hangover symptoms are dose-dependent. Australian researchers—who Breathalyzed subjects, then tested their memories—found those whose brain function was the most impaired had had the highest blood alcohol concentrations the previous night too.
In short, if you've got a hangover, you won't be doing your best work. So you might as well spend the day in bed (though it may be hard to get a doctor's sick note)!
__________________________________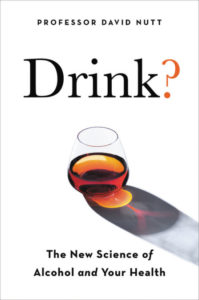 Excerpted from Drink?: The New Science of Alcohol and Health by Professor David Nutt. Copyright © 2020. Available from Hachette Go, an imprint of Hachette Book Group, Inc.
---