The Grumpy Librarian: From Joseph Conrad to the Philadelphia Zoo
Book Recommendations for the Fearless Reader
Caitlin Goodman, aka, The Grumpy Librarian, is here to help. The rules are simple: if you're looking for what book to read next (who isn't), just send over two books you love, and one you… don't. The Grumpy Librarian will do the math and provide you with the ideal next read. (To submit your books, you can email TheGrumpyLibrarian@lithub.com.)
LOVED
Snow Hunters, Paul Yoon · Bel Canto, Ann Patchett
HATED
Wolf Hall, Hilary Mantel
Are you the Grumpy Librarian's mother? Bel Canto is a mom favorite and the GL remembers the grim period of complaint that accompanied Wolf Hall. So two birds etc.: Mom, you should read Snow Hunters, probably. It's a frugal little book, very unlike the expansive (or exhausting, if Masterpiece Theater: Cromwell is not your tea party) Wolf Hall. Like Paul Yoon, Ann Patchett concentrates on small emotional moments and quiet metamorphoses, although Bel Canto goes whiz-bang with all the fictive South American coups.
So what's a reader to do who wants some Latin American flavor without any of that translator interference? (Patchett sure seems to know more about opera than about revolutionary politics.) You're in luck Dear Writer! Fictive Latin American coups are basically the Bingo center square of "extremely backgrounded contextual incidents in American novels." The GL's favorite is Joan Didion's A Book of Common Prayer but it might be too reticent for your purposes. How about dear old Joseph Conrad? Sure, technically he's British (okay TECHNICALLY technically he's Polish but he wrote in English and that's good enough for the GL's rhetorical point), but he manufactured dangerous and exotic Latin American countries like a real American. Nostromo is maybe a little narratively jarring and early modernist for DW, but the jigsaw puzzle of the plot is in service of affective tragedy. The anarrative sweep of history always gets you in the end, huh?
RECOMMENDED
Nostromo, Joseph Conrad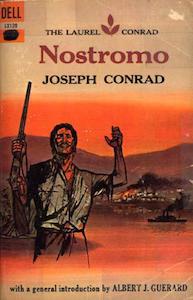 ________________________________________________
LOVED
Seabiscuit, Laura Hillenbrand · Being Mortal, Atul Gawande
HATED
Wicked, Gregory Maguire
Ah, truly no one mourns the wicked. Is it the revisionist story that's not your bag or its unceasing and unwarranted showiness? The GL is a poor target for Wicked or anything else in the self-consciously "twisted fairy tales for adults" oeuvre (and that includes Boy Snow Bird and Mists of Avalon, sorry feminist literature). She never liked enduring favorite The Stinky Cheese Man either, so take her distaste with appropriate caution.
Anyway, let the GL guide you through the verdant pastures of narrative nonfiction. Seabiscuit is history made book club: the story of Seabiscuit, however exciting in encyclopedia outline, became a bestseller because of the transporting storytelling. Being Mortal is nominally a history of medicine, but Gawande's skill with personal essay frees it from the back shelves at the bookstore. The very best creative nonfiction is Pilgrim at Tinker Creek. Oh, perhaps you were expecting the GL to describe a genre varietal? Sorry, no need, Annie Dillard's book is the best one. But for you, DW, perhaps a more eventful example. Into Thin Air is fantastic, although popular enough that you've probably read it. (If not, do. It doesn't seem to get the critical respect it deserves but that's an issue for another grump.) So your Official Recommendation is going to be a deeper cut: John Sedgwick's The Peaceable Kingdom, the delightful result of a year spent at the Philadelphia Zoo. Good thing you like animals!
RECOMMENDED
The Peaceable Kingdom, John Sedgwick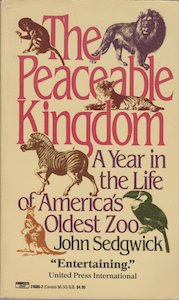 ---