The Fight for Better Living and Working Conditions for Latinx Farmworkers in the US
Paola Ramos on the Work of a Young Environmental Justice Activist
I begin this journey as far west as I can. Contrary to what you may think, the heartland lies at the edges of the United States, not the center. Along California's Central Valley, the endless acres of land are responsible for growing more than half of the country's nuts, fruits, and vegetables. This region of America is home to the voices that nourish our soul and fuel our wallets every single day. Many of those voices are undocumented, which reflects a national reality. There are approximately 2.5 million farmworkers across the country. More than half of them are undocumented, and more than 70 percent identify as Latino. For decades, Americans have grown accustomed to looking at these rural areas through a one-dimensional lens of immigration because of stats like these. Yet the Latinx frame forces one to look beyond that narrative and see the lives that lie inside these regions and communities.
The day starts in the Central Valley. Two hours north from bustling Los Angeles, where the mountains that follow you into this drive are majestic and lush, lies labor leader Cesar Chavez's memorial, nestled away in the former headquarters of the United Farm Workers Union in the city of Keene. It's been more than five decades since Chavez led the 1965 Delano grape strike, when Mexican and Filipino farmworkers around this area walked out on grape growers to demand better working conditions. But in these hills, you can still feel the roar of the 1960s and 1970s throughout the valley. The echo of marches, protests, fasts, and boycotts that laid the foundation for La Causa, a cry to protect the most basic rights of all farmworkers.
*
Like countless children of farmworkers in this area, Byanka Santoyo, a young local environmental justice activist from the Central Valley, grew up in Kern County watching the abuse her parents endured in the fields. But when injustice is no longer defined just by physical abuse, it takes longer for the eye to detect right from wrong.
When Byanka was eight years old, both of her parents were directly exposed to a pesticide drift while working in the fields alongside their cuadrilla, their crew. As I learned, these "drifts" refer to the unintended movement of pesticide residue through the air. Imagine standing in a clean area and suddenly feeling pesticide dust that has been sprayed on a neighboring crop. Well, as Byanka recalls, after her parents' cuadrilla was drifted on, some of the farmworkers felt small but immediate side effects such as vomiting and nausea. Today, more than a decade after, three women from the cuadrilla have died of breast cancer and Byanca's mom suffers from an autoimmune disease. Coincidence or not, the pain and abuse that were once normalized by Byanka's parents for the sake of better wages and opportunities are now the battle Byanka is taking on. It's no longer just a fight for better rights but a fight to live.
"Are you still dealing with the same fight Cesar Chavez led?" I ask Byanka in the car.
She pauses.
"Now you're talking about the day you're here, and the day you're not here," she tells me. "I don't want my grandkids to suffer problems with cancer or autism . . . I want it to be different for them."
It almost feels as if every small victory gained in the farmworkers labor movement has come at the expense of life itself. As if for every major legal turning point won, years of life were taken away from people and these lands. The bureaucratic agricultural system is partly to blame. Family dynasties, big corporations, and corrupt money that measure farmworkers' lives by the number of pounds picked instead of the number of breaths taken.
"When you roll down the window and smell something different," Byanka assures me, "you've gotta shut down the window." I leave the window down for just a second longer, and here's what I see:
From afar in the passenger's seat, I continue to see endless rows of beautiful crops around me, and occasionally I spot farmworkers hidden among them.
It almost feels as if every small victory gained in the farmworkers labor movement has come at the expense of life itself.
Byanka reminds me that all this beauty is likely coated by an invisible toxic cloud that goes by the name of chlorpyrifos, a potent pesticide known to harm children's brain development. In fact, according to the Sierra Club, chlorpyrifos is derivative of chemical substances the Nazis used as sarin nerve gas during World War II. In other words, it was used to kill. And even though President Barack Obama attempted to ban this pesticide from food crops, building on prior initiatives that withdrew chlorpyrifos for all residential use, Donald Trump reversed Obama's efforts as soon as he landed the presidency. Reports indicate that today chlorpyrifos is one of the most widely used insecticides in the country. California accounts for more than 20 percent of its use, and most of it is concentrated in the Central Valley.
Rows and rows of the picturesque oranges, walnuts, almonds, and cotton that I'm seeing through this drive contain pounds of chlorpyrifos to deter insects. And even if you completely roll up your car window, Byanka reminds me, this poison can silently creep in through the cracks.
Byanka now parks her car in front of her daughter's day care, a school that looks so small compared with the immense landscape that surrounds it. We walk up to the thin metal fence that separates the playground from the fields, a barrier that's meant not only to contain kids' toys but also to draw a redline between the school and the orchards, the kids and the farmers. Overstepping that line could mean a predestined death sentence.
"There's times my daughter plays outside and smells something weird. But ¿qué puedo hacer? What can I do? I can't keep her inside all the time," Byanka says. 
In the state of California, there's a school buffer that prohibits growers from spraying pesticides on fields within a quarter mile of schools between the hours of 6 a.m. and 6 p.m. Yet, as Byanka notes with frustration, many farming-community parents who can't afford to abide by these schedules are forced to drop their kids by five a.m. or pick them up after school hours, exposing their little ones to potential drifts.
With or without regulations, or without metal fences or laws in place—it's clear that we're standing in a battlefield where reality and agriculture go hand in hand. Where there's no real way to separate the two worlds: they follow each other through sunrise and sunset. The pesticides become the love and affection, the sweat and tears, and the pride and curse of families. Because even though you want to protect your kids from this toxicity, the natural instinct of parents is to hug their children after work. Their clothes—still carrying the aroma of sulfur—tightly embracing their bebés; their cars—still carrying dust from the field—tightly squeezing families together on the drive back home. 
There's no escaping this. It's almost like a spell that follows generations.
"I say I was born into it, because the day I was born my mom was picking oranges," twenty-one-year-old Lety Lopez tells me in Visalia, another small town in the Central Valley. "So that goes into why I ended up being born prematurely."
With or without regulations, or without metal fences or laws in place—it's clear that we're standing in a battlefield where reality and agriculture go hand in hand.
Lety, now a fierce activist in her community, believes that exposure to pesticides and the heavy crates of fruit her mom had to carry contributed to her preterm birth. "I thought it was normal that they sprayed in the fields . . . but we never took into consideration how much it affects our health."
To be born into this, as she says to me, means to be a product of systemic racism: to be deemed unworthy enough to breathe and live freely. Multiple reports have found that babies with chlorpyrifos in their blood can lead to lower IQs, higher rates of attention deficit hyperactivity disorder (ADHD), and higher of developing autism. But you don't really need statistics reports in order to confirm the malaise you see among because a short visit to rural California is as real as it gets.
"It's awful to say that we're not worth anything." 
Byanka's words stick with me. Because that's not the only way these farmers have been told their lives don't hold value. In many ways, farmworkers, particularly undocumented female farmworkers, have traditionally been the perfect victims for sexual predators. For one, they perform a lot of their labor in isolation—either in private residences or in large rural fields like the ones I saw in the Central Valley. Working away from the public eye makes them uniquely vulnerable to harassment and violence. The "innocent" grabbing. The unsolicited comments. The inappropriate groping. And, in some cases, rape.
On November 2017, leveraging the momentum garnered by the allegations against Harvey Weinstein, Mónica Ramírez submitted a letter to Time magazine titled "Dear Sisters." Mónica Ramírez is a third- generation Mexican American who grew up in rural America. In that letter, Ramírez, who is a cofounder of Alianza Nacional de Campesinas and the founder of Justice for Migrant Women, penned a piece on behalf of seven hundred thousand female farmworkers—most of whom were Latinas—spotlighting the pervasive, widespread sexual harassment and assault culture ingrained in their industry. To give you a sense, campesinas are ten times more vulnerable than others to sexual assault and harassment at work. Most of these women are migrants—the unsung heroes of the country—who likely pick the food that sits on your dining table each morning. Most of them have been suffering in silence not just because of this toxic culture but also because lack of papers and immigration status. As Mónica said, farmworkers were "living in the shadows and were paralyzed the shadows."
Countless reports point to the fact that the majority of female workers have experienced sexual harassment and violence at some point. But it's not just their physical workplace that makes them targets; it's also their legal status. As the Southern Poverty Law Center (SPLC) has pointed out through qualitative research, abusers—whether supervisors or male farmworkers—deliberately take advantage of their victims' undocumented status, knowing that they are unlikely to report the abuse for fear of deportation or losing their job. Some activists have called this an "epidemic"; others have even compared the conditions in the fields with "modern slavery."
As it stands today, the rights of female farmworkers are not fully protected under federal law. Even though basic legal protections are in place and several states have made progress, major loopholes still exist. For example, Title VII of the Civil Rights Act of 1964, which is considered the foundation of antidiscrimination legislation, exempts certain employers from liability. Under this provision, companies that employ fewer than fifteen employees aren't held accountable if they fail to prevent or address sexual harassment in their workplace. In other words, if you are a female farmworker who works with a team of fourteen in the fields, you are not protected by our government.
To be born into farm labor, as she says to me, means to be a product of systemic racism: to be deemed unworthy enough to breathe and live freely.
For decades, so many Latina farmworkers have endured this reality. So many felt they had no option but to accept the status quo—fear and repression—as the norm. No option but to remain silent. Until a new generation of Latinas like Mónica Ramírez, a daughter and granddaughter of migrant farmworkers herself, helped many break that silence. That newfound courage and solidarity is characteristically part of the Latinx movement—the strength to find a voice you didn't even know you could use. One that tells you you deserve the same protection as any American. That was always this country's promise, no?
During my conversation with Mónica, I ask her why she didn't write this letter sooner, because the letter, published in November 2017, went viral immediately. Just after it was posted online, Hollywood celebrities like Reese Witherspoon started sharing it. It was so powerful that it helped spark the larger TIME'S UP movement, which officially launched on January 1, 2018. By January 7, Mónica was already walking down the red carpet as actress Laura Dern's guest at the Oscars. As they walked, Dern told Ryan Seacrest on E!'s live coverage, "I reached out to [Mónica] to say that she stood with all the seven hundred thousand women farmworkers in solidarity for the women in our industry who were brave enough to speak out about sexual harassment and assault."
Even though the letter ignited such momentum, surely this was not a new reality for women. 
"That letter had been done before. But no one paid attention," Mónica says.
No one paid attention, until now. The farmworkers' voices may have once been lost in the fields and the far edges of the country, but they started finding a choir among us.
And even when you drive away from these Central Valley fields, you're never really able to leave them. Soon, rows of almond trees, blueberries, and peaches quickly unfold into boundless rows of oil wells. Soon, digging up dirt for food becomes digging up dirt for petroleum. All at the expense of whom?
__________________________________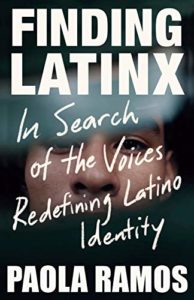 From Finding Latinx by Paola Ramos. Used with the arrangement and permission of Vintage Books, an imprint of The Knopf Doubleday Group, a division of Penguin Random House LLC. Copyright © 2020 by Paola Ramos.
---