The Bougie, Classist History of Eggs Benedict
Real Talk: "This was a rich dish devised for rich people."
If getting to the bottom of Eggs Benedict weren't already difficult enough—there are invention stories from several Benedicts, most of them scant and secondhand, plus some confusing cookbooks—then you find out about "The Rich Fool and the Clever Pauper."
That's the name of an 1894 work of fiction by Horace Annesley Vachell, a British expatriate then living in San Francisco. Printed in the January issue of Overland Monthly, a California literary magazine, it is considered to be the first-known printed reference to eggs à la Benedict, as poached eggs over toast with ham and hollandaise was originally known.
And I quote: "After luncheon, which consisted of Blue Points, potted char, eggs à la Benedict, and a remarkable Maraschino jelly, Jimmy announced his intention of taking a walk by himself."
Jimmy was the fictional rich fool, and he was dining at the University Club in San Francisco, which was a real fancy club. Blue Point oysters and potted char and fancy jellies were delicacies known to rich white people on both coasts back then, and thus we can assume that eggs à la Benedict were already known, too.
Now, remember that date of publication—January 1894—while you consider the three slim pieces of data that form the foundation of every account of the legend of eggs Benedict published in recent history. (Though most writers tend to embellish the retelling with their own creative details.)
EGGS BENEDICT EVIDENCE, PART ONE: There is the Lemuel Benedict at the Waldorf story, which appeared in The New Yorker in 1942, two years before Lemuel's death. By his own account to the reporter, the New York City socialite and stockbroker invented the dish forty- eight years earlier by ordering a similar concoction while hungover at the hotel. That could have been 1893, given that these were recollections, but no earlier, as the hotel only opened that year. Note: Lemuel preferred bacon and toast, rather than ham and an English muffin, but the latter was, he told The New Yorker, added to the hotel's repertoire by Oscar, the hotel's famous maître d', who used to work at Delmonico's, as mentioned below in "Eggs Benedict Evidence, Part Three."
I like to imagine that the creator of Eggs à la Benedict was a woman, at a time when Delmonico's was the first place to let them dine by themselves.
EGGS BENEDICT EVIDENCE, PART TWO: The Commodore E. C. Benedict recipe story, from a column by New York Times food editor Craig Claiborne in 1967. A writer from Paris sent Claiborne a version of the recipe (ham plus toast plus hollandaise with a hard-boiled egg), along with the story that he got it from his mother, who got it from her brother, who was a friend of its inventor, the Commodore. E.C. was a New York City stockbroker who would have been hanging out among the other socialites in the 1890s. (Side note: By all accounts E.C. was kind of amazing, even if he didn't invent eggs Benedict.)
EGGS BENEDICT EVIDENCE, PART THREE: The Mrs. Le Grand Benedict at Delmonico's story. This is from a letter to the New York Times by Mabel C. Butler in response to the above. According to her family's lore, Mrs. Benedict was a relative of the commodore, and she created the dish at the "turn of the century" (Mabel's words) at then-world-famous Delmonico's, Mrs. Benedict's regular Saturday brunch spot. Mrs. Benedict told the maître'd what she wanted, in Mabel's telling, essentially the dish as we know it topped with some truffles. This letter is likely the sole thing backing up a 1978 Bon Appétit article called "Perfect Eggs Benedict," which enshrined the Le Grand Benedict story in American food history. This article so bothered Lemuel's first cousin once removed that he began fighting for his relative's alleged role in food history during the 1980s. He eventually amassed a de facto eggs Benny museum at his house in Colorado and earned, after his death, a 2007 story about his efforts in the New York Times, appropriately titled "Was He the Eggman?"
And that leads to a few questions.
So for Horace Annesley Vachell to publish his piece in January 1894, eggs à la Benedict would have already had to have been the cutting edge of fashion in late 1893. But why didn't the 1894 version of Charles Ranhofer's The Epicurean, the Delmonico's cookbook that features seemingly every recipe ever served at the restaurant and every menu in its 1,183 pages, add the recipe until its second printing in 1912? For that matter why didn't Oscar's 1896 Waldorf cookbook include it either? And neither place had it on early menus preserved from the era, to boot.
The first written recipe appears in 1897 in the February issue of Table Talk magazine. It was written by Cornelia C. Bedford, former principal of the New York Cooking School, in response to a reader request from Savannah, Georgia.
In truth, all these Benedicts would have eaten at Delmonico's and the Waldorf, and anyone who cooked for them anywhere else would have been privy to what they were eating at those places as well. By the time "Eggs à la Benedick" was added to The Epicurean (spelled with a k, just to make it even more confusing), the dish had already been celebrated in the catering, hotel management, and cooking magazines that spread trends among the cooks for the rich and those who aspired to cook like them.
Maybe it doesn't matter who the first Benedict really was. The real point, as has been said by many others in the past, is that this was a rich dish devised for rich people, and all the creation myths just make it seem even more exclusive—some off-the-menu request made on the fly for a boldfaced name.
As Claiborne noted in his 1967 account, "Eggs Benedict is conceivably the most sophisticated dish ever created in America." It's also one that so retains its decadent luster that it remains a very modern dish today, destined for an eternity of brunches.
From what I can tell from census records, Mrs. Le Grand Benedict was actually Emma Frances Gardner Le Grand Benedict. She was a college graduate, writer, and newspaper journalist who in 1887 wrote a charming memoir from her time at the front of the Civil War when she was a newlywed.
I like to imagine that the creator of Eggs à la Benedict was a woman, at a time when Delmonico's was the first place to let them dine by themselves. (It was a women's press club that had their first ladies' supper there, another point in Mrs. Le Grand Benedict's favor.) Plus, maybe she knew old Horace Vachell, as they were both writers. Maybe she knew Cornelia Bedford. Either way, she was definitely bold enough to ask for exactly what she wanted for brunch.
__________________________________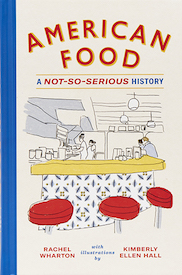 From American Food by Rachel Wharton, illustrations by Kimberly Hall. Used with the permission of Abrams.
---