The Anxiety of Influence: On the Few Books I Was Able to Read While Writing My Own
Marcia Butler Recommends Jonathan Lee, Akhil Sharma, and More
Like most authors, I've been a voracious reader most of my life. But when I'm writing the first draft of a novel, I'm careful about what, and how much, I read. It's influence I fear—that I'll lose my voice, my thumbprint. This worry about porosity dates back to my career as a professional oboist. When I performed the Mozart Oboe Concerto, for example, I avoided listening to other oboists so as to not get muddled with someone else's interpretation.
While following this instinct, the few books that I do read almost always show me something specific—at times, pivotal—for my work in progress. By now, this has occurred enough times that I've come to expect it. I'd like to think it's a form of grace—almost like a higher power is curating, bringing specific books to me. The following authors have generously appeared (albeit unknowingly) to remind me of what I may have forgotten, or what I surely need to learn—and, always, to inspire me with all that is possible.
*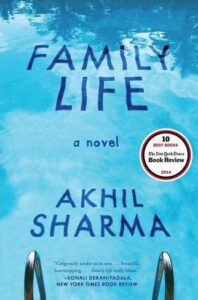 Akhil Sharma, Family Life
(W. W. Norton & Company)
During final revisions of my memoir, I couldn't seem to land an ending. Then, I picked up Akhil Sharma's astonishing novel Family Life, which had been sitting on my bookshelf for some time. His novel concludes with a series of short scenes depicting the protagonist's college years and the beginning of his professional life as a banker. Together, they document the man's mental decline, yet Sharma maintains an emotional arm's length, never directly telling the reader what ultimately happens. I found Sharma's restraint immensely powerful; where I'd taken great pains to be accurate and linear in my memoir, I now saw that I could unwind a bit. I wrote an ambiguous final scene, leaving the reader to wonder what happened to that oboist, bald from cancer treatment, who, one sunny day, marveled at the color red.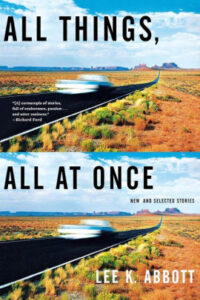 Lee K. Abbott, All Things, All at Once
(W. W. Norton & Company)
Dialogue is incredibly difficult to get right. People simply don't talk in an organized manner, with one statement logically begetting the next. In real life, people interrupt. They change the subject. They look away. Then, there's the non-sequitur. When I was writing my debut novel, I read the great Lee K. Abbott's final story collection, All Things, All at Once—and what a revelation. This book is a master class on dialogue. Within the spoken sentence Abbott presents a world of both the obvious and the hidden, showing me that you can build depth into characters with what they don't say. The sheer beauty in which he so deftly maneuvers his verbal sleight of hand is a wonder to behold and an inspiration. Now, when I write dialogue, I always think, "What would Lee do?"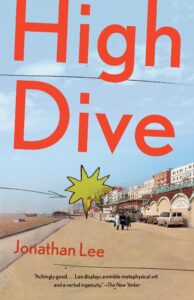 Jonathan Lee, High Dive
(Knopf)
My second novel begins with a harrowing scene involving some men trapping a pregnant moose. It's not pretty; in fact, it's shameful. As I edited this book I continued to wonder, worry really, if it was a good idea to begin with such dicey material. Would it turn people off? Then I read High Dive, in which Jonathan Lee also begins with a tense scene involving a member of the IRA who tests the loyalty of a man by commanding him to kill his own dog. As sadistic and cruel as this character is, I loved the set-up, which obviously portends something to come. Corragio! That first chapter never budged from the front of my novel. And oh, my moose escapes.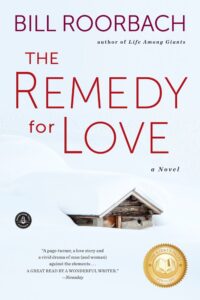 Bill Roorbach, The Remedy for Love
(Algonquin Books)
My work in progress is currently throttling me: While my previous novels have used multiple points of view, it seems my main character for novel number three wants to take control of the entire story. I fear I'm not up to it—all the usual inner critic stuff has settled into my chest like a bad cold. Enter Bill Roorbach with a First-Aid kit: specifically, his incredible novel, The Remedy for Love. It's written entirely from close third-person point of view. A miracle. A tour de force. A stunning example of interiority. Every nook and cranny of the protagonist's life—his mediocre law practice, his failed marriage, his current predicament trapped in a cabin in the woods with a probably-crazy lady (who of course he's got the hots for) during an epic storm of the century and they almost die (got all that?)—is dissected and examined. Rinse and repeat. I thought, now this is how it's done.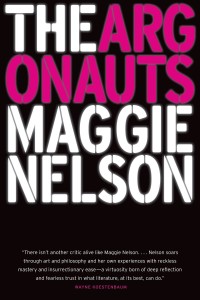 Maggie Nelson, The Argonauts
(Graywolf Press)
When I think of bravery, Maggie Nelson always comes to mind. The Argonauts reads like the truest example of one woman's willingness to go deep, broaching topics so tender, so treacherous, so close to the bone, you can't help but admire her rare kind of courage. And Nelson's is a completely different journey, charting an uncommon course of the mind, heart, body and gender. A deeply moving testament to devotion, this book has inspired me to write about challenging topics in a male dominated culture. By not holding back and telling her story with ferocious intellect, Nelson has changed the conversation and along the way gives every woman writer permission to do the same.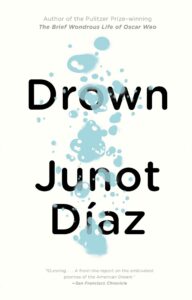 Junot Diaz, Drown
(Riverhead Books)
While in early drafts of my memoir, I struggled for a way to represent the bifurcation of my life. In one world, I was a successful oboist, hitting all the high notes, but my personal life was a hot mess of acting out in dangerous ways in response to an abusive childhood. How could I portray those concurrent realities artfully? Then, I happened to read Drown, Junot Diaz's dazzling story collection. "How to Date a Brown Girl," in which he used the second person (or you) point of view, stopped me short. I noticed the implied distance, as if the narrator was watching himself, even relaying the story to himself. I took Diaz's example and expanded on it, using first person for my private life and second person to tell the public music stories. This point of view, which I would never have considered if not for Diaz, presented an elegant solution for reinforcing the two distinct parts of my life.
__________________________________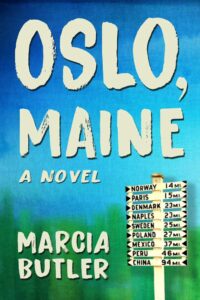 Oslo, Maine by Marcia Butler is available now via Central Avenue Publishing.
---