Why I Decided to Write Fiction and Publish a Debut Novel
in My 80s
Orville Schell on His Long Odyssey From Nonfiction to Fiction
What kind of a sane writer seeks to bend the metal of their craft after eight decades? Having spent my whole adult life trying to make sense out of the world through nonfiction—with some 16 books and hundreds of articles, columns, essays reviews, contributed chapters in my name, and a writing identity as confirmed in nonfiction as any author—why try and recast the die?
This long process of transmigration first announced itself in 1974 when William Shawn, editor of The New Yorker, heard that I'd been invited to join a "Youth Work Delegation" to work on a model agricultural brigade in China's northwest Shanxi Province and then in an electrical machinery factory in Shanghai. Since China was still terra ingognito for most Americans, Shawn asked if I'd be willing to chronicle the trip for the magazine.
As I set off, Mao still reigned, the Cultural Revolution still held sway, and Beijing still had only one high-rise building, the new wing of the Beijing Hotel. Despite the fact that I spoke Chinese, the trip left me deeply perplexed by how difficult it was to connect with people during my time there. What was going on? And so, I began to vex over how a writer of nonfiction could adequately address what the Australian sinologist Geremie Barme has called "the invisible republic of the spirit"—that elusive part of the human experience that seeks outlets not thru exterior economic or politic activity, but through interior activity in friendship, love, religion, music, art, philosophy, psychology, and literature.
I'd begun studying China at Harvard and twice took leaves of absence to work on language in Taiwan and then to cover the war in Indochina. After finally graduating, I spent the next year and a half in Jakarta working for the Ford Foundation. Expelled in 1966 during "the year of living dangerously" (when the Indonesian Army overthrew the increasingly leftist Sukarno regime), I returned to the US to pursue a graduate degree in Chinese history at UC Berkeley. However, as I continued my China studies and to write, critical areas kept eluding both my scholarly and reportorial efforts. Nonetheless, fiction, which I loved to read, still seemed another planet. Then, when in 1986 I married a woman from Beijing, an aperture through the impermeable membrane that had been keeping me apart from my subject suddenly opened.
What kind of a sane writer seeks to bend the metal of their craft after eight decades?
We writers of nonfiction know how to tell stories, but because our characters do not fully belong to us, we are not accustomed to foliating them with our own self-invented projections, whether for the sake of emotional warmth or winning dialogue. I had to learn that in writing fiction I had the right, even the obligation, to do just this. For someone used to describing the real world as accurately as possible, the invitation to invent whole characters, breathe life into them, and then speak through them was frightening, but exhilarating.
To undergo such a metamorphosis, however, required that I first discard many old habits. Above all, I had to learn how to surrender the impulse to explicate everything didactically. But such habits die hard, and often I felt I was trying to flee my own shadow, as if I was just editing and re-editing a version of an article about a novel that I might someday write. In retrospect, I realize that I was also trying to figure out what it was I really wanted to say.
Then came the hard part: breathing life into my characters. I'd chosen to write about a classical pianist who was born in Beijing and goes to study at the San Francisco Conservatory in the late 1940s, where he marries a violinist of Chinese American descent before returning to Beijing to teach in 1950. After giving birth to a son, his wife has to return to the US to attend to her dying father. When she is not able to return to China due to the restrictions of the McCarthy era, a motherless boy and wifeless husband, both considered apostates, are left to somehow make themselves fit into the imperatives of Mao's revolution—or suffer.
We writers of nonfiction know how to tell stories, but because our characters do not fully belong to us, we are not accustomed to foliating them with our own self-invented projections.
As someone who has loved and played classical music, I had a deep sympathy with the sensibility that put my characters almost completely at odds politically with the tumultuous world around them. After being disparaged as a "bourgeois" "counter-revolutionary" who "believes the moon is rounder in the West than China," Li Tongshu's hands are hacked with a cleaver and he is sent into exile. When he dies, his son, Little Li, who has also been sent into exile on the Tibetan Plateau, wants nothing more than to escape China to explore his mother's natal land and bridge the chasm between the US and China that has riven him.
As I began trying to reinvent myself as a storyteller of fiction, I felt that I, too, was being compelled to undergo an impossible change. My challenge was to create characters who were sympathetic and credible and then set them down in the middle of Mao's very nonfictional revolution without allowing them to be overwhelmed by the historical narrative that I'd spent my life studying and chronicling. As I plunged them into the maelstrom of the Cultural Revolution, their abiding belief in the sanctity of a person's private relationship to God and in the kind of loyalty that is essential in true friendship and love render them completely at odds with the political world around them. They must also figuratively reconcile the revolution of Mao Zedong, and his efforts to remake the outside world, with the music of Johann Sebastian Bach and his efforts to minister to the interior spiritual world of the human soul.
As I sought to dramatize this clash between the imperative to remain human and accommodate the siren song of the revolution, I kept hearing anecdotes about life in China during this very brutalizing period from my wife. After all, she'd lived through the whole epic tragedy herself. I may have been the storyteller, but she was the story. So, gratefully, I dedicated the book to her. However, just as my own three decades-long odyssey into fiction was concluding, she died. While in many ways the story remains hers, even in my telling, it is also the story of tens of hundreds of millions of other Chinese who endured the same agonizing period of history covered by my wife's life and my novel. But if fiction, as Albert Camus once said, "is the lie by which we tell the truth," then my wife was the truth by which I was helped to limn the lie of China's Maoist revolution.
__________________________________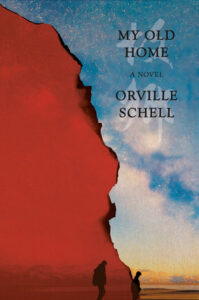 My Old Home: A Novel of Exile by Orville Schell is available now via Pantheon Books.
---