Stephen King on What Authentic Maine Cuisine Means to Him
Plus, a Recipe for Cujo-Inspired French Toast Casserole
I was born in Maine, grew up in Maine, and expect to be buried in Maine. Before that happens, I'll continue to eat in Maine, and many of the things I've eaten are presented (under different names in most cases) in Theresa Carle-Sanders' lovely little cookbook.
When people think of Maine cuisine, they tend to think first of clams and lobster. Never cared for clams myself; they always looked to me like snot in a shell. Lobster is tasty, but I ate too much of it as a kid. My mom was on a perpetual budget, and she'd buy day-old (or two-day-old) lobster at the IGA in Lisbon Falls. Some of those bugs were still moving, but not that many. She made lobster rolls, and there was often a pot of lobster stew simmering on the stove. She'd hide it in the oven if someone came visiting because, in those days, lobster stew was "poor food."
When I think of Maine cuisine, I think of red hot dogs in spongy Nissen rolls, slow-baked beans (with a big chunk of pork fat thrown in), steamed fresh peas with bacon, whoopie pies, plus macaroni and cheese (often with lobster bits, if there were some left over). I think of creamed salt cod on mashed potatoes—a favorite of my toothless grandfather—and haddock baked in milk, which was the only fish my brother would eat. I hated it; to this day I can see those fishy fillets floating in boiled milk with little tendrils of butter floating around in the pan. Ugh.
As the twig is bent the bough is shaped, so they say, and my tastes have remained simple and unrefined. I like nothing better than a couple of blueberry pancakes for breakfast, floating in maple syrup. (Folks think of Vermont when they think of maple syrup, but the Maine variety is just as good.) There's nothing like a chunk of fried fish with vinegar for lunch, and a New England boiled dinner for supper—corned beef, cabbage, potatoes, and carrots. ("You must zimmer very zlowly," my mother liked to say.) Add some strawberry shortcake (Bisquick biscuits, please) for dessert, and you've got some mighty good eatin'.
As the twig is bent the bough is shaped, so they say, and my tastes have remained simple and unrefined.
We like to see you up here in Vacationland, always glad to fix you up with all the crabmeat salad and lobster rolls you can eat (extra points if you ask for lobstah), but if you can't come, you can always browse the recipes in this book, which are drawn from some of my stories and novels. If you're in a campfire frame of mind, you might finish off with s'mores, and if you're in your cabin up St. John's Valley way (or just imagining it), you could start your day of huntin', trappin', and fishin'
with a bowl of Muddy Buddy.
May I close with a Maine food joke?
Loggers are out in the woods, y'see, and they need someone to do the cooking. Pete Bouchard gets the call, because he's the smallest—if he turned sideways he'd disappear, don'tcha know. Not given much in the way of choice, Pete says, "I'll cook
until someone says they don't like it. Then that person gets the apron."
Well, they all agree to that, but a logging crew is in the woods all winter, and Pete gets damn tired of doing the cooking. He starts boiling the potatoes to mush, burning the venison steaks to cinders, leaving bird shot in the birds so the loggers have to spit 'em out, serves cakes so hard they'd break a tooth. Yet everyone in the crew keeps saying It's good, Petie, it's good, it's really good.
Finally, in desperation, Pete goes out in the woods one day and picks up a big bag of fresh moose droppings. He bakes it in a pie and covers it with whipped cream (I don't know where he got cream in the deep woods either, so don't ask). That night
he serves it out. Severin Belliveau takes a great big bite and says, "God-damn! This is moose-shit pie! But it's good! It's good!"
There are no recipes for moose-shit pie in this book, but you'll find the taste of Castle Rock, Maine, in every one. Even if you don't… imagine. It's what I do.
*
Dog Days French Toast Casserole
"The real thing was the thought of food.

Breakfasts, for instance, take breakfasts: two eggs fried in butter, over easy if you don't mind, waiter. French toast. Big glasses of fresh-squeezed orange juice so cold that moisture beaded the glass. Canadian bacon. Home fries. Bran flakes in cream with a sprinkle of blueberries on top—bloobies, her father had always called them, another one of those comic irrationalities that had irritated her mother out of all proportion."

–Cujo
A lot of terrible things happened in Castle Rock even before half the town got blown up, but the one that always makes me shiver is thinking of that poor young mother and her son trapped in their Pinto by that rabid St. Bernard, trying to find comfort in daydreams about family breakfasts.
This overnight French toast casserole is packed with cranberries and maple syrup and topped with a walnut streusel. Serve with a pitcher of orange juice and a fruit salad for a weekend or holiday breakfast that you can enjoy at the table with the family, instead of trapped at the stove.
Makes 6 servings.
*
Ingredients
1 large loaf bread (about 1 1⁄2 pounds), preferably egg bread or brioche, cut into 1⁄2-inch slices
2 1⁄2 cups fresh or frozen cranberries
2 cups milk
8 eggs
1⁄2 cup maple syrup, plus more for serving
Finely grated zest of 2 large oranges
1 teaspoon kosher salt
1 teaspoon vanilla extract
1⁄2 cup all-purpose flour
1⁄2 cup chopped walnuts
1⁄4 cup rolled oats
3 tablespoons light brown sugar
1 teaspoon ground cinnamon
1⁄4 cup cold butter, plus more for serving
*
Butter a 9 by 13-inch baking dish. Using half of the loaf, arrange half the bread slices in an even layer in the bottom of the prepared dish, cutting the slices to fit. Scatter half the cranberries evenly over the bread, then top with the remaining bread slices and remaining cranberries. Press down gently to settle the cranberries.
In a large bowl, whisk together the milk, eggs, maple syrup, orange zest, salt, and vanilla. Pour evenly over the bread, cover tightly with plastic wrap, and refrigerate for at least 4 hours, or up to overnight.
Remove the dish from the refrigerator 30 minutes before baking. Position an oven rack on the middle rung and heat the oven to 350°F.
In a small bowl, stir together the flour, walnuts, oats, brown sugar, and cinnamon. Grate in the butter and, using your fingertips, gently work it into the flour mixture. Sprinkle this streusel across the top of the soaked bread.
Bake the casserole until golden, 45 to 55 minutes. Remove from the oven and cool on a wire rack for 10 minutes.
Cut the French toast into squares and serve, passing additional butter and maple syrup at the table.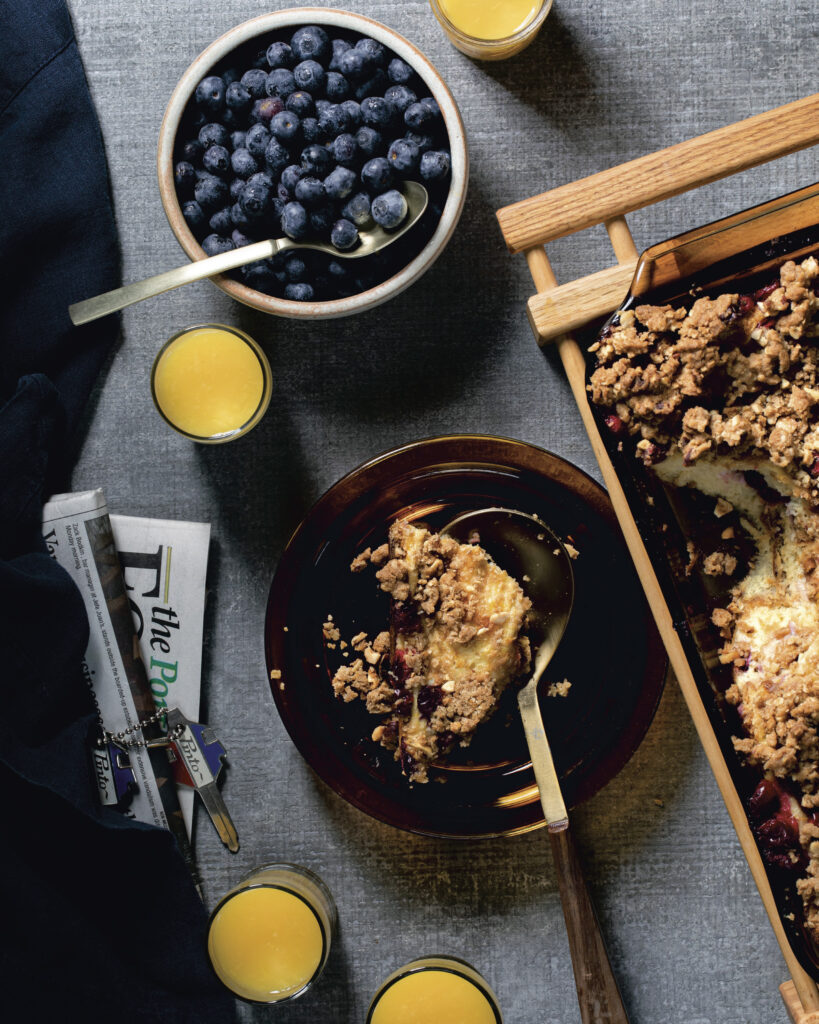 _______________________________________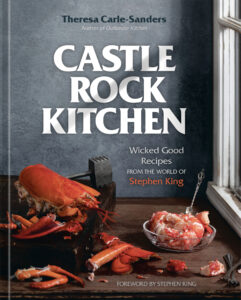 Reprinted with permission from Castle Rock Kitchen: Wicked Good Recipes from the World of Stephen King by Theresa Carle-Sanders with a foreword by Stephen King, published by Ten Speed Press, an imprint of Penguin Random House. Text copyright © 2022 by Theresa Carle-Sanders. Photographs copyright © 2022 by Jenny Bravo. Map copyright © 2022 by Helen Cann.
---