Sara Baume on the Uncanny Feeling of Discovering a Book with the Same Title as Her Own
"When I set about the task of reading Henrichsen's Seven Steeples I did not expect to find any kinship."
There was once a woman who lived in a suburb of Boston until one day she packed up her '38 Oldsmobile and drove in the direction of rural Maine, with her two dogs, Pinny and Woozle, squeezed in between the boxes and suitcases and a moving van following behind. On the journey north she passed through "increasingly wonderful countryside"—"small villages, occasional glimpses of the sea, the shapes of pointed firs against the sky," and she spotted the little churches with particular fondness, their "white spires" and "weed-grown" yards.
Some distance after Portland, the scenery started to change. The forests of "spruce and fir and hackmatack" became denser and extended further; the houses were less tidy, sometimes no more than "tarpaper-covered shacks." It was palpably "wilder" and the woman loved it. She experienced an affinity with the untamed and unknown; she felt that she had found her "country."
The year was 1944 and the woman was Margaret Henrichsen, a 43-year-old widow who had just been appointed Methodist pastor to the parish of Sullivan. A year had passed since her husband died and she was eager to cast off the loneliness of bereavement and enter into this new, autonomous, adventurous chapter. "My one hope…" she wrote in her memoir, "…was that I might be useful and through making a new life in new surroundings find meaning in the years that stretched so emptily ahead." The next eight years were in fact extraordinarily full, as she ended up ministering to an additional six churches dotted around the coast and, in 1953, publishing a book about her experiences that she titled Seven Steeples.
When Henrichsen first arrived in Sullivan she found the parsonage to be a box-like house surrounded by "an uncut meadow of daisies and yellow hawkweed." Inside it was run-down and already full of ugly furniture with little space left for the contents of her moving van. She installed her "oriental rugs" and "Mother's silver candlesticks," but two of her largest paintings ended up in the church, hanging on either side of the pulpit because "…they were surely more inspiring to look at than the dirty varnish, and since they were mountain scenes they seemed appropriate as a spot to which one could lift the eyes."
Time and again her descriptions stirred in me a weird nostalgia for a place I'd never visited and a faith I'd never practiced.
In the beginning of my book, also titled Seven Steeples, there is a mountain, and my mountain is "full of miniature eyes." These are the eyes "of pheasants, foxes, lizards, larks, rabbits, warblers, weevils, mink, mice, lice…" but the mountain itself is also "a colossal, cyclopean eye that never shut…" At the beginning it witnesses the arrival of Bell and Sigh, a couple who move from the city to a remote house on the west coast of Ireland, the edge of the Atlantic. They arrive in a red van with their two dogs, Pip and Voss, squeezed in between the boxes and suitcases.
The novel takes place over the course of seven chapters and each chapter begins with the couple's unfulfilled intention to climb the mountain. This all-seeing, monumental landmass becomes a central motif and I was aware, as I was writing, of the significance of sacred mountains in religious belief. They variously represent portals to the gods and spirits; sites where deities and prophets dwell. People climb or circle them to get closer to heaven; to reach enlightenment; to leave offerings and stack up stones.
This book is my third novel, and my most allegorical so far. It's a story about two people who make a deliberate attempt to cut themselves off from society. It traces the shape of their ordinary days as they become increasingly dependent upon one another. Most essentially, it's a book about ritual and devotion, and the pursuit of divinity. One day in summer Bell and Sigh are visited by their landlord and he reveals that there is a ramshackle path to the top of the mountain, and from there you can see "seven standing stones, seven schools, and seven steeples."
I had no idea that I had stolen the title I chose, and when I set about the task of reading Henrichsen's Seven Steeples I did not expect to find any kinship. Like many Irish people of my generation and younger I was baptized and raised Roman Catholic and then abandoned my faith when I was a teenager, declaring myself, melodramatically, to be an atheist.
Now, as I approach forty, I have softened into an agnostic and become very interested in the small observances we invent for ourselves in the absence of organized religion.
Now, as I approach forty, I have softened into an agnostic and become very interested in the small observances we invent for ourselves in the absence of organized religion. In my novel Bell and Sigh contrive daily blessings and build elaborate shrines. They walk the same road every evening, whatever the weather, as if it were a kind of pilgrimage, and they notice, religiously, the small changes that take place over the course of the seasons; how little—and yet how much—the ordinary hedges and potholed tarmac transforms.
In The New York Times review of the original Seven Steeples, Ben Bradford wrote: "For this gentle minister, Maine's nature world is an over-arching cathedral…" and then he quoted a sentence that I vigorously underscored in red—it marked the moment I realized the extent to which my Seven Steeples had been channeling its namesake. "Every trip down the road…" Henrichsen wrote, "…was an experience of worship." Time and again her descriptions stirred in me a weird nostalgia for a place I'd never visited and a faith I'd never practiced, but most of all for a time when nature thrived and could be observed and adored without the awful knowledge of climate change and habitat loss.
There was once a woman who was funny and warm and sagacious, who despaired over domestic chores and the creep of modernization. Every Sunday she drove her Oldsmobile between seven different churches and preached the same sermon with community-specific variation and belted out hymns with sentence-long names. Every other day she would call on her neighbors and walk in the woods listening for hermit thrushes, chickadees, grosbeaks, red-eyed vireos.
There was once a woman who, in spite of her piety, was habitually as enlightened by the behavior of her plain-speaking neighbors and by the quiet grandeur of nature as she was by all her theological study.
___________________________________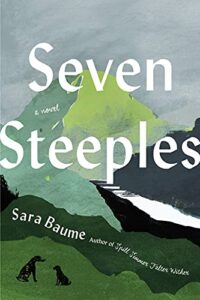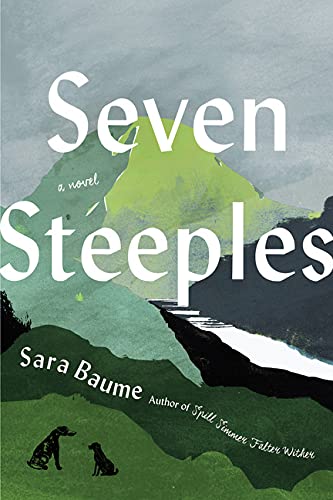 Seven Steeples by Sara Baume is available via Mariner Books.
---