Rebecca Makkai on the Most Underutilized Tool in Fiction: Setting
"Your setting is so alive, it's almost a character!"
The following first appeared in Lit Hub's The Craft of Writing newsletter—sign up here.
Lord knows who issued it first, this plastic party favor of a compliment, doled out to any writer who's made decent use of setting: "Your setting is so alive, it's almost a character!"
It's well-intentioned, kind, always appreciated, and utterly devoid of meaning. Imagine the corollaries: "His characters are so lovely, they're almost settings!" "Your conflicts are so well-drawn, they're almost paragraphs!" "The momentum is so striking, it's almost a prologue!"
Granted, there are times when the comparison is apt: Shirley Jackson's The Haunting of Hill House, for instance, when the setting in question is either sentient or something close — or novels from and about cultures in which the spirit of the land is literal and honored. But is a well-drawn portrait of 1890s London, say, in any real way a character?
Here's what a character is: A character has motivations, needs, fears. A character moves closer to or further from their goals. A character affects other characters, and is affected by them. Most characters change. A character is a physical being existing in space and time, and a spiritual/psychological/emotional being existing in time.
Here's what a setting is: A setting, clearly evoked, gives the reader enough ambience and context that they can extrapolate a world. A setting can act upon characters, or give them things to react to; it can trap characters together, destabilize them, provoke change, or provide refuge, urgency, or danger. A setting can change, but doesn't have to. A setting is a physical place existing in time.
There are indeed some useful areas of overlap: Both can change, both can push (other) characters, both have physical presence and history. But a setting is not a character any more than the Empire State Building is your Aunt Marge.
Setting is, in my view, the most underutilized tool in fiction. And to subsume its virtues under another category is to neglect its actual horsepower. Please allow me to convince you to consider setting on its own terms.
Setting is, in my view, the most underutilized tool in fiction. And to subsume its virtues under another category is to neglect its actual horsepower.
First of all: You (yes, you, and I don't care if you're in eighth grade) right now, this moment, have an unlimited budget for setting. Stephen Spielberg would kill for an unlimited setting budget. And you have it. Right now.
I don't mean you need to set your bildungsroman at an underwater Versailles. But: Think beyond the restaurant/kitchen/park bench. Those settings are used all the time in Hollywood, to the point that fiction writers have absorbed them as our best options. You know why Hollywood loves them? They're cheap. But why are you doing it? That restaurant scene you wrote: What about a science museum, on a school day, at the static electricity exhibit? What if your characters break up at a blood drive? How about a bris?
(Note that I'm not talking about capital-K-Kooky settings that don't affect the story. Martha and Bob meet at a bar, but it's not any old bar: This one has singing cowgirls, a velvet portrait of Pelé, and a drink you slurp from a frisbee! Yet aside from some wry observation, Martha and Bob don't act differently than they would in a normal bar. A setting works not because it's wacky, but because it's foundational to a scene.)
We tend to choose not only stock settings, but neutral ones — high school theater backdrops that do nothing to destabilize people. Think about the power balance between your characters. Now think about the setting that would upend that balance, or reinforce it dramatically. How about the back row of a church wedding, when Bob hasn't been to church in 20 years? How about the picnic for the company where only one of them still works?
We tend to pick settings that lack urgency. Remember that setting is not just physical place, but occasion as well. The emergency room waiting room during your nephew's surgery is a setting. New Years Eve, two minutes to midnight is a setting. The subway at 1 a.m. when the only other passenger thinks he's King George is a setting. Can you put a ticking clock on your scene? Can you add inherent danger, however small?
And we tend to pick myopic, narrow settings that don't take the broader world into account. Setting is also ambiance, the bigger elements in the background. It's a heat wave; it's the looming presidential election; it's the history of this creepy hotel; it's the tensions of the Danish court.
I've just written a novel set at a boarding school, and if anyone reads this essay after having said something very kind to me about how my campus was almost a character itself — thank you so much, yes, I worked so hard on that setting, I made 11 maps and wrote out a whole school history I didn't need; this essay isn't about you, and I didn't mean a word of it. You are a wonderful person and/or place. Really.
_____________________________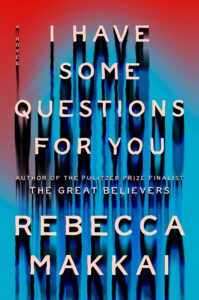 Rebecca Makkai's I Have Some Questions For You is out now from Viking.
---