Ancient Drama for Modern Readers: Top 5 Greek Plays to Read in Translation
Claire Heywood Guides You Into the Underworld of the Greek Epic
Bestseller lists of recent years have shown that our interest in the tales of the ancient Greeks is still going strong after three millennia, and even experiencing a renaissance. This is a testament, I think, to the timelessness of their content: the deeply human passions and agonies that they evoke, the questions they raise about our own imperfect world, and the fluidity of form and tradition which makes them so ripe for retelling.
But what if we want to get to know these stories without a modern lens? It can be an intimidating prospect to approach literature written so long ago, in a language we do not know, for an audience so different from ourselves. Where should one even start?
The summer before beginning my undergraduate degree in Classical Civilization, having never studied the original texts before, I threw myself in at the deep end and read the Iliad and Odyssey (both in translation) back to back. You could take this approach too, of course, but it's a large undertaking for any beginner. If you're keen to get straight to the epics, I would actually recommend starting with the Odyssey even though it comes after the Iliad narratively speaking. The episodic nature of the hero's adventure, and the various characters met along the way (including several clever and powerful women), make it remarkably digestible for such a long and ancient work. There is also a recent and highly acclaimed English translation by Dr. Emily Wilson.
If the idea of a 12,000-line epic poem feels a little more than you're ready for, I'd suggest trying out an ancient play or two.
But if the idea of a 12,000-line epic poem feels a little more than you're ready for, I'd suggest trying out an ancient play or two. Consumable in a few hours and full of gripping drama, they offer an insight into Greek literature and culture through stories that may be familiar or completely unknown to you, but which are sure to leave an impression either way.
Most Greek plays are easily available to buy in translation, in the form of Penguin Classics or similar. These editions will usually include helpful notes for obscure references or details that don't easily translate, as well as introductions to the plays, their writers, and the context in which they were created. It can be useful to know the starting point of the drama that's about to unfold (even a quick look at Wikipedia will do the trick!) but once you've got your bearing these plays are designed to be concise pieces of narrative, taking place over a short period of time with a limited cast of characters, so you'll find yourself drawn straight in.
Greek drama, and Greek tragedy especially, has not only had a huge influence on my own writing, but has greatly enriched my understanding of the history of storytelling. If I've succeeded in convincing you that these texts might have something to offer, here are my top five recommendations for ancient plays with plenty of modern appeal.
Content warning: murder, child murder, incest, self-mutilation, suicide, extreme violence, gore.
*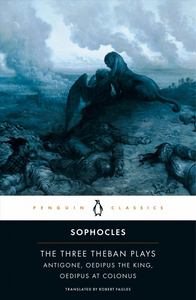 Sophocles, Oedipus the King, translated by Robert Fagles
You may well have heard of this one, and for good reason. It is one of the most iconic pieces of tragic theatre, one of the most remembered, and in my opinion one of the best. Oedipus, King of Thebes, seeks to end the plague that blights his city, but in order to do so he must solve a murder mystery—one in which he himself is the culprit. The audience knows this from the start, but Oedipus and the other characters can only stumble blindly toward the terrible truth. The dramatic irony of this play is both tragic and delicious, adding tension to a plot full of twists and revelations.
Sophocles, Antigone, translated by Robert Fagles
The plot of Antigone is a simple one. Set several years after Oedipus Rex, the city of Thebes has just emerged from a mutually destructive civil war between two brothers, Eteocles and Polynices (the sons of Oedipus). One brother, Polynices, has since been declared a traitor and denied proper burial. However, his sister Antigone refuses to obey this ruling and determines to bury him anyway. So begins the central conflict of the play, between the new king, Creon, who is desperate to maintain his fragile authority, and his headstrong niece Antigone, who refuses to forsake her familial duty. The result is an intense and escalating battle of wills, which can only end in tragedy.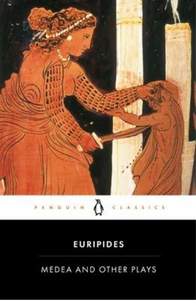 Euripides, Medea and Other Plays, translated by Philip Vellacott
Medea is a divisive character, an anti-heroine if there ever was one. Her portrayal by Euripides shows her both at her brilliant, incisive, persuasive best, and at her diabolical worst. Having aided the hero Jason in his quest for the Golden Fleece and earned his love by her impressive arts, the play now finds Medea on the back foot—forsaken by him in favor of a new, younger, less foreign wife.
Medea's outrage is what makes the play worth reading. She gives astonishing speeches about her experience of womanhood, and the injustice she has suffered—astonishing in that her words were written by a man, and performed in a culture that was overwhelmingly patriarchal and often overtly misogynistic. While the end of the play makes our sympathy for Medea complicated, if not untenable, it also makes this one of the most memorable Greek dramas.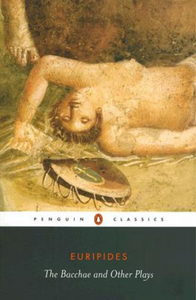 Euripides, Bacchae, translated by Philip Vellacott
Bacchae is named for its chorus, a group of singers and dancers that appears throughout Greek drama and represent a collective group of characters. In this play, the chorus take on the role of "bacchae"—female followers of the god Dionysus, who has just brought his cult to Thebes. The god himself is, unusually, a key character in the drama, and when the puritanical King Pentheus refuses to recognize his divinity, Dionysus reveals just how dangerous a disrespected god can be. The play is subtle and ambiguous, sometimes playful in tone—even to the point of comedy—and at other times frighteningly dark. It makes for a fascinating reflection on the nature of Greek religion and in particular the two-sided figure of Dionysus, the god of wine, whose rites could induce joyful liberation or intoxicated madness.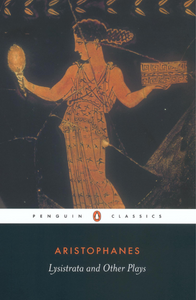 Aristophanes, Lysistrata, translated by Alan H. Sommerstein
After years of war between Athens and Sparta, the women of both cities are tired of conflict and decide to take matters into their own hands by organizing a sex strike. Charismatic rabble-rouser Lysistrata takes charge, but it is not easy keeping the women focused on their collective goal. Unlike the other entries on this list, Lysistrata is an example of Greek comedy—and it is genuinely funny! I once saw a student theatre performance that made me laugh out loud. Granted, some of the humor doesn't translate well over the millennia, but it's well worth reading as a cultural study of Classical Athens and its attitudes toward women, sex, war, and political power.
__________________________________
Claire Heywood is the author of The Shadow of Perseus, available now from Dutton, an imprint of Penguin Random House.
---