Read From Allen Ginsberg's Cuba Journals
A Poet's Incantatory Descriptions of Havana
By the end of 1964, when he received an invitation from Cuba's minister of culture to participate in a writers' conference in Havana, Allen Ginsberg had devoted a large block of his life to living in and exploring countries outside the United States. He'd lived in Mexico for several months in 1954, spending most of his time examining the Mayan ruins on the Yucatán Peninsula.
Then, three years later, following the publication of "Howl" and establishing his reputation as a major young poet, he was off to Europe, where he settled in Paris but visited Spain, Italy, and England, among other countries, over a two-year stretch. In 1960, after participating in a conference in Chile, he spent months wandering all over South America, including an extended stay in Peru, where he explored Machu Picchu and searched the Amazon region for the powerful hallucinogenic drug ayahuasca, a consciousness-altering substance recommended by his friend and former mentor William S. Burroughs.
In his most recent extended stay away from the United States, beginning in 1961, he had embarked on an extraordinary journey with an itinerary that included Paris, Tangier, eastern Africa, Israel, and Greece, prior to a 15-month stay in India. He concluded the trip with a jaunt to the Far East, including stops in Cambodia, Vietnam, and Japan.
Ginsberg kept detailed journals throughout his travels. He filled hundreds of pages with observations, new poetry, dialogue, sketches, travel descriptions, dream notations, and other musings. He was an endlessly curious traveler, open to any adventure and gregarious with people he met. All of his journals written prior to 1965 would be published, beginning with fragments presented in magazines and, eventually, the first of his book-length journal writings, Indian Journals, in 1970.
The travel arrangements for Cuba might have given Ginsberg an inkling of difficulties ahead. The State Department delayed in issuing the necessary travel papers, relenting only when Ginsberg threatened legal action. Even then, he had to make convoluted travel arrangements to get to Cuba and back. The State Department, adhering to strict Cold War policies, did not permit Americans to travel directly from the United States to Cuba, which meant that he would have to fly first to Mexico City before taking a flight from Mexico to Havana. Returning to the United States would be even more difficult. He was not allowed to fly back to Mexico; instead, he had to travel to an Iron Curtain country (in this case, Czechoslovakia) before heading back to the States. He shrugged it off. He was delighted by the opportunity to visit Czechoslovakia, where his work was popular, and if all went well and he was able to line up a few paying readings, he might be able to travel to other countries in the region.
"The travel arrangements for Cuba might have given Ginsberg an inkling of difficulties ahead."
Recent months had primed Ginsberg for his visits to totalitarian regimes. Censorship, a Ginsberg obsession since the "Howl" obscenity trial in 1957, stood front and center in his activities. He'd decried censorship in statements, essays, and interviews, and in December 1964, just before departing for Cuba, he, along with Norman Mailer and poet John Ciardi, testified in Boston at a hearing designed to determine whether William S. Burroughs's novel Naked Lunch was obscene. Ginsberg defended the book's literary merits—to no avail—and as he prepared to embark on a journey to a country where he was expected to talk about poetry and judge a poetry contest, freedom of speech was very much on his mind. It was something, he decided, that needed to be discussed openly. The same could be said about homosexuality, which was oppressed in Cuba, and capital punishment, which was practiced. Ginsberg surmised (incorrectly, as it turned out) that Cuba would offer him a forum for his ideas.
He flew to Mexico City on Friday, January 15th, 1965. He spent the weekend relaxing, wandering around the city, and stopping in some of the museums. He was in his full travel mode, eager for adventure, his senses sharpened as he jotted in his journal, his mood upbeat after a pleasant stay in Mexico. He was prepared for whatever lay ahead.
The journals open with his flight to Mexico City.
–Michael Schumacher, editor of Iron Curtain Journals.
 *
Kennedy Airport 5:40—Coughing all day, a cold and itch in breast pipes from cigarette smoke—
Goodbye to Gene,[i] with his hand cupped at his ear to hear—me say what? Arthur C. Clarke[ii] and planetary sovereignty he sayd.
Out on the inky oil field to the silver giant plane—sudden exultation walking out with strap bag over my shoulder under a bright full moon over the Eastern Airline building—I remember pointing with Gene to the lady sat in dais before red velvet curtains in the Control Room Paging Booth uplifted above the entrance doors surveying the terminal, she like a mannequin sat enthroned—
But on the glare black field in front of the terminal the huge plane I paced toward looked up to the full moon a few silver clouds drifted near and a burst of music in my head the Ride of the Valkyries.
I was at last stepping on the giant bird to fly to the Island of Cuba  and premonitions of Marxist Historical Revolutionary Futurity with Wagnerian overtones lifted my heart, an abstract passion seized the Airfield.
In the plane the Muzak with staccatoed symphony cream scratching over my Wagnerian Exile thought—scribbles.
A field of blue lights
Flying is too abstract—going back fast
over old smelly jungle Roads.
"Para descargar mis pensamientos"—
a "thought Song on the plane"
"Spine silence"—written on back of matchbook cover.
"I thought you was the Boy"
the gas station attendant said
the old Sociologist, mistaking him for Pretty
Boy Floyd. Anecdote at NY party weeks ago.
*
How green the Zocalo! And there is life again! A garden, the iron benches in the grass, large leafed plants upspringing like friendly green dogs—a place to sit quiet at night—
The smell, Mex Tabac and detritus and tropic rank earth perfume— which I smelt as I stept from the plane—Naked Lunch's[iii] benches, where the old tragic Garver[iv] draped his dying bones & is begone—and now another happy lifetime I walk into the park—and the workers boys with transistors pass on the red tiled footpath with the tinkle of guitars and the hurp of buses' harp machinery on the busy street, the night's quieted us all to a calm smile.
Lovely the colored tile houses set up under the snaky boughed palms. And that light in the trees transparent green trembling sharp leaves.
Coughing fatigued[v] walked to Calle Guerrero, like College St. Calcutta—Bought codinettas and ate a sausage with tacos and walked on to a bright lit chicken soup all-nite restaurant, and stopped also for 8 cents huge glass of Papaya juice. Then to Hotel Ibero near an open air carnival and taxicab whore bar, and washed and slept.
*
16 Jan.
Museum Modern Art Chapultepec Magic surrealism Frieda Kahlo, combines Alberto Gironella, big black rat by Coronel, Alchemical math by Carrington, black sweater selfportrait Montoya then 13 funny historic gems by Antonio Ruiz (El Corzo) 1897-1964.—Turkey selfportraits, the paranoias, soprano. Singing chickens out of her mouth, whores heroes parades revolutions and a weird still life of precise goofy imaginary solids. Then Juan O'Gorman panoramic.
Life is too short—I want to go back to Mexico and live in Oaxaca like a peaceful bearded sage and eat tortillas for a year—I may go to Russia, China, but will I have the days to return to this small and happy solitude among rotten old churches and life the same street it was ten years ago?
New Chapultepec Park Museum of Anthro/Archeology—walking to it across street 2 bearded boys stopped me, Ginsberg? They came from Acapulco, Ron Rice died suddenly, in four hours, shooting Amphetamine long time, walking pneumonia, vomited blood and died in hospital. Was thin and pale. In their car in park got high on "Acapulco Gold" they repeated—
Then entered amazed vast beautiful new museum—colossal like Aztec pyramid the most beautiful building except the Taj Mahal, for a museum—Coastline and sun Stone set like jewels under giant teahead ten or four story slabs of polished marble, lit like Cartiers on Fifth Avenue—& stood eyes closed in high trance in front of plate of Magic Mushrooms, listening the recorded Curander chanting Si, Si, Si, S,/so, so, so, so, Si, Si, Si, Si/So, So, So, So.
*
Dream Sunday 17 Jan. 6:30
In a big house with long marble halls modern rich living style, the huge family has gone away—I was with the little sister who loaned me her tooth braces to try on—I put on the silver bands over my upper and lower jaws—then I find the elastic parts—just like my own rubberband childhood—and put them in, pulling my lower jaw forward—I open my mouth to take them all out at once and it gets a little tangled—I may crush them taking them out negligently like that—
Sometime I have closed a huge wooden door on a house corridor up- stairs like in this modern house where I stay. Mondragon Mexcity but in closing don't get the hinges properly attached to the wall—we all are going out for a ride. I'm in a hurry—I messed up the tooth braces and the door—
"I may go to Russia, China, but will I have the days to return to this small and happy solitude among rotten old churches and life the same street it was ten years ago?"
Meanwhile we are alone in this place with Fidel Castro and the 12 yr. old girl—Everybody else has gone to the big meeting conference—Fidel is in the bathroom dawdling, taking a pee or brushing his teeth—he'll be out in a minute—I wonder if he is going to give a big speech at the meeting—I call out "Hey, are you coming too and are you going to talk much?"—but realizing he's finally alone in the house, should I bug him?—a child is pushing open the bathroom door and he cries out in a high voice "Not yet minuto esperate tu madre viendra para take you out- side to the stadium"—His voice is childishly high, a little impatient but nice to the baby girl—How come he got no guard to protect him—well it's all informal he has no life of his own even in the bathroom?—I am yelling thru the hall "are you coming to the meeting?" and wake up.
*
Jan. 18
Sun. Nite in Tenampa—many mariachis & empty nite Clubs, this year the musicians in uniform—drive in car to Barba Azul, Savoy, all closed— The Venezuelan  poet & his wife  singing Spanish Red Songs—Stopped  to ask policeman couple whether any place was open—They just smiled & said only the Houses for whores—We were undecided—They said "Shall we take you there?" Very agreeable Mexican healthy cops.
Fast morning trip to Embassy, Commercial Attache Professor of Literature Alvarez served up visa fast despite cable confusions & drove me to airport, inquiring about defects of magic mushrooms. Met Arms the Ambassador briefly at Airport, shook hands, he'd given me fast courtesy visa that morn sight unseen & remembered at airport
—"No need formalities."
Above Mexico in plane almost empty remembered earlier car trips—wasn't a dream—above a vast canyon on way to Vera Cruz—or was it on way thru Israeli desert to Elat—or above San Francisco the Sierras?— Some dream cantina perched on a Barranca of yore. Leaving the Coast—snow of Orizaba I never seen before 3 trips—still visible as above Mexcity—And free Daquiri—and little cloud puffs hanging over azure water almost shadowless—A vision of the Earth I once had 1945 passing in tanker offshore Cuba, the mountains rise  gigantic planetary cragged out of the dawn sea. To "Cape Verde's peaked cone." Smoking Delicados again.
I slept on the plane NYC–Mexico City hardly remember the light of Mexican towns below. Steady rocking & buzz of plane over sea of white fluff cloud spread. Mountainpeaks of clouds far ahead. Schools of porpoises surfacing tiny in gaps of water below.
I'm flying like an old poet, my head filled with fantasies of being met at the airport—Got grey in my beard.
Over the Clouds, thru gaps in the blue Carib, toward that portion of the planet which is Castro's communist Bastion—Wagnerian Echoes in the airplane—Whilst I was singing Hari Krishna to myself aloud and thinking about Paul Engle in Iowa City. Will the mail get through?
Air pressure hitting my ears, with a cold, won't be able to hear for a week.
Plane Steward asks me, among nine passengers on huge jetprop where I from—Yankee I say De Nueva York—He shows me Cuban money "patria o muerte."
I come flying so solidly myself singing Gopala Gopala Devaki Nandina Gopala and what thinketh Blake—The plane wing dips in the long yellow sun light over Eternal beds of cloud to the Horizon.
Mental Jerusalem flying to Havana.
*
[i] Eugene Brooks, Ginsberg's older brother.
[ii] Science-fiction writer, author of 2001: A Space Odyssey and Childhood's End.
[iii] Naked Lunch,by William S. Burroughs.
[iv] William Garver, friend of Burroughs, Jack Kerouac, Ginsberg, and others, wholived in Mexico. Addled by drug addiction, he died young.
[v] Ginsberg arrived in Mexico City with a case of grippe, for which he receivedan antibiotic after his arrival in Cuba.
___________________________________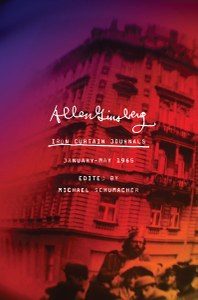 Excerpted from Iron Curtain Journals: January-May 1965 by Allen Ginsberg; edited by Michael Schumacher. Reprinted by permission of the University of Minnesota Press. Copyright 2018 by Allen Ginsberg, LLC.
---