Queens In-Between:
6 Revelatory Books on Drag
Amrou Al-Kadhi on Work That Lives in the Middle Ground
As a gay, nonbinary Arab Muslim, I've found that most mainstream narratives of lives like mine are intentionally reductive—Islamic heritage is pitted against queer identity in a stark binary (with Islam always thrown under the bus), and there is rarely ever room for the in-between. But as a queer person of color, I revel in the in-between, for it is a perpetually changing entity, like a formless octopus unrestricted by shape, color or size.
I wrote my book, Life as a Unicorn: A Journey from Shame to Pride and Everything In Between, because I wanted to revel in the complexities and contradictions that make up a queer life. My book is a memoir about intersectionality as experienced through my life, on the negotiations of my Islamic identity with my queer one—on how they clash, how they harmonize, and how they are oppressed in different ways—and how drag became the glue to hold the fragmented segments of myself together.
We are currently living through a global moment where we're powerfully reflecting on the intersections of social oppressions. With the harrowing murder of two black trans women in America in the month of June alone, it's imperative we tackle the roots of transphobia and racism in tandem, for both owe their ugly hearts to the legacy of colonialism.
The queer community is at its most political when it harnesses its own struggles, wisdom and strengths to affect change for similarly oppressed social groups. Drag queens have always been on the frontline of social change. Here are some books about drag that explore its complexities and reverence for the "in-between," and that revel in the intersectional potential of queerness.
*
Dean Atta, The Black Flamingo
(Balzer & Bray)
If this book had existed when I was a teenager, I genuinely think I would be a much happier person today. With gorgeous verse, immersive imagery and startling emotional clarity, this book speaks to the disorientation of having an identity that intersects across many social groups (and ones that seem to contradict each other).
Mixed-race Michael, the protagonist, struggles to find a space where all sides of his identity can hold; amongst other Caribbean people, he doesn't feel black enough; within the LGBTQ+ society, his queerness feels insufficient. It's an experience I deeply empathize with. I often feel that "I am too gay for Arabs, and too Arab for gays," and while I experience racism in many gay spaces, homophobia is more pronounced within some Arab spaces—I feel a bit like a subatomic particle, floating in multiple dimensions at the same time, never able to dock somewhere finite.
But what this book achieves so breathlessly is a rejoicing in the power of these messy intersections, where drag becomes the healing tool to hold them all together.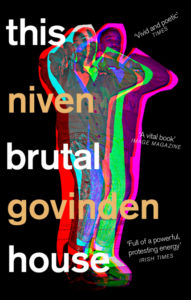 Niven Govinden, This Brutal House
(Dialogue Books) 
A stunningly well-written work of prose about the 1980s/90s Vogueing ball communities in New York. Going beyond the glamor and raucousness of these legendary parties, the author wastes no time thrusting readers into the beating political heart of queer black and brown ball houses.
The book starts with an almost Biblical protest by the house mothers outside a Church, setting the tone for this blistering tale of survival, community, and chosen families. At its core, this is a book about how being queer goes beyond sexual preference or gender identity—it is about harnessing the power of collective struggles, and fighting the system as a community unified by its diversity.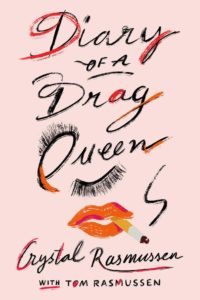 Tom / Crystal Rasmussen, Diary of a Drag Queen
(FSG)
This book is an extraordinarily deft account of just how complicated the life of a drag queen can be. Whilst Drag Race has occupied the public imagination with certain stereotypes of drag, Tom takes us beneath the surface, and into the day-to-day triumphs and tragedies of being a struggling drag queen in unforgiving cities. There are moments where I laughed so hard I peed; and there are moments where I cried so hard I basically choked.
Some of the most beautiful passages are when Tom confesses how their drag alter-ego—Bolshevik-turned-Capitalist-Tycoon, Crystal—has been a way for them to celebrate the working-class women who raised them. Tom uses drag to hold onto childhood memories, even if they are romanticized versions; for me, drag is similarly a way to hold onto memories of my mother—painting her on my face is a way to keep sacred the idea of her I had as a child, before our relationship fell apart. If you're looking for a book about the intersection of drag and class, and which is full of light, love and laughter, look no further.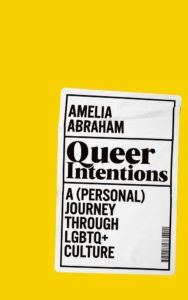 Amelia Abraham, Queer Intentions: A (Personal) Journey Through LGBTQ+ Culture
(Picador)
Part memoir, part investigative journalism, this book is one of a kind. Amelia is on a mission to discover what happens when queer culture is "accepted" by the mainstream. Voyaging from Berlin to Turkey and Drag Race Conventions to Berlin Sex Clubs, she wants to understand how queer communities position themselves in relation to heteronormative ideals.
Is it assimilationist to get married and have kids as queer people? Has Drag Race depoliticized the artform and hurt the community overall? Should children be raised without a gender? Amelia writes in a style so effortless and engaging, that you are immediately welcomed on a journey that charts just how complicated and intersectional queer experiences are.
Travis Alabanza, Burgerz
(Oberon Books)
Black trans performance artist Travis was attacked with a burger by a stranger in London one night. This extraordinary text of their sell-out, wildly successful play, asks urgent questions of complicity, forcing its readers to confront head on their own silence in systems of racism and transphobia.
Funny and heart-breaking in equal measure, my favorite passages are where Travis explores the gendered fetishization of black bodies, digging right to the heart of the intersections of racism and transphobia as colonial fabrications. This text will wake you up—and then it will force you to act.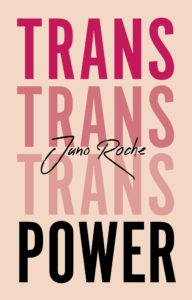 Juno Roche, Trans Power: Own Your Gender
(Jessica Kingsley Publishing)
It's rare to read a writer so frank with their experiences and so unfiltered in their thinking, that it feels like they are in the room with you, opening your mind up with every word. All of Juno's books are able to accomplish this. Juno's radical thinking about transness being a destination in and of itself—a deliberately political space outside the gender binary—has helped me to embody my own fluidity and contradictions of identities.
Trans Power takes its readers through a joyously affirming array of experiences, from drag queens and performance artists to trans authors and activists, across different races, ages and social groups, revealing the infinite permutations in what it is to be trans. Juno's mission is to immerse their readers in the space beyond the binary, however chaotic it might be. And after reading this, it's a space you'll want to live in!
__________________________________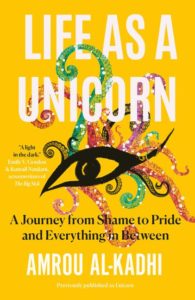 Amrou Al-Kadhi's Life As a Unicorn is available from Harper 360.
---