Oscars Best Picture Spotlight: What to Read (and Watch) If You Liked West Side Story
Lit Hub's Literary Countdown to the 94th Academy Awards
Steven Spielberg's take on West Side Story is up for seven Academy Awards: Best Picture, Supporting Actress (Ariana DeBose), Director, Cinematography, Production Design, Costume Design, and Sound. More importantly, we count it on our literary team, as an obvious retelling of Shakespeare's infamous star-crossed lovers. West Side Story has been making headlines of late, but for strange reasons: its breakout star, Rachel Zegler (who played Maria) didn't get an invite to the Oscars ceremony. They've since made up for it by inviting Zegler to present—whether she takes them up on that offer, due to scheduling conflicts, remains to be seen. And if she does appear, will she throw any shade?? Don't mind us, we're just here for the tea.
*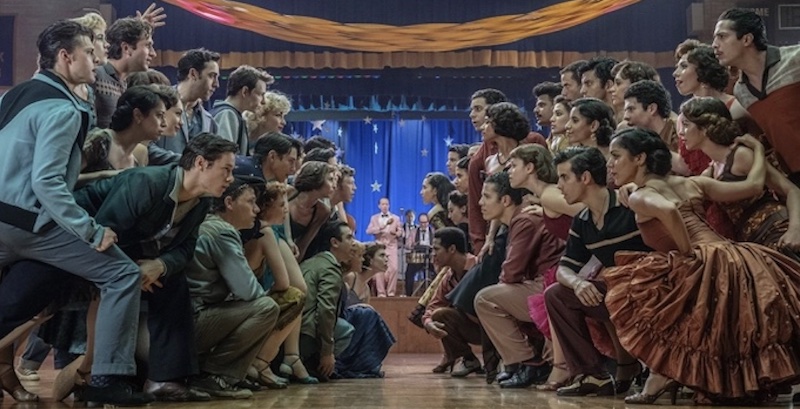 Steven Spielberg's West Side Story is a Technical Masterpiece, Despite its Sprawling Script by Olivia Rutigliano
West Side Story, the charged, nimble musical created by Leonard Bernstein (music), Stephen Sondheim (lyrics), Arthur Laurents (book), and Jerome Robbins (story and choreography) is one of the greatest artistic achievements of mankind. It is a blaze of sound and movement and feeling, full of pathos and gracefulness, indelible and ephemeral at the same time. Since it premiered on Broadway in 1957, and even more so since it was made into a Best Picture-winning movie in 1961, West Side Story has hummed in the air, permanent and resonant and revolutionary in the modern cultural imagination to such a degree that it might seem like a terrible decision for anyone to ever remake it—that the interloper brazen enough to do so would end up fortune's fool.
But West Side Story is a work of theater (and at that, a musical), and so by its very nature it appears and reappears everywhere, over and over. And it is also, like its source text Romeo and Juliet, such an important touchstone (both for industrial practitioners and the zeitgeist at large) that it can't help but inspire people to want to bring it to life again, decipher inner lives or possible ulterior motivations of the characters, and explore certain elements with new, updated perspectives.
Steven Spielberg's new film version of West Side Story, which was made nearly three years ago and just released at Christmas, had very big shoes to fill for its taking on such tremendous source material. But to take on West Side Story is also to participate in a tradition of reworking and revising the musical, by its very nature. It is a perfect musical, but I do not think there has ever been a perfect production of it. The original Broadway cast featured mostly non-Latin white actors in the parts of Puerto Rican characters and an "America" number that oddly excluded the men. The 1961 film version, co-directed by Robbins and Robert Wise, rearranged several of the songs but retained most of the non-Latin white actors in the roles of Puerto Rican characters, this time having them wear brownface. (Chew on this: George Chakiris, the Greek-American actor who won an Oscar for playing the Sharks' leader Bernardo in the film, actually originated the role of the Riff, the leader of the white, Polish/Irish gang in the 1958 West End production.) (Keep reading)
*
IF YOU LIKE WEST SIDE STORY, TRY…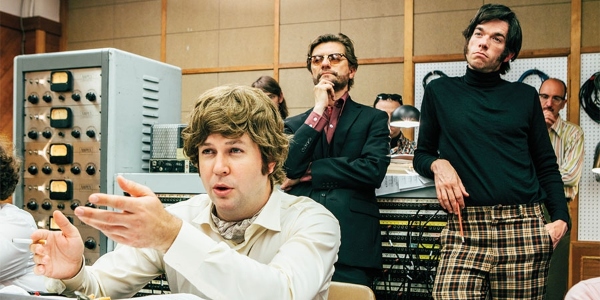 Original Cast Album: Company, dir. D. A. Pennebaker (1970)
Even considering that West Side Story is one of the best musicals ever written, Stephen Sondheim was famously dissatisfied with his work on it as the lyricist-to-composer Leonard Bernstein; in subsequent projects, he would often act as both lyricist and composer, which allowed him the creative freedom to revolutionize musical theater as the world knew it. Company shows him doing just that, at the height of his musical storytelling power, during the recording of its iconic cast album in New York City in 1970, during which he allowed now-legendary documentary filmmaker D. A. Pennebaker to lurk behind the scenes.
Pennebaker created a film unlike any other: watching it really feels like hanging out backstage with some of the greatest luminaries to ever create music, hearing them casually joke around about the best, toughest, and weirdest parts of their job. Musical theater super-nerds of the world, this is mainly one for you (actually, who am I kidding, you've seen this already); for everyone else, this is the chance to listen to some incredible music, sung by stars in their prime, and get an up-close look at the drama that accompanies the making of every great theater production.  –Corinne Segal, Senior Editor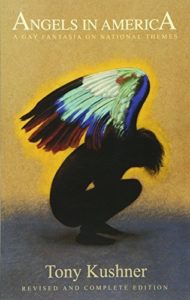 Tony Kushner, Angels in America

As one of the most popular (and best) musicals of all time, West Side Story has inspired so many storied artistic collaborations; the work created by all of those people, separately, would be enough to fill multiple libraries. But of all that work, I would recommend that you first read Tony Kushner's Angels in America (or, if you've read it, to re-read it). Tony Kushner (who wrote the screenplay for this year's Oscar-nominated West Side Story) authored this masterpiece of storytelling, a play about the AIDS epidemic in America, the horrors the queer community faced under President Reagan, the ways that political violence become interpersonal violence, the presence of ancestors and angels that make their presence known in times of illness and trauma, love, and so, so much more. There's very little that I can add to the many others who have lauded the play, except to say that it's worth a read or re-read at any time.  –CS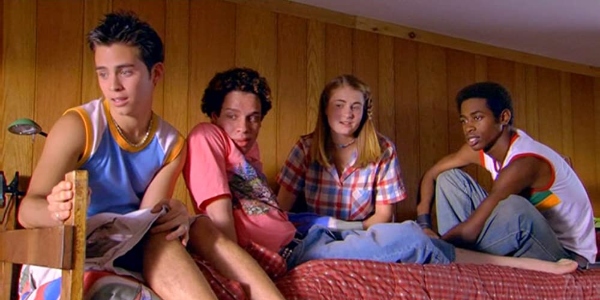 Camp, dir. Todd Graff (2003)
Stream it on: Amazon Prime, AMC+
Is Camp a good movie? Well, define good. If you weren't a musical theater kid in the early aughts, I'm not sure I can, in good conscience, recommend this movie. But if you were—and you somehow missed Anna Kendrick's diabolical film debut, in which she plays a sneaky, striving camper at a theater camp and belts out a truly inspired version of "Ladies Who Lunch"—then I recommend it with my whole heart. And, of course, to up the Sondheim ante, you'll even get a cameo from the man himself.  –Jessie Gaynor, Senior Editor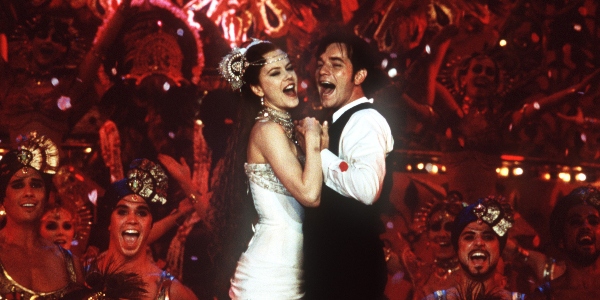 Moulin Rouge, dir. Baz Luhrmann (2001)
Stream it on: Hulu, Amazon Prime, Paramount+
It's a tale as old as time: two star-crossed lovers who can't be together! Of course, Shakespeare started the whole craze with Romeo and Juliet. It's seen many adaptations and retellings over the years, but none quite so good as West Side Story. It's all the drama of their forbidden teenage love—with music. If that's your cup of tea, you will obviously need to watch Moulin Rouge, directed by Baz Luhrmann (who also put his own uniquespin onRomeo and Juliet). A poor poet (Ewan McGregor, swoon) falls madly in love with Satin (Nicole Kidman), beloved singer at the Moulin Rouge. Of course, she's already been promised to a wealthy patron of the arts. They meet in secret, but we can all guess how that goes. Still, it's a love letter to love.  –Katie Yee, Book Marks Associate Editor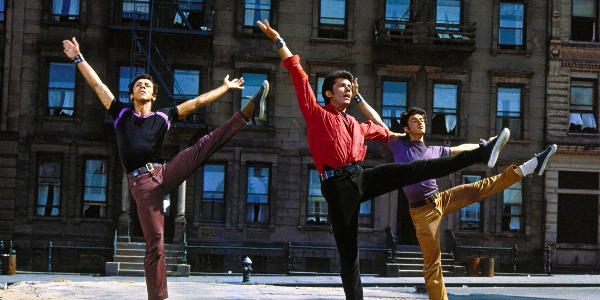 West Side Story, dir. Jerome Robbins and Robert Wise (1961)
Stream it on: HBO Max, Amazon Prime
You've probably seen it, but see it again! Speilberg's West Side Story is wonderful, but as a film made today about a way of life 60 years before, it can't help but bring a retrospective awareness to the material. That provides a fascinating meta-reading of both the play itself and the time period represented. But watching the original West Side Story tell the story of its own moment with the tools of its moment is its own fascinating experience—plus its technical brilliance is incredible and worth the reminder.  –Olivia Rutigliano, CrimeReads Associate Editor
*
FURTHER READING
The technicolor noir of West Side Story • Smoking dope and comparing bad reviews: Stephen Sondheim and James Lapine discuss the early days of their collaboration • Jerome Robbins: Letters from a young artist trying to make it In New York • Revisiting Sunday in the Park with George in the wake of Sondheim's death.
---