Rusted Vestiges and Overgrown Eyesores: 6 Novels Set in Abandoned Places
John Searles Explores the Allure of Locked Places and Unlocked Time
I blame my mother. While walking home on her last day of high school in 1966, she fastened the padlock from her locker to a random guardrail. For years, it dangled there, most likely unnoticed, until I came along. One night, when I was a kid growing up in the same small town (and same small house), my mother and I were walking to a carnival in the fireman's field when she pointed  out the old the padlock and told me it had been hers. After that, I developed a compulsion of looking for it whenever I walked to the library or town green, sometimes pedaling beyond the limits of my paper-route to get a glimpse… even spying from the window of our station wagon when we drove by, shouting, "There it is!"
Why was I so obsessed? As my mom likes to tell people: "Johnny was a weird kid." I don't disagree, but my fascination also stemmed from a feeling that rusted vestige stirred in me. Each time I laid eyes upon it, it was as though the lock unlocked time. I found myself imagining my mother as she'd been when she put it there.
Also, the guardrail where it hung happened to overlook a steep drop. And in the woods below: a stone foundation of a home someone had started to build, but never finished. Overgrown with weeds, and likely an eyesore to everyone else, I found it eerily beautiful. In the same way I wondered about the person my mother had been, I wondered about that abandoned foundation as well. Who had started to build it? Why did they stop? Where were they now? Was there some darker motivation behind it all?
This fascination with forgotten relics and abandoned places has stayed with me, and fueled the settings for each of my novels. In my debut novel, Boy Still Missing, it was an abandoned motel. In my follow-up, Strange But True, an abandoned cottage. In Help For the Haunted an abandoned foundation of a house that was never built, just like that one from my childhood.
Which brings me to my latest inspiration: Whenever I go home to visit my mom, I pass a sign for the abandoned Rocky Point Drive-In. Overgrown and concealed by trees, most people probably don't even notice it there. But I do. And it's no surprise that I've always wondered what it was like when business was booming… who owned the place, then and now? Those questions led me to research abandoned drive-ins on-line and I found the most beautiful and haunting images of these theaters all across America, forgotten by time. That's what gave me the idea for the setting of my new novel, Her Last Affair. The book tells the strange and unusual love story of a woman named Skyla Hull who once ran a drive-in with her husband. A few nights before their 50th anniversary, he dies in a freak accident in the woods behind the drive-in, which is the first of many mysteries in the story.
Here are five other books—all of them incredible—that use abandoned places as settings.
*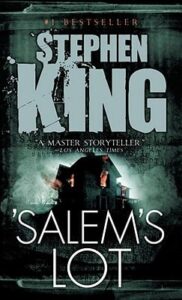 Stephen King, Salem's Lot
Stephen King brings readers on a wild journey inspired by Dracula in his book Salem's Lot. The abandoned Marsten House, originally a depression era home for a hitman, functions as the epicenter of the evil forces at play in the story. The hero, Ben, journeys to the town of Salem's Lot intending to write a novel inspired by the history behind the haunted home. However, after he finds out that the house has recently been bought by a reclusive immigrant from Austria, the vampiric horror that consumes the house's present, proves to be far more interesting than its past.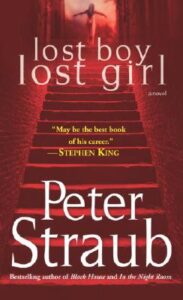 Peter Straub, Lost Boy, Lost Girl
Peter Straub's Lost Boy, Lost Girl features an abandoned house that holds the secrets to the tragedy haunting protagonist Timothy and his family. Suicide, kidnapping, and serial killing all play a role in what makes this story so bone chillingly creepy. With the clues to this murder mystery all leading to the abandoned house on their street, Timothy and his brother Philip must explore what it's forsaken halls have to hide if they want to save the people they love.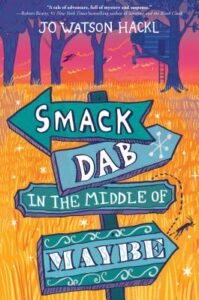 Jo Watson Hackl , Smack Dab in the Middle of Maybe
Taking a left turn from the dark horror of Stephen King and Peter Straub, Watson Hackl's Smack Dab in the Middle of Maybe shows the mystery and possibility of a ghost town through the eager eyes of a child. In this heartwarming children's book, the landscape of the abandoned town provides heroine Cricket with a treasure trove of clues from the past, left behind to guide her to the family she's been yearning for.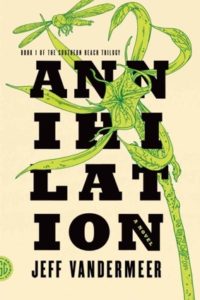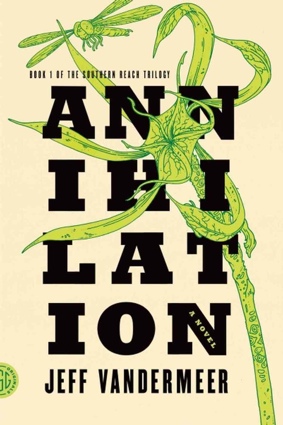 Jeff VanderMeer, Annihilation
Set in an alternate reality, Annihilation by Jeff VanderMeer stars a team of four women who must venture into the unknown, deserted Area X, on a mission. Professionally, the mission is to scientifically observe the abandoned area, but, personally, the biologist is on a mission to search for her husband—who went missing on the last expedition into Area X. With their base camp set up in an abandoned tower, aided by notes left behind by previous explorers, the women race against the clock to understand the source of all the strange occurrences—before it's too late.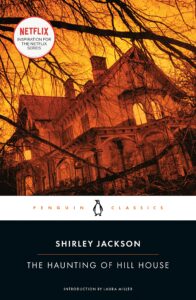 Shirley Jackson, The Haunting of Hill House
Finally, no list of novels about abandoned places would be complete without this classic from the brilliant mind of Shirley Jackson. In The Haunting of Hill House, when Doctor John Montague and his crew of parapsychologists arrive at Hill House to conduct research, they are all seeking something that they hope the abandoned Hill House will provide. For Doctor Montague, he sees the validation of his career in Hill House's empty and haunted halls. For Eleanor, one of Doctor Montague's recently orphaned assistants, Hill House's desolation reflects her own feelings of loneliness, and she is drawn to the house in a way that has dangerous consequences. Jackson's story, centered around the sinisterness of the abandoned manor, weaves every character into the darkness of Hill House, and leaves no one untainted by the end of the summer.
_______________________________________________________________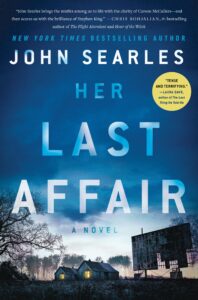 John Searles' Her Last Affair is available now via Mariner Books.
---