Smoking Dope and Comparing Bad Reviews: Stephen Sondheim and James Lapine Discuss the Early Days of Their Collaboration
On the Beginnings of the Iconic Musical Sunday in the Park with George
Stephen Sondheim was already a legend in the theater when I met him. He had been a protégé of Oscar Hammerstein, whom he had known since he was ten. By the age of 27 he had written the lyrics for West Side Story, and soon thereafter the lyrics for Gypsy. By the time of our first meeting, Sondheim's Broadway credits also included A Funny Thing Happened on the Way to the Forum, Anyone Can Whistle, Do I Hear a Waltz?, Company, Follies, A Little Night Music, Pacific Overtures, Sweeney Todd, and Merrily We Roll Along. He'd won five Tony Awards.
I made my way to Sondheim's on a sunny Saturday afternoon in the middle of a huge antinuclear march that seemed to have taken over the city. Many streets were closed and the sidewalks were teeming with people. Getting to his Turtle Bay townhouse on time proved to be something of a challenge, and not wanting to be late, I sprinted half the way there. Breathless and nervous, I rang the doorbell. After a few moments Sondheim opened the door and ushered me in as we exchanged hellos. The entryway led almost directly to a long, dark living room; the one small window at the back of the room was stained glass and let in very little light. The walls were lined with fascinating antique puzzles and games. Two couches faced each other, separated by a large oblong table where small candles burned.
*
LAPINE: Do you remember the first day we met?
SONDHEIM: In person, no—I know the first day I was exposed to your work.
LAPINE: Was that Table Settings or Twelve Dreams?
SONDHEIM: I think it was Twelve Dreams. That was certainly the play that made me want to work with you.
LAPINE: So we were introduced by—
SONDHEIM: Lewis Allen.
LAPINE: Right. Now, at this point in time I had written and directed two plays, and directed one musical: March of the Falsettos. I was about to direct my first Shakespeare that summer. I didn't know that much about musical theater, but I certainly knew you were a person of renown. I'm embarrassed to say it even now—before we met I'd only seen one show of yours: Sweeney Todd. I loved it so much I saw it three times.
SONDHEIM: I must tell you, I never thought of myself as a person of renown.
LAPINE: Well, that's probably one of the reasons why we got along so well. I arrived at the appointed hour—5:00 PM—and you opened the door and we came into this room where we are now chatting. After a few niceties were exchanged, you lit a joint and passed it to me. You didn't ask if I wanted any. You must have known from my play Table Settings that I liked marijuana, so—
SONDHEIM: I just figured that anybody of your generation smoked dope all the time, which was true.
LAPINE: I loved that you did that. I was actually very nervous coming to meet you; the minute I came in here, you put me right at ease. And somehow the dope put us both on the same plane. We discussed A Cool Million. We were in such different places in our lives. I was almost twenty years younger than you. I had experienced a lot of good fortune in my few off-Broadway theatrical outings and you were coming off Merrily We Roll Along, which had closed on Broadway prematurely a few months prior. You were in a pretty dark place.
SONDHEIM: Well, yes. That was a bad time. The reception of Merrily really shook me, because there was so much anger and, I think, hatred toward the show in so-called Broadway circles. They just resented Hal Prince and me so much—our partnership and success—they couldn't wait to shoot us down. I thought, I don't want to be in this profession; it's just too hostile and mean-spirited. So, yes, I was really thinking, What else can I do? I thought, I'd love to invent games, video games; and that was what I really wanted to do. But then I saw Twelve Dreams . . .
LAPINE: Really? I didn't know that. What I do remember was we must have chatted for at least a couple of hours. We didn't move. And it was exhilarating.
SONDHEIM: Well, one of the things we talked about was how I'm very ill read. I don't read very much, but I had read A Cool Million a long time ago.
LAPINE: Yes, you mentioned that and said you would reread it and get back to me.
SONDHEIM: And when I read it—I had forgotten the story is basically the same as Candide, a musical I had already worked on.
LAPINE: Right. One thing I remember very clearly about that day: About an hour into our conversation the doorbell rang. You got up and went to the door. I heard you raise your voice louder and louder and finally you slammed the door shut. I'm sitting in the other room thinking, What the hell is going on out there? You came back fuming. I asked if everything was okay and you told me it was a complete stranger who wanted to meet you. I guess this was not the first time this had happened. I was thinking to myself, Whoa, that's crazy.
SONDHEIM: Yes. It didn't happen that often, but it happened enough times.
LAPINE: I'll tell you just how naïve I was then. I remember you were talking about Broadway, and how you never had a very long-running show; and I think we discussed some shows that were currently having long runs—we talked a lot about what shows we liked and didn't like. I naïvely said to you: "Well, I'm sure if you wanted to dream up an idea that would lend itself to becoming a long-running show, you could do that." You narrowed your eyes and looked at me and sharply replied: "I would never do that!" I was so embarrassed.
SONDHEIM: No, you shouldn't have been embarrassed.
LAPINE: Well, in retrospect it's kind of funny—and really, I thought that was so fantastic when you said, "I'd never do that." You were right, of course. It's not how you think. Many years later you once said to me, "I always believe my shows are going to be successful." I was taken aback and asked why. You answered, "Their subjects are always so interesting to me, I assume they would be interesting to others as well."
The work is the work.
SONDHEIM: You reminded me that how we got to know each other was by comparing our tastes, both in movies and plays. We found that we pretty much agreed on most things.
LAPINE: I brought up that I had recently seen Buñuel's Exterminating Angel. You brought up your affection for his Discreet Charm of the Bourgeoisie, which I was not familiar with.
*
Our conversation flowed freely. Eventually Sondheim said he had an engagement that evening and that he would get back to me after looking at A Cool Million. I went out into the night a very happy fellow—and a very high one. I don't remember telling anyone about my Sondheim meeting other than Stephen Graham and Lewis Allen. Part of me thought nothing would come of it—my method of mitigating possible disappointment and rejection.
*
Sondheim got back to me after a week or so and said he was not interested in doing A Cool Million but would be happy to discuss the possibility of another project. I brought up Buñuel's Discreet Charm . . . and said that I would love to see it with him. I asked Stephen Graham if he would arrange a screening, which he did at his apartment two weeks later.
*
GRAHAM: I had not met Sondheim prior to screening the movie.
LAPINE: Did you have any impression of him?
GRAHAM: I was kind of in awe. Like with Mike Nichols, he was one of those people in whose company you think, Oh, I hope I don't say something really stupid.
LAPINE: Did we discuss the movie after we saw it?
GRAHAM: I honestly don't remember much. It was over thirty years ago. I don't think there was any indication after we watched the movie that this was something you two were going to pursue.
*
That summer I was directing A Midsummer Night's Dream at the Delacorte Theater in Central Park. This had originally been scheduled for the following season, in the small Martinson Hall space at the Public Theater, but at the last minute another project fell through for the park and Joe Papp asked me to do Midsummer there. I had never directed a Shakespeare play—in fact, I had never really directed a play other than the two I had written. I was ill prepared to tackle this, but there was no way you said no to Joe Papp. Steve and I agreed to pick up our conversation in August, after Midsummer opened.
*
LAPINE: When we first met, I was about to direct A Midsummer Night's Dream.
SONDHEIM: Yes, in the park, with William Hurt. It was a magical production.
LAPINE: Well, you're kind—
SONDHEIM: I'm not kind. What you did with the set—making it look like an extension of the park. All the tricks and surprises—come on. It was great.
LAPINE: Well, I got panned in The New York Times.
SONDHEIM: Oh. Well, I knew I was right. (laughter)
LAPINE: That was a first for me. It's funny, because I went home after reading that review, and I thought, Oh, Stephen Sondheim's never going ti work with me now. I thought, Why would he?
SONDHEIM: Gee, thanks. You had a lot of faith in my character.
LAPINE: No. I think I lost faith in myself after that project. The day after the review came out, the phone rings at my place as I'm licking my wounds. It was you, inviting me to come over to look at your bad reviews.
SONDHEIM: Yes. I'm so used to it. I got terrible reviews.
LAPINE: I didn't know that. I somehow thought you had always gotten raves.
SONDHEIM: On everything? I was dismissed, ignored. The first time I ever got a good review I was forty years old, on my sixth show, Company. It's the first time I ever got a rave—well, it was not in The New York Times, because they panned it; but I got some good reviews outside the Times.
LAPINE: It kind of made me love you—that you called the day that my review came out. It also taught me what it means to be a good colleague.
SONDHEIM: The work is the work.
LAPINE: Yes. That's a hard one to learn: to put criticism into perspective. And by the way, you did actually show me your bad reviews.
SONDHEIM: Yes, I kept scrapbooks.
LAPINE: I was shocked when I read some of them. I couldn't believe it. But of course, you've gotten the last laugh.
_____________________________________________________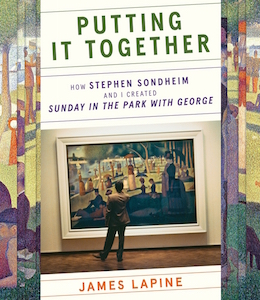 Excerpted from Putting It Together: How Stephen Sondheim and I Created Sunday in the Park with George by James Lapine, published by Farrar, Straus & Giroux. Copyright © 2021 by James Lapine. With permission of the author. All rights reserved.
---